Understanding what makes your website visitors want to call you: this is the goal of call tracking.
This technique consists of displaying special and different tracking numbers depending on their medium: home page, display advertising, emailing , etc. The principle can even be applied to off-line media (catalogues, billboards, etc.)
Of course, each of these numbers refers to your own number, but they allow you to know the precise source of each call and therefore to draw conclusions to adjust your marketing strategy.
Today, we offer 7 turnkey solutions for setting up a call tracking system.
What is call tracking?
Call-tracking is the process of determining how callers found your business. Sales teams and the marketing department can use dedicated software to track these calls and attribute them to specific channels or ongoing campaigns.
To perform effective call-tracking, the tools dynamically insert numbers (DNI) on your website, in your marketing campaigns, on landing pages and any other medium intended to generate leads. Obviously, the numbers differ according to the channels or advertisements, in order to help you track precisely the origin of each call.
The importance of tracking calls
Call tracking is necessary to drive business, marketing, and strategic decisions. Let's see the benefits of call-tracking in more detail:
Improve marketing spend
Instead of assuming that specific ads generate a certain volume of calls, call-tracking lets you know precisely how many inbound calls came from each campaign. You can also know the type of call received by channel or marketing campaign.
For example, it is possible to notice that a campaign mainly generates calls from customers, while another seems to attract very mature prospects (and whose conversion rate is higher).
This reliable information helps you allocate your marketing dollars wisely to the best performing ads.
Better assess prospects
Knowing the volume of calls is not enough to assess the true performance of your marketing campaigns. To make better decisions and provide qualified leads to your sales reps, it is important to know the volume of real leads provided by each advertisement or channel.
Tracking calls allows you to better classify potential customers. You'll quickly distinguish which numbers are attracting leads early in the buying journey, and which numbers are delivering near-to-conversion leads.
From the start of the call, you can then better classify them in your CRM tool and develop an argument adapted to their level of maturity.
Improve the telephone skills of your employees
By tracking and recording your phone calls, you can listen to discussions and assess the performance of your advisors. Are they adhering to call scripts and making appointments? At what point in the argument do they have difficulty?
Answering these questions helps improve employee performance, either by optimizing the phone script or by providing training to those who need it.
Call-tracking tools to know
Now that you know the importance of tracking calls, especially to improve your marketing and sales decisions, here are 10 effective call-tracking tools!
1. Invoca
Invoca is the leader in AI-powered conversation intelligence for revenue teams that enables marketing, sales, customer experience, and eCommerce teams to understand and immediately act on the information consumers share via conversations. Through deep integrations with leading technology platforms, revenue teams can turn conversation data into automated action to enhance every digital touchpoint and human interaction, leading to better experiences, more conversions, and higher revenue. Invoca is trusted by top brands like Dish Network, Mayo Clinic, Mutual of Omaha, and 1-800-GOT-JUNK?.
Pricing :
2. Dexem
Dexem is a Breton company offering a complete call tracking solution. Among the main features:
Dynamically display tracking numbers on your web pages according to the source of traffic or the profile of your visitors in order to know the most efficient acquisition channels (SEO, SEM, social networks, etc.)
Identify the keywords that generate calls to optimize your AdWords campaigns.
Integrate Dexem into Google Analytics, AdWords and other platforms to analyze your audience and calls in detail.
A solution adapted to marketing agencies wishing to set up call tracking for their clients.
The price: Tailor-made.
3. Calltrackr
Calltrackr is another French solution bringing together all the major features of call tracking.
Analyze tracked call data with an intuitive Analytics tool;
Offer your visitors to be called back in one click to increase their engagement;
Manage your answering machine and your missed calls; record calls to improve your customer relationship on the phone.
The price: Each call forwarding costs €0.015/minute to a landline and €0.065/minute to a mobile. Add to that €1 per month and per tracking number you use.
4. Revenue.io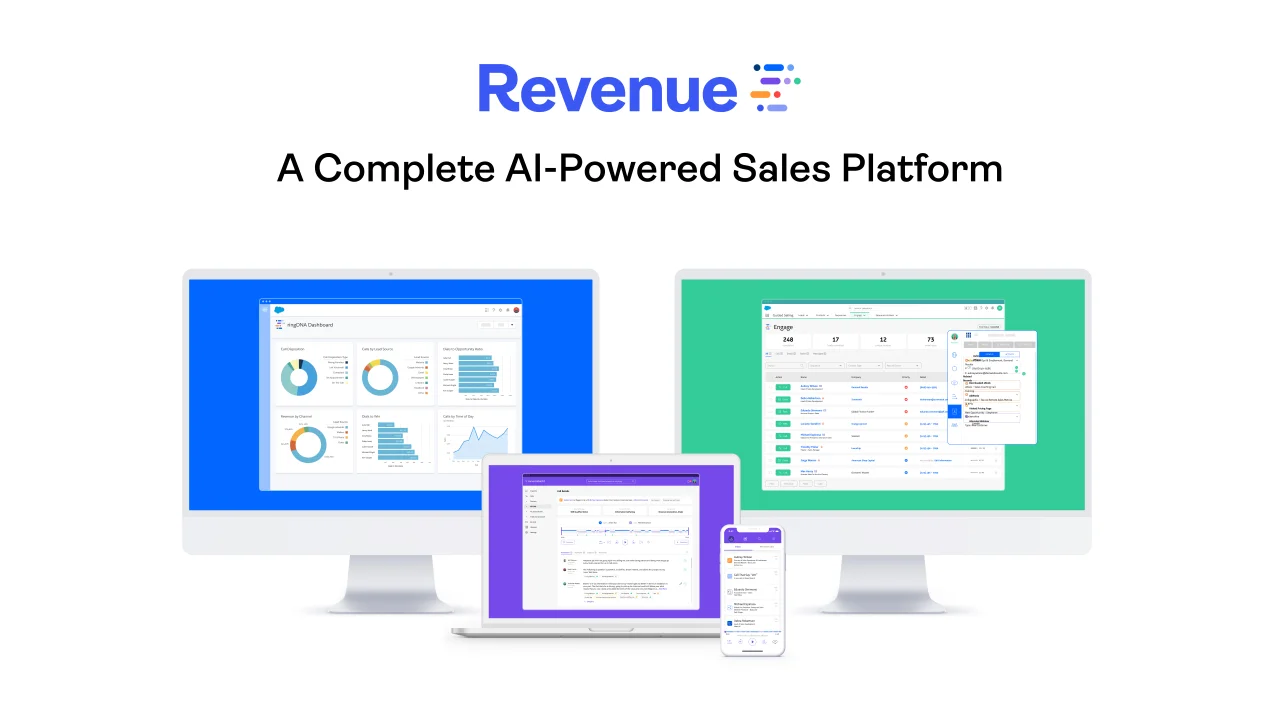 Revenue.io powers high-performing teams with real-time guidance. By surfacing and recommending what works best, Revenue.io enables hundreds of customers like HPE, Nutanix, and AWS to deliver predictable results and optimize their entire revenue operation. Founded in 2013, Revenue.io is headquartered in Los Angeles and backed by venture funding from Goldman Sachs, Bryant Stibel, and Palisades Capital.
5. CallTrackingMetrics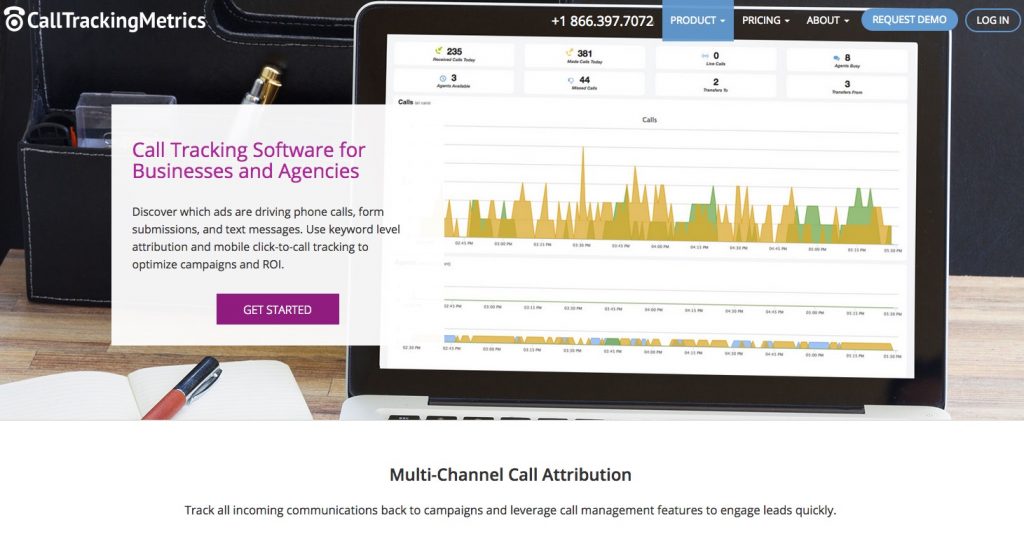 CallTrackingMetrics is an American call tracking software which can however be used in France. It offers some features that set it apart:
In addition to tracking calls, you can also track SMS.
The tracking of calls from mobile phones is particularly advanced: a must when you know the importance of mobile.
CallTrackingMetrics also includes real call center and call management software: interesting for companies with a large switchboard.
The price: To access the cheapest formula, you will have to pay $19 for a monthly subscription as well as $2.50 to $5/month for each tracking number. Add to that a cost for call forwarding ranging from $0.075 to $0.163/minute.
6. Iovox
The call-tracking solution offered by Iovox is more advanced than most other tools. Studies carried out with its customers show that the platform increases the volume of leads by 63% and the Trustpilot score by 43%, while reducing your costs by 20%.
In addition to helping you track your call performance, Iovox allows you to:
Annotate conversations, save them, add SMS tracking to calls…
Create automated scenarios by synchronizing with your CRM, but also with your emailing and live-chat tools.
Analyze conversations to determine keywords and trends that drive conversion, thanks to its conversational AI service. This technology helps you better understand prospects and adapt your marketing pitch.
The price: The formulas range from €10 to €2,000 per month, depending on your needs.
7. CallRail
Track calls, analyze performance, improve strategy and increase conversions, that's what CallRail promises .
This comprehensive call-tracking suite provides the following features:
Tracking numbers to match calls to your marketing campaigns.
Recording and transcription of calls.
Reports and analyzes on the performance of your advertisements and your telephone conversations.
Form tracking to go beyond call-tracking.
A conversational intelligence service capable of analyzing the keywords used by your prospects to refine your scripts and marketing campaigns.
Synchronization with your other marketing tools: Hubspot, Google Ads, WordPress, Salesforce, Google Analytics, Unbounce, etc.
Price: CallRail offers start from $45/month.
Our tip
With these 7 solutions, tracking and understanding calls from your prospects and customers has never been easier.