Do you want to create a QR Code easily and in a few clicks?
This small barcode, which can be easily scanned with a smartphone, is a fun and interactive way to encourage your customers to perform certain actions: access your site, watch a video, receive an SMS…
Without the health crisis, this modest tool could have been forgotten, however, the QR Code has proven to be particularly useful for companies. This solution makes it possible to avoid all contact and to transmit information simply and quickly.
If you want to use QR Codes to store and transmit information, here are 13 powerful QR Code generators.

What is a QR Code?
QR Code or quick response code translates to "quick response code". This is a 2D barcode that you can scan with your smartphone to access informative content.
A QR code is recognizable by its square format made up of black and white pixels .
You can see it on advertisements, on product packaging, on your digital train tickets and in many other media. QR Codes are therefore widely used in mobile marketing .
If you also want to use barcodes to transmit information to your customers, here are the tools to simply generate your QR codes.
1. Free QR Code Generator by Shopify

The Shopify QR Code generator is very easy to use, but no customization is possible. In addition, it is mandatory to enter an email address to generate a code.
This tool allows you to enter a URL, an SMS, a telephone number or a short text to quickly convey messages to your customers and arouse their interest and curiosity.
You don't have to have a Shopify account to use the code generator, an email address is enough.
2. QR Stuff, the free generator for classic QR codes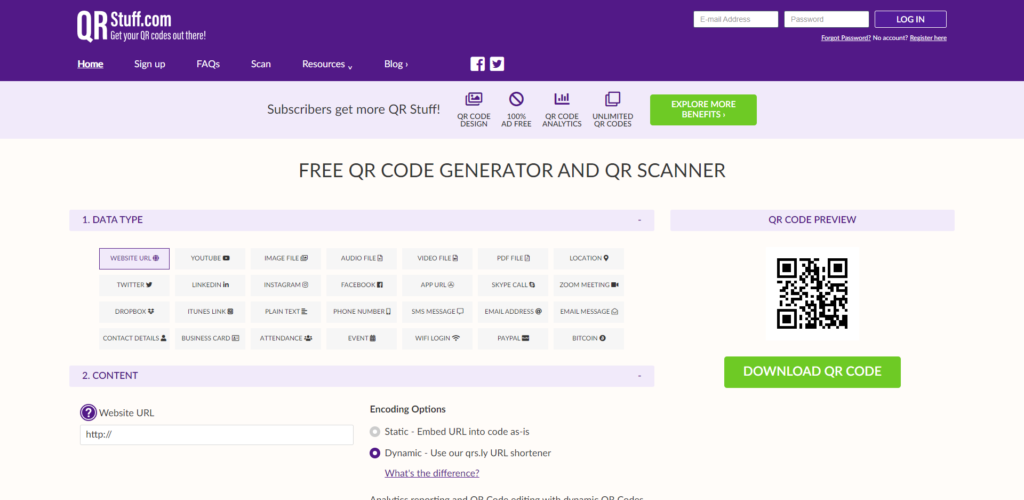 QR Stuff is not the most attractive site on this list, but it has the merit of offering a wide choice of uses for your QR Codes. Website URL, telephone number, SMS, social networks… You are spoiled for choice. It generates permanent, functional and ad-free QR codes .
QR Stuff offers personalized QR Codes in its paid version. The free version offers classic QR Codes, with no time limit.
3. Unitag, the customizable QR code generator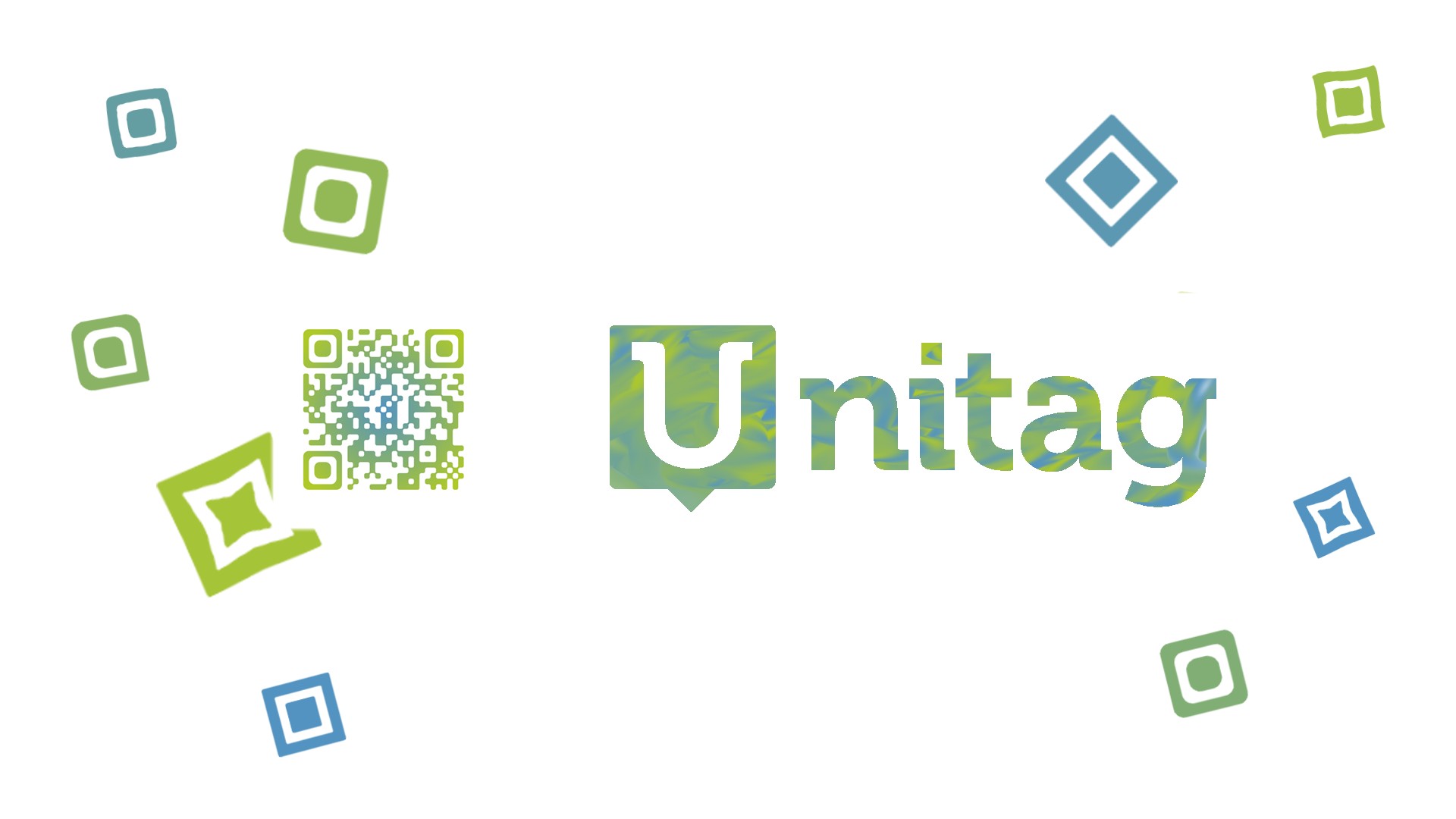 Unitag is one of the most complete sites for generating a QR Code to access a website, or even a business card or a telephone number.
There are many customization possibilities, with different templates and colors, the possibility of adding a logo, etc. A free downloadable white paper gives you all the tips and tricks to optimize the use of your QR codes.
The lifetime of QR Codes created with Unitag is unlimited!
4. QR Code Monkey, the free and easy-to-use flashcode generator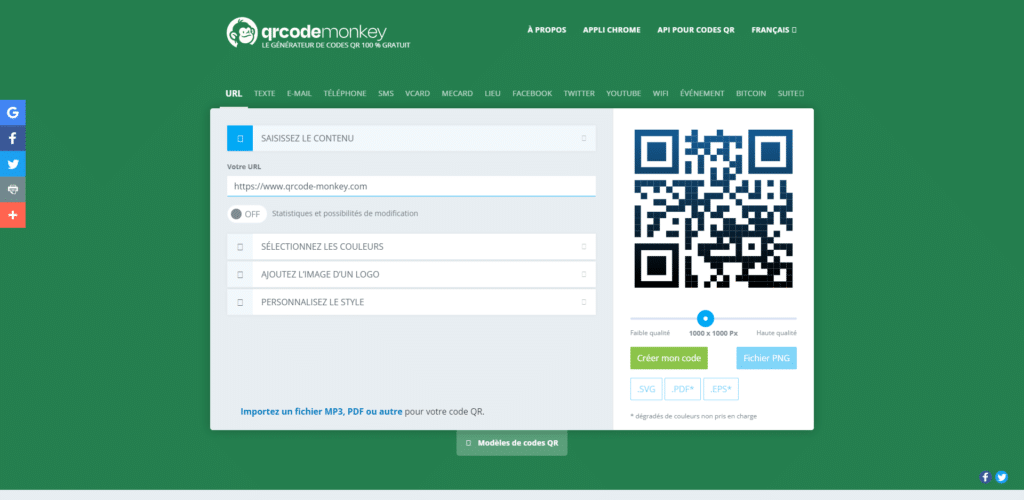 QRCode Monkey is another free and easy to use QR Code generator . It also offers many customization options: the form of the code can, for example, be widely customized. This is a real platform that can be useful if you generate a lot of QR Codes for your business strategy .
QR code Monkey allows you to create, track and modify all QR codes generated from the same place. You can also add your logo to your codes to personalize them.
QR Codes created with QRCode Monkey also have an unlimited lifespan.
5. QR code generator, pay attention to the trial version

QR Code Generator is perfect if you are looking for a quick and easy tool to create a QR Code . Its interface is intuitive and if you have difficulty generating the QR Code , just follow the instructions at the bottom of the page.
This tool allows you to create static and imperishable QR codes in its paid version. The pro version allows you to modify them and track and analyze your QR Codes . In particular, you can find out how many times they have been scanned. This feature is useful for improving your marketing campaign .
Warning: Our readers have told us that this QR Code generator is not free as it says. According to the feedback we received, the QR Codes generated for free would no longer be usable after a few days.
6. ForQRCode, to create QR codes in your brand colors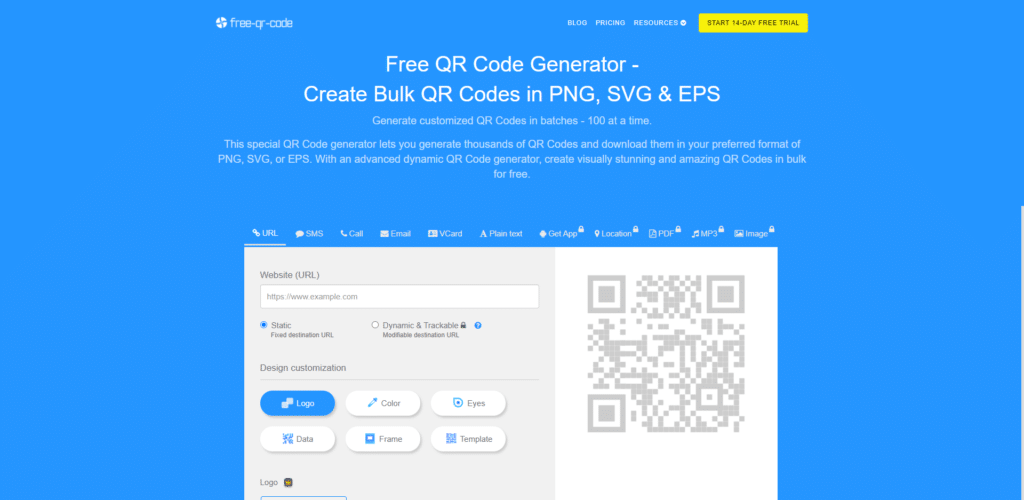 ForQRCode allows you to generate QR Codes for free and customize them in 4 steps. Simply enter your content and then customize the design to match your branding .
You can modify the background, the pattern, the color, the border of the marker or even add your logo. When your design is ready, you can download it in different formats.
The QR Codes generated have an unlimited lifespan!
7. ZebraQR, the QR code menu generator

When you were able to sit at a restaurant table again, you probably noticed QR Codes to scan to access the menus. This digital version makes it possible to limit human contact but it is also a more environmentally friendly solution.
This QR Code generator is particularly used in the restaurant industry since it allows you to create the QR Code and the menu at the same time!
ZebraQR is simple to use and lets you organize items by categories. You can use the free version to create your digital menu.

8. Free QR Code, to create bulk QR codes

Generate your codes in batches of 100 with this QR Codes generator. Free QR Code also allows you to easily personalize your codes. It works the same way as other generators, however, it is a paid tool.
The advantage of Free code is its bulk generation function which can save your time if you have a lot of QR Codes to create.
9. Visualead, the generator used by major brands

This QR Code generator has been trusted by 500,000 companies worldwide. His secret? Visualead would have the potential to help brands get 400% more scans and more engagement from customers and prospects.
Brands like BMW and Ebay use Visualead to generate their QR Codes. The free version allows you to manage 3 active QR Code campaigns with 500 possible scans for each code. To avoid Visualead ads, you will need to use the paid version of the tool.

10. QR Tiger, to integrate QR codes into your CRM

Here is another QR Code generator that can help businesses boost their marketing campaign. Samsung and Universal recognize in particular the usefulness of QR Tiger to generate static or dynamic QR Codes .
If you want to have access to tracking, you will need to access the paid version of the generator. If you work with CRM software you can even use this tool to integrate QR codes.

11. TEC-IT, the barcode expert software

The company is based in Austria and has been around for 20 years, TEC-IT is an expert in barcode software . You can use this generator for content like SMS, URLs or phone numbers.
It allows to easily insert your QR codes and web developers. in your Word or Excel documents . This software is intended in particular for programmers

12. QRTY, to create dynamic QR codes

Easily create your QR codes and track analytics to improve your marketing strategy with Qrty .
It is a paid but complete tool which allows you to generate unlimited dynamic QR codes , personalized and to carry out a complete analysis. QRTY is intuitive and offers many useful features.

13. QRZilla, advanced analytical monitoring

QRzilla offers options similar to those of QRTY with the generation of your QR codes and advanced analytical monitoring . Its ease of use is an asset but this generator is also paying.

Conclusion
Depending on how you use QR codes, this list of the best QR code generators will undoubtedly help you improve your marketing strategy. Do not hesitate to use the QR code to create more interactions with your customers and prospects.