In this guide we will share with you the 8 most common WordPress SEO mistakes that are hurting your rankings on Google.
8 WordPress Seo Mistakes to Avoid
Choosing the wrong theme
A poorly coded theme is definitely going to hurt your entire website. Since the theme is the backbone of your website, you need to choose the right theme for your site. There are many free and paid themes   available in the market.
Which theme to choose?
Choose theme from trusted developers
The theme should be light
The theme should be SEO friendly
Developer Support
Use a theme with active support and regular updates
Not choosing a good hosting
Investing in a reliable hosting service is very important. If you don't have reliable hosting, your website will not be available to users when searching or may experience slow loading. Such a problem will negatively affect your ranking on Google.
Investing in reliable hosting is therefore a key decision that you must make. We have been using the Bluehost for so long and their service is just awesome. In fact, this is the top 3 hosting companies recommended by WordPress itself.
It has tools that make it easy to manage WordPress sites: one-click install, managed updates, WP-Cli, WordPress staging, and git integration. They have a very fast support team with advanced WordPress expertise available 24/7.
Choosing an SEO plugin
One of the reasons for WordPress' popularity is its plugins. You can extend the functionality of your website using plugins. There are great plugins that guide you to boost your SEO such as RankMath, Yoast SEO , All in One SEO Pack . These are the most used SEO plugins that help you optimize your content for search engines and stay ahead of your competitors.
We've been using Yoast SEO for a long time, it's a great plugin despite some bugs caused by the latest updates.
Basic WordPress Settings
Right after installing WordPress on your site, you need to make some essential basic settings . You should take care of these settings before publishing your first article.
Configuring these basic WordPress settings not only improves search engine results (SERP) rankings, but also increases user experience. So, if you are starting a new WordPress website, you should go through this article in detail. Or even if you are already using a WordPress site, this could also come in handy at some point.
Bad permalink structure
"Permalinks" – the name itself suggests that this is the permalink of each post (Uniform Resource Locator- URL). This is also the web address of the publication which should not be changed once set.
The WordPress permalinks settings allow you to define the permanent URL structure of your posts, pages, categories, and archives. The permalink structure plays a big role in SEO and site ranking because the URL is the gateway for the crawler.
WordPress permalink settings allow you to choose your default permalink structure. You can choose from common parameters or create custom URL structures.
In WordPress, you will find the permalink setting in Settings > Permalinks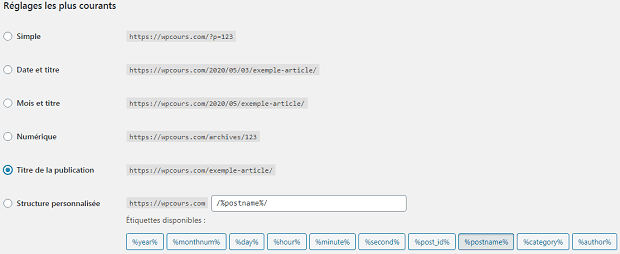 We recommend choosing the "post title" permalink structure as it is the best for good SEO.
Not optimizing images
Image optimization is another important task. For WordPress, there are many plugins to optimize images in WordPress, among them Smush and ShortPixel Image Optimizer.
Best practice regarding images:
Image size – You should optimize the size of your image in order to make it look clear. This affects the loading speed of your website. But one thing you need to pay attention to is that while reducing the size of your image, you also need to take care of its resolution. You can use different tools to reduce image size such as tinypng.com, tinyjpg.com. These FREE TOOLS online help you reduce the size of your image while maintaining its optimal quality. You can also use the plugins mentioned above.
Proper Alt Text – Alt text (also known as "alt description", "alt-tag") is the written copy that appears in place of an image on a webpage if that particular image fails to load properly. So putting proper alt text is important for accessibility and image SEO. Try putting the appropriate image alt tag that best describes the image.
Image Description – Description is different from 'alt text' because alt text is 'image alt text' that will display on screen when the image fails to load. But the image description is the description of that particular image which is shown below the image to further describe the image.
Choosing the right format – There are mainly three image formats in use, JPEG, PNG and GIF. Personally, I don't recommend GIF unless there is a "must use" situation. Although PNG produces higher quality images, it is larger in size than JPEG. So you should use JPEG image in most cases in order to save size.
Mismanagement of categories
Poor category management is another WordPress website SEO mistake. Keep it simple when it comes to WordPress posts and taxonomies. If you link posts to only a few categories with relevant tags, Google will know contextually adept at ranking your site for specific categories . If you have a large number of categories and tags, search engines won't make a decision about what your articles are associated with.
You shouldn't have unnecessary categories, you should have a very limited number of categories (about 10) and a limited number of tags (maximum 50). Try to use the appropriate tag each time you post an article to better categorize your articles.
Avoid Duplicate Content
Google defines duplicate content as:
"Duplicate content generally means large blocks of content, belonging to the same domain or spread over several domains, which are identical or substantially similar. In most cases, these contents are not originally misleading. »
Duplicate content is content that appears in multiple places on the Internet. In a technical word, two different URLs lead you to the same content. It can belong to the same domain or to a different domain.
Having duplicate content hurts your website's SEO and if the number of duplicate content increases, Google may degrade your website. This is because content appearing in multiple places on the Internet can make it difficult for search engines to decide which version is most relevant to a given search query.
One of the best ways to fix the duplicate content issue is to set up a 301 redirect from the "duplicate" page to the original content page.
The rich snippet
A rich snippet is a result displayed on Google along with other additional information to add value to the search result.
From the user's point of view, by simply observing the result of the rich snippet, he learns more about the content. Because it's more appealing to users, posts with rich snippets are likely to get more clicks. If the click-through rate (CTR) of your blog post increases, you will surely get more traffic.
The following image shows the difference between rich snippets and normal snippets.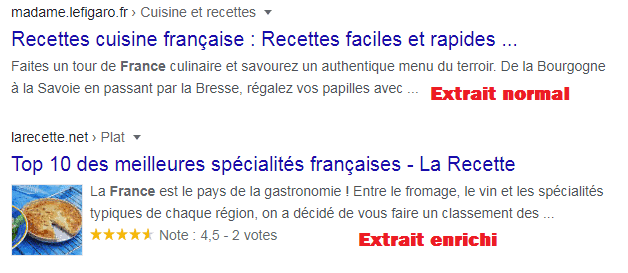 In what types of content can we use rich snippets?
Rich snippets can't be used in all content types. Here are some of the content types where rich snippets can be used.
Recipe
event
applications
Some products
Companies and organizations
How can you get rich snippets?
You need to add structured data to your site so that Google can display a rich snippet for your site content.
Not focusing on One-page SEO
According to Moz – On-page SEO is the practice of optimizing individual web pages in order to rank higher and gain more relevant search engine traffic. On-page refers to both the content and HTML source code of a page that can be optimized, as opposed to off-page SEO which refers to links and other external factors.
One-page SEO is crucial for a website. It involves many tasks such as:
Setting up a proper title and meta description
Content formatting
Speed ​​optimization
Mobile compatibility
Manage header hierarchy
Internal and external links, etc.
And that's it, I hope this article will be useful to you and help you avoid Seo WordPress mistakes not to make.
If you liked this article, please subscribe to our reddit community to discuss it. You can also find us on Twitter and Facebook.