If you are wondering what good a free video converter as Alt Video Converter, imagine the following scene. You're going on vacation, you have a six-hour drive or an eight-hour flight, and you can't wait to get to your destination. To pass the time during the journey, you transferred the last season of your favorite series to your tablet or smartphone. The car leaves (of course, you're not driving!) or the plane takes off. You are comfortably seated, you plug in your headphones, you select the first episode of your series, you press " Play »…
…" ERROR: This file format is not recognized by the system ".
You're off to count the white bands or try to guess shapes in the clouds for several hours! To avoid this, you need a video converter like Alt Video Converter. Thanks to him, you will be able convert a video to the format of your choice to make it compatible with your device. To learn more about this software and how it works, I invite you to continue reading this article!
Convert multiple videos in a row with just a few clicks
Having a reliable and easy-to-use video converter is always helpful. This allows you to play all your videos on any device, but also save your videos in less storage-intensive formats. This comes in handy when your hard drive (containing your vacation videos filmed several years ago) is full to bursting. Alt Video Converter will allow you to answer the problems raised, but not only!
This free video converter supports an impressive number of file formats (MP4, MOV, M4V, MKV, AVI, WMV, FLV, MPEG, MTS, WEBM, M2TS, etc.). If you are not familiar with computers, do not worry; this software has a clean, intuitive and accessible interface with unparalleled conversion speed. It also allows you to encode all the contents of a folder in succession, without having to intervene between each file. It's very practical, especially for converting an entire season of your favorite series without having to select each episode one by one.
Although this feature is less useful at present, Alt Video Converter is also capable of converting audio files to different formats (MP3, WAV, OGG, FLAC, AAC, etc.). Its only real flaw is its lack of application on systems other than Windows. Fortunately for Apple addicts, there is a plethora of competing software that does more or less the same thing!
Anyway, we invite you to test this 100% free tool whose simplicity is its strength. With Alt Video Converter, everything is done in 3-4 clicks, and the result suffers no dispute!
1. start with download Alt Video Converter app from the Microsoft Store.
2. Then open the application on your computer.
3. From the software interface, click on the " Add File " for select the video you want to convert.
4. Then, from the column " Convert To », select output format you want from the drop-down menu (AVI, MOV, MKV, MP4, etc.).
5. Finally, select the save location, then click " Convert to start the conversion process.
Note : in the column " Status ", you will get the message " Conversion succeed! ". However, this does not necessarily mean that the software has finished converting your video. Indeed, after several tests, I noticed that the software systematically indicated that the conversion was successful, but in reality, you have to wait several seconds or even minutes (depending on the size of the video) before you can open the converted video. Other than that, the software works very well and the results I got are very satisfying.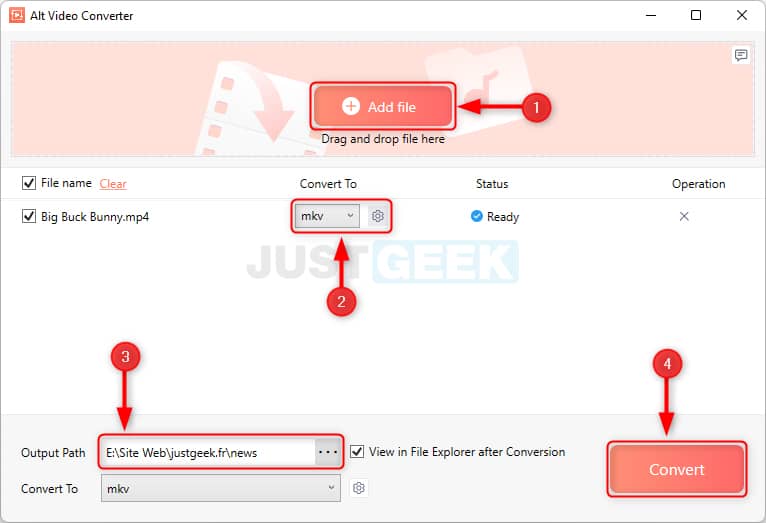 What you must remember
Overall, Alt Video Converter is a very good free video converter for windows. It offers a user-friendly interface that is very easy to learn. Alt Video Converter works great, but note that the conversion takes longer than the software tells you. Just be patient…