By default, the Windows operating system does not provide any option to open an application with specific settings . You must therefore go through a third-party application. In this sense, today I present to you AutoActions , an open source application that allows you to create profiles that include several actions for each of your applications . To learn more about this app, I invite you to continue reading.
What are Auto Actions?
AutoActions is a completely free application and compatible with Windows 11 or 10. It is a portable application. Therefore, you don't need to install it on your computer to run it.
As the name suggests, AutoActions allows you to create action profiles for the applications and games of your choice that are installed on your computer. With these profiles, apps can run or close with specific settings.
For example, you can create profiles to open an application on another screen, in a specific resolution or to run an application at the same time as another. In short, the possibilities are endless. This can save you time and improve your user experience.
The AutoActions interface is made up of 5 tabs: "Status", "Profiles", "Applications", "Displays" and "Settings". From the "Status" tab, you will see the list of all applications that include specific actions. You can also run them directly from the AutoActions interface.
Then, the "Profiles" tab allows you to create action profiles. Profiles can be assigned to one or more apps/games on the system. Each profile can contain a set of actions that are executed when the process starts, ends, gains focus, or loses focus. The types of action available in the app are as follows:
Display action : permet de choisir sur quel moniteur exécuter l'application, activer le mode HDR, changer la résolution et le taux de rafraichissement ou encore régler la profondeur des couleurs.
Run program : exécuter un programme ou un script.
Close program : forcer la fermeture d'un programme.
Reference profile : permet d'intégrer un profil dans un profil.
Audio : sélectionnez les périphériques audio par défaut pour la lecture et l'enregistrement audio.
L'onglet « Applications », lui, permet d'attribuer les profils aux applications de votre choix. À noter que vous pouvez également trier vos applications et même les exécuter. Et enfin, l'onglet « Displays » vous permet de voir la configuration de vos écrans, tandis que l'onglet « Settings » vous permet entre autres d'exécuter le programme au démarrage de Windows, de placer l'icône de l'appli dans la zone de notification et bien plus encore.
Comment ça marche ?
Malgré son interface en anglais, AutoActions est une application très facile à prendre en main. Voici comment elle fonctionne.
1. Commencez par télécharger l'application AutoActions depuis la plateforme GitHub.
2. Ensuite, vous devez extraire le contenu de l'archive ZIP où vous le souhaitez.
3. Effectuez ensuite un double-clic sur le fichier AutoActions.exe pour lancer l'appli.
4. À présent, depuis l'interface du programme, cliquez sur l'onglet « Profiles » pour commencer à créer un profil d'actions. Pour ce faire, cliquez sur le bouton « + » situé en bas à gauche de la fenêtre. Par défaut, le nouveau profil sera nommé « Profil 1 ».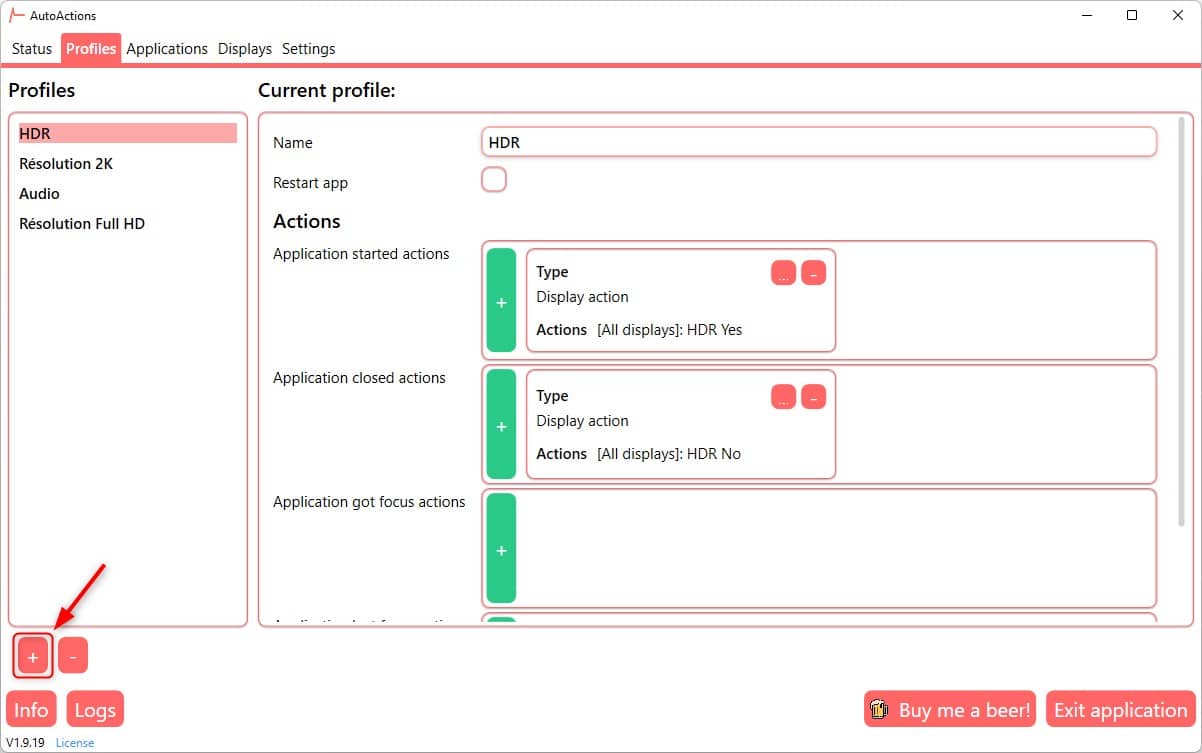 5. À présent, vous pouvez ajouter des actions à l'ouverture ou à la fermeture de l'application en cliquant sur le bouton « + ».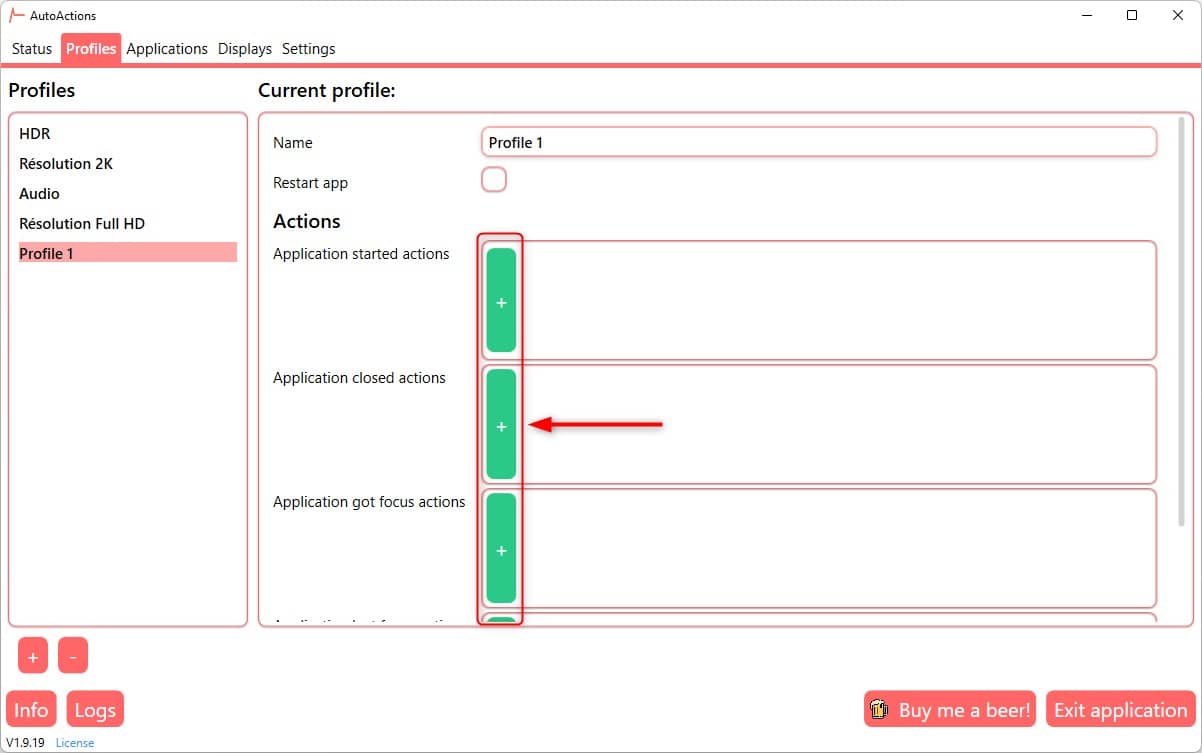 6. Sélectionnez maintenant le type d'action, puis une fois terminé, cliquez sur « OK ».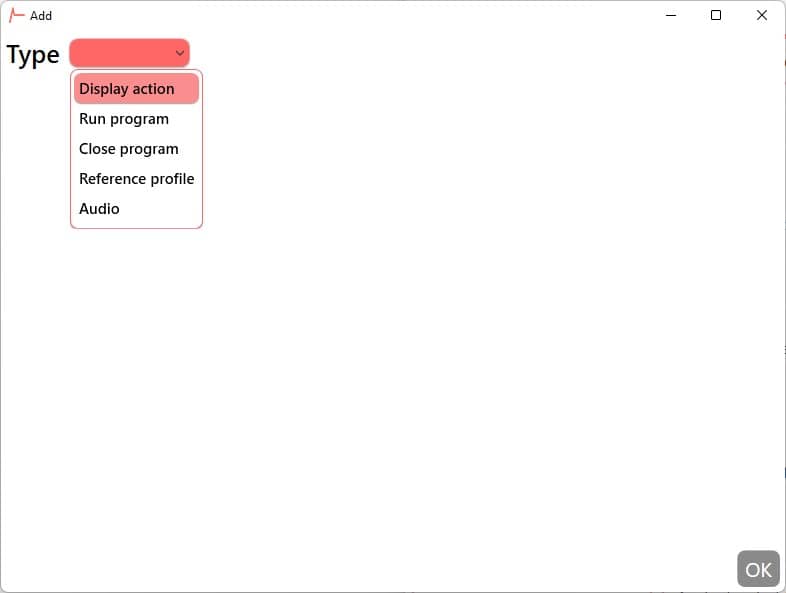 7. Passez maintenant à l'onglet « Applications », puis cliquez sur le bouton « + » pour ajouter les applications pour lesquelles vous souhaitez attribuer des actions.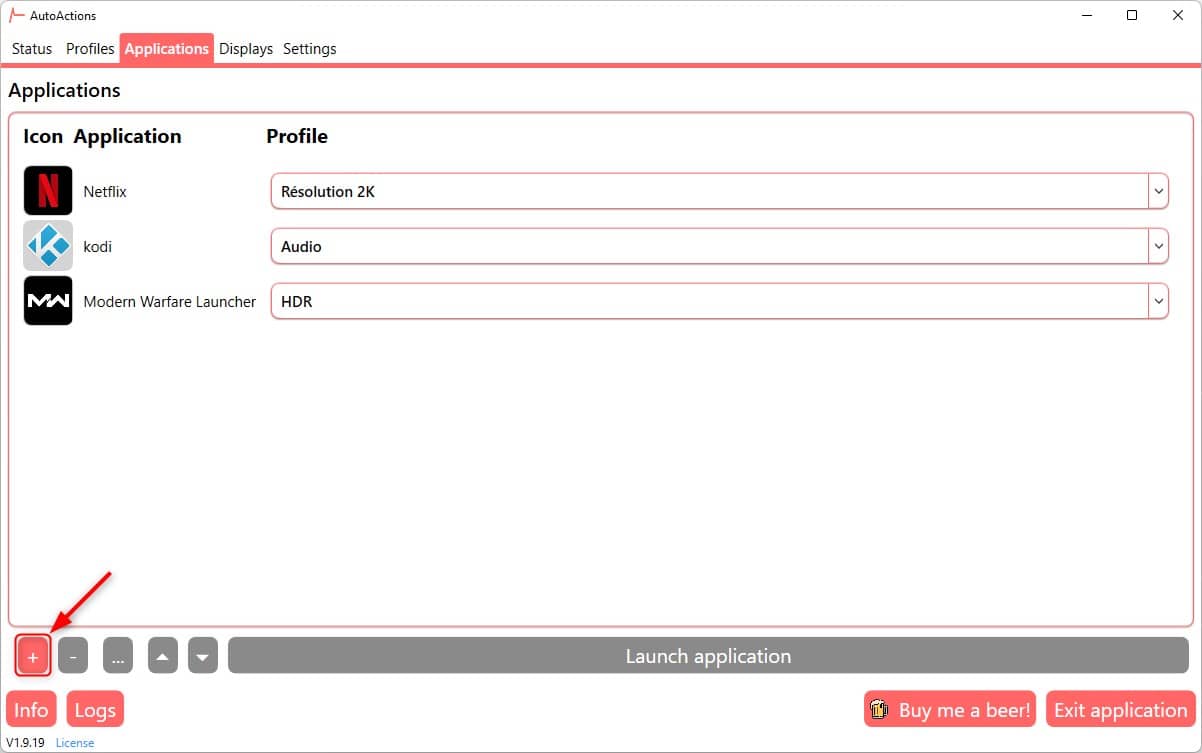 8. Enfin, il ne vous reste plus qu'à attribuer les profils aux applications/jeux de votre choix. Pour ce faire, sélectionnez le profil de votre choix à partir du menu déroulant pour chaque application. Dans mon exemple, l'application Netflix s'ouvrira automatiquement sur mon écran 4K, Kodi utilisera des paramètres audio spécifiques et le jeu Call of Duty Warzone s'exécutera en mode HDR.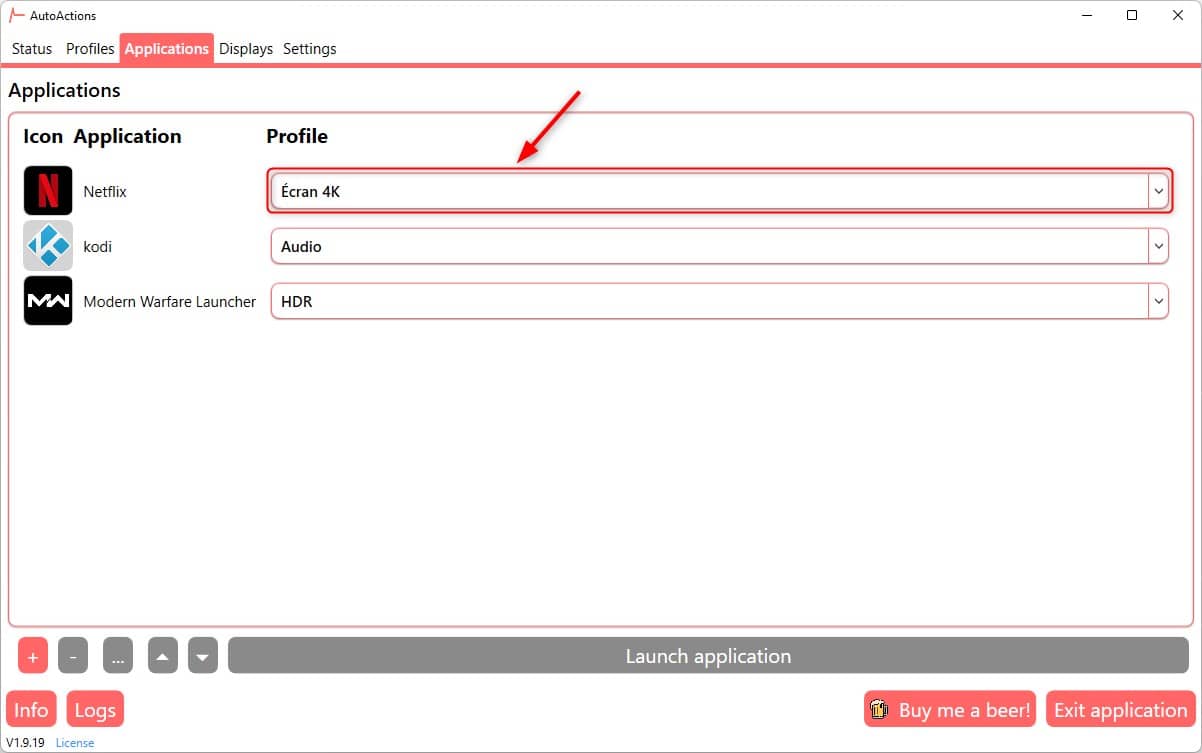 ✅ C'est tout ! Vous pouvez maintenant vous rendre dans l'onglet « Settings » et cocher la case « Auto-Start » pour que l'application AutoActions s'exécute automatiquement au démarrage de Windows 11/10.
Source : Deskmodder.de
If you liked this article, please subscribe to our reddit community to discuss it. You can also find us on Twitter and Facebook.