Have you always dreamed of installing, uninstalling and updating all your software instantly? Chocolatey , reference package manager for Windows may please you. Thanks to its multiple functionalities, operate a real revolution in the management of your software: time saving, ease and security guaranteed!
So why Chocolatey? What is a package manager? Definition, usefulness, functionalities, installation, instructions, tips… Follow the guide!
Summary
Why choose Chocolatey?

Software management: constraints and opportunities
What is a package manager?
Chocolatey: Requirements, Features, and Benefits
How to install Chocolatey?

How to use Chocolatey?

Find an app
Install an app
Update an app
Uninstall an app
Lists of applications and commands

Conclusion
Why choose Chocolatey?
Software management: constraints and opportunities
The constraints of installing, uninstalling and manual software updates are legion for Windows users.
Whether for installation or updates, you have to conquer the web and for many steps: finding the right site (official or publisher), avoiding PUPs (adware and spyware), finding the right version , download the software and then undergo the various installation steps, with the risk of installing additional and potentially harmful programs, in the event of a careless error.
All these steps for a single software! I let you imagine the time wasted, as well as the potential risks of version errors or infection of your computer to install and update all of your software!
Package managers were created to address these different issues and make life easier for users. This is the case of the Chocolatey package manager: an essential program for managing your Windows applications.
What is a package manager?
A package manager is a computer tool that automates the process of installing, uninstalling, and updating software .
Widely democratized on Linux (Pacman…) and Mac (Homebrew…), package managers are gradually arriving on Windows, to the delight of their users!
The installation package or package is an archive. This contains the files needed to install software for a given operating system. There are therefore as many packages as software, these being stored in dedicated servers , also called repositories .
The package manager then works by tapping into one or more repositories that contain the file archives of the desired software.
Chocolatey: Requirements, Features, and Benefits
Prerequisites for installing Chocolatey
To be able to install and use Chocolatey, some compatibility conditions are required:
Windows 7 and +
Windows Server 2003 and +
PowerShell v2 and +
MicrosoftFramework. NET 4 and +
Chocolatey Features
Chocolatey makes three levels of editions available to its users. Each of them offering many additional options in addition to the basic services of search, installation, uninstallation and software update.
The standard version is free and open source (free software) , it is intended for individual and personal use. It provides, among other things, the creation, hosting and sharing of packages.
The Pro version is intended for individual and professional use. PowerShell features are improved, servers are more stable and faster. Finally, all downloaded programs are screened and scanned with an antivirus.
The Business version is intended for companies and gives access to multiple additional adapted functionalities: centralized administration of all company programs, synchronization of packages between computers and much more.
The Benefits of Chocolatey
Three main categories of benefits are accessible through the Chocolatey package manager:
Centralization of software : thousands of packages are gathered in Chocolatey's public database. The search for software and their updates is thus facilitated.
Secure software : by downloading your installation and update packages with Chocolatey, there is no longer any risk of spyware or malware.
Automatic dependency installations : Some software requires additional programs to run. These are going to be installed automatically by the Chocolatey package manager.
How to install Chocolatey?
Now comes the first step: installing the Open Source version of Chocolatey. There are two ways to do this:
The command prompt (Cmd.exe) : to do this, type cmdin the Windows search bar, then right-click on Command prompt and click on "Run as administrator".
Once it is open, type the following command and press Entrée:
@powershell -NoProfile -ExecutionPolicy Bypass -Command "iex ((New-Object System.Net.WebClient).DownloadString('https://chocolatey.org/install.ps1'))" && SET "PATH=%PATH%;%ALLUSERSPROFILE%\chocolatey\bin"

Wait a few seconds for the installation to complete and close the window for the changes to be applied. You can then type your first Chocolatey command.
With Windows PowerShell : to do this, launch Shell as administrator and enter the following command:
Set-ExecutionPolicy AllSigned; iex ((New-Object System.Net.WebClient).DownloadString('https://chocolatey.org/install.ps1'))
Follow the PowerShell command prompt instructions and accept the different installation steps. Then close the window to validate the modifications. In both cases and to check that Chocolatey is installed, use the commandchoco -h
How to use Chocolatey?
Chocolatey is now installed, now let's find out how to find, install, update, uninstall and list software with your new package manager.
Find an app
Although the Chocolatey repositories list many software, all the software on the market is not necessarily present there. Before installing an application, you must therefore ensure that it is available. For this, two methods can be used:
Via the choco search command : this technique gives you two search options. You can directly type the name of the software you are looking for after this command:choco search -e nom_application
Application name to be replaced with software name. Example :choco search -e vlc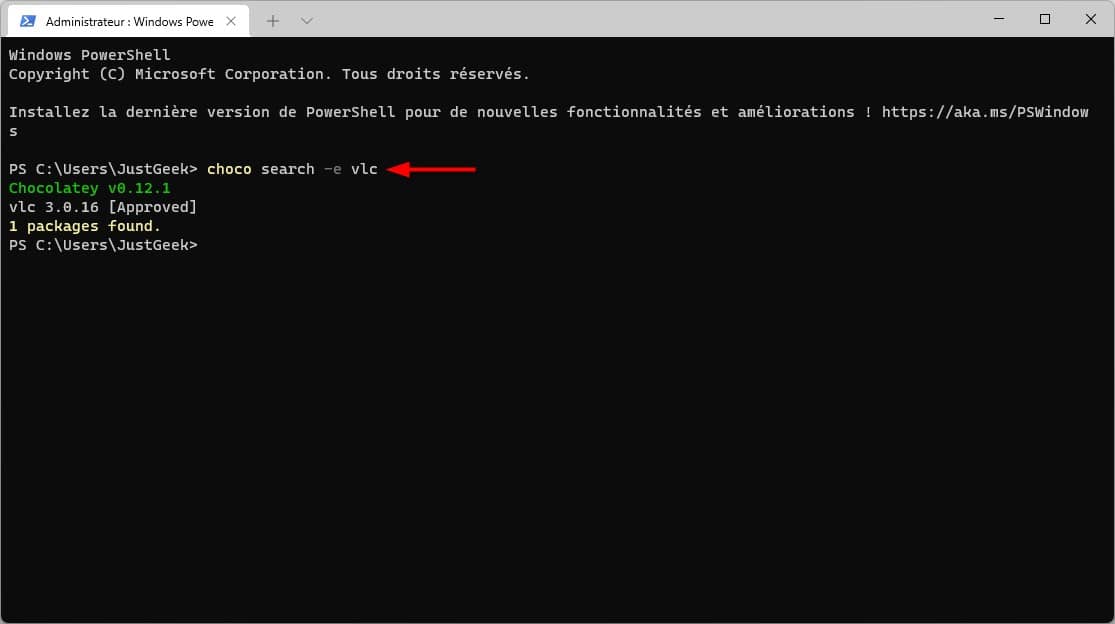 The second choco command allows a selection of packages whose name contains the word present in the search, for example: choco search --by-id-only vlcwill search for all packages containing the word "VLC".
The second method of research is to go directly to the package catalog of the official Chocolatey website .Important : for searching, installing, uninstalling and updating your software: Chocolatey does not detect software already installed on your computer . To be able to update and uninstall them with Chocolatey, we advise you to uninstall your application and reinstall it with Chocolatey.
Install an app
Once your software has been found, it's time to install it!
Still with Windows PowerShell or Command Prompt as administrator, enter the commandchoco install nom_application
Of course, replace "app name" with the actual name of the app you want to install. For example, type choco install vlcto install the popular media player.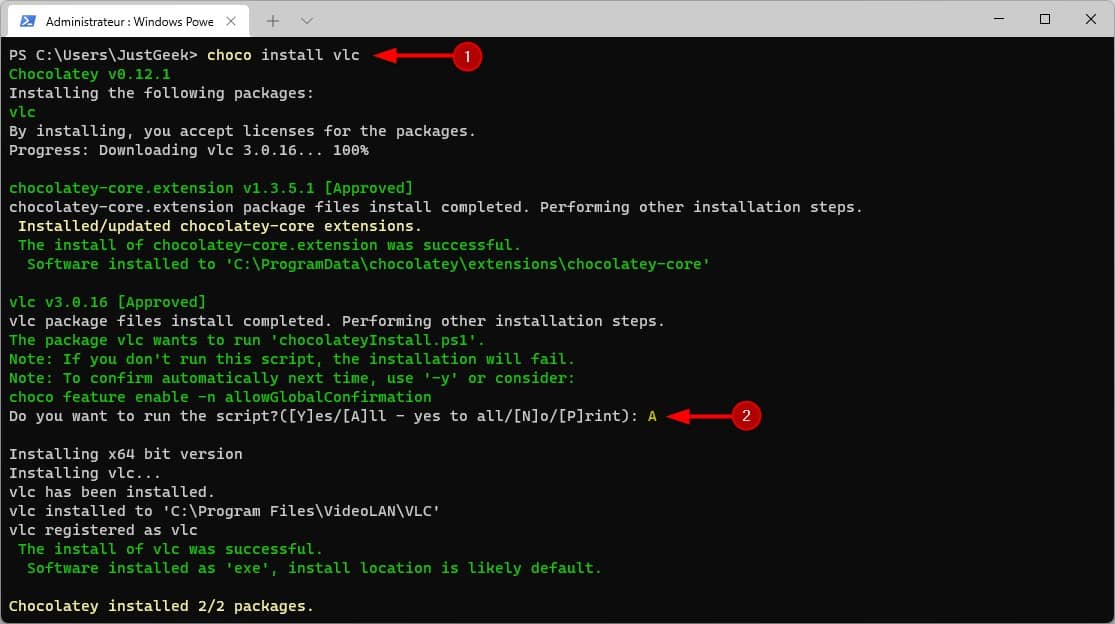 You can also install multiple applications in a single command line.
To do this, use the same command and separate the software names with a space:choco install nom_application nom_application2 nom_application3
For example, if you want to install 7Zip, Bleachbit and VLC, type the following command:choco install 7zip bleachbit vlc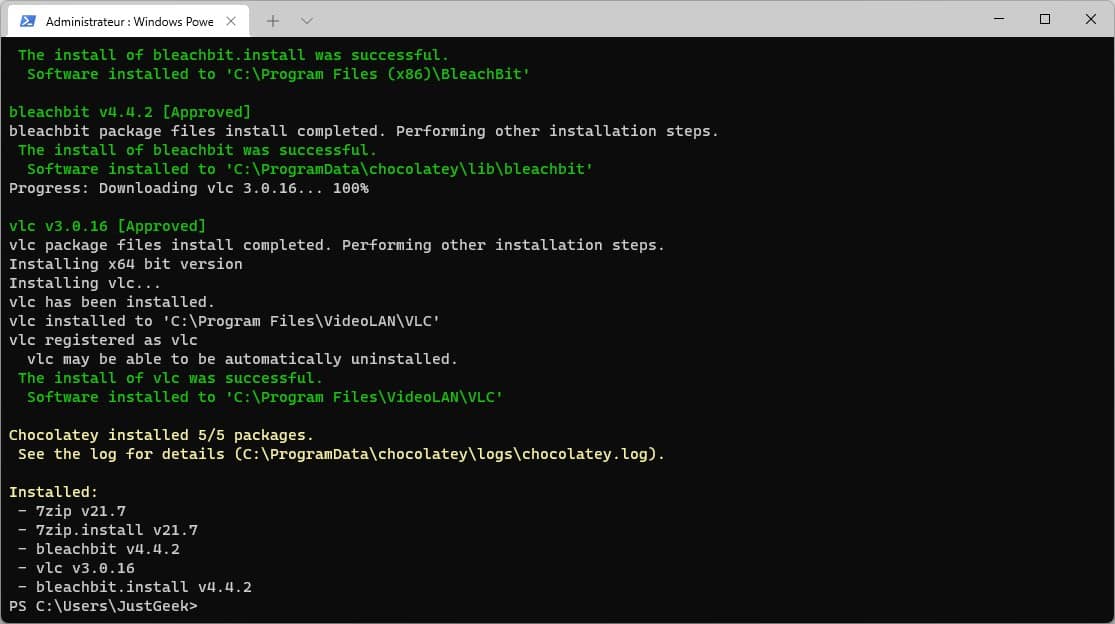 To avoid answering the question " Do you want to run the script?" », you can add the prefix -y, at the end of the command (also works with updates and uninstallations). Example :choco install nom_application -y
Update an app
To update one or more applications, first check if updates are available:choco outdated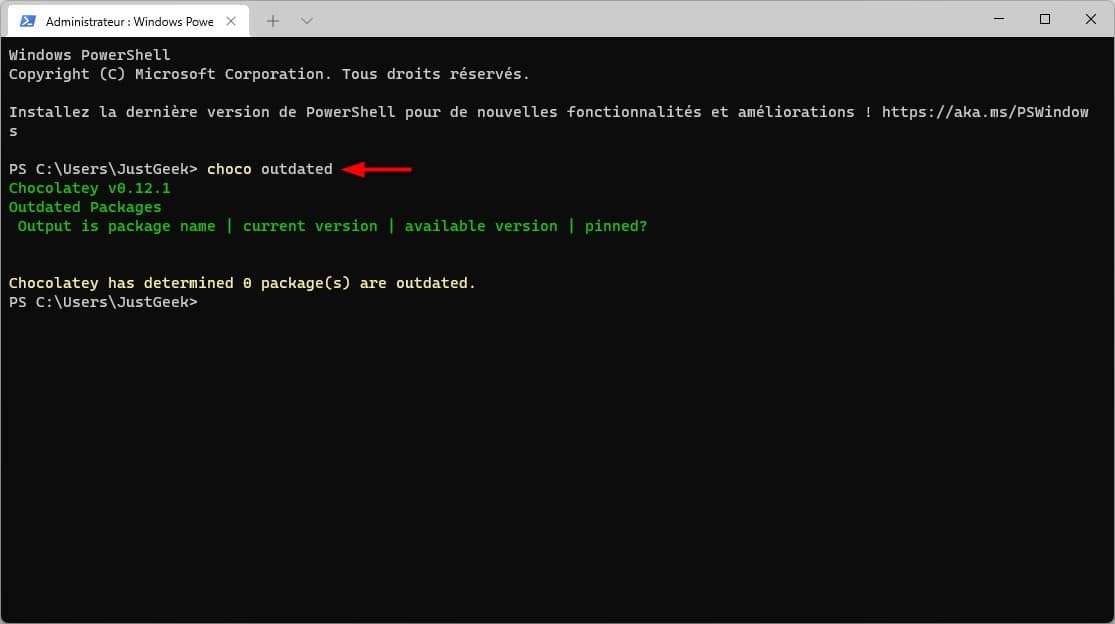 Chocolatey then displays the software(s) that are not up to date. You can then choose to update one or more software by typing the following commands:
Choco upgrade nom_application installs the most recent version for a single software of your choice.
Choco upgrade nom_application nom_application2 nom_application3for several software of your choice.
Choco upgrade allto update all software at the same time.
Uninstall an app
To uninstall one or more packages, the same type of procedure applies:
Choco uninstall nom_applicationto uninstall a single application of your choice.
Choco uninstall nom_application nom_application2 nom_application3to uninstall multiple apps of your choice.
Choco uninstall allto uninstall all packages installed with Chocolatey.
Lists of applications and commands
To list all file packages installed with Chocolatey enterchoco list -l
Finally, here are all the existing commands for Chocolatey.
Conclusion
You now have all the cards in hand to install, use and master Chocolatey.
Say goodbye to endless research to install, uninstall and update your software. With Chocolatey, treat yourself to fast, secure and optimal package management!
If you liked this article, please subscribe to our reddit community to discuss it. You can also find us on Twitter and Facebook.