PDF ( Portable Document Format ) is a file format created by Adobe Systems . It is one of the most used today because it can be read on many devices (smartphone, tablet, computer, etc.), regardless of the operating system.
If, like me, you regularly use PDF as a file format, then the site that I am going to present to you below should interest you.
CleverPDF: 44 online  tools available for free 
The CleverPDF site offers us no less than  44 useful and free online tools for your PDF files. For example, you can  convert PDF files  to Office documents (and vice versa), but also  compress, protect, merge, unlock, split PDF files .
No need to install third-party software, everything is done online from your web browser. On the main page of the site, we find all the tools available in the form of "tiles". When you hover over one of them, you get a description of the tool in question.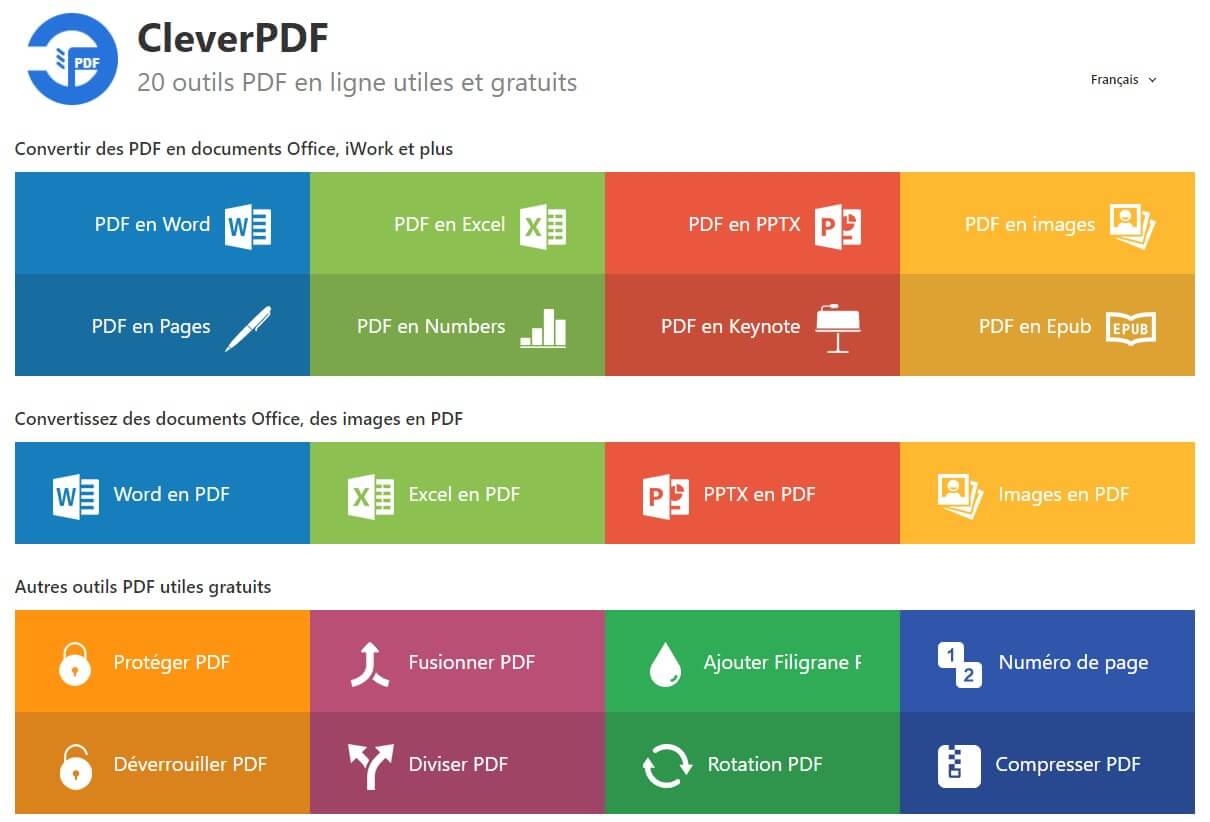 For example, if you want to convert a PDF file to a Word document, you just need to click on the blue tile labeled " PDF to Word ". Then, click the " Select File " button to search your PC for the file to convert. Wait for a few seconds, then click the " Start " button to start the conversion. Wait again, then click the " Download " button to download your converted file. Note that your file will be stored on the site's servers for 30 minutes, after which it will be automatically deleted. If you want the file to be instantly deleted from the servers, click the trash can icon.
It's the same operation for each of the tools that CleverPDF offers us.
As I told you above, CleverPDF also offers tools to compress a PDF to reduce its size, combine two PDF files, split a PDF, add a text or image watermark, protect a PDF file with a password or rotate all pages of a PDF file.
Once the action has been taken on the PDF, all that remains is to choose where to save the file and that's it. Using CleverPDF's free tools is very easy and the conversion quality is impeccable.
Conclusion
Without a doubt, CleverPDF is the must-have site for all users who use the PDF file format. You can immediately bookmark the CleverPDF site to always have it at hand. Now you can quickly do a lot of things on your PDF documents from any browser and without installing third-party applications.
If you liked this article, please subscribe to our reddit community to discuss it. You can also find us on Twitter and Facebook.