Whatever one may say, the first impression always counts. This is doubly true in business. The question that arises is the following: how to make the interlocutor remember us? The business card, which has been around since the 19th century, is the best way for the person in front of you to remember you. Still it is necessary that it marks the spirits. Contact Card Generator is an online tool that allows you to create your business or contact card  in a few clicks.
Create a business card online for free
Until a few years ago, it was common for any professional to always carry a set of contact cards or business cards. So they could quickly distribute them to any potential customer they came across.
Today, with the rise of the web, these types of contact cards have become digital and can link directly to websites. Some business or contact cards even have a QR code that contains all your information.
Despite this, there are still many professionals who prefer to have physical business cards to hand out. What is interesting for these people is that now there are simple and free online tools like Contact Card Generator.
Thanks to this tool, creating a contact card only takes a few seconds and the result is very satisfying. You can then share it digitally or physically if you print it.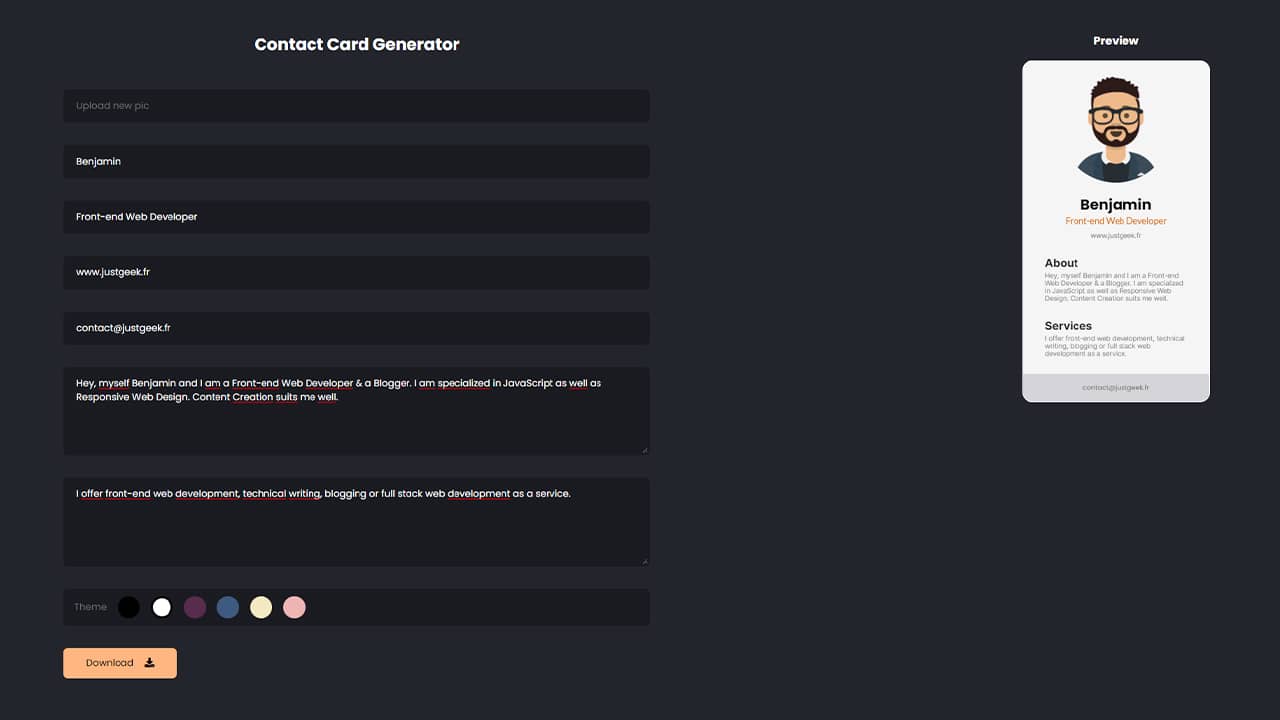 How to create a contact card with Contact Card Generator?
Contact Card Generator is a free and easy to use online tool. The latter allows you to create a business card easily and for free . What's more, no registration is required to use the service unlimitedly.
Creating your own business or contact card with Contact Card Generator is a very simple and quick task. It shouldn't take you more than a few minutes. Here's how.
1. At first, go to the Contact Card Generator website .
2. Once on the homepage of the site, start by uploading your profile picture or your company logo.
3. Then enter your personal information: name, profession, website and e-mail.
4.  Then move on to writing a brief summary about you or your business, along with the services or products you offer.
5. Choose a color for your business or contact card.
6. Finally, click the "Download" button to retrieve your contact card in PNG format.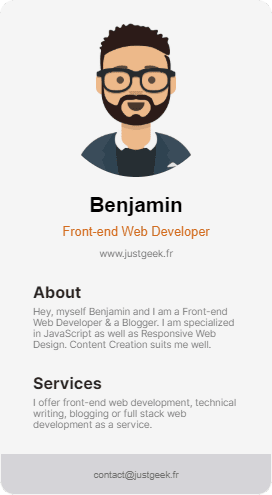 Our opinion on Contact Card Generator
Contact Card Generator's interface couldn't be more sober and very easy to use. For making a business card, the steps are simple and clear. So you will have no trouble creating your own. Small flat however, the choice of colors for the business card is limited to 6 colors, without possibility of modification. Although the personalization is not really there, Contact Card Generator remains a very interesting tool.
If you liked this article, please subscribe to our reddit community to discuss it. You can also find us on Twitter and Facebook.