"If only I could just wave a magic wand and have a super fast website ! That probably crossed your mind too, didn't it? Especially now when Google's vital web cores are at the center of conversation. Optimizing site speed and user experience is a lot of work and sometimes it gets quite technical and complicated.
Core Web Vitals, where are we?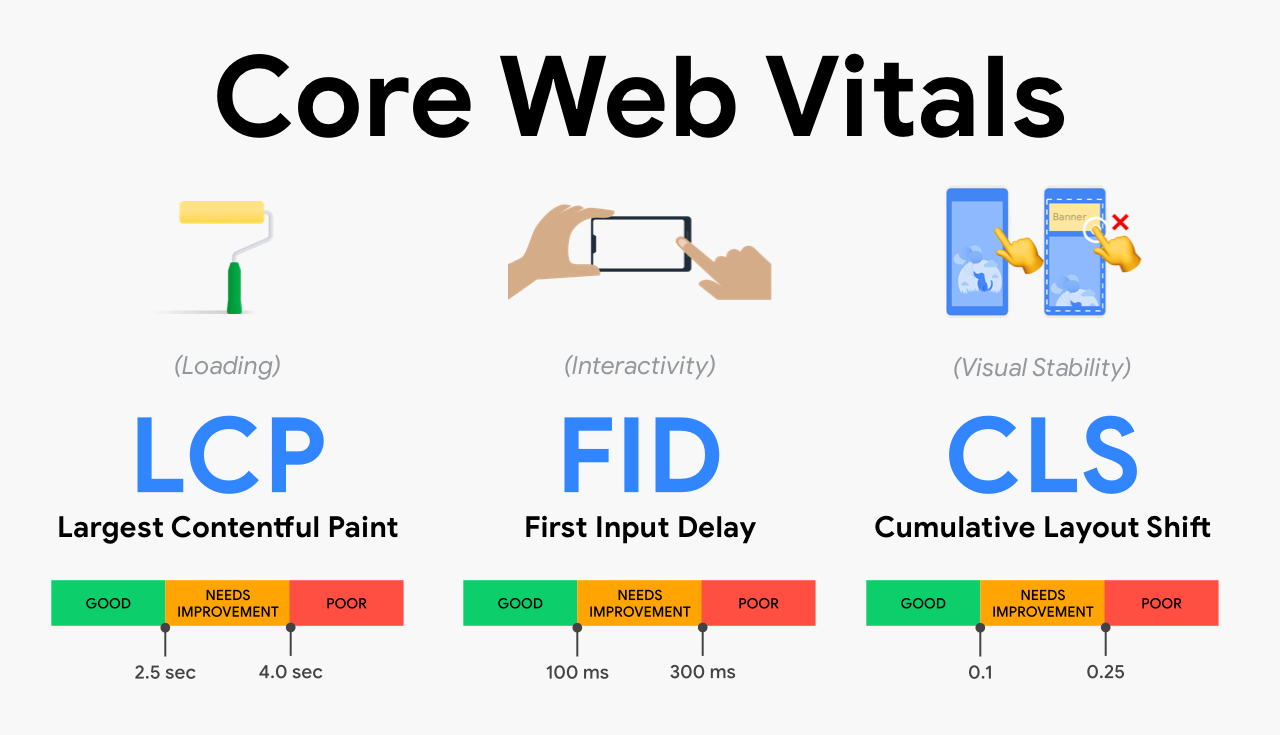 In this article, we go over five actions you can take to improve your Core Web Vitals . You will therefore find in this post advice allowing you to boost your performance with regard to these new scores set up by Google.
Be careful however, this is not exhaustive and Google continues to modify all this. Nothing is final. It is therefore difficult to determine precisely what will really boost your performance . Google is just giving us insight into what's hurting the user experience.
Core Web Vitals: 5 actions to be implemented by you or your developer
The importance of a site's web page loading speed and user experience has been talked about for years . Even though there is a lot of information on how to optimize your site, it is often difficult to put this knowledge into practice. In recent months, Google has once again put loading speed first. To help you, the search engine has developed tools giving indications as to the optimizations to be carried out.
Very little has really changed. It all comes down to getting the main content of your site to your users as quickly as possible . Do the test yourself, try to see how your site works on the user side.
Try to rank the corrections to be made in order of priority and start! Below, discover several ways to optimize your Core Web Vitals. Actions that you will be able to implement yourself or ask your developer.
1. Optimize your images

Here's an old golden trick: image optimization. One of the most important things you can do for your site is to properly optimize your images. Yes, it's been said a million times, but do it. One big, unoptimized image on your homepage or landing page could do you a lot of harm. Large images have a strong impact on the loading time of your site. Make sure you welcome your visitors properly by making it load quickly.
Make sure that your images are offered in the right size to Internet users and think about compressing them. There are many tools to help you with this task. It is not necessary to have a high resolution for the image to be sharp on the screens most commonly used by Internet users .
Your CMS is also a tool that will help you improve the loading of your images. Scheduled for August, the WordPress 5.5 update will only load images that appear on screen and let the rest load when the user interacts with the content. As a result, this will tell the browser to only load "large" images when necessary (and therefore when the user wishes to continue browsing or perform an action).
2. Stabilize the loading of your pages by specifying space for images

One of the factors used by Google to judge whether you offer a pleasant customer experience is the CLS. This score measures whether the layout of the elements on your page moves when a user views content on your site. There is nothing more frustrating than wanting to click somewhere and not getting there because the layout "jumps".
The jumping layout is caused by dimensionless images in the CSS. It can also be caused by dimensionless ads, or dynamically injected content. When not sized correctly, these items tend to jump around a bit during the loading process, making them look jerky and unstable.
One of the ways to improve Core Web Vitals is to add the width and height of images in the CSS. This way the browser will reserve space for this image which will probably appear later than the text. However, the content will no longer "jump" because the browser will know that an element of such size should appear there.
Because of this, just make sure your images have the correct width and height attributes.
If you want to integrate advertising spaces, do the same. In the CSS provide adequate dimensions.
3. Boost your server to reduce loading time

The faster your server responds to requests, the better. The fact that the server responds faster directly impacts your Core Web Vitals.
Optimizing your server is broken down into several parts. First, upgrade your hosting plan. Don't skimp on accommodation. Choose a hosting that offers good performance at a reasonable price. Then there is the question of how the server was configured. Use a recent version of PHP. Finally, there is the question of the material you have chosen. It must still be fairly recent and maintained.
You should also research how your databases work and see if you can make improvements. Use tools like the Query Monitor WordPress plugin to continue analyzing queries on your site.
Finally ask your developer to examine how your server pushes files to clients. There are several ways to improve this process. These are more advanced solutions that allow you to fine-tune how your server responds to requests.
4. Review CSS Code to Load Content Faster

When the browser loads a page, it needs to get the HTML, load it, the CSS, load it, the JavaScript, load it, etc. The more files you need to load your site and the larger they are, the slower your site will load.
Because CSS loads late, it often takes a while for an element to appear on screen. By taking the critical elements of your design from the main CSS file and inserting them into your code, you can make your content appear faster.
You can use WordPress caching plugins like WP Rocket. WP Rocket has a simple button that, when enabled, eliminates render-blocking CSS and improves your site's loading.
5. Improve the loading of third-party scripts

For many sites, the slowness also comes from the outside. If your site relies on ad scripts, for example, your performance is fundamentally in the hands of the ad provider. You can only hope that its ads perform well. If their ads are loading very slowly, it might be time to find another provider.
If you find that third-party scripts are slowing down your site , you should look into the matter. Ask yourself if you really need this particular ad. What is the value of these scripts? There may be another option, a little more optimized and less stressful for your server. So try that.
If possible, you can try hosting the script yourself. This way you have a little more control over the loading process. If you can't do that, try preloading it faster.
At least make sure to load the scripts asynchronously or postpone this until the last moment. This way the browser can build the page before getting and executing the external script. Use async if the script you are loading is important, such as an analysis script. You can use load deferral for less critical resources.
Optimizing Core Web Vitals: Every Little Improvement Matters

Google has once again put site speed and user experience first . We have always looked at SEO holistically. However, there are many elements that you can work on one by one in order to build the best possible site. While the tips mentioned above can help you improve your Core Web Vitals, you should always do everything to give your visitors a better experience.