It comes as no surprise to anyone that web-based exchanges have become increasingly visual in recent years. The biggest representative of this trend is obviously Instagram, where, unlike Facebook, it is no longer possible to simply send a text message without adding a photo/image to support the point. This trend has even become the norm.
Some would imagine today that one can share a message on the networks by concentrating on the content and not on the form. Whether it's an image or a video, the aesthetics must be neat. That's why, in this article, we present a tool to broadcast a Tweet in a more impactful and graphic way!
Tweetlet: highlight your tweets, images or texts to share them
Tweetlet is a free online tool that allows you to retrieve a tweet, to turn it into an image with a worked design that can be easily shared. That said, the tool doesn't just highlight the tweets you select. Indeed, Tweetlet has 3 modes:
Recovering a tweet to make an image
Adding colored borders to any imported image
Graphic enhancement of text typed by yourself
A few options accompany each of these modes. Some are common, such as changing the background color (gradient or solid color), changing the frame and its size (square or rectangular) which is very practical for sharing on Instagram for example. Finally, Tweetlet offers the possibility of copying the final result to your clipboard or downloading it directly to your computer in .PNG format.
Regarding the options specific to each mode, there are functions to display or hide the engagement statistics of a tweet and modify its size. You also have the possibility to present a tweet or a text in the form of a quote and finally, to display the latter in dark or light mode.
1. Visit the site Tweetlet.
2. At the top of the site, you will find a small drop-down menu from which you can choose " Tweet », « Image " Where " text » depending on the image you want to create.
Tweet : Copy the URL of the tweet in the search bar so that it appears in the image.
Image : Select the desired image to appear in the picture.
text : type or paste the text of your choice in the box provided for this purpose so that it appears in the image. To customize your text, refer to the available documentation at this address.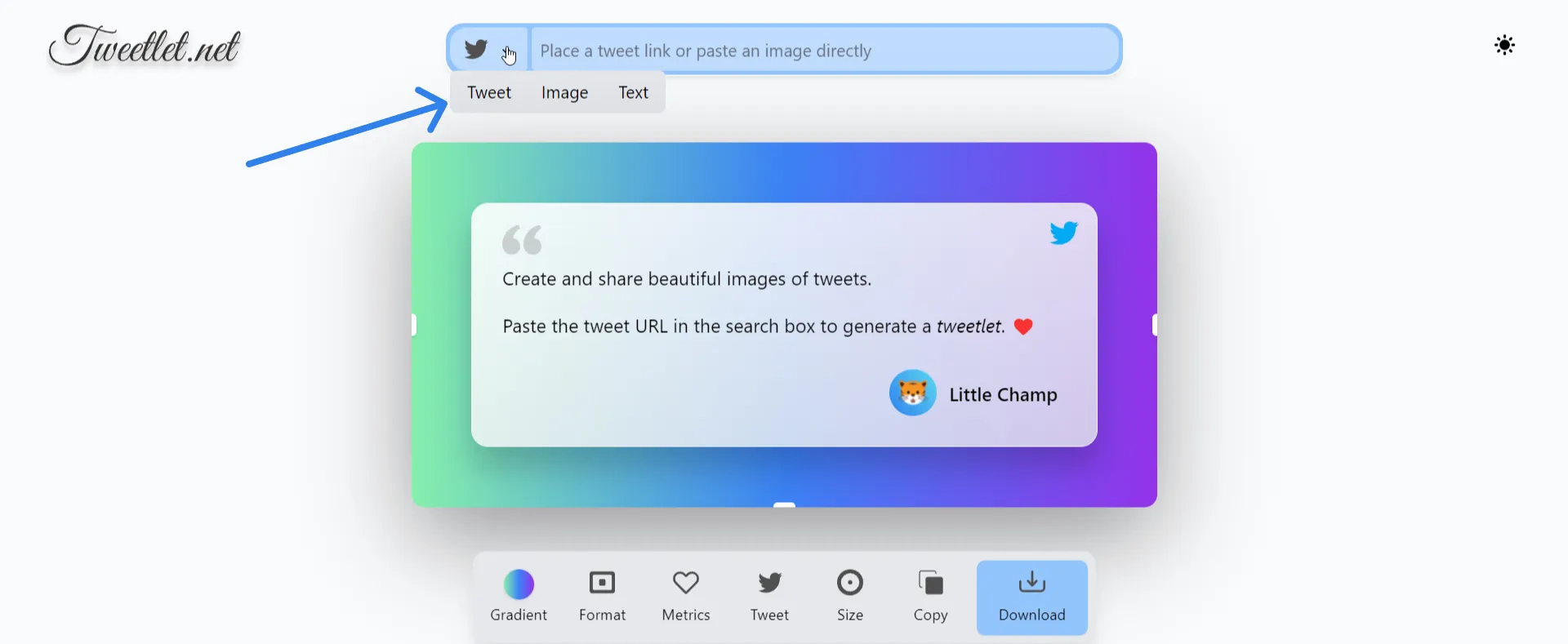 3. You can then choose a background, the format of the image (rectangle or square), add a quote, choose the color of the card or even download your image in PNG format.
✅ That's it, you now know how to embellish a tweet, an image or text thanks to Tweetlet.
What you must remember
Tweetlet is therefore a handy little tool if you want to share your favorite Tweets on other networks with a more stylish and engaging layout. That said, you don't have to be a "Twitter addict" to benefit from it, since it is also possible to highlight your own images and texts of your choice!