You may be wondering what a call-to-action button or CTA (Call-To-Action) button is. Well, it is a button prompting the user to perform a specific action like signing up for a newsletter, signing up for a subscription, making a purchase, etc. In other words, for any website, app or video game designer, these CTA buttons are a must.
But precisely, how to design them? Many will certainly think that you have to have computer graphics or computer knowledge to achieve this. But this is not necessarily the case. Indeed, we have discovered the ideal online tool to create buttons easily , quickly and all for free! This online tool is aptly named: Da Button Factory .
Da Button Factory: the perfect tool to create all kinds of buttons
Although we don't necessarily pay attention to them, buttons are everywhere on the Internet. They can be found on websites as well as on blogs. But not only. Indeed, buttons are also essential in applications, services, games and others.
Da Button Factory turns out to be the ideal tool if you want to create your own buttons for your projects. This online button maker lets you not only create call-to-action buttons but also all the buttons you might need on social media, online content, and apps of all kinds.
To do this, you just have to go directly to the Da Button Factory site where you will find an example of a button that you just have to customize according to your wishes.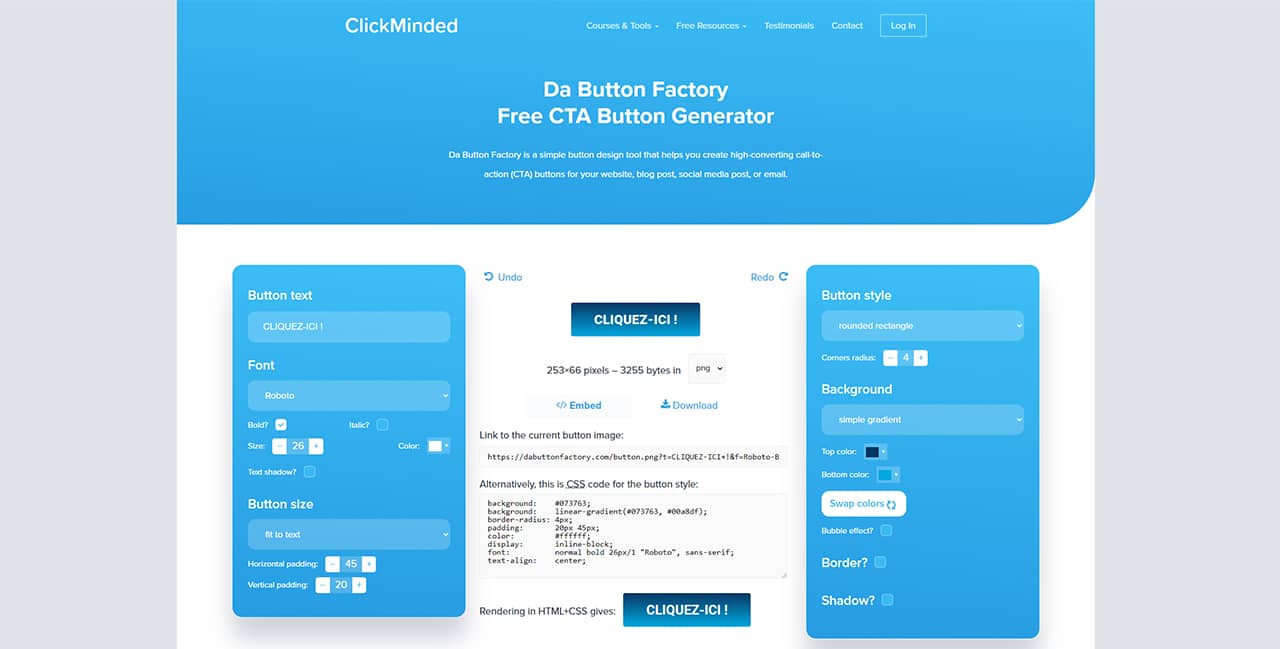 Fully customizable buttons available in several formats
You will thus have your button constantly under your eyes and thanks to the simple and effective interface of the site, you will quickly find where to modify the text of your button, where to change the appearance of your button and how to model the typography, the properties and the background for your button.
Once you are satisfied with your artwork, you can download your button in various formats including JPG, PNG, GIF, and ICO. HTML code and CSS code are also available to directly insert your button on your website.
Note that the use of this online tool is completely free and does not require any design experience or knowledge. Moreover, Da Button Factory is compatible with the latest versions of the most used browsers like Chrome, Firefox, Edge, Safari, etc. You just have to create your first button!
If you liked this article, please subscribe to our reddit community to discuss it. You can also find us on Twitter and Facebook.