Are your pages no longer indexing on Google? In recent months, many websites have seen their new content unindexed and are marked as a "detected, currently unindexed" page in Google Search Console. It's a huge concern: some pages with good content remain unindexed for months. This totally discourages site publishers and severely limits their income. Here are two very effective solutions to finally index the "detected but not indexed" pages of your websites .
Why does Google no longer index your pages and place them as "detected not indexed"?
Since around September 2021, Google has implemented a "predictive crawl" system. Simply put, Google decides in advance not to crawl your new pages quickly . This mainly concerns sites with low or medium organic traffic, less than 500 visits per day, which represents the vast majority of websites. Google will eventually visit your pages, but it may take several months: impossible to make a site profitable with such slow indexing.
Fortunately, there are several solutions to index your "detected, currently unindexed" pages and I will show you 2 that work very well. These solutions obviously work on quality sites not on sites deserving of a penalty from Google (spam site, duplicate content, etc.). If your new pages are unfairly placed as "detected, currently unindexed", it will work for you.
1. Solution to index the "detected, currently unindexed" pages of all websites: Indexation.fr
This first solution will allow you to index your pages in less than 24 hours. And it will only cost you one euro per page! It is the best performing indexer in the market in 2022 , they provide an index tracking dashboard and you can index any quality page that Google detects but does not index because of the predictive crawl.
This article that you are reading at the moment has been indexed thanks to the services of indexation.fr/en/ !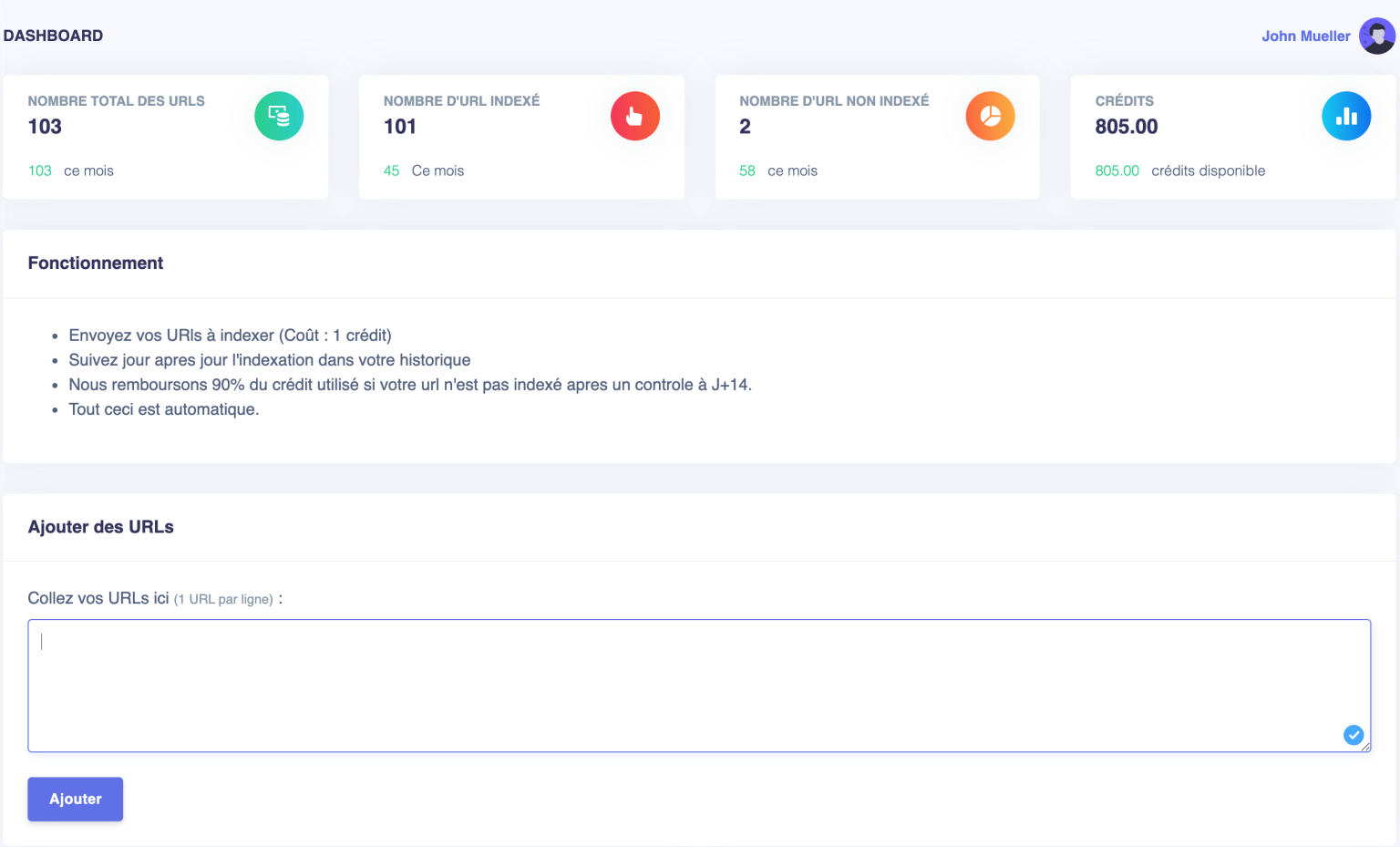 For my sites, I only use their services because they are the most efficient. And I prefer to pay 1 euro to have a page quickly indexed and earn tens or hundreds of euros with this page (depending on its potential).
In one day: your page will be indexed! It works 100% on all my sites.
2. Solution to index "detected, currently unindexed" pages of all websites: Evadav
Another solution will allow you to index your pages in less than 24 hours. And it will only cost you 20/30 cents per page!
To index your pages, Google has several tools including a famous one: the Google Chrome browser. To put it simply, if hundreds of Chrome users visit your page, Google will consider that your content is of interest and will decide to index it.
OK, but how do you bring hundreds of Chrome users to an unindexed page without breaking the bank? Advertising on Facebook or Google Adwords would be very expensive and you cannot select Chrome users only. The solution I use is a lesser known ad provider: Evadav .
How does it work :
you create an account with Evadav
you credit your account. The minimum is 100 USD (note that you will not be able to repatriate your funds, so you must have at least 300 pages to index!)
you create a new campaign with the following parameters ( IMPORTANT ):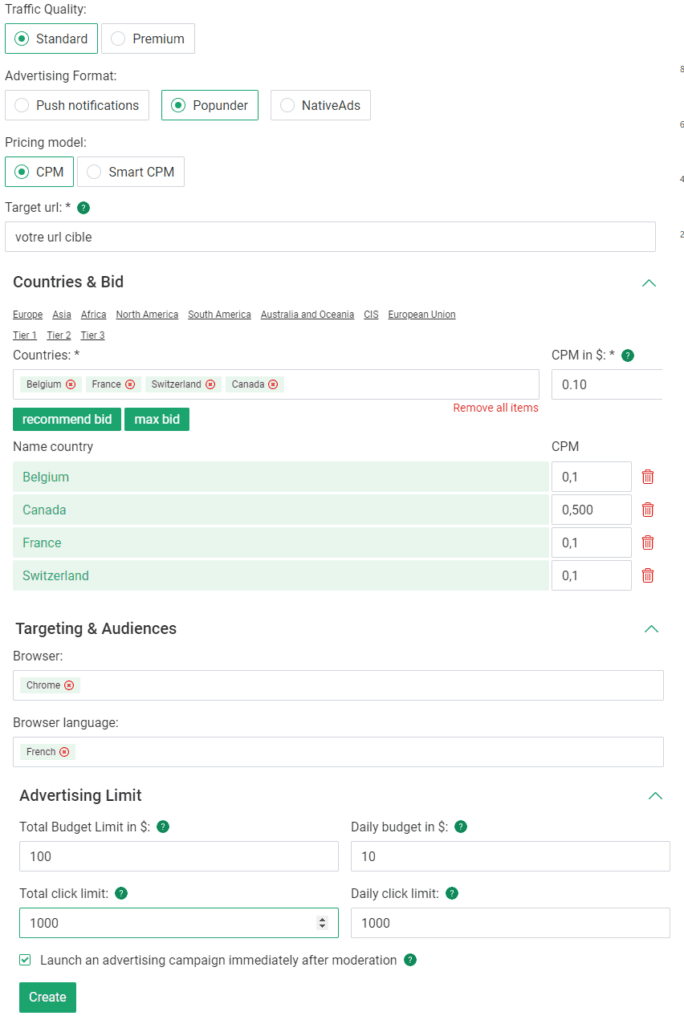 Some explanations on these parameters: in this example, I want to index a French-speaking page. So I targeted 4 French-speaking countries (avoid African countries which could be suspicious in the eyes of Google), I put a CPM at 10 cents, I chose "Chrome in French" as my browser.
And I put a daily limit of 1000 clicks to avoid spending more than 30 cents a day. (you can even put 800, that's enough)
Once the campaign has been created and validated, Evadav will push a banner with your popunder link to thousands of Youtube users and other video platforms in these countries, you will have 1000 visits from Chrome users to your page in one day.
Important: remember to stop your campaign after 800 clicks, that is more than enough. The next day: your page will be indexed!
Questions/Answers on the indexing method via Evadav
Is it a White Hat method? (= authorized by Google)
Yes ! You have the right to advertise your sites. It's like using AdWords or Facebook Ads but much cheaper. No risk of penalty.
Is it quality traffic that Evadav sends us?
At this price, of course not. You will have 90% bounce rate on Evadav visitors. But the goal is not to attract visitors attracted by your content, the goal is only to index your page. If your page has well-made and well-optimized content, you will move up the SERPs and get quality organic traffic with a low bounce rate. Over a year, this low-end traffic will not even show up in the average KPIs of the page.
Does the indexing hold up over time?
If your content is of quality and deserves to last over time: yes! The indexing holds over time and the page does not fall back into "detected currently not indexed". Again, this solution is for hard-working digital investors, not spammers and the like.
What are the disadvantages of this Evadav method?
The only drawback is that you have to run a campaign per url to be indexed and remember to stop the campaign so as not to spend more than 20/30 cents per page to be indexed.
3. Technique to index "detected, currently unindexed" pages of WordPress sites: Rankmath SEO
For sites created under WordPress (the majority of sites today), there is another solution via Rankmath and Google's indexing API.
Attention, some preliminary warnings:
it's a somewhat border-line use of Google's API. Long-term penalty risk?
it doesn't work 100%. Sometimes you have to do it several times.
it takes an hour or two to calibrate everything initially.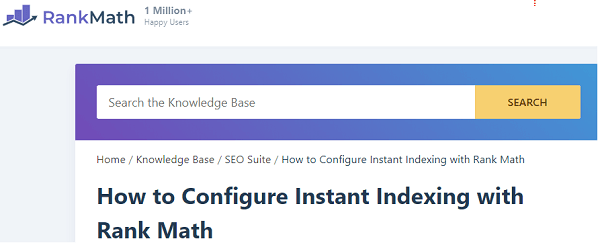 You will find all the explanations on the RankMath SEO site here: https://rankmath.com/kb/instant-indexing/ (the first part of the explanations is for Bing (who cares), the second for Google).
This method works well, is free, but does not respect Google's API rules so I really recommend the previous Indexation.fr solution . But hey, as I know that some of you would rather take risks with Google than spend a euro on indexing, I'll give you these other solutions.
Conclusion to index your detected unindexed pages.
Fast indexing is essential to make your digital investments grow . These 3 methods will allow you to find a fast indexing despite the new predictive crawl of Google!
Personally, my situation has improved! Before the introduction of the predictive crawl, Google took about 2/3 weeks to find my new pages, it was a big loss of turnover. The predictive crawl placed most of my pages in "detected, not indexed" and I had to find a solution. From now on, by spending one euro per url with indexation.fr , I have indexation in 24 hours: this has boosted the profitability of my sites! A good example of how an obstacle initially judged as a big problem turned out to be an opportunity! Indeed, many of my competitors have not found the solution and are struggling to index their content.
If you have any questions or comments, feel free to comment on this article.
If you want to help me : share this page with your friends who encounter this indexing problem.
If you want more tips to boost your digital investments, subscribe to this blog's newsletter here.