In the digital age, online image editors are essential tools for creating and editing images. There are many image editors online today, each of which has its own characteristics. Among the most popular online image editors are Adobe Photoshop Express , Pixlr Editor or Photopea . Today, I present to you a little new one simply called Online Image Editor . As the name suggests, it is a free online photo editing tool with lots of cool features. To learn more about this tool and how it works, I invite you to continue reading this article.
Online Image Editor, a free online photo editing software
Online Image Editor is a handy online tool to edit your images or photos online with just a few clicks. It offers a wide range of features, which makes it perfect for any photo editing needs you may have. You can crop or resize an image, remove the background, add borders, rounded corners, text, and even animations, among other things.
The other advantage of Online Image Editor is that it is completely free. You don't need to download any software or create an account; you just need to visit the website and start editing your photos. It also supports a wide range of file formats such as JPG/JPEG, PNG, BMP, and GIF.
Online Image Editor is a free online photo editing tool that anyone can use, even beginners. However, if you need help getting started, note that the site has plenty of tutorials available online .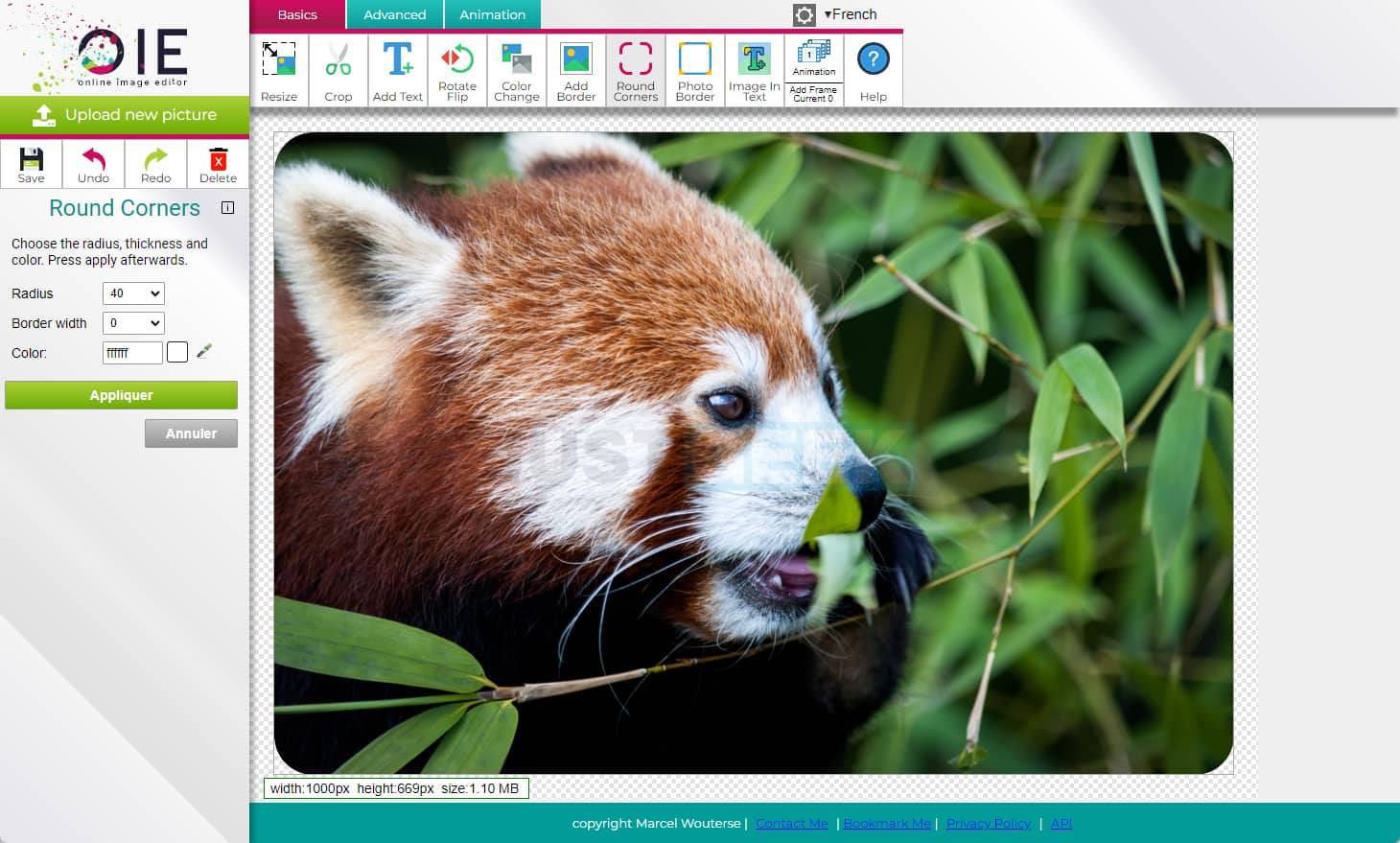 What are its features?
Online Image Editor offers many features grouped in an interface divided into three tabs: "Basics", "Advanced" and "Animation".
Here are the features you will find in each of its tabs:
Basics : resize, cut, add text, rotate, change color, add border, rounded corners, photo border and text in image.
Advanced : passe-partout (thumbnail), transparency, overlay, cut the image into a shape, speech bubble and convert the image to another format.
Animation : Floating effects, add glitter, stars, sparkling text, floating flags or rain.
As you will have understood, this online photo editing tool offers many tools to easily and quickly modify your images or photos online.
What you must remember
Overall, Online Image Editor is an easy-to-use online photo editing tool that offers a variety of functions for you to customize your images. Thanks to this tool, you can edit your images or photos from your computer, smartphone or tablet.
If you liked this article, please subscribe to our reddit community to discuss it. You can also find us on Twitter and Facebook.