Summary
All Coin Academy content for Ecomi (IMO)

ECOMI (OMI) definition: what is it and how does it work?

What is the VeVe Collectible app?

What is the ECOMI (OMI) token used for in the ecosystem?

Explanation of the blockchain used on VeVe

Ecomi partners and licenses

The team behind ECOMI

What is Ecomi Secure Wallet?

Presentation video of ECOMI and VeVe

How to buy ECOMI (IMO)

Frequently asked questions for ECOMI cryptocurrency (IMO)
ECOMI (OMI) definition: what is it and how does it work?
The OMI was born on June 30, 2018 following an IEO (Initial Exchange Offering) on ​​the Bitforex exchange. It is the token that carries the Ecomi ecosystem.
Ecomi is a Singapore-based technology company founded and co-founded by David Yu and Daniel Crothers in 2017. It was created to tackle the emerging digital collectibles sector and all the entertainment that can bring, as well as the protection of digital assets. All driven by their deflationary supply IMO token.
"The next 3 to 5 years will be focused on the digitization of the world, more and more digital objects. We are in a period of transition" Daniel Crothers, co-founder Ecomi.
Ecomi offers two products to overcome this:
The 

VeVe Collectible

 application based on the Gochain blockchain ( 

a migration to the ethereum blockchain via immutable X is in progress

 )

The 

Ecomi Secure Wallet
What is the VeVe Collectible app?
VeVe is a virtual reality -focused 3D digital collectibles (NFT) app . Veve and her team, join forces with the biggest brands and licenses to offer unique collectibles via a drop system and a secondary market. All powered in the background by cryptocurrency IMO, but highlighted by a system of Gems which is the currency used to reach the non-cryptographic mass audience.
The application will be segmented into 4 points: 
A store

 , here is all new drops, and lists past ones.

A virtual showroom

 , like a museum where the user will be able to store his collectibles and display them.

A secondary market

 in the app, the user can (re)sell/buy from other collectors.

A feed

 , it is possible to follow other VeVe users, share their showroom and interact.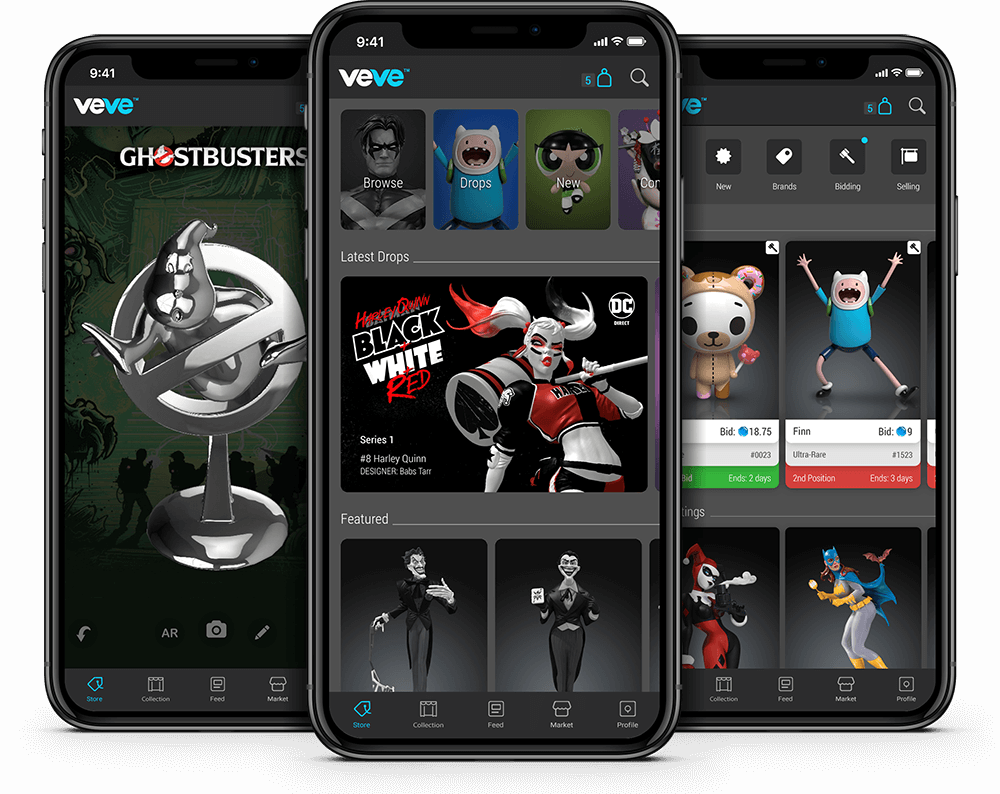 The application offers other mechanics such as the ability to bring your collectible to life and store it in the real world via your phone camera, choose its size, rotate it, take it on video or take a photo.
The application is only available on mobile for the moment but it is expected that it will also be available on PC in the coming months (early 2022?).
A VeVe application still in development
The app has yet to reach its full potential, indeed VeVe officially opened its doors to the public on December 21, 2020, before going through a short beta phase.
Several new programs are coming to the platform
The Master Collector

 : This program is about rewarding VeVe users with a tier system, it reflects the number of collectibles owned as well as activity in the app (so the whales aren't the only ones at risk). benefit). The collector will also have badges and rewards for participation, such as early access to drops, and more. OMI stacking will play a role in this program.
VeVe Verse

 : VeVe Verse will be a unique metaverse with purchasable land in which you can place your fully customizable showrooms with a larger experience allowing users to interact in a multiplayer environment and personal avatars.
Augmented reality glasses

 : Confirmed by David Yu and Ecomi, VeVe will use augmented reality glasses to maximize the user experience. We have no details as to the model used, nor a date.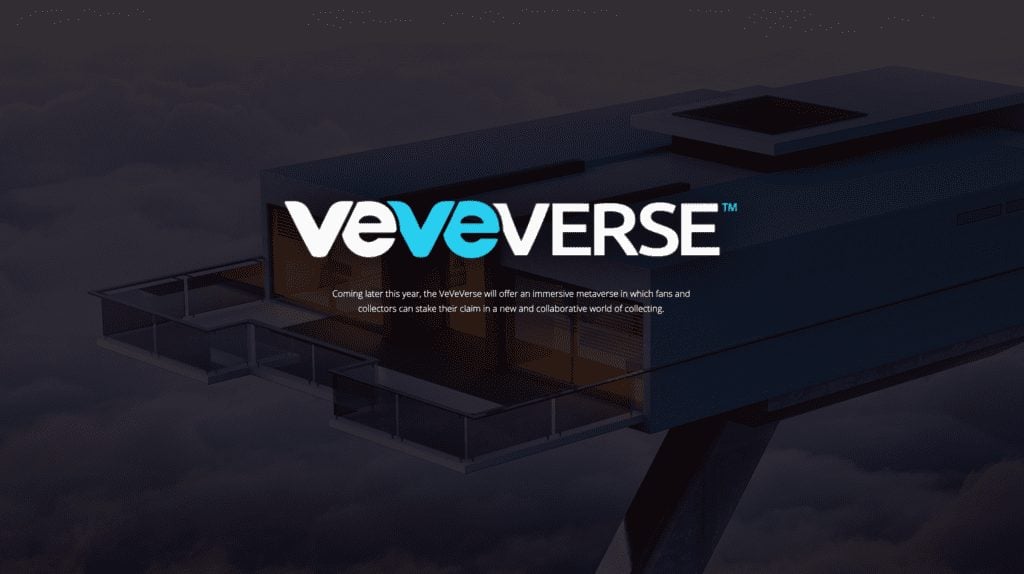 What is the ECOMI (OMI) token used for in the ecosystem?
The IMO token takes up space in the VeVe ecosystem, tokenomics can be summed up in 4 points . These will bring scarcity to the token: what is called a deflationary model.
BURN : Transactions within the VeVe platform are done with OMI tokens with a burn system based on the sale of NFTs. Indeed, in the background when a user buys Gems using Fiat (fiat currency), he will unknowingly buy the equivalent in IMO in the background, and these will then be permanently removed from the reserve of tokens (Burn). This system is used in order to familiarize and integrate non-cryptographic mass market users.
BUYBACKS : Buybacks came into play in the month of June 2021. Each month, Ecomi will be used approximately 10% of the profits generated by the sale of NFTs on the redemption of OMI from exchanges in order to maintain the integrated reserve at the app.
Staking : Still in development, OMI holders and VeVe users will soon be able to stack their token in the application and contribute to the next Master Collector.
CONVERSIONS : Still in development, it will be part of selling its VeVe collectibles in OMI directly, which will add a new solution to extract value from the application. To this will be added the possibility of converting its OMI into Gems, Gems into OMI but also Gems into Fiat!
Also the future possibility to buy a limited percentage of collectibles with its OMI and of course, the token will be an integral part of the highly anticipated VeVe Verse!
Namely: The token will reach its full usefulness by the end of 2021 thanks to the migration of VeVe to the Ethereum blockchain via their technological partner Immutable X. There are also legal obligations such as an MTL (Money Transmitter Licensing) and a KYC (Know Your Customer).
Update on the distribution of tokens and supply
To accommodate the transactions taking place on VeVe the OMI tokens have been distributed as follows :
VeVe Reserve Wallet

 : 40% of the supply, i.e. 300 Billion IMO (These tokens will never enter circulation)

VeVe Vault Wallet

 : ~5.33% of supply or 40 Billion OMI added for initial liquidity. This wallet acts as an intermediary between the reserve integrated into the app and the wallet. (These tokens will never enter circulation)

Private sale and public IEO

 : 14.66% of the supply, i.e. 110 billion IMO

Business development (long term initiative)

 : 20% of the supply, i.e. 150 billion IMO

Team, Advisors, Board Members

 : 20% of the supply, i.e. 150 billion OMI
As a reminder: the total supply is 750 billion tokens.
Explanation of the blockchain used on VeVe
Driven by the OMI GO20 token, Ecomi uses blockchain technology for its VeVe application, which has been based until now and since November 2018 on the Gochain blockchain .
Not for long, because on May 26, 2021, Ecomi announced its partnership with Immutable X and will thus migrate to the Ethereum blockchain! The migration is underway and should be effective later this month at the end of August 2021. At that time, OMI will become an ERC20 token .
Immutable X is the first layer 2 scaling solution for carbon neutral NFT built on Ethereum, and powered by Starkware using zero knowledge proof technology . This partner is therefore able to provide instant and gasless transactions, while maintaining the security of Ethereum.
This will also make it possible to extract NFTs from the VeVe platform and resell them on another marketplace such as Opensea for example.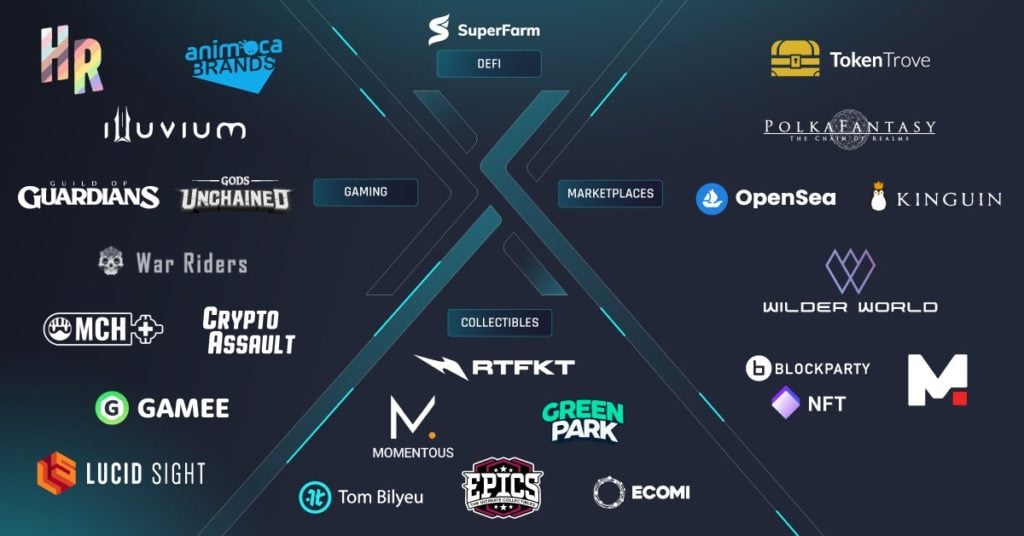 Ecomi has always focused on the environment, the platform has already committed 1 billion IMO tokens for around 7 Million US dollars as a grant for non-profit organizations to encourage practices and sustainable development in this emerging industry.
" Being sustainable has always been a priority for VeVe and Ecomi since our foundation. Our commitment to carbon neutrality is a step towards integrating digital NFT collectibles and augmented reality metaverse into a green and environmentally friendly future"  Dan Crothers, Co-Founder et COO Ecomi.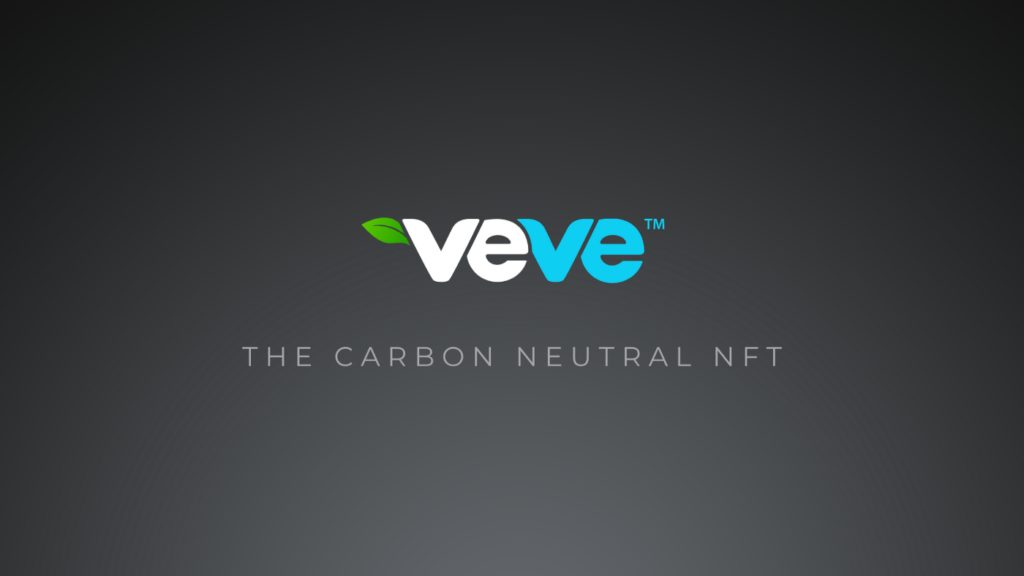 Ecomi partners and licenses
One of the main strengths of the company are the acquired licenses and renowned partners, partly thanks to Alfred Kahn the license manager, who is not in the ranks of the team by chance.
Ecomi has already signed more than 100 globally recognized brands and licenses. Among them, names such as Warner Bros, Universal, DC Comics, Jurassic Park, Sony or Cartoon Network.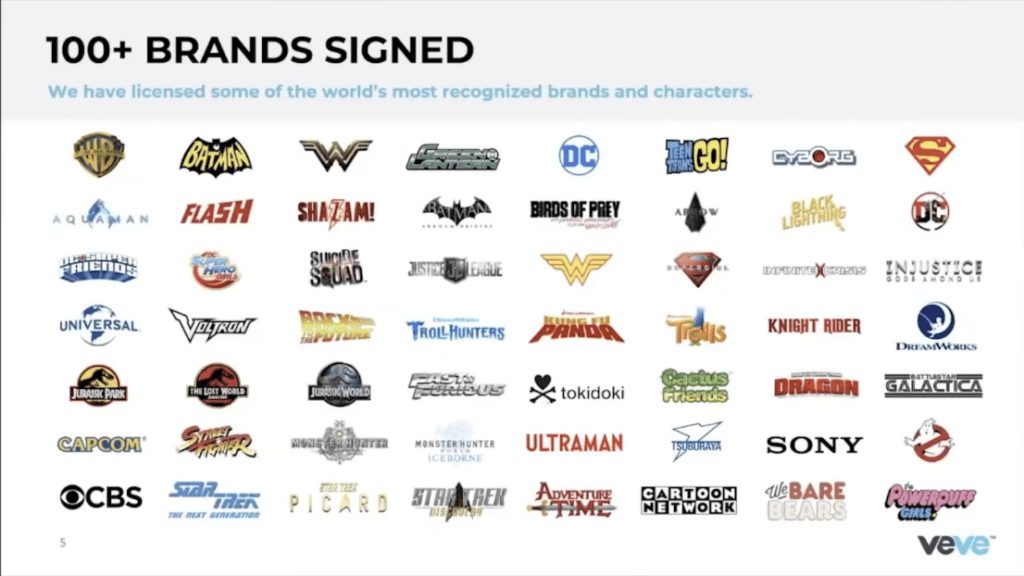 One of the biggest hits of the Ecomi team made public this June 24, 2021, is the Marvel X VeVe partnership which aims to take the platform to another level.
This massive partnership will result in exclusive Marvel collectibles and comic books on VeVe for their millions of fans. The first drops will arrive later in the year.
It should also be noted that their main partner for communications and marketing is Rogers & Cowan PMK , a renowned American company whose clients include major accounts such as SnapChat, YouTube, LG, Hasbro or Activision!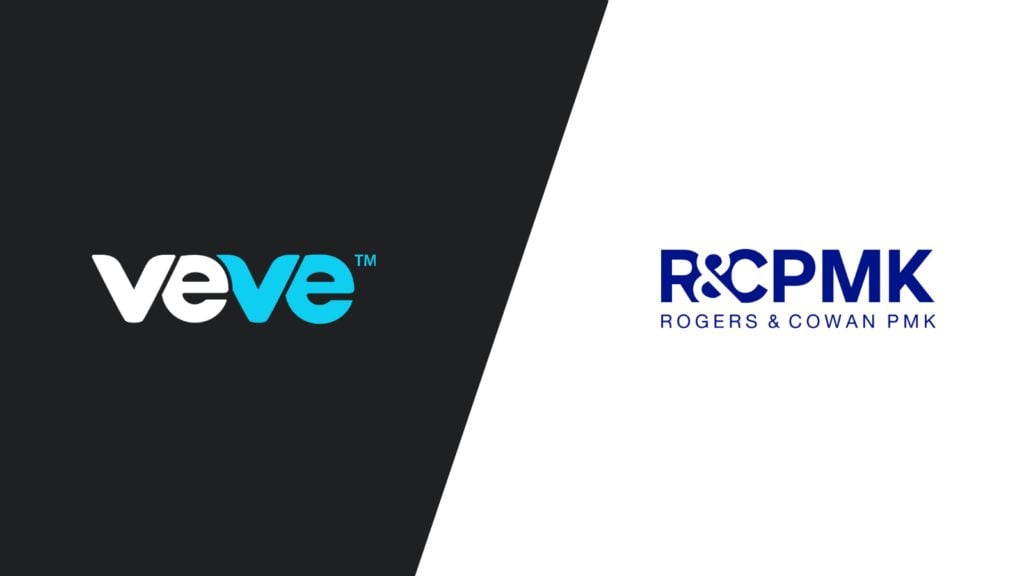 The team behind ECOMI
The ECOMI team has, barring new unannounced recruits, 26 members in its workforce. Let's focus on 5 portraits of them to become aware of the strength of the company.
David Yu: Founder & CEO of Ecomi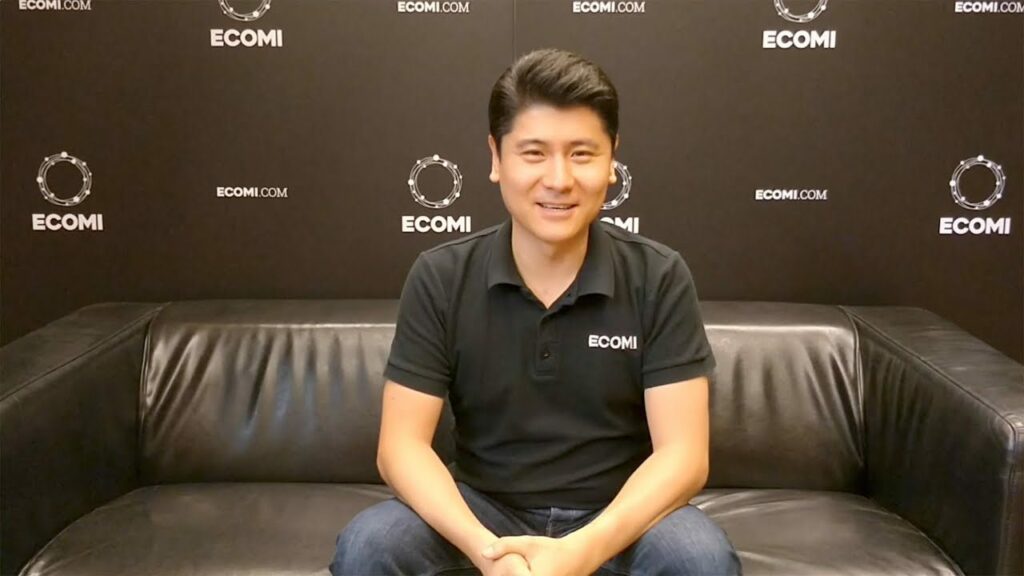 With over two decades of experience in collectibles, games, retail products, distribution and licensing, David Yu has extensive experience when it comes to turning intellectual properties into products and recognized brands.
Yu has had several businesses under his belt, one of his most prolific creations is Retail Management Group Ltd. (RMG) in 2006. Originally a wholesale and supply chain business for manufacturing and distribution. RMG then evolved to distribute a range of products, from food and beverages, to electronics and cosmetics in Asian markets.
RMG serves as a parent company for other gaming, collectibles and entertainment businesses established by David Yu:
GamesR US Ltd. Incorporated in 2001 as New Zealand's premier game provider, owner of the established Vagabond Games chain since 1997.
Hobby Co Ltd. an import, distribution and marketing company for the collectible card game segment.

Liveware Games Ltd. New Zealand's largest owned and operated online gaming specialty store. 

Vagabond Games Ltd. Currently the largest owned and operated game store chain in New Zealand. 
Also thanks to his long-standing relationship with a certain Alfred R. Kahn that we will see just after, David Yu was the first person to bring some of the biggest licenses like Pokémon and Yu-Gi-Oh to New Zealand. David Yu network links: Twitter & Instagram
Daniel Crothers, co-founder and COO of Ecomi
Acolyte of David Yu, he too has a well-trodden path with more than 20 years of experience in web development and software design. It is at the heart of the development of the VeVe platform.
Dan worked for 20 years in the web agency Digitalus, which he co-founded in 2001, specializing in business solutions. Digitalus has worked with the Red Cross, Hasbro, and many national and government institutes across New Zealand, among others.
Alfred R Kahn, Head of licensing d'Ecomi
You may not know him, but Al Kahn probably had a huge influence on your life! As Licensing Manager, Kahn has spent over 30 years distributing and promoting iconic brands including Teenage Mutant Ninja Turtles, James Bond, Nintendo-Mario Bros, Zelda, Donkey Kong, Xbox, and Yu-Gi-Oh, And much more !
But the real highlight of his career is that Kahn was the one who persuaded the company behind Pocket Monster cards and Game-Boy games to take the franchise out of Japan and introduce it to the world. He happens to be the one who decided the franchise should be called Pokemon.
He was also CEO of 4Kids Entertainment from 1991 to 2011. 4Kids TV was a cartoon program broadcast in the United States on the Fox channel.
2005 promo video of Alfred Kahn's 4Kids TV program.
Trevor Dietz, Senior Content Producer
Trevor Dietz sets direction and leads the development of all VeVe collectibles.
Prior to working for Ecomi, Trevor had a background in gaming and esports, including appearances at:
Riot Games

 : 2 years and 9 months as associate product manager and production coordinator.

Santa Monica Studio

 : 1 year as associate producer. He led the environment art and lighting teams for the upcoming God Of War Ragnarok.
Rhys Skellern, Community Manager of Ecomi and VeVe
Very communicative, he keeps the community up to date via several threads like the official Ecomi Telegram, Twitter, and organizes VeVe update and informative videos on the official Youtube. 
Many important players
It was 5 portraits among the many actors of the company, we also have:
Mikel Duffy. CTO Chief Technology Officer 

James Li. Licensing Manager
For more details, do not hesitate to visit the LinkedIn page of Ecomi and its 26 employees.
What is Ecomi Secure Wallet?
Although VeVe collectible is the centerpiece of David Yu and his team, Ecomi also offers a wallet to secure more than 1000 digital assets.
This secure wallet works in 2 parts , via its application downloadable from the App store and Google play, and a credit card-sized connected card with encrypted bluetooth connectivity. The Ecomi Secure Wallet uses the highest standard certified CC EAL5+.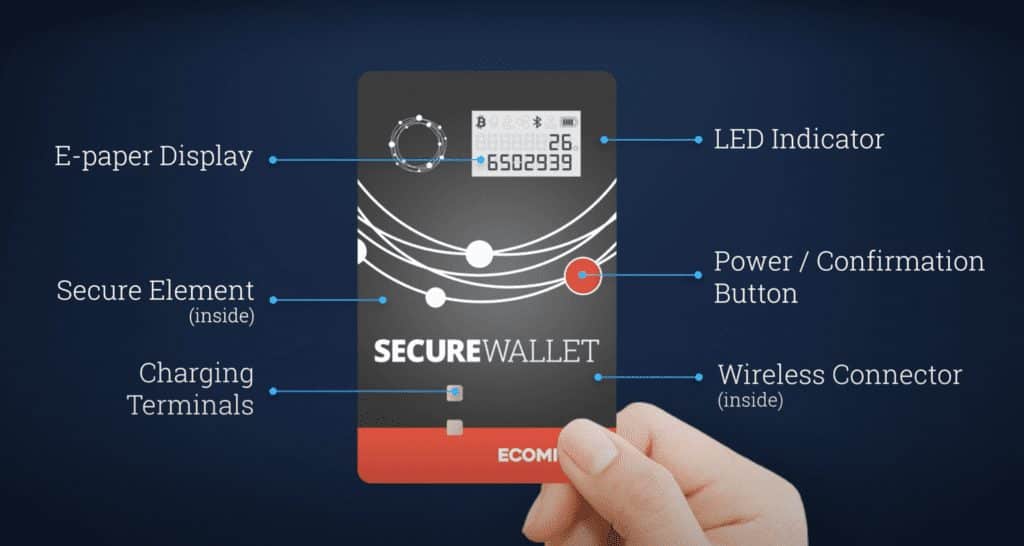 Special thanks to NeoxVL who was responsible for writing this article in its entirety.
Frequently asked questions for ECOMI cryptocurrency (IMO)
What is the price of the ECOMI (omi)?
Currently, the price of ECOMI (omi) is €0.00 = $0.00 and has fluctuated by -0.95% in the last 24h.
What is the historical high of the ECOMI (omi)?
The ECOMI (omi) reached its highest price on and was €0.01 or $0.01. Since then its price has corrected by -78.00%.
What is the best way to buy ECOMI (omi) cheaply?
The Ascendex platform allows you to buy ECOMI (omi). This platform offers the lowest fees on the market and trades your favorite crypto currencies.
What is the ranking of the ECOMI cryptocurrency?
The ECOMI (omi) is currently the 120th cryptocurrency in the world.
What is the capitalization of ECOMI (omi)?
Currently, the capitalization of ECOMI (omi) is €667,038,838.00 or $667,038,838.00.
What is the official ECOMI website?
You can find all the information on the ECOMI (omi) directly on https://www.ecomi.com/ .
How can I follow ECOMI news?
Find all the news of ECOMI (omi) on Coin Academy or through the publications of the project networks.