PC cleaning software is a great way to keep your computer clean and in good working order. The problem is that there is a lot of software today that promises wonders, when in reality it creates more problems than it solves. For this reason, I decided to share with you Emjysoft Cleaner , a free , no-frills and very easy-to-use PC cleaning software .
What is PC cleaning software used for?
Over time, your computer accumulates a large amount of data that can slow it down and even cause it to malfunction. For these reasons, it's important to use PC cleaning software regularly to keep your computer running smoothly .
By regularly using PC cleaning software, you can remove temporary files, Windows log files, and other unnecessary data from your computer. Moreover, PC cleaning software can also help you protect your privacy by deleting cookies and history from your web browser.
So don't wait for your PC to show serious signs of fatigue. Roll up your sleeves and warm up your fingers! It's time to do a major cleaning so that your PC regains all its former vigor
Clean your PC with Emjysoft Cleaner
Don't be fooled by the marketing bullshit of some unscrupulous software publishers! Avoid all PC cleaning software that promises you that your PC will be 200% faster or that the speed of your web browser will be multiplied.
Instead, I advise you to turn to a free PC cleaning software like Emjysoft Cleaner , which unlike others does not make a fuss of it. " Delete the essential with the least possible risk for your computer ", this is the philosophy of the Emjysoft Cleaner software.
Emjysoft Cleaner is a PC cleaning software for Windows developed in France by a certain Julien Morel. The program offers a modern , clean and very simple to use interface . It is therefore ideal for both beginners and experienced users.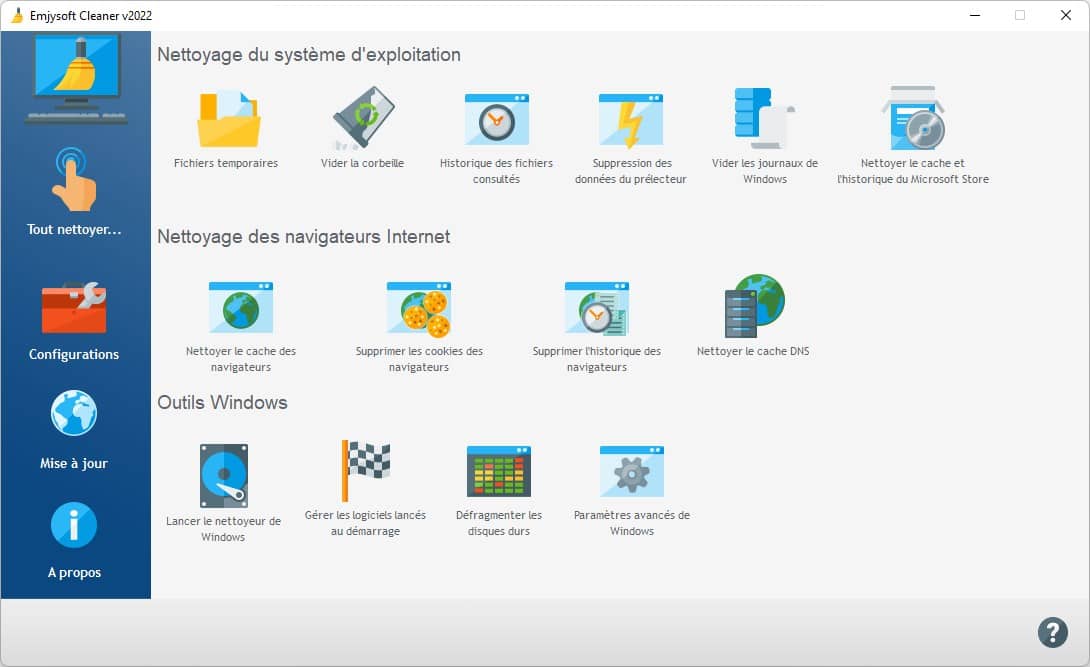 Its features
Thanks to this cleaning software, you will be able to rid your PC of all its unnecessary files. In particular, you will be able to:
Delete temporary files
Empty the trash
Clear history of viewed files
Delete prefetcher data
Clear Windows Log Files
Clean Microsoft Store cache and history
Moreover, Emjysoft Cleaner also allows you to clean your web browser. As of this writing, Chrome, Edge, Firefox, Opera, and Brave web browsers are supported by the program.
Clean browser cache
Delete cookies
Delete browsing history
Clean DNS Cache
In addition, you will also find shortcut icons that allow quick access to various Windows tools. In particular, you can open the Disk Cleanup tool, manage the software that launches automatically at startup or even defragment the hard disks.
Finally, note that the Emjysoft Cleaner software offers a 1-click cleaning button titled "Clean all…". When you click on it, the program executes the set of cleaning tools mentioned above. However, note that you have the possibility to choose the cleaning options of this automatic mode by clicking on the "Configurations" button.
What you must remember
Emjysoft Cleaner is an excellent PC cleaning software for Windows that has been designed to clean what is really essential. So you can be sure that your PC is safe. And if you want to take your PC cleaning a step further,