Nowadays, investments have become accessible to the general public, thanks in particular to the many online trading platforms that have emerged. Created in 2007, eToro is one of the pioneers in this sector. With an innovative concept of social trading, a user-friendly interface and a wide diversity of assets, eToro has succeeded in opening up the financial markets to everyone.
As you will see throughout this eToro review, there is a good chance that the eToro platform will suit your needs, whether you are an experienced trader or a beginner. Note that this eToro presentation article will cover all of its services, but we will focus our test of the platform on the purchase of crypto-currencies, very popular at the moment.


Regulated platform (CySEC)

Intuitive and simple interfaces

Ideal beginner (demo account)

 Assets: cryptos, stocks, etc.
68% of retail investor accounts lose money when trading CFDs with this provider. You need to know if you understand how CFDs work and if you can afford to lose your money.
A few words about eToro
The eToro trading platform was launched in early 2007 to give everyone the opportunity to invest and trade financial assets online. Over the years, the site has evolved into a social trading platform where each user has a profile and can communicate with other members.
eToro has been enriched with new features such as CopyTrading – one of the most outstanding – which has earned it the "Best of Show" award at the Finovate Europe conference in 2011.
In 2012, eToro continues its momentum and offers a compatible mobile application on iOS and Android media in order to be able to access the trading platform at any time. When you know the volatility of certain financial markets, this is a significant advantage.
From 2017, the broker added crypto-currencies to its list of financial instruments. Thus, it is now possible to invest in stocks, commodities, currencies, indices and to trade CFDs on cryptocurrencies. In all, more than 30 virtual currencies are available, including the most popular such as Bitcoin, Ether, Dash, Litecoin or Cardano .
Today, eToro is a platform loved and used by millions of people across 140 countries around the world. And you will quickly understand why in the rest of this review on eToro.
eToro tutorial: from opening an account to withdrawing funds
Simplicity is the watchword with eToro and we were able to verify it during the test of its platform. As stated in the introduction, we have chosen to do a trading simulation with crypto-currencies. The steps are substantially identical if you choose other assets.
The registration and verification process
To get started, non-registrants will need to open an account with eToro. Fortunately, the procedure is quick. Just go to their website and click the "Join Now" button. You will then have to complete the registration form with a username, an e-mail address and a password of at least 8 letters. A gauge will show you the strength of your password. That said, your account will be subject to increased security with two-factor authentication.
Once this information is provided, your account will be created and you will have access to the entire platform in order to familiarize yourself with it. If it is already possible to start trading with your $100,000 demo account and deposit funds, we advise you to verify your profile fairly quickly, otherwise you will be restricted in your trading activities and you will not be able to withdraw your winnings.
68% of retail investor accounts lose money when trading CFDs with this provider. You need to know if you understand how CFDs work and if you can afford to lose your money.
The verification of the profile requires the addition of an identity document (passport or identity card) and proof of address. You will also need to enter your phone number. The personal data you provide to eToro is kept confidential and is only requested to meet regulatory requirements. The teams will review these items and validate your account. The process takes a few days, or even hours if you're lucky.
The initial fund deposit
Upon finalizing your account, you will need to deposit funds in order to start trading. Note that you do not need to have your account verified to fund your account with money (but it is recommended to do so as soon as possible).
Likewise, you can start trading immediately without depositing any funds thanks to the virtual wallet of 0,000 given to new users. That said, keep in mind that the behavior is different with a demo account, especially in the risks taken.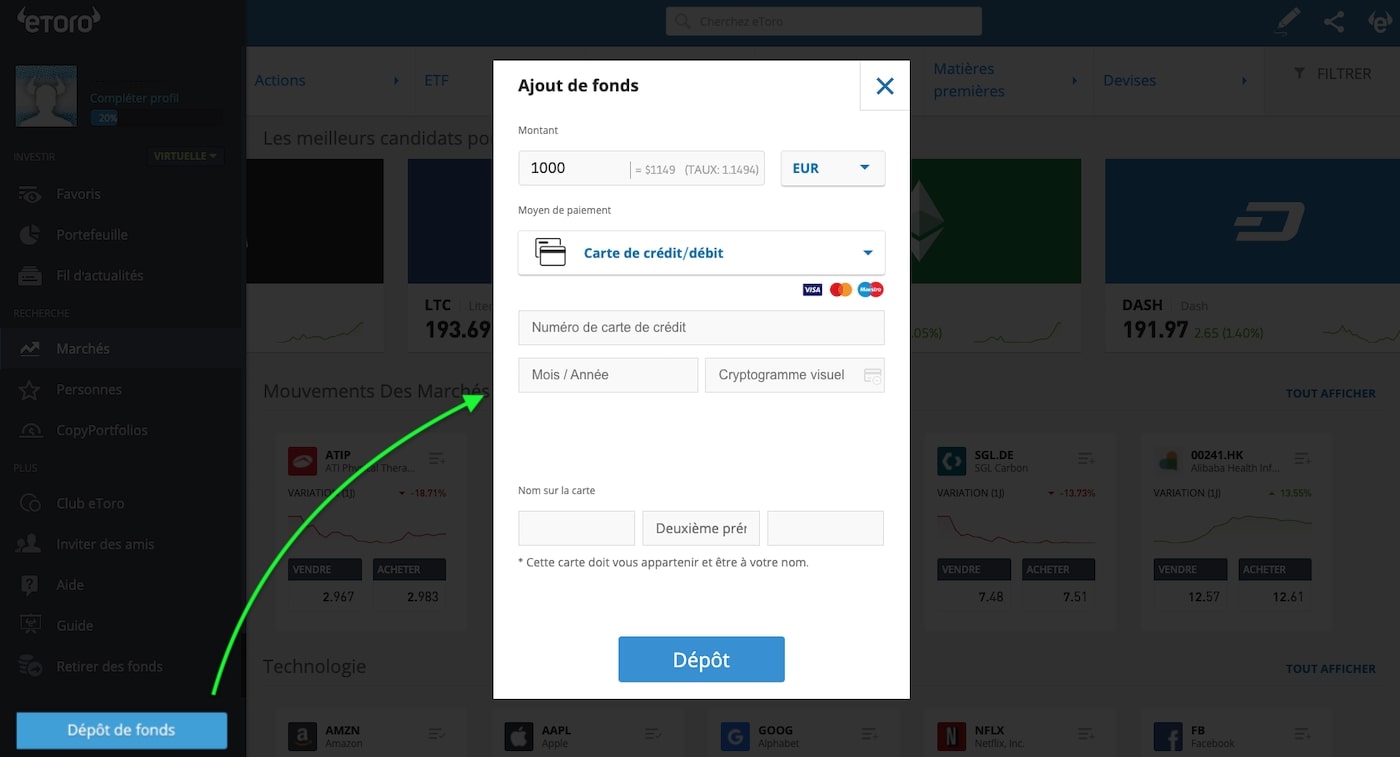 As soon as you want to start trading with your real portfolio, you must log in to your space and then click on the "Deposit of funds" box at the bottom left. You will then need to enter the amount you wish to deposit (the minimum is $50, or approximately €42) and the method of payment. If you deposit euros, they will be automatically converted into USD. Here are the payment methods available:
credit or debit card (MasterCard, Visa, Maestro)
bank transfer
PayPal, Skrill and Neteller
Depositing money to eToro incurs no fees except conversion fees if you are not directly transferring USD. For information, it will take 150 pips (which is equivalent to 1.50%) for payment by credit card and 50 pips (which is equivalent to 0.5%) for deposit by transfer. In our opinion, this last method is therefore more interesting despite the fact that the money takes a little longer to reach your eToro wallet, and even then… During our test, the transfer took 21 hours, not one more . We were expecting a delay of several days, so that's a pleasant surprise. Also, since we transacted with USD, we were not charged any fees.
Cryptocurrency trading on eToro
When your funds have arrived in your eToro account, you can start investing. As a reminder, eToro offers access to several financial markets:
cryptocurrencies (as taken as an example in this review)
the actions
currencies
raw materials
the clues
ETFs
You can therefore select the one of your choice in the "Markets" tab. In our case, it is "Crypto" that interests us. We then have access to all the virtual currencies available (36 in total). For this test, we chose Ether.
The operation is then very simple. Just click on the blue "Invest" box to buy Ether . Be careful, it must be made clear that you will not directly own Ether, but CFDs. The term CFD refers to entering into a contract for difference with the online broker. Your exposure will be the same as if you were actually buying and owning a cryptocurrency…minus the complexity. In addition, you will not have to worry about securing your cryptocurrencies, which is less stress, especially if you are new to investing in digital assets.
Note that in the face of volatility in the cryptocurrency market, eToro reserves the right to block leverage in order to protect its clients. Otherwise, leverage is limited to x2 for cryptocurrencies.
You can also set a Take Profit, a Stop Loss and a Trailing Stop Loss. By setting a value for Take Profit and Stop Loss, the position will automatically close once the amount is reached. These features therefore make it possible to secure one's gains and, conversely, to block one's losses.
Once the position is opened, you will find it in the "Portfolio" tab. As shown in the screenshot above, it offers a clear overview of its current balance, allocated amount as well as its wins or losses. From the toothed wheel for each asset, you can change your position, close it or set up a price alert.
What cryptocurrencies are available for trading on eToro? You will find the most popular but also more unknown cryptos… and yet promising. Here is an overview of some digital assets that you will be able to find on eToro: Bitcoin, Ethereum, Cardano, Litecoin, Uniswap, Dogecoin, Ethereum Classic, Tezos, etc.
It is worth pointing out that eToro regularly adds new cryptos in order to offer the latest trends to its customers.
The withdrawal of money
The withdrawal of money can be done at any time knowing that the minimum withdrawal amount is set at $30. When you feel that your winnings are high enough to be transferred to your account, you can withdraw them. To do this, click on the "Withdraw funds" tab in the menu bar and enter the amount you want to withdraw.
The funds will be returned to the bank account used when depositing and using the same means of payment. As stated earlier in this eToro review, the condition for withdrawing funds is account verification.
The processing time for a withdrawal request takes approximately 2 days. The funds will then arrive in your account within 10 working days (for bank cards and transfers). Allow only 2 days if you opted for PayPal when filing.
Finally, thanks to a very intuitive and quick to learn interface, each step is easy to perform, even for beginners. In addition, eToro has made the effort to fully translate its site into French, which contributes to making our opinion of eToro very favorable for the moment.
Investing in the stock market on eToro: what you need to know
We haven't had the opportunity to talk about it yet during this 2022 review dedicated to eToro, but yes, you can indeed invest in the stock market and buy shares through its service.
The advantage is that with a single account, you will have access to all the asset categories offered by this broker. But that's not all ! eToro is a great choice for investing in the stock market for another reason: it's possible to buy stocks and ETFs at no cost . Yes you read that right, 0 fees.
In terms of the diversity of actions, the choice is not lacking. You will have the possibility of investing in international and therefore American companies (Tesla, Amazon, Google, Netflix etc.), but also French companies.
If our opinion about eToro and investing in the stock market is so good, it is also partly due to the fact that it is possible to buy fractional shares . We specify this because with most reputable brokers in France, this is a possibility that you will not have, which can be annoying in the case of a company with a relatively high price per share.
In addition to investing in stocks and ETFs, eToro allows you to trade CFDs (Contract for Difference) on:
Raw material
Forex (currencies)
In other words, this broker is perfect if you are looking to diversify your investments as much as possible.
Social trading, a feature of eToro
More than just a trading site, eToro has the particularity of offering a collaborative platform within which users can interact with each other and share their knowledge. eToro uses the term social trading platform. Indeed, each eToro member has their own profile which includes several information, namely:
published and shared posts
statistics (trading history)
the open trading portfolio
the performance graph
Of course, each user is free to switch their profile to private mode if they do not wish to expose their data.
68% of retail investor accounts lose money when trading CFDs with this provider. You need to know if you understand how CFDs work and if you can afford to lose your money.
It is possible to add members to your favorites from the "People" tab in order to find them more easily. By having access to other people's profiles, you will be able to learn more about trading strategies and more generally, be aware of important news (often posted by users).
We particularly appreciated the fact of being able to access the profiles of eToro members and to take part in the exchanges by commenting on certain publications.
Still in this perspective of social trading set up by the platform, it is possible to copy other traders in this same section. It is the famous Copy Trading which has contributed to the fame of eToro. Thanks to this feature, novice users will be able to rely on other (generally more experienced) members to trade.
The tool is very well done since it is possible to choose a person according to different criteria such as geographical location, type of markets and performance over a given period. A risk level ranging from 1 to 10 is also indicated for each trader to be copied as well as the total number of copiers.
Note that the minimum amount to copy is $200. To limit losses, you can set an amount that will stop copying automatically.
Thanks to this option, eToro gives you the opportunity to invest more serenely, with the indirect help of trading experts. In short, if you are not too sure of yourself at the beginning, Copy Trading is very interesting.
We can only adhere to this innovative concept, especially since it allows everyone to trade by bringing together newcomers who need a boost and the most experienced who serve as an example.
Regulation and security of the eToro platform
To continue this opinion on eToro, it seemed essential to us to take stock of the regulatory aspect and the security of the platform. In other words, it is necessary to know if Toro is authorized to practice in Europe (more precisely in France) and to check that its site is well secured.
Regulations
If you are considering using eToro, you may wonder if this broker is reliable. You should know that in Europe, eToro is subject to CySEC regulations. eToro is therefore entitled to operate in France thanks to this European pass. Also, the company has been registered with the ACPR (organization responsible for supervising the activities of banks and insurance companies in France) since April 2010.
In addition, eToro has joined the Deposit Guarantee and Resolution Fund (FGDR). This insurance guarantees all users protection in the event of an insolvency of eToro. Although this situation is unlikely, it is important to know that you will be covered no matter what.
Unlike many brokers who operate illegally in Europe and France, eToro is a serious platform in compliance with the regulations in force. You can trust eToro and open an account in France without taking any risk.
Account security
Online trading involves online money transfers. It is therefore important to know that the eToro platform has implemented several measures to guarantee the security of user accounts.
First, eToro allows you to secure access to your personal space by activating two-factor authentication (2FA). This option is to be set from the account settings. 2FA is an effective way to ensure that no one will hack into your account.
Also, be aware that all client fund information is stored using SSL encryption.
Finally, the fact that eToro only offers CFDs on cryptocurrencies limits the risk of hacking since no asset is actually held.
Summary of commissions and fees charged
In order to complete this opinion on eToro, we will now take stock of the fees charged by the latter in 2022. Note that these commissions are found with all brokers, not just with eToro.
Registration, deposit and withdrawal fees
At eToro, opening an account is 100% free, as is managing it. However, if the account is inactive (12 months without connection), eToro reserves the right to charge $10 per month.
Deposits are also free. However, if you deposit money with a currency other than USD, it will incur a conversion fee since the platform only offers USD for trades. Given that it is the reference currency in the world of finance, this is not surprising. As we said above, the conversion costs from EUR to USD are:
50 pips (0.5%) for bank transfer deposits
150 pips (1.50%) for credit card, Skrill, Neteller and RapidTransfer deposits
For withdrawals, eToro charges a flat fee of $5. Conversion fees are also to be expected if you do not have a USD account. In order to avoid paying these fees too often, we recommend that you only withdraw your winnings from time to time rather than in several close transactions.
Note that eToro Club members benefit from discounts on conversion fees.
Trading fees for cryptocurrencies
When buying cryptocurrencies, you will face two types of fees:
brokerage fees (spread), this is the difference between the purchase and sale price
rollover costs, comparable to interest
For example, the spread for BTC is 0.75% and 1.90% for ETH.
Trading CFDs on cryptocurrencies (and other assets) incurs rollover fees which are calculated on a daily basis. These fees are shown when opening a position. So you will know exactly what you will have to pay.
Following our analysis, we can say that the eToro fees are within the market average. In addition, the broker is very transparent about the commissions charged when opening a trade, which helps to avoid unpleasant surprises.
The eToro mobile app
At the beginning of this review, we briefly mentioned the eToro mobile application. Given its success, its application deserves a separate section. Developed almost 10 years ago on iOS and Android, the eToro application allows you to trade and invest at any time, even when you are not at home. Thanks to it, you no longer need to be behind your computer to consult your positions and open new ones.

As evidenced by the 97,996 reviews and the average rating of 4.3/5 on the Google Play Store, it is highly appreciated by users. This volume of reviews on eToro is more than enough to guarantee the quality of the application. Overall, customers appreciate the interface and ease of use.
Both efficient and suitable for all levels, the eToro mobile application is very practical because it allows you to trade anywhere, even on the go. This is a strong point of this review.
68% of retail investor accounts lose money when trading CFDs with this provider. You need to know if you understand how CFDs work and if you can afford to lose your money.
Customer service
Before concluding this eToro review, we wanted to take a look at its customer support. So we put the technical teams to the test. The easiest way to contact the support center for a standard account is to fill out the contact form. Once the ticket has been submitted, the process can take up to 2 working days. You will find your complaint in "My tickets" and you can directly check its status.
We regret a little not being able to be put in direct contact with an adviser and to exchange instantly with him. Indeed, these advantages are reserved for members of the eToro Club. To join this club, you must achieve a minimum of $5,000 in equity. Despite the lack of responsiveness of customer support for users who are not members of the eToro Club, the response is relevant and the advisors are very helpful.
If your problem cannot wait and is quite common, you can consult the eToro Help Center. The latter provides a lot of information on the operation of the eToro site. Several themes are covered: Community, Account, Copy Trading, Deposits and Withdrawals, etc. Chances are you will find the answer to your question.
Another point on which eToro stands out: its educational resources. eToro offers an online trading academy for anyone who wants to learn and train in trading and investing. Despite the complexity of the subject, the articles are complete, very clear and illustrated with diagrams to facilitate understanding. And icing on the cake, they are in French.
Conclusion and opinion on eToro
eToro is a unique trading platform that brings together a wide variety of assets in one place: crypto-currencies, stocks, currencies, indices, commodities… This company, which has millions of users around the world, is reliable and regulated by CySEC in Europe (and therefore in France). This broker places great importance on the security of its customers and transparency. The fees charged are also clearly mentioned on its site (the same cannot be said of all competitors).
68% of retail investor accounts lose money when trading CFDs with this provider. You need to know if you understand how CFDs work and if you can afford to lose your money.
eToro offers users to collaborate and exchange like a social network with the possibility of copying other more experienced traders. This aspect has not been seen anywhere else and that is what made us particularly appreciate it. In addition, the platform is intuitive and the modern and clean design makes it very pleasant to use.
The virtual portfolio of $100,000 is also a plus which allows you to practice before trading with your real money.
Thanks to the many advantages discussed above and throughout this review, it is clear that eToro is ideal for beginners in cryptocurrency trading. We recommend eToro for anyone who wants to trade cryptocurrencies simply and efficiently.