If you need high quality background music or sound effects for your next video or other project, I've got you covered! Today I present to you FiftySounds , a site that offers a wide range of royalty-free music that you can use for both your personal and professional projects.
FiftySounds, an extensive library of royalty-free music
Since its inception in 2020, FiftySounds has become a go-to resource for royalty -free music . The site offers a wide variety of songs that you can download for free and without any restrictions . Whether you're looking for something upbeat and modern or more traditional and classic, FiftySounds arguably has the platform to go for.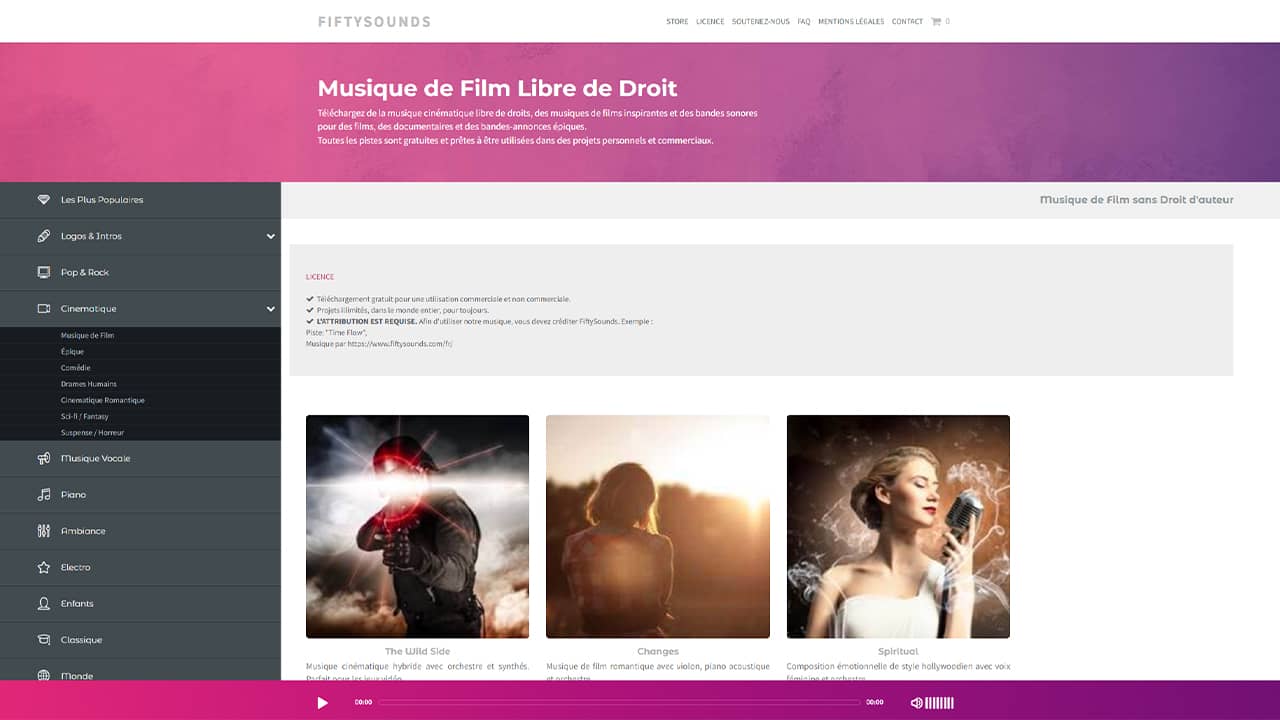 The FiftySounds library is constantly expanding, with new titles being added regularly. So you always have access to high-quality music that you can use in your projects without having to worry about copyright restrictions.
Plus, the site makes it easy to find the perfect track for your needs. All music and sound effects are categorized, so it's quick and easy to find the right music track for your project without spending hours browsing through different options.
One of the advantages of FiftySounds is its ease of use. You can preview each track before downloading it to make sure it's suitable for your project. Besides, the quality of music available on FiftySounds is also impeccable. The files are downloadable in MP3 format at 320 kbps. All tracks are mastered to ensure consistent sound quality across all devices and platforms.
In short, it is the ideal platform for all video editors, youtubers, advertisers or gamers who need royalty-free music for their project.
Where can you use the music without copyright and what about the license?
All copyright-free music offered on the FiftySounds site may be used for commercial and non-commercial purposes . For example, you can use it in your YouTube videos, on your website, in your applications, video games, podcasts, films, short films, and in many other projects. Youtubers can even monetize their video legally.
However, you still have to respect the work of the platform, it's the minimum. To do this, each music you use in your projects must be systematically credited. For example: " Track: "Spiritual", Music by https://www.fiftysounds.com/en/ ". For more information on what you have the right to do and not do with the music, I invite you to read the FiftySounds license .
In addition, you also have the right to edit or modify the music offered on FiftySounds. However, you may not sell, resell, or sublicense FiftySounds music.
What you must remember
Overall, FiftySounds is a great resource for anyone looking for high quality royalty free music. The site's user-friendly interface makes it easy to find the right tune, while its extensive library ensures that you'll always find something suitable, no matter what kind of project you're working on. And since the music is royalty-free, you don't have to worry about legal issues either.
If you liked this article, please subscribe to our reddit community to discuss it. You can also find us on Twitter and Facebook.