All operating systems work with an integrated firewall. We can mention the Windows Defender firewall or the macOS Firewall. If these are useful for protect your network from unwanted traffic, they are not always easy to grasp. Fortunately, there are firewalls whose handling is more intuitive such as Fort Firewall ; a simple and effective way to monitor and control applications that access external networks !
Protect your internal network from untrusted external traffic with Fort Firewall
Fort Firewall is a free and open source firewall intended for the protection of devices running Windows. One of its big strengths lies in its customization possibilities. Indeed, users can easily choose which programs have access or not to the Internet.
To do this, simply right-click on the software icon, then select the "Programs" option. From there, you can view the list of programs that have access to the Internet. You will then have the possibility of modifying it by adding or deleting certain elements.
By default, this operation blocks Internet access for an indefinite period, but you can also choose to block a program for a given period (1 hour, 1 day, a week, etc.).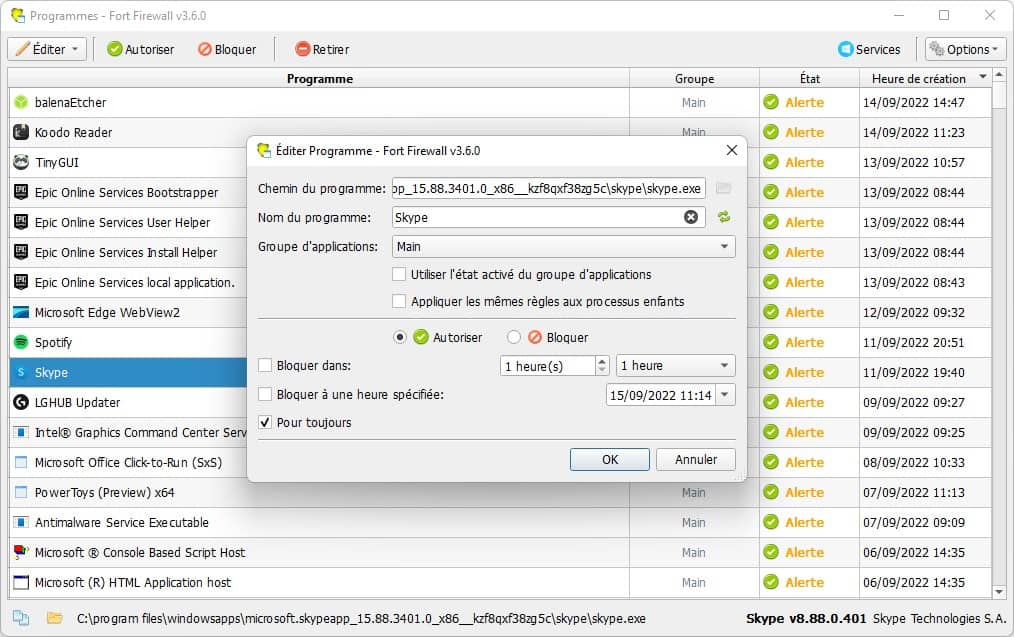 Firewall options also let you customize how you want to control network and Internet traffic. You can automatically grant access to new programs, or add the software to Windows Explorer.
The "Statistics" give you access to detailed information on the traffic of the different programs and the connections blocked by the firewall. As for the traffic graph, it allows you to follow the download and upload rates in real time.
If you are interested in this firewall, you can download it for free from the GitHub platform. And since it is an open source project, you can also contribute to its development.
What you must remember
All in all, Fort Firewall is a great alternative to the default Windows Firewall. With this tool, you can monitor internet access on your PC with ease. All program control operations are clear and intuitive.
And you, do you have an alternative firewall for Windows? Do not hesitate to tell us in the comments of this article!