A flagship tool for monitoring traffic on its website and to better understand how Internet users navigate, Google Analytics has evolved considerably since its official release.
The new version of Google Analytics 4 (GA4) brings radical changes in data analysis for web marketers and web analytics specialists.
As a reminder
Google has announced that from July 1, 2023, GA 4 will be the only option (standard Universal Analytics properties are being phased out).
Historical universal analytics data will remain available until December 31, 2023. You will be able to see your Universal Analytics reports for a period of time after July 1, 2023. However, new data will only be pushed to your GA4 properties.
DigiDux walks you through these changes and how to find your data between Universal Analytics and Analytics 4.
Why do you need to upgrade to GA 4?
After the beta version, Google Analytics 4 is ready to use!
The first reason you need to upgrade to GA4 is the announcement of the end of Universal Analytics . Google will stop collecting new data from July 1, 2023. Then, it will delete it.
Then, Google Analytics 4 brings its lot of new features:
better integrations with other Google products
best attribution model
better understanding of the customer journey regardless of the device used or the platform visited
artificial intelligence, machine learning and the customer life cycle are at the heart of GA4
etc.
What are the main advantages of Google Analytics 4?
A new data model (event centric)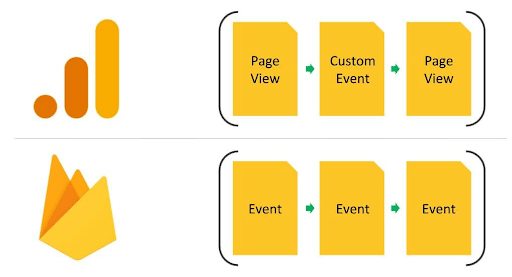 With Google Analytics 4, Google is therefore making a radical change by moving to a data model based solely on events.
On Universal Analytics (GA3), an event is defined by a category, an action and a label.
In GA4, each "call" is an event. Now, data is sent as events, distinguished by the event_name parameter, along with additional parameters used to describe the event.
Thanks to this new model, the new version of Google Analytics is much more flexible.
Explorations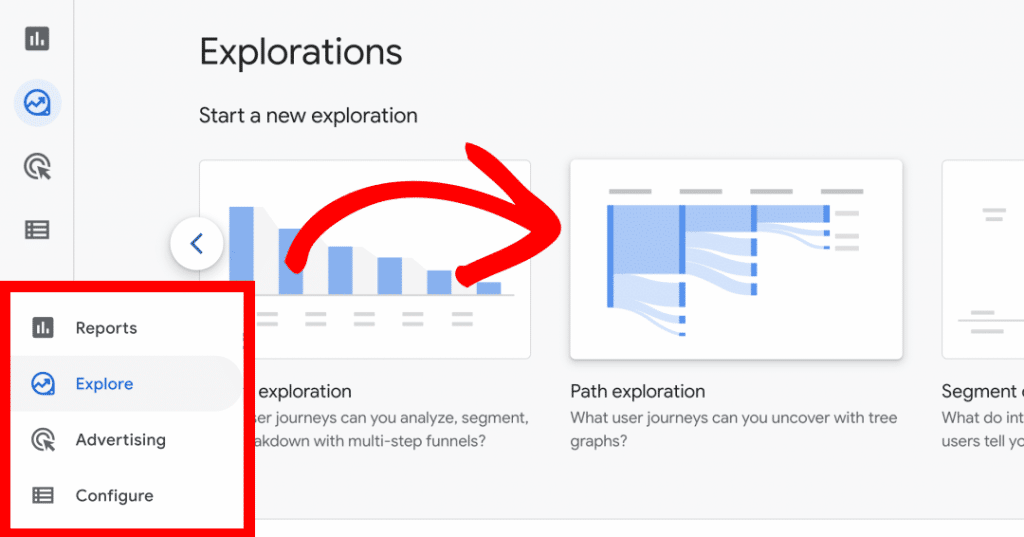 Insights is a set of advanced techniques that go beyond standard reporting to help you gain more accurate insights into your customer behavior.
In Universal Analytics, this suite of features (known as Advanced Analytics) was available only to paid GA360 users. But with GA4 it is part of the built-in feature set.
This new feature helps you analyze data and cross-tabulate variables. For example, you can create visualizations for funnel paths, user segments, cohorts, and more.
To learn more about all the possibilities offered by Explorations, we advise you to consult this article [GA4] First steps with Explorations .
Un tracking cross device et cross platform
In addition to cross-device tracking (mobile, desktop, tablet) already possible in Google Universal Analytics, Google Analytics 4 (GA4) allows cross-platform tracking (website, mobile application).
Which means that you can follow the same user on several devices regardless of the platform used.
This cross-device and cross-platform tracking thus allows a company to have a holistic view of the relationship that a user has with it.
BigQuery integration
Previously (Universal Analytics), this feature was only available to paid users.
With GA4 tracking, you are now able to access raw information from Google Analytics from a BigQuery export and therefore obtain reports with a user scope.
With Google Analytics 4, exporting data directly to BigQuery is now available to everyone.
You will therefore be able to carry out advanced analyzes but also store your data in BigQuery (Google Cloud), join them and enrich them with other marketing data.
Confidentiality: better control of user data
According to Google's press release, Google Analytics 4 is designed with privacy in mind to provide a better experience for both our customers and their users. It helps businesses meet changing user needs and expectations, with more comprehensive and granular personal data controls for data collection and use.
With GA4, you can now:
choose to anonymize the ip addresses of your users ((the IP address was never stored hard at Google)
offer your users the ability to block data collection
define the period for which you want to keep the data
choose what data you share with google and its support team
choose whether or not you want to use your data to personalize your advertisements
choose to opt out of the collection of demographic data for certain regions
Improved measurement for web feeds
Enhanced Metrics allow you to measure interactions with your content using options (events) enabled in the Google Analytics interface.
Pageviews: Each time the page loads or each time the active site changes the state of the browser history.
Scroll: The first time a user navigates to the bottom of each page (when the vertical scroll depth reaches 90%).
Outbound Link Clicks: When a user clicks a link to a domain other than the current domain.
Site Search: When someone searches your site.
Engagement with videos: When the video starts playing, the playing time exceeds 10%, 25%, 50%, and 75%, or when the video ends.
File downloads: When a user clicks on a link to a file.
DebugView
In Universal Analytics, it is possible to check its implementation via the Real Time reports (conversions, page views, UTMs of your campaigns, events). On the other hand, if you want to debug more advanced configurations such as improved e-commerce, or even have access to all the parameters of your events (label) or campaigns (keyword, ad content), you must wait for the data arrives in standard reports.
The good news is that this is no longer the case in Google Analytics 4. Indeed, thanks to Debugview, it is no longer necessary to wait long hours for the data to arrive in the standard reports.
DebugView thus allows you to monitor your events in real time, as well as the custom parameters and user properties you have defined.
Predictive metrics and more relevant insights
Artificial intelligence and machine learning are at the heart of Google Analytics 4.
Thanks to Google's expertise in terms of machine learning, the tool makes it possible to anticipate future customer actions and make predictions.
You can receive predictions on purchases, probability of unsubscribing…. It is also possible to receive predictions on the probability of conversion and create audience forecasts for Google Ads based on these predictions.
Audiences
Like Universal Analytics, Google Analytics 4 also lets you create segments/audiences and serve ads to them later (with Google Ads).
When a visitor enters an audience, GA4 can be configured to automatically generate an event. And you can then mark that event as a conversion.
This opens up possibilities for creating more complex event rules.
Example, you can create your personal definition of an "engaged user":
a visitor who stays at least 60 seconds on a page and scrolls it up to 50%.
The end of the bounce rate
The bounce rate or bounce rate corresponds to the percentage of visitors who leave your site from the first page (it takes into account the sessions that arrive on a page without interacting with it).
This bounce rate has always been controversial.
Indeed, when a user finds the answer to his search from the first page of a site… the bounce rate could be high and therefore potentially a "bad experience" for the user.
GA4 puts an end to the bounce rate controversy by replacing it with a "user-centric" metric: the engagement rate.
We are now talking about:
sessions engaged
engagement percentage
commitment time
sessions engaged per user
How to switch to GA4 (new Google Analytics)
If you are using Universal Analytics (GA3) on your site and want to switch to GA4, you need to create a new GA4 property.
However, data collection will require more or less configuration work depending on your current Universal Analytics setup. Here is what Google recommends :
Review Google Analytics account structure
Create a Google Analytics property 4
Create data feeds
Enable data collection
Enable Google Signals
Create useful associations: Google Ads, Google Search Console, etc.
Link Universal Analytics custom events to Google Analytics 4
Migrate Universal Analytics Goals and Conversions to Google Analytics 4
Validate conversions and set bids for them in Google Ads
Migrate audiences
Migrate e-commerce metrics
Add users
1. Create a Google Analytics property 4
In the Google Analytics interface, go to the GA4 configuration wizard. When creating a new property, it will default to a GA 4 property.
Then follow the setup process as shown below: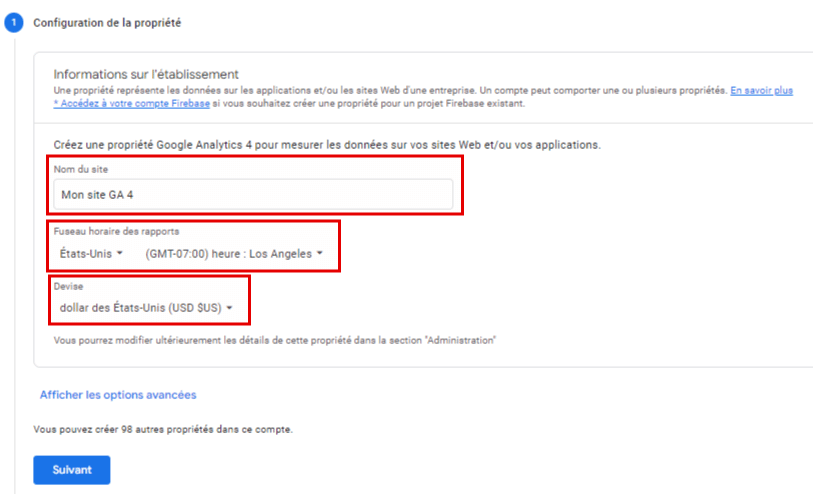 2. Install GA4 configuration tag via GTM
There are several options for implementing GA4:
directly in the source code
via GTM (Google Tag Manager)
via a plugin adapted to your CMS (content management system)
If you use Google Tag Manager, it will be very simple:
In the Property column, make sure the new GA4 property is selected – Click Data Stream, choose your stream and open.
Copy your measurement ID

Then in GTM, add a new Tag, then follow these steps:
Click on Tags then New.
Click Tag Setup.
Select Google Analytics: GA4 Setup.
Enter your measurement ID that you copied in the GA4 interface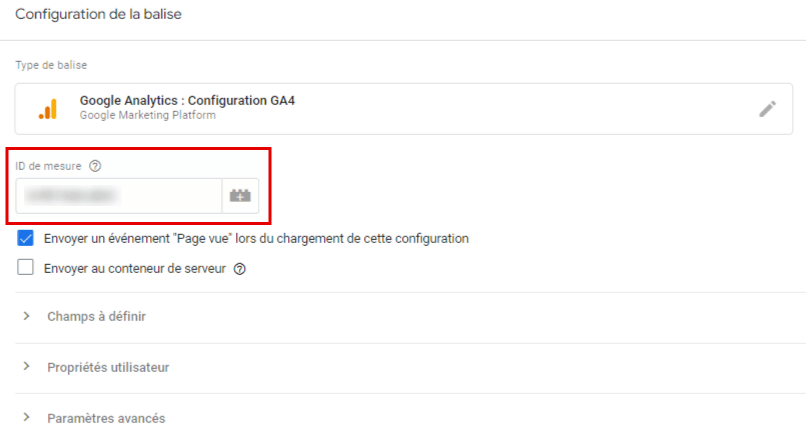 3. Enable Google signals for your new Google Analytics property 4
Google signals are session data from sites and apps that Google associates with users who have signed in to their Google Account and enabled ad personalization.
In other words, Google signals allow you to:
to collect data on the different devices (devices)
to set up a cross-platform remarketing
to have a more precise follow-up
To configure Google signals, go to: Data Settings > Data Collection

4. Adjust data retention settings
We recommend that you change the data retention period to its maximum (14 months and don't forget to consult your legal team).

5. Configure attribution settings
The default attribution model in Google Analytics 4 is "the data-driven model".
But you can (and should) choose the best model for your business.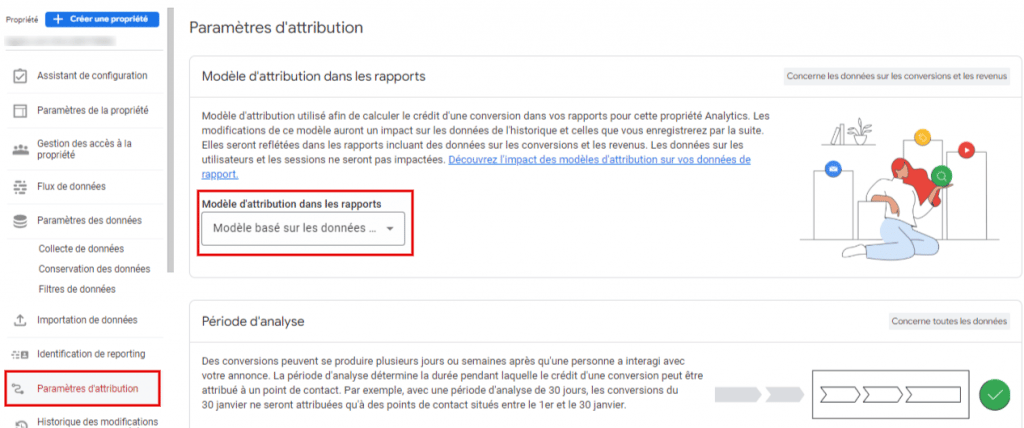 Remark :
The attribution model means the act of assigning credit for each conversion to clicks, ads, and other factors related to the path a user takes prior to conversion.
In Google Ads, the default attribution model is last click and therefore ignores all other points in the user journey.
Just like UA 3 (GA3), GA4 works the same way: it uses a non-direct last click model. That is, it ignores all direct traffic and attributes 100% of the conversion to the last channel the user went through before converting.
5. Enable "enhanced metrics"
Enhanced metrics track various events (page views, scrolling, clicks, etc.) without adding additional code to the site.
To enable this feature, go to Data Feeds:

6. List referrals to ignore
The most common scenario is that of e-commerce where a user could be redirected to the payment solution site, then redirected again to the merchant's website.
In such cases, you do not want the payment site to be listed as a "referral".
To set up spam or ignore referrals:
In the "Property" column, click Data Feeds > Web.
Click the data feed associated with your website, then under Additional Settings, click Additional Beacon Settings.
Click Ignore Referrers.
7. Configure custom dimensions and metrics
Custom dimensions and metrics are powerful features that can help you track additional data about your users.
To learn more about custom dimensions, we invite you to read this article .
h3/ 8. Link GA4 to other Google products
Create useful associations: Google Ads, Google Search Console, etc.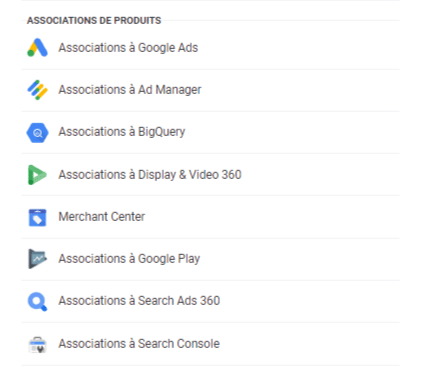 9. Check Conversion Tracking
Last but not least, you need to make sure that conversion tracking is set up correctly.
Do you have micro conversions that lead to macro conversions?
Are your conversions recorded correctly?
Conclusion
The world of web analytics is changing. Indeed, UA was designed around web traffic while GA4 offers visibility on customer journeys on all media (web, applications).
At first glance, this change may be scary and seem quite tedious to you. However, many positive points are emerging with the advent of Google Analytics 4.
By starting to organize yourself now, the transition can be made very easily. Think of a few rules and best practices to put in place to prepare for your migration:
Make an inventory of the current tracking
Respect the naming instructions
Centralize all tracking
Maintain double tracking
Any last advice before leaving? Call on a Google Analytics expert to check the GDPR compliance of your Analytics tracking as well as the correct data collection.