Want to know why Google Analytics is not working? And you want to know why it can show you inaccurate data?
As great as Google Analytics is, it's not perfect. Knowing where your metrics may be going wrong can help you analyze your site's data so that you can make changes and drive more traffic to your site.
In this article, we are going to show you some common mistakes that can prevent Google Analytics from working properly. We will also show you how to fix these errors.
Since this is a long read, we've broken our article down into the following sections, so you can go ahead and read any Google Analytics errors that you're interested in.MonsterInsights is the best WordPress Analytics plugin. Buy it for free!
Troubleshoot Google Analytics tags
Troubleshoot setting goals in Google Analytics
Troubleshooting Multichannel Funnel Reports
Troubleshoot (undefined) data issues in your Google Analytics reports
Resolve traffic fluctuations / inconsistencies
So are you ready? Let's start …
Troubleshoot Google Analytics tags
The Google Analytics tag or tracking code is how Analytics collects and sends data for reporting. Once you've set up the beacon on your website, you should start seeing your visitors' data after 24 hours.
But what if you can't see any data? If so, you might be facing one of the following issues.
1. Where should you enter the Google Analytics tracking code?
One of the most common mistakes new users make is adding the Google Analytics tracking code. Not knowing where to put the code can lead to many errors. For starters, if you enter it in the wrong place, Google Analytics will not work properly.
Another problem this can cause is placing the code more than once on your website or forgetting to add the code at all.
So if you are setting up Google Analytics without a WordPress plugin, be sure to paste the tracking code before the closing </head> tag .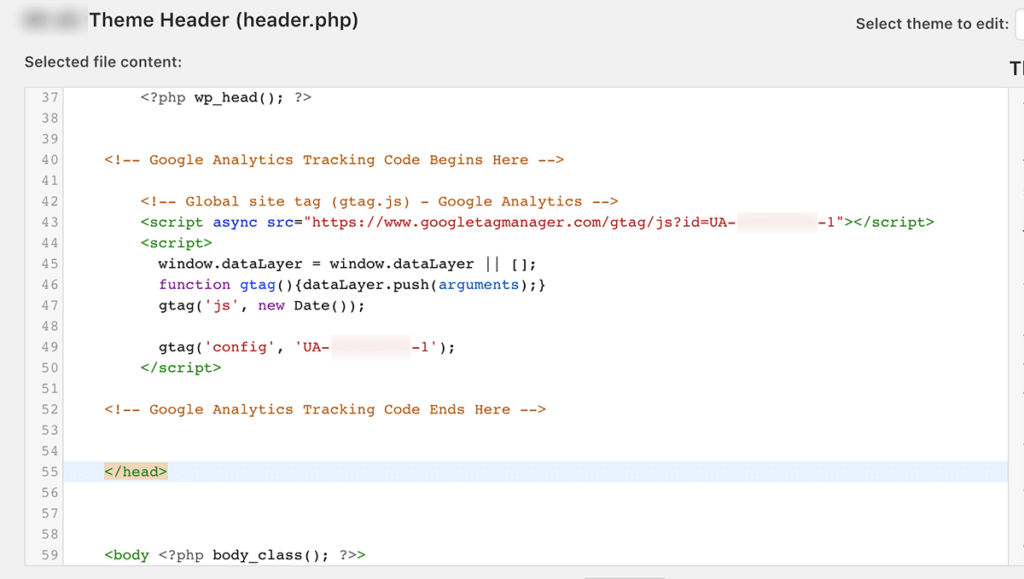 And if you're unfamiliar with coding, it's best to use a WordPress plugin that does the job for you. This way you don't have to code or forget to add the tracking code to your website.
With MonsterInsights, the best Google Analytics plugin for WordPress, simply authenticate your site with Google Analytics and never worry about manually placing tracking codes on your site again.
You can follow our guide on how to properly configure Google Analytics in WordPress.
2. No HTTP response detected / Analytics.js script missing
Have you ever encountered an error indicating no HTTP response detected or a missing analytics.js script while using MonsterInsights?
If so, then don't worry.
The error is caused by the Google Tag Assistant Chrome extension using a really basic way to detect tracking codes.
And it is not able to retrieve the tracking code because MonsterInsights uses a much more sophisticated snippet than the default Google Analytics tag.
MonsterInsights verifies that our tracking code is working when you automatically authenticate.
And in the extremely rare case, if there is any problem, it will notify you with an error message along with the exact steps to resolve the issue. MonsterInsights also integrates with WordPress' Site Health functionality to make it easy for you to check and make sure it's running at all times.
3. Did you select the correct tag or property?
If you have multiple websites or have access to different Analytics accounts, chances are you're using a tag from another property. Since the tag and property do not match, you will get errors in data reports.
To resolve the issue, make sure you are using the correct tag for your property. You can find the tag by going to your Google Analytics account and clicking Admin . Then select your account and select the property you want to use.
Now under Ownership, go to Tracking Info and Tracking Code . Copy the global site tag (tracking code) and paste it into your website header.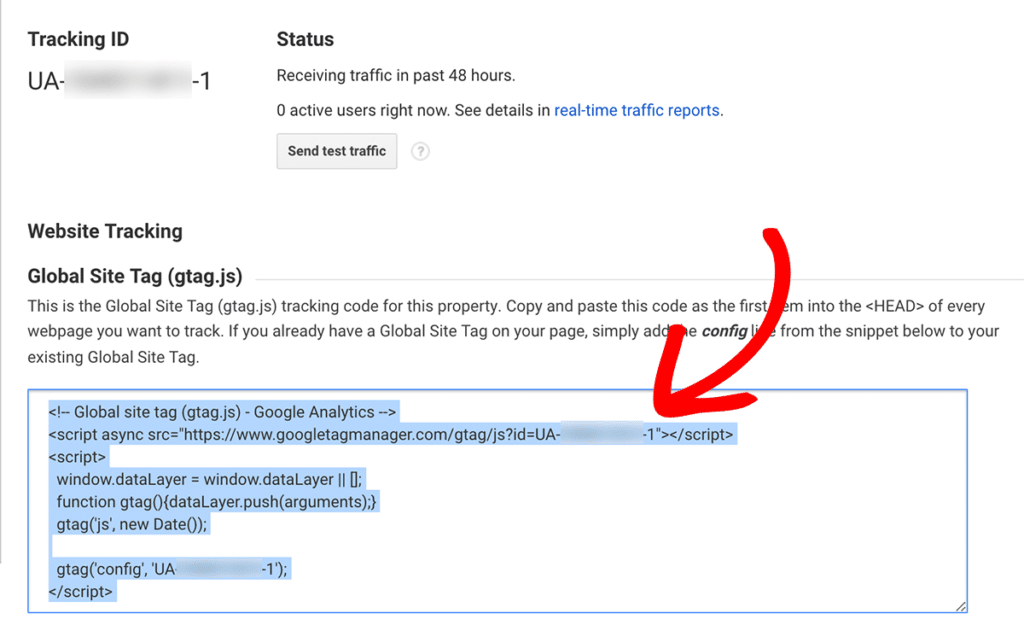 4. Are there any spaces or extra characters in the tag?
When you copy the Google Analytics tag, it is important that there are no extra spaces between the code or extra characters. Any change in the format or content of the code may result in a tracking error.
So when entering the tracking code, it's best to use a text editor that keeps the formatting as it is. Another advantage of using an editor is that it won't change quotes in code or add extra spaces.
This is where MonsterInsights can help, too. Using its simple step-by-step wizard, you can set up Google Analytics without having to worry about modifying the code.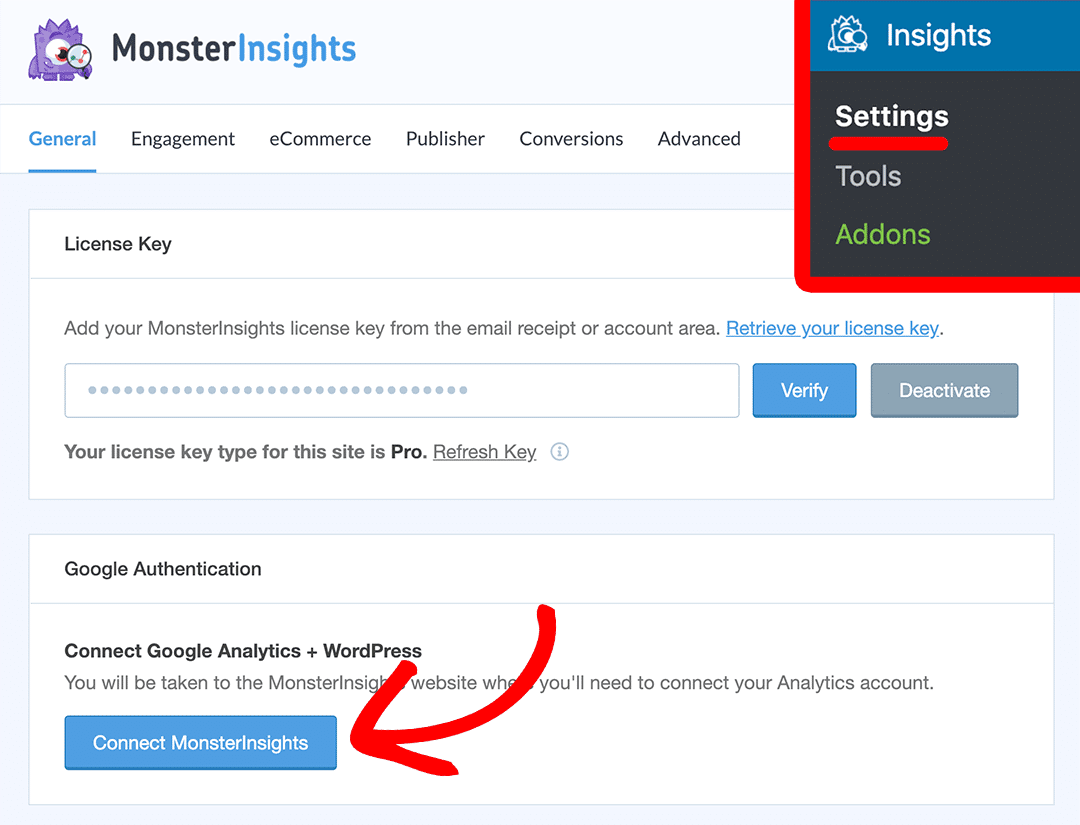 5. Are your filters correctly configured?
Google Analytics offers you different filters to clean or modify your data. It offers predefined filters where you can include or exclude data from specific ISPs, IP addresses, host names, or subdirectories.
But if you don't see any data in your Google Analytics reports, one of the causes could be incorrect filter configuration. When you have multiple inclusion filters, they can cause problems when creating reports.
Therefore, it is advisable not to filter your data. You can remove filters from your Google Analytics account by going to Admin . Then, under the View column , click Filters . You can see all your filters listed here, just click Remove to remove a filter.

6. Is there an error in your custom JS code?
If you are customizing Google Analytics code, it is important to note that function names are case sensitive and Boolean values ​​(like true or false) should not be enclosed in quotes.
Google Analytics will not work properly if you do not meet these two conditions. Another way to enter your personalized JS code is to use MonsterInsights.
MonsterInsights Pro users can enter their custom code in the plugin's advanced settings, and this will allow Google Analytics to extend its tracking.
7. Do you have other scripts on your page?
Another reason your Google Analytics isn't working is that it may conflict with another script on your webpage.
If other scripts are running on your website, make sure they don't use the same variables as Google Analytics. You can view the development documents for the Universal Analytics JavaScript Library.
Troubleshoot setting goals in Google Analytics
Now that you know some basic tracking code issues and how to fix them, you should also look at errors when setting up goal tracking in Google Analytics.
If your goals are not configured correctly, you will not see any conversions in your reports and will cause Google Analytics not working error. There are different reasons why this can happen. So what are these issues and how can you fix them? Let's find out.
8. Have you entered the correct Goal URL?
When you create goals in Google Analytics, you might have entered the wrong URL or used the wrong URL structure. Therefore, you will not be able to see your conversions in reports.
By default, Google Analytics only uses the page path and ignores your domain name. For example, if your exact URL is http://www.mysite.com/store.html , Analytics will follow the path of the page, which is /store.html .
But if you enter the entire URL instead of the page path, you might end up with an error and your goals will not be tracked.
To check the URL structure used by Analytics for goal tracking, you can go to your Google Analytics account, then go to Conversions » Goal URLs .

If it uses the page path, you must also enter the page path in the Destination field when setting goals.
And if you're using a filter to rewrite your URLs, make sure your goals follow the same structure as well. Sine filters can change your URLs in the raw data, and before goals are processed, differences in structure can prevent your goal from working.
9. Is the type of goal match correct?
Google Analytics offers 3 different types of match when you set a goal. These include Starts With, Equal To, and Regular Expression. If these match types aren't selected correctly or have errors when entering URLs, you won't be able to properly track your conversions by goal.
Suppose your page path is /store.html and you selected Equals to match the type when creating the goal. But when you enter the page path, you add an extra slash at the end ( /store.html/ ). This trailing space will invalidate your goal.

A better type of match for this situation would have been Regular Expression. This is because trailing spaces are not an issue in this type of match.
10. Does your goal page contain a tracking code?
If you have a web page that does not contain a Google Analytics tracking code, no objectives will be tracked from that page.
The tracking code is how Analytics collects and reports your data. It is therefore important to ensure that the code is present on the objective page.
The lack of a tracking code on a page could also be a reason why you don't see any targets in your reports with the Regular Expression match type.
To verify, you can search for your regular expression in the Pages report. If there are no results for such a goal, it means that the page does not contain the tracking code.
Troubleshooting Multichannel Funnel Reports
The Google Analytics Multichannel Funnels (MCF) report helps you understand the conversion path a user is taking. It provides information about the channels that a visitor used before making the final transaction and allocates the credit between different channels.
The report works differently from other Analytics reports. Because of this, you might see inconsistencies in the data reports.
11. Why is there a difference in the data between the MCF and the other reports?
As we said, the Multichannel Funnels report works a little differently than your other reports in Google Analytics.
The other reports use what's called a last-click attribution model. This means that regardless of which channel a visitor uses to complete the transaction, they will receive all the credit.
But that's not the case in the Multichannel Funnels report. It examines the conversion paths and the sequence of interactions a user performs with your site. Then, it distributes the credit among all the channels involved in the transaction, which it calls assisted conversions.

For example, if a user sees your Google ad for a product, visits your store, but doesn't purchase the item. However, the same visitor searches your website after 2 days on Google, clicks on the organic search result, and then purchases the product.
In your standard reports, organic traffic would have gotten all the credit for the purchase. But in the Multichannel Funnels report, you would see which channel contributed to the transaction in the past 90 days.
So, due to the different models used by these reports, you will get a difference in the data. MCF reports are also lagged by 2 days, so you may also experience a delay in generating reports.
Troubleshoot (undefined) data issues in your Google Analytics reports
After understanding why the Multichannel Funnels report shows inconsistencies in your data, let's solve the problem of the (undefined) data.
When you see (undefined) in Google Analytics, it means that Analytics was unable to collect or interpret any data for the specified metric.
Let's see why the problem arises in different reports and how you can fix it.
12. How do I correct (undefined) the data in the conversion report?
If you have an ecommerce store and you see (undefined) in your reports, it means your enhanced ecommerce tracking is not set up correctly and Google Analytics is not working.

To get started, make sure you've enabled ecommerce tracking in Google Analytics. To do this, go to Admin from your Google Analytics account. Then go to ecommerce settings and turn on Enable Ecommerce.
But what if you've already enabled ecommerce tracking and still get the same error? If you know a little bit about coding, you might be able to fix this problem quickly. Unfortunately, this is not the case for everyone.
Here you can take the help of MonsterInsights eCommerce addon. It automatically tracks your eCommerce store and you don't have to do any additional setup.
The addon also ensures that you have no issues with enhanced ecommerce tracking and that you don't see (undefined) in your reports.
When it comes to getting (undefined) in the Goals report, most errors can be caused by the issues we already discussed earlier in the post.
But if you look at the Reverse Goal Path report, you should know that (undefined) will always appear in the report. This is because users can reach a goal in as many steps as they want. Some can complete it in 2 steps, while others may take 4 or 5 steps.
13. How to correct (undefined) data in audience reports?
In the Audience report, you will see data (undefined) due to several issues. One of the reasons could be the deletion of cookies. Since Google Analytics collects data through cookies, any user who deletes these cookies or has activated an ad blocker, their data cannot be collected.
If you don't see any data defined in the Location report, Analytics may not be able to recognize the location of the IP address or may not be able to detect an IP address at all.
Apart from that, you can check for spam traffic that Analytics might not be able to identify. To do this, you can go to the Admin area of your Google Analytics and under the Show column click on Show settings . Now scroll down and check the Bot filtering box .

14. How to correct (undefined) the data in the acquisition reports?
Google Analytics automatically identifies data in organic, referral, direct, social and paid terms. But when you see (undefined) in your All Traffic report, it's usually a campaign URL with UTM code errors.
If you misspelled a UTM parameter or made a mistake while creating a code, you might be experiencing this problem. Therefore, a quick and easy solution is to use a URL generator for your campaigns.
MonsterInsights offers a Campaign URL Generator where you can enter the parameters and then copy your custom URL. This way, you won't make any mistakes while creating a URL that contains UTM parameters and solve the problem of undefined data in your traffic reports.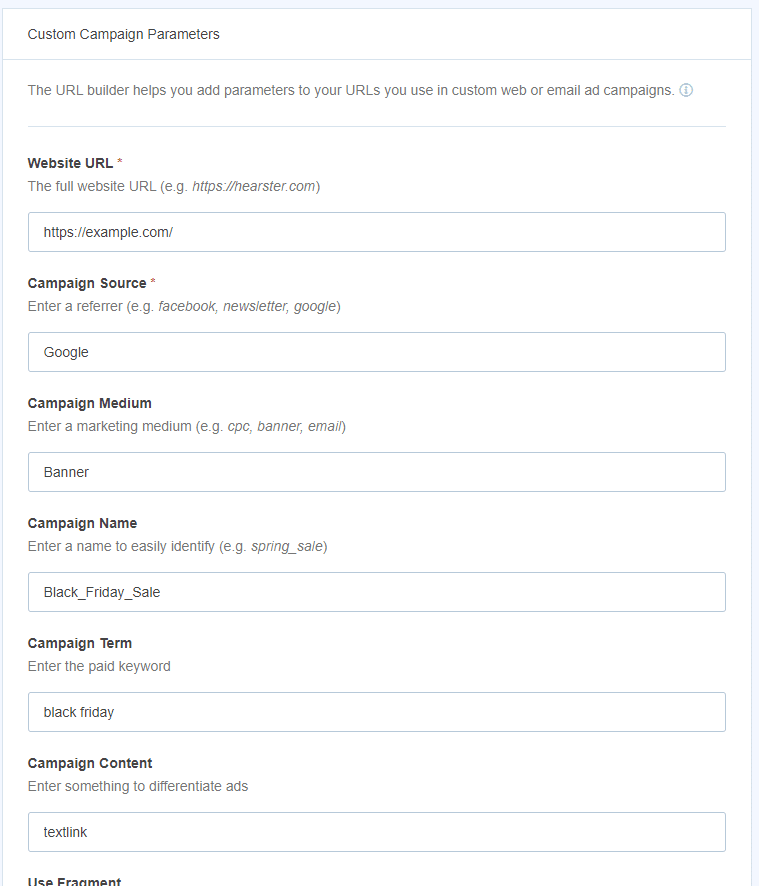 On the other hand, if you see (undefined) data in your Google Ads report, then setting up Google Ads with Google Analytics might be a problem. Repeat the setup process and integrate the two tools to resolve the issue.
15. How do I correct (not define) the data in behavior reports?
When it comes to behavior reports, here are some reasons and possible fixes for the (undefined) data:
More than one tracking code – If you have multiple tracking codes on your website, it could cause the data (undefined) error. Make sure you only have one tracking code on your site.
Pageviews Suppression Filters – Specific pageviews suppress filters can also cause data (undefined) errors to appear in behavior reports. So, go through your filters and remove them related to page views.
A session not having access to the page / screen – It is possible that during a session, no access to the page / screen will be recorded. Instead, another type of interaction is followed, such as purchasing a product. This would result in (undefined) reporting behavior, mainly in the report on the landing page. You can use advanced filters to identify potentially conflicting Analytics calls, and then delete them.
Resolve traffic fluctuations / inconsistencies
Another problem that many users face when Google Analytics is not working is frequent fluctuations in traffic or inconsistencies in data. You can use the Google Analytics troubleshooter to find out the cause of the problem.
But to help you, here are the possible reasons for the problem and their fixes.
16. Why is my mobile data bloated?
Sometimes a site visitor will come to your site on their mobile device and then switch to another device such as a desktop computer.
They can revisit your site to complete a transaction, complete account registration or complete your contact form. Google Analytics then tracks each session as a separate user, which skews your Google Analytics mobile data.
Not only does this make it seem like more visitors are visiting your site than there are, but it also makes it difficult for you to track user behavior. This is because each time the same visitor visits your site on a different device, each session is connected separately.
In other words, you can't follow user paths on your website. You also can't see if they converted or where they left your site.
With the help of MonsterInsights Universal Tracking, you reduce the risk of seeing bloated mobile traffic statistics.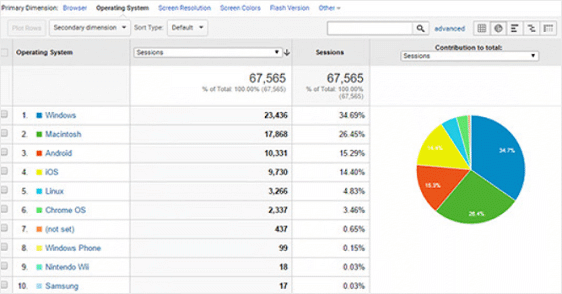 Instead, you'll see exactly where your site visitors are coming from and how they behave once on your site.
17. How do I correct inaccuracies in mobile data?
Another problem you might face is the inaccuracy of mobile traffic data. Analytics can count the same user twice, which would make your data incorrect. And the error occurs when you are using AMP on your website.
That said, enabling Google AMP for your website can help improve your site's ranking. Plus, it makes your content mobile friendly and loading faster.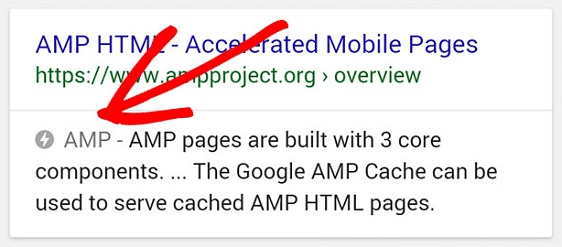 But it can also disrupt your Google Analytics statistics. In fact, many mobile users are double-counted which negatively affects your bounce rate.
Not to mention, it's hard to change the original Google Analytics tracking code to enable AMP pages.
However, with the MonsterInsights Google AMP add-on, you can achieve the following results:
Easily and automatically change the code to activate AMP pages
Stop doubling down on those who switch between your AMP pages and regular site pages
Supports other MonsterInsights features such as Performance and Custom Dimensions add-ons
A / B test different elements on your site, including your AMP pages, to see which ones convert the most using the Google Optimize addon
18. Are your pages correctly tagged?
You might experience frequent drop in traffic because your pages do not have a Google Analytics tracking code.
We've said a lot throughout the article, check if the Google Analytics tracking code is set up correctly on all of your pages.
If not, the code will not load on a page and it will not be tracked. Because of which you get fluctuations and inconsistencies in your data.
19. Has your website experienced downtime?
Another reason for a drop in traffic could be downtime on your website. Downtime occurs when users cannot access your website because the server cannot be accessed.
You should check with your hosting provider to resolve this issue. And if you continue to face downtime, consider switching your WordPress hosting service.
20. Why are there a high number of live traffic sessions?
If you are seeing an unusually high number of sessions in your direct traffic source / (none), it may be due to one of the following reasons:
Referral links are not working properly – Check if your referral links are working on your partner's website and do not have unrelated UTM tags.
Correct Google Analytics tag – You need to make sure your pages have the correct Google Analytics tag again.
Remove rel = noreferrer parameter – If your link contains a rel = noreferrer parameter, this may prevent referral information from being sent. Ask site owners to remove this setting.
And that's all!
You now know when to recognize when Google Analytics is wrong. And, while Google Analytics isn't a bad tool, it's important that you understand where the data can be incorrect. That way, you can get around it and make the right changes to grow your website.
We hope you liked our article on Google Analytics not working and how you can fix them. You can also check out our guide on how to log into Google Analytics.