To listen to your favorite music on your Windows computer, there are many solutions. The operating system includes, itself, its own application soberly called Multimedia Player. However, it is far from unanimous among users. Some prefer to turn to other alternatives such as VLC, Winamp or AIMP . In this sense, today I present to you Harmonoid , a modern , free and open source music player .
Harmonoid, an open-source music app
Harmonoid is a free and open-source music player available on Windows, Linux, and Android . Thanks to it, you will of course be able to play all your local audio files, therefore those present on your computer or smartphone, but also listen to music from the YouTube platform.
This free music player offers a modern interface with 5 menus: albums, tracks, artists, playlists and YouTube. Also, you will find a search bar that allows to search for any song available on your device.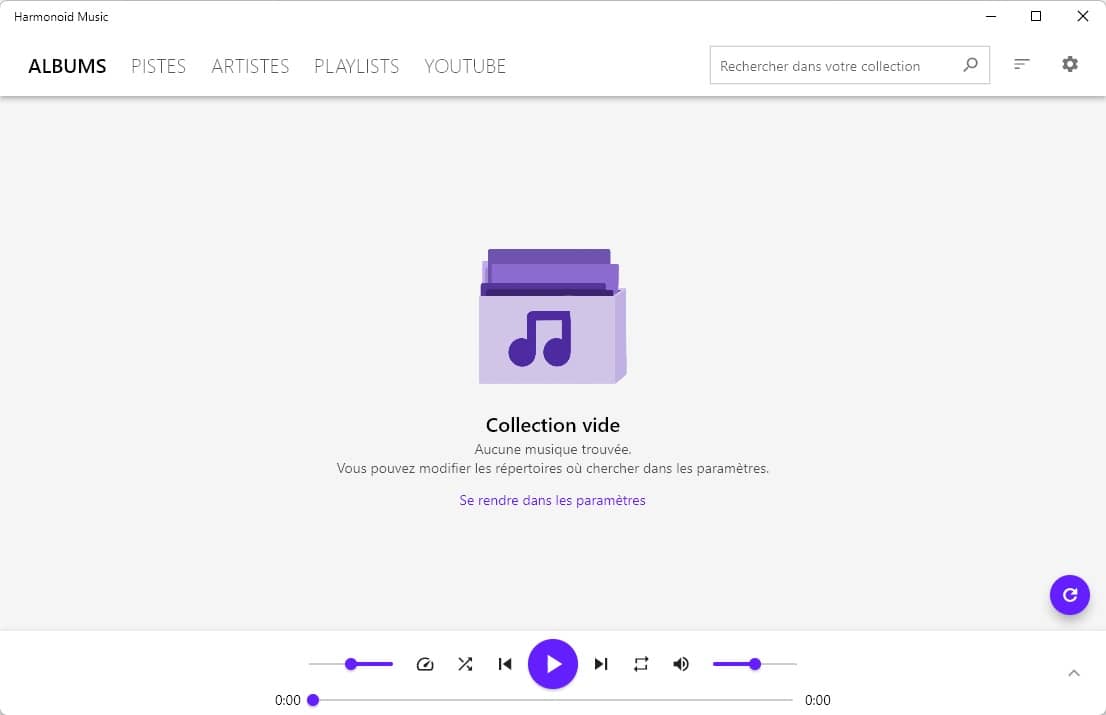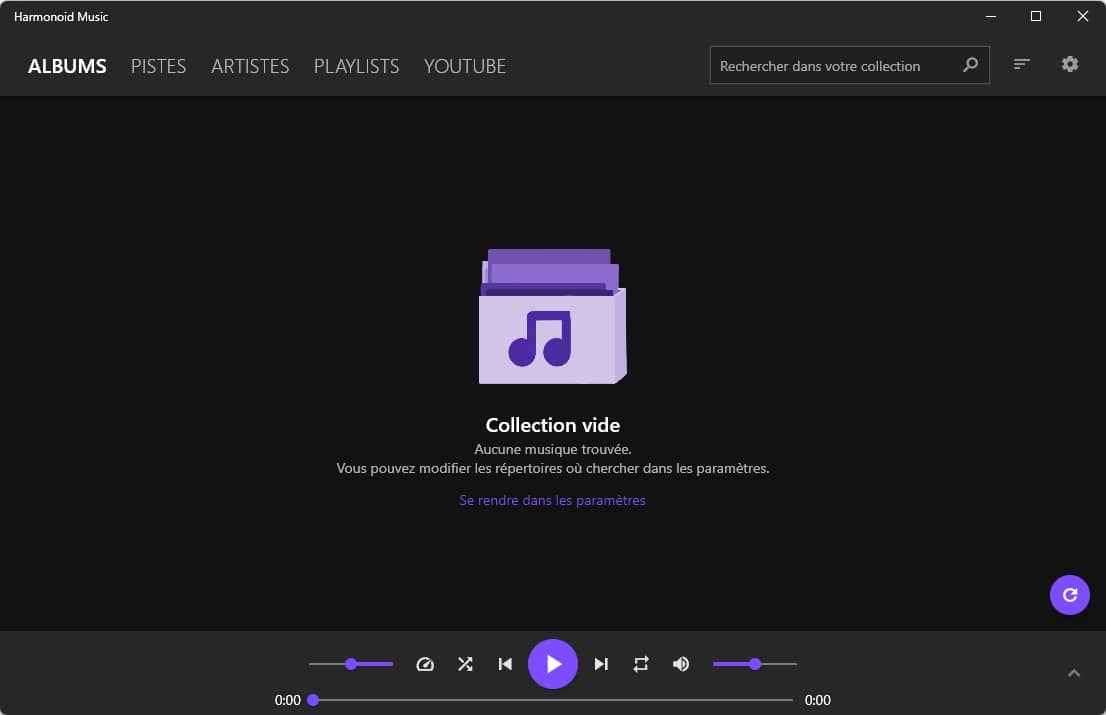 From the "Albums" menu, you will of course find all your albums in the form with their covers for easy identification. The "Tracks" menu allows you to display all your songs in the form of a list with all the necessary details (track, song title, artist, album name and year).
Then you have the "Artists" menu which lists all the artists of the music saved on your computer or smartphone in the form of a thumbnail. We then go to the "Playlists" menu, which, as its name suggests, allows you to create playlists with the music of your choice.
Finally, we end with the "YouTube" menu which allows you to search for any music on the YouTube platform and listen directly to the Harmonoid player. Very handy if you don't have the song available on your device.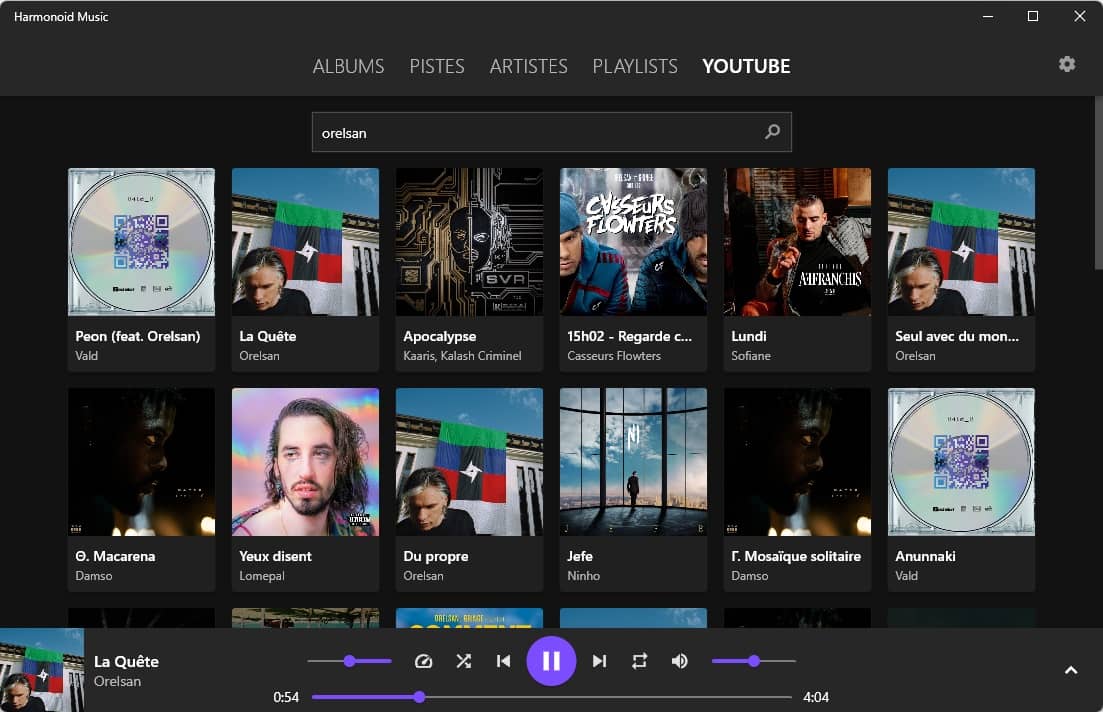 In addition, it should be noted that the application was developed using Dart and is available in an installable or portable version . In addition, the app is ultra light since it weighs only 25 MB and consumes very few system resources (about 120 MB).
Note also that Harmonoid embeds a powerful metadata engine . The latter is able to index all your music in record time (20 audio files/second under Windows). Your entire music library will be sorted and organized automatically by album, artist, etc. In addition, it has a cache system for even faster opening each time you use it.
Many features
The Harmonoid music player has many features that will undoubtedly please all music lovers. First of all, you should know that the application integrates perfectly into the Windows 11 or 10 environment. You will find in particular the famous commands for play, pause, next and previous music in the taskbar as well as in the notification area.
Also, Harmonoid allows you to get the lyrics of any song. A very practical feature for all karaoke lovers. Moreover, you can create your own playlists and share your music with your friends on Discord.
Finally, the music player allows you to listen to YouTube music directly in its interface. To do this, you can either copy the YouTube video link or simply search from within the app.
What you must remember
Harmonoid is a free music player with a sleek and modern interface. Thanks to the application, you will not only be able to listen to your favorite songs that are saved on your device, but also those present on the YouTube platform.
If you liked this article, please subscribe to our reddit community to discuss it. You can also find us on Twitter and Facebook.