Do you like to listen to music from your computer? Forget the famous Spotify, Deezer, Apple Music, Qobuz or Tribal apps. Today I present to you Headset , an open source application available on Windows, macOS and Linux that allows you to listen to music for free and unlimited . To learn more about this application and how it works, I invite you to continue reading this article.
Listen to music for free, unlimited and without advertising
Headset is an open-source desktop music player powered by YouTube and Reddit. It allows you to search any song on YouTube and listen to it instantly. Additionally, you can also listen to songs from Reddit's vast library of user-generated playlists. To use the app, you just need a YouTube API key. But do not be afraid, I will explain all the instructions to follow in the rest of this article.
The Headset application offers a minimalist interface that is very easy to use. It is composed of 4 main tabs: Search, Radio, Collections and Likes. From the "Search" tab, you can search for the music you want. For example, you can search for a title, an album, a playlist or even a YouTube channel.
The "Radio" tab allows you to browse the different categories listed in the Headset application. And the least we can say is that there really is something for everyone. From Chill music, to Electronic, Reggae, Rap/Hip Hop or Country, in short, there's what it takes! Finally, from the "Collections" tab, you will find your playlists and from the "Likes" tab all your liked titles.
Along with its main window, you'll notice that the Headset app loads a YouTube player that streams the music clip. Of course, you can very well minimize this window if you are not interested in it. However, you cannot close it because YouTube prohibits it. Headset developer Daniel Ravina was therefore forced to integrate it into his application in order to comply with YouTube's terms of service.
In terms of functionality, Headset allows you to create playlists from the "Collections" tab or to like music in order to find them easily from the "Likes" tab. In addition, the application offers a dark mode (dark mode), the possibility of displaying a notification when new music is played or even activating Discord integration to show your friends what you are listening to.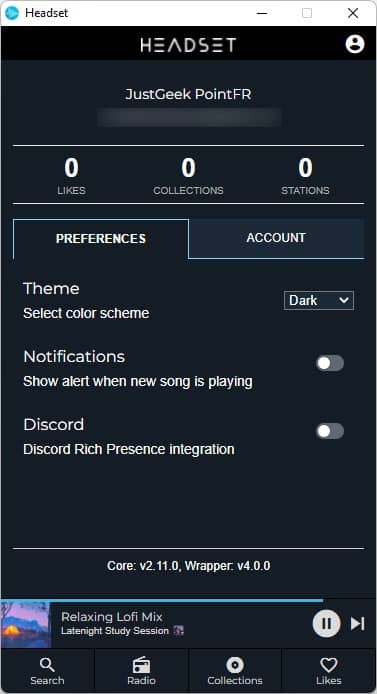 Finally, note that for now, Headset is only available as an application for Windows, macOS and Linux. However, a web version should soon see the light of day.
How to use Headset?
The operation of the Headset application is relatively simple. You just need to have a Gmail account and create an API key. Here's how.
1. If you haven't already, start by creating a Google (Gmail) account . It's free and it takes 2 minutes.
2. Next, go to https://console.developers.google.com and sign in using your Gmail account.
3. Check the box " I accept the terms of use  ", then click on " Accept and continue ".
4. Now you need to create an API key to access YouTube catalog from Headset app. To do this, click on " Select a project ".
5. Then click on " New project ".
6. You can give your project a name or leave the default fields (it doesn't matter). Then click on " Create ".
7. At this step, click on " Enable APIs and Services ".
8. In the search bar at the top of the page, type " youtube " (without the quotes), then click on " YouTube Data API v3 ".
9. Then click on " Activate ".
10. Now, in the left pane, click on " Credentials ".
11. Next, click on " Create credentials ", then on " API key ".
12. Finally, copy the API key , and click " Close ".
13. All you have to do is paste the API key into the Headset application, then click on " Save ".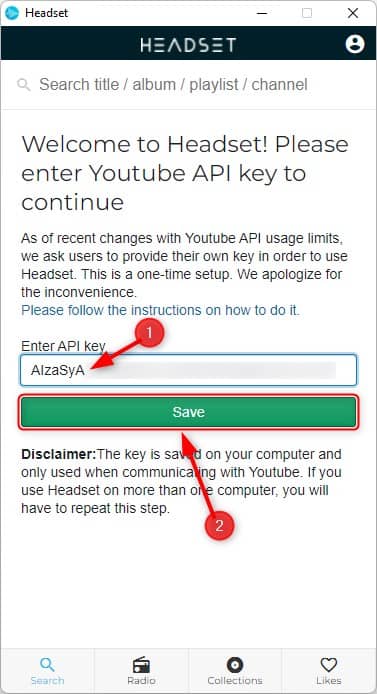 ✅ You can now access the Headset app interface. Click on the "Radio" tab at the bottom of the window, then select the music category of your choice. You can also search for the music you want from the "Search" tab.
What you must remember
Headset is a music player for Windows, Mac and Linux with built-in YouTube search that lets you listen to millions of songs for free and unlimited. It has an easy to use interface with a variety of features including the ability to create playlists, shuffle songs, and repeat tracks. Plus, you don't have to worry about ads or interruptions – Headset gives you uninterrupted access to all your favorite tunes.