ou probably don't know this, but when you install NVIDIA graphics drivers on Windows, a telemetry service and several telemetry tasks are also installed . In other words, once the telemetry component is installed on your machine, information can be sent to NVIDIA's servers .
According to NVIDIA, " the information collected is used only to improve the drivers and the experience of its users ". However, it is impossible to verify his statements since all data is sent encrypted to their servers. So there's no way to tell what's actually being sent… But the good news in all of this is that it's possible to prevent NVIDIA telemetry.
Basically, it involves disabling three tasks in Windows Task Scheduler to prevent these tasks from running on the Windows machine to collect and submit data. The process may need to be repeated after updating the drivers, as things can be reset to their defaults when this happens.
Luckily, there's a program that automates the process, and it's simply called  Disable Nvidia Telemetry .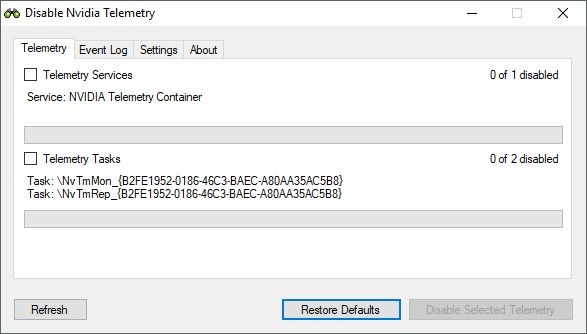 Disable Nvidia Telemetry
Disable Nvidia Telemetry is an open-source program available on Windows that easily disables NVIDIA telemetry. The program does not need to be installed and can be run from any location once you have extracted the archive it comes with.
The application scans the system for NVIDIA telemetry services and telemetry tasks and displays its results in its interface. The scan shouldn't take more than a second, and you get a list of those services and tasks that it identified as telemetry-related.
You can use the app to disable these services or tasks. Simply check the box or boxes next to the telemetry services or tasks, then click the " Disable Selected Telemetry " button to make the change.
There is also a " Restore Defaults " button that you can use to restore the default state of these tasks and telemetry services.
The only other option offered by the program at the moment is a log file that lists events related to scanning and changing telemetry items on the Windows machine.
That's all !
If you liked this article, please subscribe to our reddit community to discuss it. You can also find us on Twitter and Facebook.