1. Be original to stand out
2. Build a social and environmental strategy
3. Perfect control of your conversion funnel
4. Build and retain your community
5. Study customer satisfaction
6. Bet on events
7. Optimize the SEO of your website
8. Bet on pop-up windows, but not too much…
9. Analyze the return on investment of your actions
10. Readjust your management style
Conclusion to boost your business growth
1. Be original to stand out
With the considerable number of competitors in your sector of activity, it is important to break communication codes and offer original products.
Apart from that, it is possible to use other marketing strategies in order to stand out.
Among other things, you can use the "Blue Ocean" strategy or even "Judo marketing".
The "Blue Ocean" strategy seeks to move away from crowded and hyper-competitive markets, for which growth prospects are limited. The objective is to seek a more prosperous market, while avoiding direct confrontation with other competitors.
Judo Marketing consists of explaining that the current methods are not valid for such a reason and therefore that the problem is being dealt with in the wrong way… Consequently, your new solution is essential.
The most important thing is to adapt the strategy chosen according to your target.
Practically, observe what your 2 main competitors are doing .
Next, analyze how to divert one of their strengths to use it as a weakness.
For example, identify a flaw in the marketing system of your direct competitors. Thus, you will be able to define the ideal strategy to take them on the wrong foot.
2. Build a social and environmental strategy
Value and engagement are highly sought after factors in the BtoB space.
On the communication level, do not hesitate to take a stand and support the associations of your choice .
This approach allows your company to open up to new communication channels.
These are very effective in attracting the attention of new prospects.
Indeed, it sends a positive image of your company to a large number of audiences.
From a tax point of view, setting up a social strategy makes it possible to benefit from tax exemption on the donation.
Internally, it can motivate your employees to become even more successful while engaging.
In addition, consider some measures to limit the environmental impact of your actions in Digital Marketing.
3. Perfect control of your conversion funnel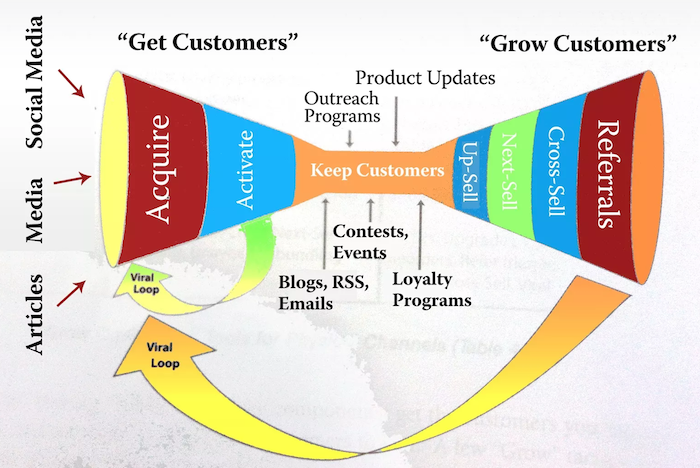 Before contacting a seller, the purchase process is initiated on the Internet.
This is why it is important to put in place an effective digital strategy.
A good mastery of the conversion tunnel makes it possible to model the objectives set to increase the number of potential buyers.
In other words, the following steps are necessary.
Arouse the attention of Internet users on the Internet,
Convert visitors into prospects,
Convert prospects into potential customers,
Customer loyalty.
Generally, the more attention you get from visitors, the more you trigger purchase intent which usually leads to action.
My advice: set up a chat to exchange with your visitors and respond to their concerns.
In addition, note that it is not easy to make yourself visible on the web among the many offers available.
For this, you must take care of the referencing of your website and adopt good Digital Marketing strategies.
4. Build and retain your community
To make a sale in B2B, experts say it takes between 6 and 9 points of contact with a prospect.
At each point of contact, you gradually establish a relationship of trust with this potential customer.
That's why you need to take a number of actions throughout the conversion funnel.
To save valuable time, you should use a Customer Relationship Management (CRM) tool like Microsoft Dynamics CRM , Hubspot CRM, or Salesforce.
You will collect data on your prospects and decide on the actions to take based on their degree of maturity in relation to your offer.
Thus, you boost your sales while controlling the conversion funnel. In addition, you also have all the cards in hand to build lasting customer loyalty.
Obviously, a CRM is not enough, you must:
Communicate regularly on your website,
And put up a "call to action" on each of your site's web pages.
All this must be natural and fluid to guarantee an exceptional customer experience.
5. Study customer satisfaction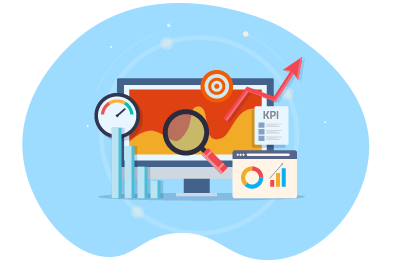 Word of mouth is a very effective marketing tool for attracting new customers.
Today, word of mouth is also digital. Your customers leave their opinion on Google Maps and other specialized social media like TripAdvisor for hotels…
If you identify promoting customers, then offer them to share their opinion with their contacts.
For this, set up a sponsorship program. It is an effective way to invite your loyal customers to give visibility to your offer to their contacts.
As for detractors, always try to understand their dissatisfaction in order to correct the problem.
Indeed, if you have too many unsatisfied customers, it will harm your business. Also, unhappy customers are more likely to leave their negative reviews on social media than happy customers.
In addition to monitoring all these opinions, I recommend that you regularly carry out a satisfaction survey of your customers.
To do this, use collection and analysis tools such as Google Docs, TypeForm, or Survey Monkey.
To sum up, customer satisfaction is an essential parameter to achieve the act of purchase and therefore guarantee the sustainability of your business.
6. Bet on events
Events are a key factor in attracting new prospects and stimulating the growth of your business.
Concretely, you can use the news or key dates to offer Digital Marketing offers.
For example, you can bet on the Olympic Games or the Cannes Film Festival to release special editions.
At the same time, it is advisable to add temporary bonuses to your products .
In this way, your offer not only has a notion of urgency, but also a boon for your prospects.
All you have to do is schedule an emailing campaign on the right segment of your prospect base.
If events are a determining factor in your marketing strategy, consider building a calendar with the main news and the upcoming dates on which you want to rely.
7. Optimize the SEO of your website
In general, when searching the Internet, most Internet users do not make it past the first page of results on Google or Bing.
It is therefore important that your company appears on this first page so as not to miss out on your future prospects.
SEO can be the ideal solution to guarantee the visibility of your site .
Technically, search engines determine the order in which search results appear using algorithms.
To meet the requirements of these algorithms, it is necessary to regularly offer rich content with the right keywords.
These algorithms also detect the interest that your content arouses on other websites.
Thus, being cited by referents, in particular influencers and the professional press, is a guarantee of success for your referencing.
8. Bet on pop-up windows, but not too much…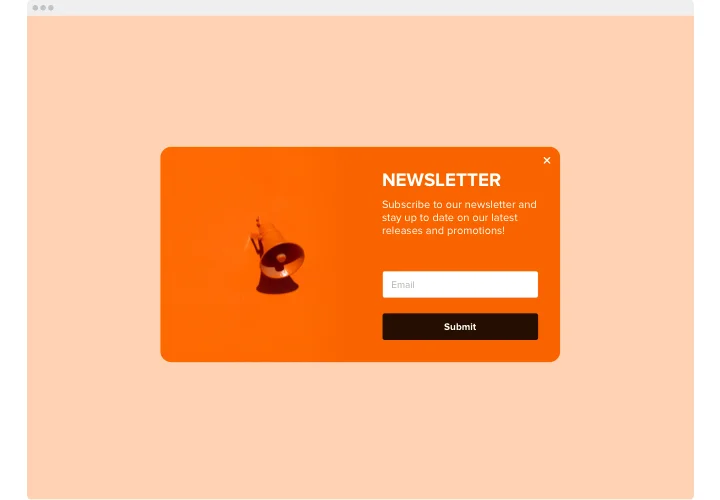 Pop-ups are great tools for quickly building a prospect list.
Very intrusive, they make it possible to collect the contact details of visitors while remaining compliant with the GDPR .
These contact details are very valuable, they represent an effective way to reach potential customers at your convenience.
Moreover, prepare a first welcome message accompanied by a bonus that you send automatically with each registration.
9. Analyze the return on investment of your actions
It's very easy to spend time on social media without getting a return on your investment.
As a reminder, likes and retweets on Facebook, for example, are not considered a prospecting process.
To correct this problem, it is important to regularly analyze the return on investment.
Concretely, analyze your conversions in Google Analytics through links with UTM parameters.
To do this, systematically create a campaign tracking code on your URLs with Google's free tool: Campaign URL Builder .
Finally, you can perform sales source analysis on a monthly basis.
By adopting these different solutions, you will know exactly which actions bring you the most income. Likewise, you will know which platform or marketing lever to focus your efforts on.
10. Readjust your management style
Effective management is a key factor in boosting the productivity of your employees .
If you are a business manager, it is recommended to show empathy, modernity, flexibility and involvement.
These strategies create a favorable atmosphere within the company.
Thus, it increases the efficiency of your workers and most importantly the growth of your business.
Furthermore, as a supplier, do not hesitate to involve your customers in the development of new products.