Want to change the MAC address of a network device ? Check out MAC Address Changer , an easy-to-use free app that lets you change the MAC address of any network adapter. To learn more about this application and how it works, I invite you to continue reading.
What is a MAC address?
A MAC (Media Access Control) address, also known as a physical address, is a unique identifier assigned to each network device by its manufacturer. It is found in particular in the firmware of the network interface card and engraved in the ROM of routers. In particular, it makes it possible to easily identify a device on a local network.
The MAC address consists of 48 bits divided into six bytes and composed of 12 characters. It is usually represented as a hexadecimal code that looks like this: 00:1D:68:C4:57:85
MAC addresses can be used in particular for security purposes, for example to prevent unauthorized access to a network .
Why change the MAC address of a network device?
There are many reasons why someone might want to change their MAC address, but the most common are:
Improve its security : A hacker who knows your device's original MAC address can potentially use it to impersonate you and connect to your network if access is restricted based on MAC address. By changing your MAC address, it will be impossible for him to do this.
Bypass censorship : Some networks block certain websites or services based on a device's IP or MAC address. By changing your MAC address, you can often circumvent these restrictions.
Limited Wi-Fi access : Many public Wi-Fi networks use a device's MAC address to identify it and limit its access to the network. Changing your MAC address regularly can help you get more network time.
Impersonate : If you want to connect to a public Wi-Fi network (hotel, campground, airport, etc.), but don't want to reveal your device's identity, you can change your MAC address.
Fix a network problem : If you're having trouble connecting to a network, changing your MAC address can sometimes fix the problem.
Whatever the reason, changing your MAC address is a quick and easy process. There are several ways to do this. However, one of the easiest is to use a free tool called MAC Address Changer. This tool allows you to easily change your MAC address without the need for complicated setup procedures or technical knowledge.
MAC Address Changer App Overview
MAC Address Changer is arguably the easiest application to easily and quickly change the MAC address of a network device. Available on Windows, the latter offers a very easy to use interface.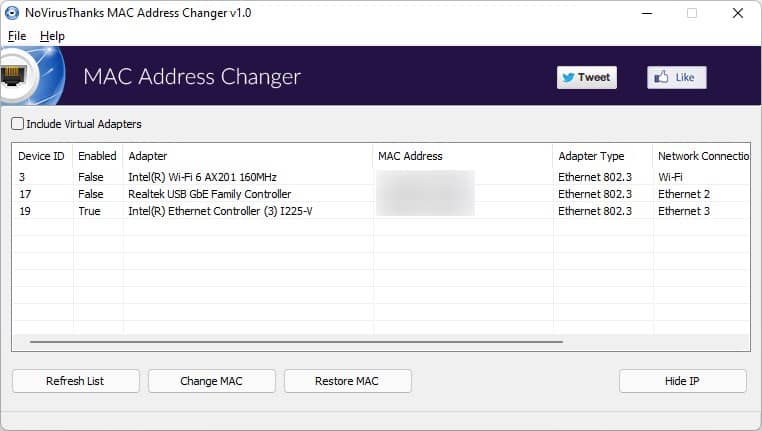 Once opened, the application lists all the network cards installed in your computer. To change the MAC address of a network adapter , simply select it and then click on the " Change MAC " button.
A new window will then open from which you can enter the new MAC address. Also, you will find a " Randomize " button that allows you to randomly generate a new MAC address . Finally, don't forget to save the changes by clicking on the " Change " button.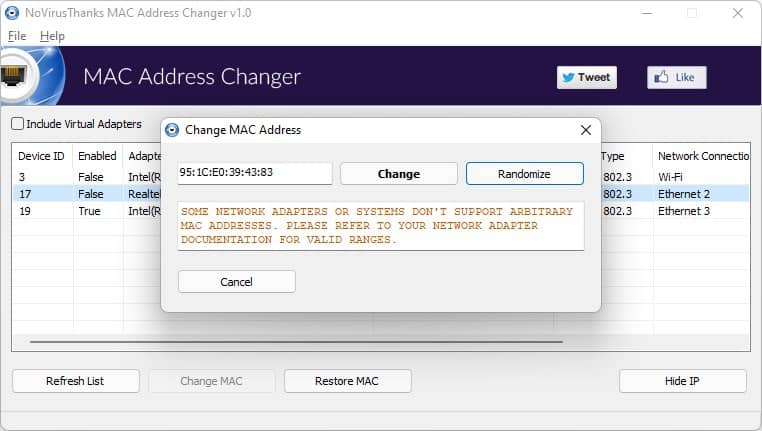 Finally, if for some reason you want to restore the original MAC address , select the network card, then click on " Restore MAC ". That's all !
If you liked this article, please subscribe to our reddit community to discuss it. You can also find us on Twitter and Facebook.