Win10Clean is a small open source program which, as its name suggests, allows you to do some cleaning in the Windows 10 operating system. It provides quick access to common settings and options to remove Windows applications and programs that are installed on your machine. Moreover, the program also incorporates a few features that can already be found in many Windows 10 privacy apps , but it was not designed specifically for this purpose by its developer.
For the time being, Win10Clean is rather limited in terms of the adjustments that can be made with it, but is enriched with new options with each update, so you have to be patient to have a complete application.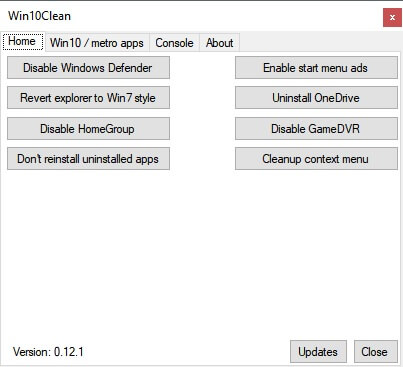 Win10Clean
Win10Clean is a portable application , which means that it does not require any installation. However, to run it, you must have the Microsoft .NET 4.6 framework. Once opened, the application offers various tabs: Home, Windows 10 / metro apps, Console and About .
In version 0.12.1, Win10Clean supports the following:
Disable Windows Defender.
Revamp Windows 7-style Explorer.
Disable HomeGroup.
Do not reinstall uninstalled apps.
Disable Start Menu Ads.
Uninstall OneDrive
Disable GameDVR
Clean up context menu
Some tweaks can be done through Settings , while others require editing the Registry or Local Group Policy .
When you click on one of the tweaks above, a simple " Are you sure? " is displayed. Click Yes to apply the tweak or No to cancel the tweak.
From the Win10/metro apps tab, you can remove any app installed on your computer . To do this, all you have to do is select the ones you want to delete and click on the trash can icon at the bottom right of the application.
I advise you to create a backup before performing any operation because the program itself does not include an option to restore the system.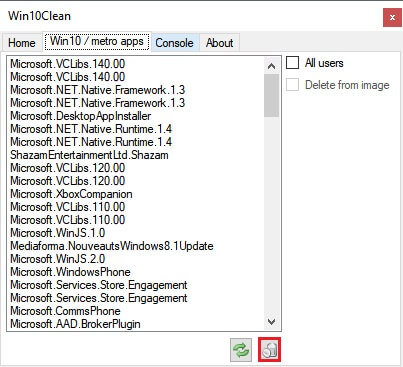 Conclusion
This program is still in the development stage. Some spelling mistakes are present and some people have display problems. We will therefore have to be patient before discovering a functional program…
If you liked this article, please subscribe to our reddit community to discuss it. You can also find us on Twitter and Facebook.