Clone hard drive or SSD is an important process for backing up your data in case of hardware failure. By cloning your disk, you can create an exact copy of it that you can then use to restore your computer to its previous state. This process is also useful for upgrading to a new hard drive or SSD, as it allows you to keep all your data and settings intact . To perform disk cloning, today I introduce you to Hasleo Disk Clone , a free disk cloning software only available on Windows. To learn more about it, I invite you to read the rest of this article.
Summary
What is the use of cloning a hard drive/SSD?
Hasleo Disk Clone, Free HDD/SSD Clone Software
How to Clone Hard Drive or SSD with Hasleo Disk Clone Software?
What is the use of cloning a hard drive/SSD?
The goal of cloning a hard drive/SSD is to make an exact copy of the original drive. This can be useful for a number of reasons, including:
If you need to replace your current hard drive/SSD, you can clone it instead of having to reinstall all your programs and files on the new one.
To replace a hard disk (HHD) with an SSD in order to obtain better read/write performance.
If you have a large amount of data on your current hard drive, the cloner will allow you to transfer all that data to a new larger drive without having to copy it manually.
Cloning can also be used as a backup in case something happens to your original hard drive.
Hasleo Disk Clone, Free HDD/SSD Clone Software
Hasleo Disk Clone is free disk cloning software available on Windows 11/10/8.1/8/7, Vista and even Windows Server. It is reliable software that can help you clone your hard drive or SSD quickly and easily . For example, you can use it to clone your system disk (Windows), to create backups of your data, or to upgrade to a new hard drive/SSD without losing your data .
This free cloning software is very easy to use with a wizard that walks you through the process of cloning your drives step by step, making it perfect for less experienced users.
Besides, Hasleo Disk Clone supports sector-by-sector cloning of disks or partitions , allows to adjust the size of destination partitions, and you can even clone MBR disk as GPT and vice-versa.
Finally, note that the software is also able to create a bootable rescue disk (WinPE) to help you restore Windows in the event of a problem.
All in all, Hasleo Disk Clone is the ideal tool to create an exact copy of your hard drive/SSD, including operating system, applications, data, etc. So you can restore your data or upgrade your computer with ease.
How to Clone Hard Drive or SSD with Hasleo Disk Clone Software?
1. Start by downloading Hasleo Disk Clone software from the developer's official website. To do this, click on the "Download (Completely Free)" button.
2. Then proceed to install the disk cloning software and then run it.
3. Once opened, choose what you want to clone , then click " Next ".
System Clone : ​​This option clones the entire Windows operating system, including user settings, drivers, and applications.
Disk Clone : ​​Clone the entire disk. The data on both disks will be exactly the same. This option is especially useful if you want to upgrade a hard drive to an SSD or larger capacity drive.
Partition Clone : ​​Clone partition of any hard drive/SSD.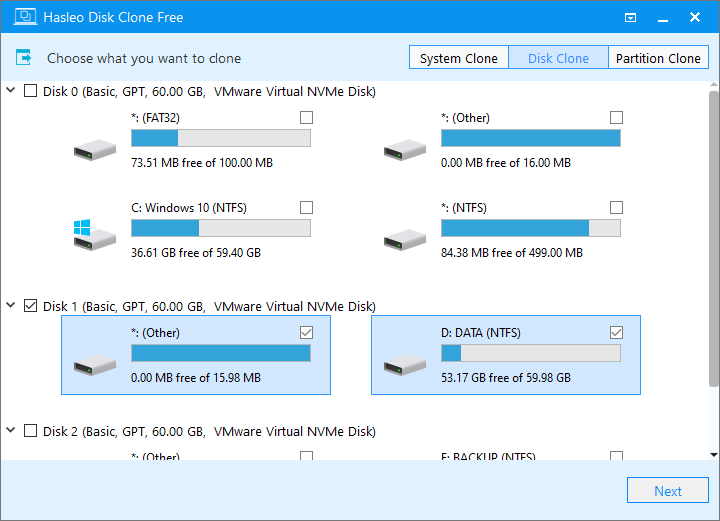 4. Next, select the location you want to clone to, then check or uncheck the options below and click " Next ".
Restore as MBR or GPT : Allows you to clone MBR disk as GPT disk or clone GPT disk as MBR disk.
Clone entire disk sector by sector : This option allows you to clone all sectors of the source disk to the destination disk. This option guarantees that the two discs will be truly identical. Check this box only if you are certain that the source disk does not contain bad or damaged sectors. In addition, it is imperative that the destination disk is greater than or equal to the source disk, otherwise the cloning process will fail.
Preserve partition layout : check this option if you want the layout of the partitions of the destination disk to be exactly the same as that of the source disk.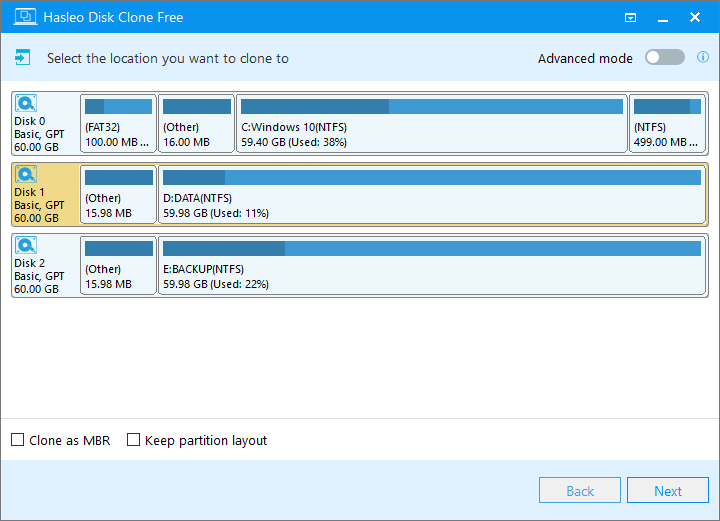 5. From this window, you have the possibility to examine and modify the structure of the destination disk. For example, if your destination disk is larger than the source disk, you will automatically have "Unallocated" space. Therefore, you may decide to enlarge one of the disk partitions to utilize this unallocated space. Otherwise, you can also skip this step and click "Run".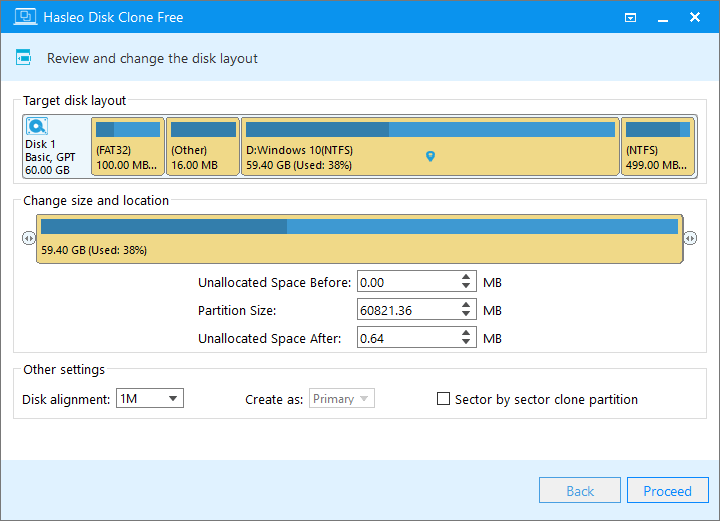 6. The software then warns you that all data on the destination hard drive/SSD will be erased. So make sure that no important data is stored on it, then click " Yes " to start the cloning process.
7. Wait while cloning HDD or SSD…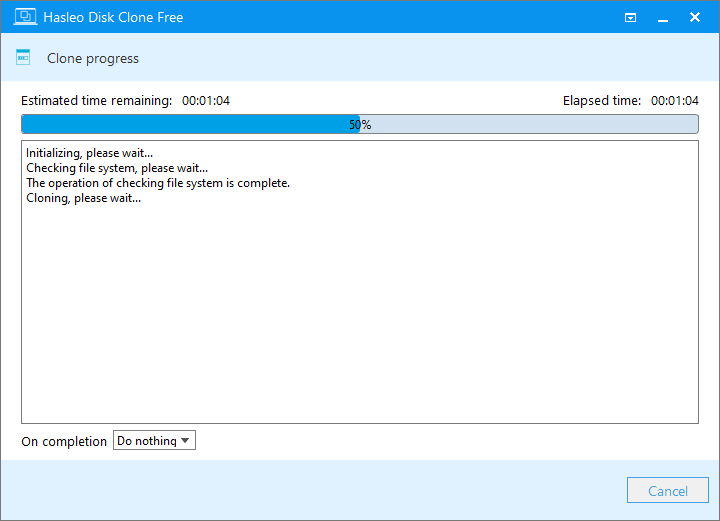 Disk cloning is now complete. All data from the source disk has been copied to the destination disk. All you have to do is click on the "Done" button.