There are many image formats, and depending on the project you are working on, you may need a particular image format. You would then have to convert your images from one format to another using specialized software or online tools. In this article, we tell you how to convert PNG images to JPG and JPG to PNG .
How to convert PNG images to JPG and JPG to PNG?
To convert an image from one format to another, two solutions are available to you. You can either use specialized image conversion software or use a free online converter. In both cases, the operation remains very simple.
Conversion on PC
On PC, image conversion can be done with specialized programs such as Converseen , Image Tuner , Shutter Encoder or InfinityConverter . All of its apps are free and very easy to use. Thanks to them, you can convert an image into the format of your choice (JPG to PNG, PNG to JPG, etc.).
Online conversion
There are many sites online to convert images from PNG to JPG and vice versa. These sites are mostly free and very effective. Start by choosing the one you like from the multitude that exists. They generally present a great simplicity with an easy to handle interface.
Once you are on the main page of one of them, the procedure is practically the same. The first step is to select the file to convert from your computer or in the cloud. Then adjust the various parameters by selecting the target format (PNG or JPG). You can also fill in other optional parameters by defining:
The quality of the image (the higher it will be, the larger the file will be);
The size (length and width);
The desired filter and ;
The resolution.
Finally start the conversion and go to the download page to see your conversion result.
Here are 5 free online converters
Online tools usually offer more profits and possibilities when converting PNG images to JPG and JPG to PNG. Here are the best free online image converters for you.
iLoveIMG
iLoveIMG is a website that offers many tools to edit your images. In particular, you will find a free online image converter that has a simple and very practical interface. It allows you to perform the conversion of several image formats. For example, you can convert a PNG image to JPG , or JPG to PNG .
In addition, it should be noted that the iLoveIMG site supports batch image conversion. In its free version, you can convert up to 30 images at one time. Just note that the size of the images should not exceed 200 MB.
Img2Go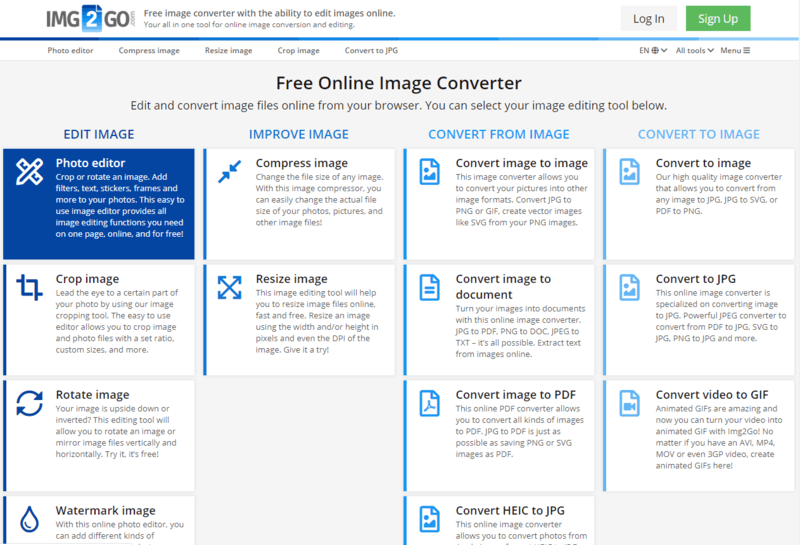 Img2Go is an all-in-one online tool that offers both an image converter , a photo editor and other tools to resize, crop or scale images.
With Img2Go, you can select your image to convert from your PC, your Dropbox or Google Drive, but also from a URL. Moreover, you also have the possibility to choose the quality of the image, its size, to define the resolution which suits you and finally, to use a color filter.
In its free version, Img2Go allows you to convert up to 5 images simultaneously. However, note that the maximum size of an image should not exceed 100 MB.
ResizePixel
ResizePixel is a free online image editor. Thanks to this site, you can not only convert an image for free, but also crop, resize or even compress images.
The site offers a very easy to use interface, even for beginners. To convert an image, all you have to do is upload it and set the format you want. Then run the conversion and download the result. It's that simple !
JPG to PNG
JPG to PNG is a free website that converts images from JPG to PNG, PNG to JPG, and many other formats. This free online image converter allows you to convert up to 20 images at the same time with file sizes of up to 50 MB. The site uses efficient compression methods that make it easy to change formats. Besides, the interface is simple and very practical. Note that all data is automatically deleted after 1 hour.
Online-Convert
Online-Convert is a free online converter that requires no prior installation before use. It offers a large number of conversion formats, but also many optional settings to improve the quality of your images. On the other hand, unlike its competitors, its use is limited. You can convert up to 3 images per 24 hours and the total file size should not exceed 100MB.
If you liked this article, please subscribe to our reddit community to discuss it. You can also find us on Twitter and Facebook.