Do you have old photos that you would like to restore? Want to improve the quality of a low quality or low resolution image? We have what you need ! Find out in this article Swinira free online tool that allows you toimprove the quality of your photos or images in just a few clicks. To learn more about this tool and how it works, we invite you to continue reading this article.
Improve the quality of your images/photos with Swinir
When we take photos with the camera of our smartphone, it sometimes happens that we realize later that the photo is blurry or of poor quality (dedication to my mother who usually sends me blurry pictures 😂). However, before deleting it, I suggest you try Swinir, an online tool that can restore your snapshots using powerful artificial intelligence.
Indeed, Swinir is able to solve common problems related to images, such as blurry photos, dark photos, bad lighting or even low resolution images. The AI ​​behind Swinir is able to increase the resolution of any image while significantly improving its original quality.
Swinir is completely free to use and no registration is required to use it. Moreover, no photo editing skills are required, the tool takes care of absolutely everything! All you have to do is upload your photo or image, and wait for the optimization process. It's as simple as that 😎
This tool can be useful in many situations. For example, if you have a small image or photo (low resolution), you can easily enlarge it up to 4 times its original size while preserving its quality. Also, if you have a blurry or low quality photo, Swinir may be able to optimize it to improve its quality.
To enlarge and improve the quality of a photo or image, follow these steps:
1. Start by going to the Swinir website.
2. Drag and drop your image or photo to be optimized in the rectangle provided for this purpose or click on " Drag 'n' drop here to select it.
3. Then, when you see the preview of your image, click the " Create (located at the bottom right of the window).
4. Wait a few moments while your image is optimized. This may take more or less time depending on the type of image you want to optimize/enlarge.
5. Finally, you'll get a thumbnail of your optimized image that will appear just below the original. To save it, just right-click on it, then select " Save Image As… ".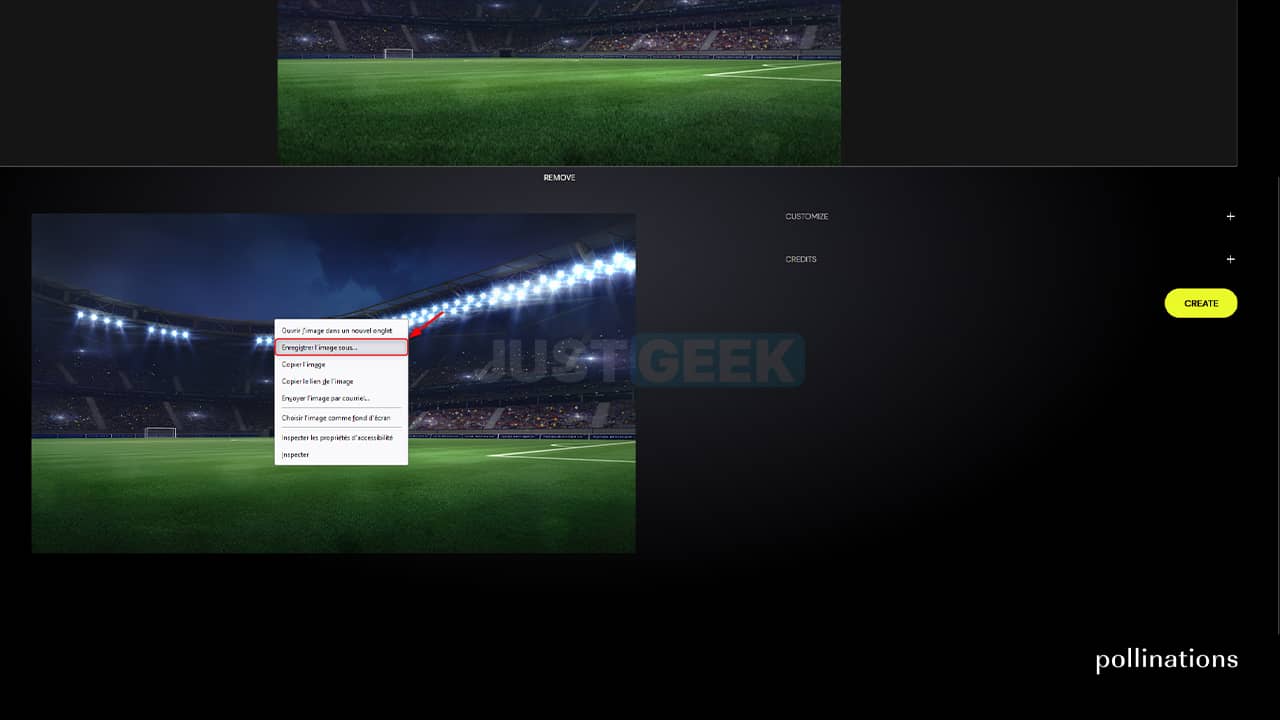 ✅ That's it! You now know how to enlarge and improve the quality of an image/photo with Swinir.
What you must remember
Whether you are a professional photographer or just want to improve your personal photos, Swinir is the perfect tool for you. With Swinir, you can quickly and easily improve the quality of your images without any photo editing skills. And if you are not satisfied with the result, I also invite you to (re)discover our selection of the 5 best online tools to enlarge an image without losing quality.