To integrate your Adsense codes or other codes inside, at the beginning or at the end of the articles, there are two methods: Either by hand, or using a plugin or extension. Our site uses an extension called quick adsense.
Insert Adsense ad codes in your articles
Quick Adsense   is an ad management plugin for WordPress. It offers you a fast and flexible way to insert Adsense ad units or any other code inside your articles and/or page. It comes with a very simple configuration page.
Generally, placing Ads inside your tickets significantly increases your Adsense CTR and subsequently your earnings.
Here are some features of this extension:
Position of ads: Insert ads at the beginning of your articles, in the middle, at the end of articles, after "more" tag, before the last paragraph, assign ads after certain paragraphs (3 options available) and assign ads after certain pictures .
Allows random ads to be inserted anywhere in a post.
Simple configuration interface, requires no coding knowledge: Just copy and paste the AdSense code, tick and select the options, the plugin will then do the rest for you.
compatible with any code, not just Adsense codes.
Allows you to display up to 10 ads on a page.Google allows publishers to place more than 3 AdSense ad units on a page.
Supports up to a maximum of 10 ad codes on the sidebar.
Supports up to a maximum of 10 ads for placement and specific randomization within a post.
Insert Adsense codes using HTML: < – ! ADS1 – > , < – ! ADS2 – > … < –! RndAds – > .
to Disable Ads, just insert < –! NoAds – > , < – ! OffDef – > , < – ! OffWidget – > , < – ! OffBegin – > …
Installing the Quick Adsense Plugin
Unzip the downloaded plugin and send the "Quick adsense" folder via Ftp to "/wp-content/plugins/directory". You can also download the plugin directly from the WordPress dashboard: Extensions–>Add.
Go to the plugin menu and activate the .
Go to "Settings->Quick Adsense" page and configure the options. Paste the announcement codes to the corresponding text box.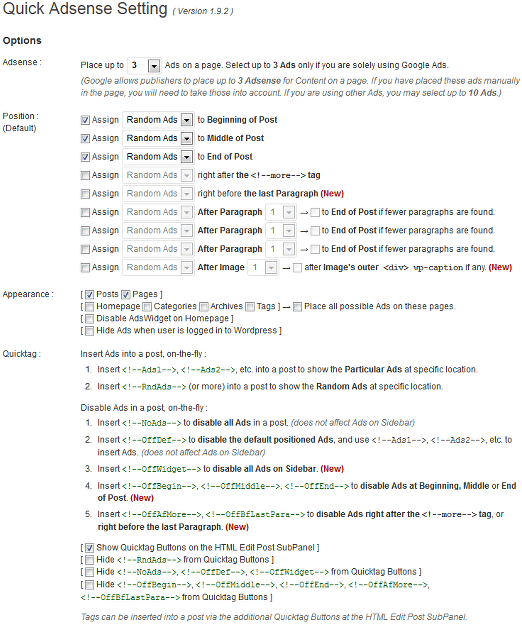 I think this plugin will help you to insert your Adsense ad codes inside your posts and pages. If you have any questions I am here to answer them.
If you liked this article, please subscribe to our reddit community to discuss it. You can also find us on Twitter and Facebook.