In this big tutorial we will see how to install and configure the Seo Rank math plugin 2022 correctly by following this guide. Once you have installed Rank Math, you will be greeted by a setup wizard. The latter will help you configure Rank Math in the best possible way according to your website and your needs.
Once the setup process has begun, you will be greeted by the activation screen: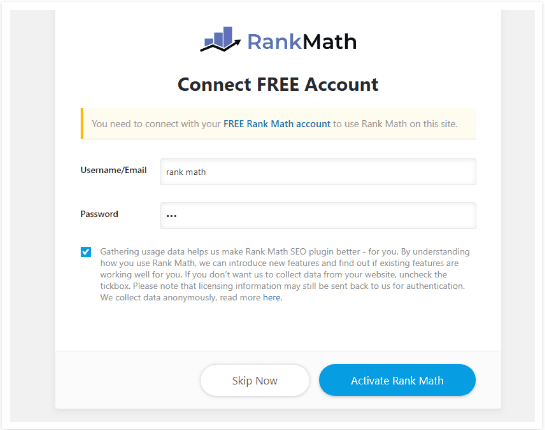 Rank Math is free, but you need to activate it to access all of its features for free. Activation also helps associate each copy with an email address, which is useful if you need support.
Use this link to access the Rank Math website and create an account. The link is also present on the activation page, and clicking it will open the Rank Math website in a new tab.
You can use a Google or Facebook account to create a Rank Math account or use your email id. Sign up using your preferred method, but keep a copy of your credentials handy to activate Rank Math.
Note that if you sign up using your social account, your credentials will be emailed. You can and are encouraged to change your password once your account is created. You can do this easily in your Rank Math account .
Enter your credentials on the Rank Math activation screen, then click the "Activate Rank Math" button.
Note: This step is optional, you can skip it by clicking on the "skip Now" button.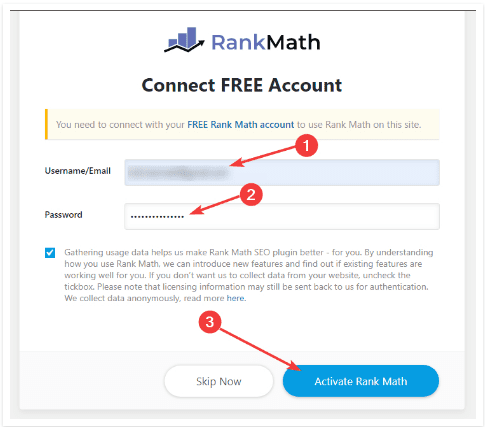 The next step is the configuration screen. Here Rank Math performs a compatibility check to see if your website is compatible with Rank Math. The plugin also displays a 6-step configuration process.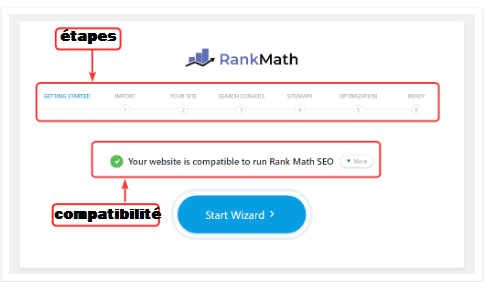 You can click on the "More" button to see all the tests that have been performed. Here is an overview of all the tests performed by Rank Math.

Once you're ready, click the flashing "Startup Wizard" button to continue the setup process.
Configuring Rank Math
Step 1 – Import data from other plugins
Rank Math can import SEO settings from many SEO plugins. It automatically detects the SEO plugin you are using and lets you selectively choose which settings you can import. If you use Yoast you will have the following window: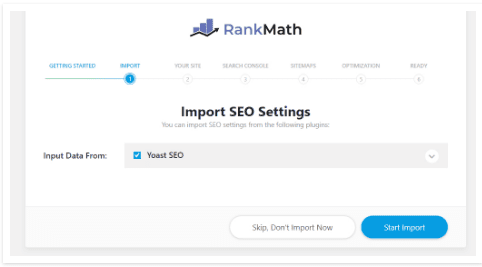 You have the option to customize the import process by importing only selected data from your existing SEO plugin (here we have Yoast). To check what data will be imported, click the drop-down button on the edge of the Import Data field.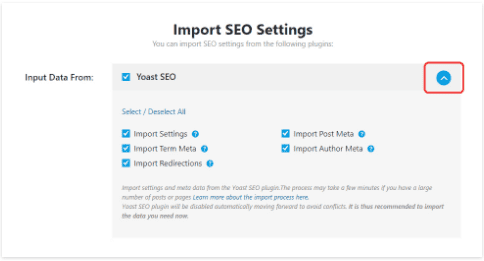 You have the choice to select or deselect the data you want to import or not.
Attention: Once the import process starts, the other SEO plugin you are using will be disabled (in our case the Yoast plugin in order to avoid conflicts. Another thing if you don't import some data, they may be lost forever, so we recommend that you select all the data you want to import.
The import process will start immediately by clicking on the "Start import" button. The data import process will take some time depending on the size of your website. Once the process is complete, tap on the Continue button.
Step 2 – Selecting your site type
Here you will select the type of website you have. The first option is the most important to understand and configure because it allows you to configure Rank Math for the type of website you run. The following options should be available.

Although there are many options in the website type field, they can be categorized into just 2 categories. Business and personal. Each time you choose an option that falls under the Business category, two additional fields appear (Business Type and Business Name).
Configuring Rank Math for Blogs
If you are setting up the Seo Rank Math plugin for a personal blog, you can choose one of the following options in the Website Type field.
personal blog
personal portfolio
Other personal website
Now you will upload a logo for Google by clicking the "Add" button.
Next, you will select the default image to use for social media by clicking the "add file" button.
Step 3 – Configuring Google Search Console
In this step, you will configure Rank Math to work with Google Search Console. Rank Math uses the official Google Search Console API to retrieve important statistics about your site and display them directly in your site's admin area.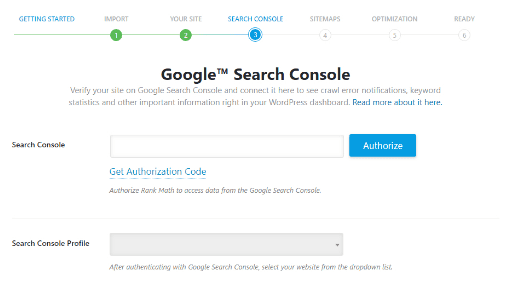 To connect your site to Google Search Console, you start by going to the Google Search Console website to retrieve your verification code.
Choose the "HTML tag" method and copy the code (see image):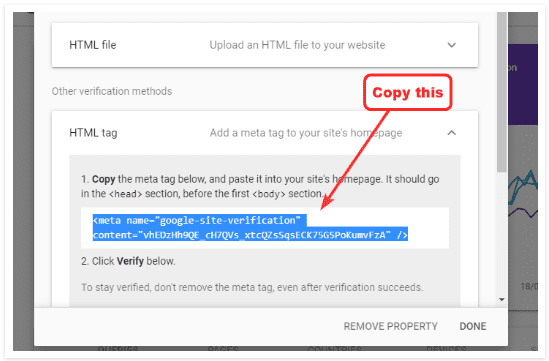 Now log into your WordPress dashboard again, then head to Rank Math > General Settings > Webmaster Tools.
You can also click highlighted on the setup wizard page. The link opens a new tab so that your progress is not lost.

Paste your verification code into the Google Search Console field, then save your settings.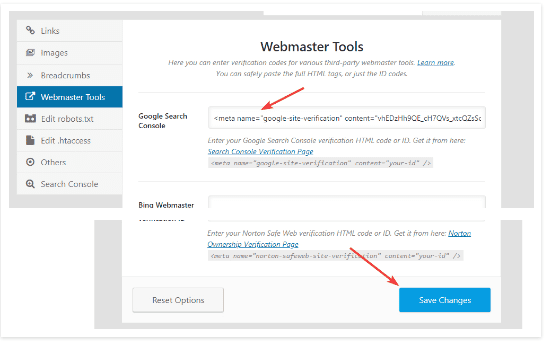 In the next step, you will allow Rank Math to pull data from Google Search Console to display directly in your admin area.
Click on the "Get Authorization Code" link:

A window will appear. Click the "Allow" button to continue.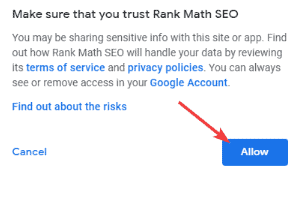 Once you accept, you will see an authorization code generated by Google. Copy this code, then close the window.
Paste the authorization code into the "Search Console" field in Rank Math. The plugin will automatically try to verify the code. Within seconds, the code should disappear:

If you see this screen, it means you have done the job perfectly.
The next step is to select the Google Search console property.
When you click on the "Search Console Profile" drop-down list, all of your properties will appear in the list. Select your website from the drop-down menu.
If you don't see your property, check that you have connected the correct account.
Now click Save and continue to step 4.
Step 4 – The XML Sitemaps
The fourth parameter concerns sitemaps. Here is an overview of all the recommended options (do the same):
Step 5 – Optimizing your site
In this step, you will make manipulations that will have a great impact on the optimization of your site. Here are all the recommended options to do: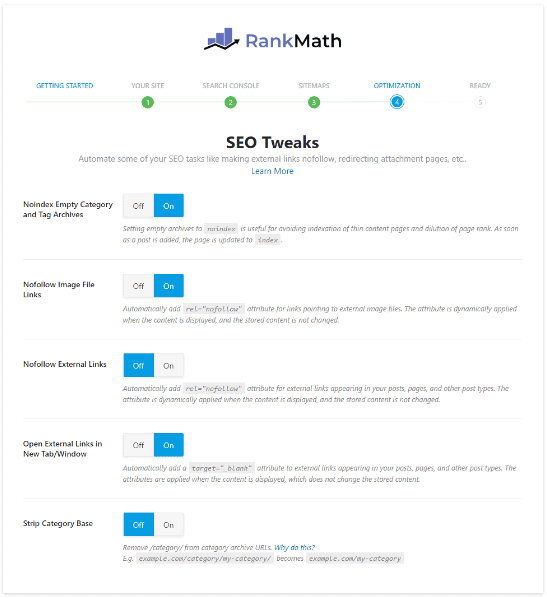 Category archives:  Sometimes Google indexes category and tag archive pages, which poses a problem of duplicate content, especially with categories with the same description. for that it is better to activate this option not to index these pages.
Image file links: If you have a lot of images with external links, you can enable this option. On the other hand, if you mainly add images that point to your internal articles, you can deactivate it.
External nofollow links : It is strongly recommended to add the rel= "nofollow" attribute to external links . You must therefore activate this option.
Open external links in a New Tab/Window : recommended
Remove category prefix: recommended to keep your links clean and short.
That's all I hope this tutorial will help you to install and configure the Rank Math plugin correctly.
If you liked this article, please subscribe to our reddit community to discuss it. You can also find us on Twitter and Facebook.