Who hasn't watched YouTube at least once? Whether you're streaming music videos, watching makeup tutorials, or searching for how-to videos for your latest DIY project, you'll probably find yourself on YouTube. As a consumer of video content, you already know how valuable it can be. And if you enjoy creating your own videos, why not consider pursuing a career as a YouTube content creator and earning money online?
While these tips may not turn your videos into the next Baby Shark Dance and catapult you to the top of the most-viewed YouTube videos, they can help you create a revenue stream from your content. Here are five effective ways to make money as a YouTube creator:
Join the YouTube Partner Program
Sell your own products or merchandise
License your content to media outlets
Work with brands as an influencer or affiliate marketer
Accept direct payments from fans"
1. Become a YouTube Partner
The YouTube Partner Program (YPP) provides content creators with access to unique features, including revenue sharing from video ads. While it is possible to make money on YouTube without being part of the YPP by creating a Google Adsense account and generating views, the YPP offers more monetization options for earning passive income.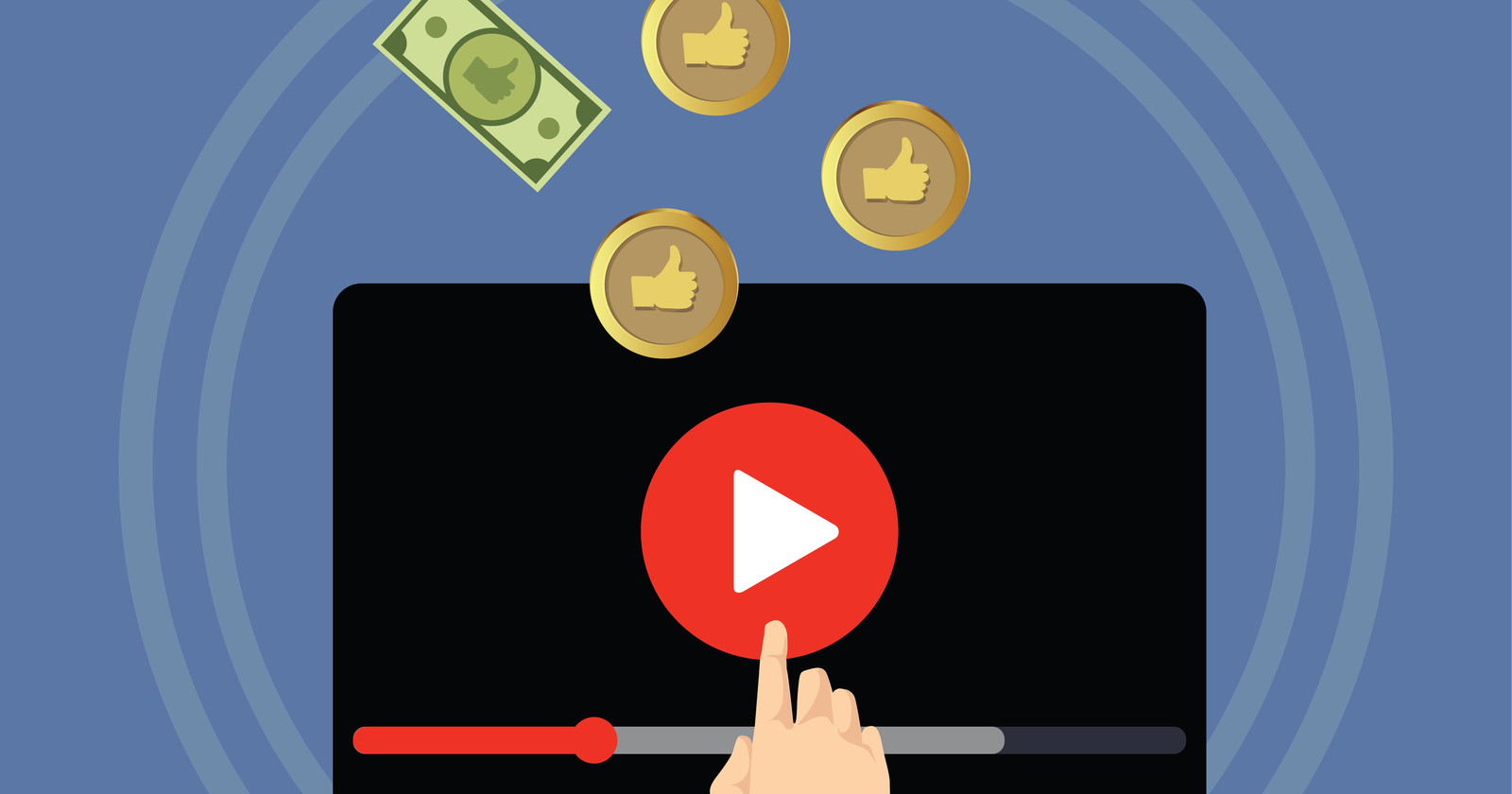 To be eligible for the YPP, your channel must have at least 4,000 hours of public watch time in the last 12 months and at least 1,000 subscribers. Once you apply for the YPP, YouTube will review your channel to determine if it meets their monetization guidelines. If your channel is approved, you'll gain access to multiple revenue streams from video ads, YouTube Premium subscription fees, and other exclusive features.
Here is a breakdown of the steps to enable monetization on your YouTube channel
Make sure your channel meets YouTube's monetization policies
Before applying for the YouTube Partner Program, it's important to ensure that your account complies with its rules. YouTube checks your videos for advertiser-friendly content, as they have specific guidelines to determine which videos are suitable for showing ads. Even after your channel has been approved for monetization, YouTube retains the right to remove it if you violate their policies or if you're inactive for more than six months without uploading new videos or posting new content
Enable 2-step verification on your YouTube account
While not technically a requirement to enable monetization for your videos, setting up 2-step verification for your account can help avoid delays and extend the timeline for monetization. Additionally, you'll gain the added benefit of protecting your account from potential security threats.
Sign the YouTube Partner Program Terms of Service
To apply for the YouTube Partner Program, you must agree to the terms and conditions. To do this, go to your YouTube Studio and click on 'Monetization'. If you don't meet the eligibility requirements for the program yet, you can click 'Notify me when I'm eligible' to receive an alert once your channel meets the threshold. If you're already eligible, click 'Get Started' on 'Review Partner Program Terms' and sign the form
Connect your Google Adsense account
The next step in monetizing your video content is to connect your Google Adsense account, which is how you'll receive payment from YouTube. You can sign up for Google Adsense or connect an existing account on your YouTube Studio page
Wait to receive approval
After completing all of these steps, your application will be submitted to the approval queue. It typically takes at least a month to receive a response. If your application is accepted, you can start setting your ad preferences and enabling monetization on each of your individual videos.
2. Sell products or goods
Another great way to make money as a video creator is to sell your own branded products or merchandise using YouTube's Product Shelf. Eligible channels can feature 12 official merchandise products directly on YouTube. In order to access the Merchandise Shelf, your channel must be approved for monetization in a country where the YouTube Partner Program is available. If you make music, your channel must be set as an official artist channel. Otherwise, you must have at least 10,000 followers to sell your own merchandise.
To set up your own merchandise shelf, go to YouTube Studio, click on "monetization" and if you're eligible, you'll see a tab labeled "products." Click on this tab and follow the on-screen instructions to activate the Merchandising Shelf for your channel and videos. You can also pause your merchandise shelf or turn it off completely at any time.
Start by choosing a manufacturer from YouTube's list of partners and creating one or two things you can use to gauge your audience's interest in your branded products. It's a good idea to involve your subscribers in your decision about the type of products you will offer. Soliciting feedback in advance saves you from creating products that your audience doesn't want to buy.
Be sure to constantly promote your merchandise in your YouTube videos so subscribers and new viewers know what you have. Just because you create merchandise doesn't mean that all your potential customers will see your new products or understand why they should buy them. Show up in your videos wearing your branded t-shirt or sip from the mug you sell, so viewers see your products and are more likely to want them for themselves.
Another great way to convert your video viewers into paying customers is through user-generated content. For example, by featuring viewers who purchased your product with a username in your video or live stream and sharing their photos on your channel. Not only does this make your customers feel valued and appreciated, but it also makes viewers who haven't purchased your products feel like they're missing out.
Use compelling calls-to-action in your videos to entice viewers to check out your product shelf and make a purchase. If you want to introduce an element of urgency to encourage even more sales, you can offer a limited run of products and build buzz around your product releases.
3. Authorize your content to the media
Whether you create hilarious prank videos that go viral or manage to capture an unexpected event by being in the right place at the right time, there may come a time when a media outlet wants to use your video in their content. If this happens, make sure you know that the media are obligated to pay you for the use of your videos.
You have several options for negotiating content licensing rights with media outlets. Start by making it easy for people to contact you by clearly displaying all of your contact information on your YouTube channel's "About" page. Even if you don't have an established business or website yet, you can use your personal email account or you can set up a free business email address. When media contacts you, you can either choose to negotiate content usage fees directly or direct them to an online marketplace like Jukin Media or your online store where they can purchase different license fees depending on how they plan to use your content.
4. Work with brands as an influencer or affiliate
In addition to creating valuable content, it's important to establish trust with your audience by being transparent about any sponsored content or affiliate links. You should always disclose any paid partnerships or affiliate relationships in your video and description. This not only builds trust with your audience but also complies with FTC guidelines.
When looking for affiliate programs to join, consider products or services that align with your brand and niche. This will make it easier to promote the product authentically and effectively. You can also reach out to companies directly to propose a partnership or affiliate relationship.
Finally, when it comes to influencer marketing, it's important to negotiate fair compensation for your time and effort. Consider factors such as the size of your audience, the duration of the partnership, and the type of content you'll be creating. Don't be afraid to advocate for yourself and your value as an influencer.
How to Become a YouTube Influencer
Be sure to do your research when it comes to industry standards for YouTube influencer fees. These will likely depend on your audience size, level of engagement, and how relevant your viewers are to your potential brand partner. You can also use influencer marketing tools like Social Bluebook or Influencer.co to help determine your rates. It's important to always disclose when you're being paid to advertise, as YouTube takes its advertising policies very seriously. This way, you won't violate their policies and risk damaging your trusted reputation in the eyes of your community
How to Become a YouTube Affiliate Marketer
Affiliate marketing can be a great way to monetize your YouTube channel without having to create sponsored content or negotiate brand deals. To be successful in affiliate marketing, you should focus on creating high-quality content that is relevant to your niche audience and includes calls to action that encourage viewers to make a purchase using your affiliate link.
It's important to disclose that you are using affiliate links in your video description or verbally in your videos, to ensure transparency with your viewers. This can also help to build trust with your audience and maintain the integrity of your content.
When choosing which products to promote through affiliate marketing, consider the needs and interests of your audience. Promoting products that align with your niche and that you genuinely believe in can help to establish your authority and credibility in the eyes of your viewers.
Overall, affiliate marketing can be a lucrative way to monetize your YouTube channel, especially if you have a dedicated audience that trusts your recommendations. However, it's important to approach affiliate marketing with honesty and authenticity to maintain the trust and loyalty of your viewers.
5. Direct fan payment
One popular method is through fan funding or donations, where viewers can voluntarily donate money to you as a way to support your channel and content. This can be done through platforms like Patreon, where fans can sign up to support you on a recurring basis, or through donation platforms like PayPal or Ko-fi, where fans can make one-time donations.
Another way to monetize your channel directly with your fans is through selling merchandise. You can create your own branded merchandise, like t-shirts, stickers, or even digital products like ebooks or courses. Many creators use platforms like Teespring, Redbubble, or Spreadshirt to create and sell their merchandise, while others opt to create their own online store through platforms like Shopify.
Additionally, YouTube now offers its own merchandise shelf feature, where you can showcase your merchandise directly on your channel for your viewers to purchase. Keep in mind that you'll need to meet certain requirements, such as having at least 10,000 subscribers, to be eligible for this feature.
Ultimately, the key to successfully monetizing your YouTube channel is to provide value to your viewers and build a strong relationship with your audience. By creating high-quality content and engaging with your viewers, you can attract loyal fans who are more likely to support you through these various monetization methods.
Super Chat feature on Youtube
Super Chat is a feature that allows viewers to pay to have their message highlighted during a live stream. The message appears as a bright color and stays pinned to the top of the chat for a set period of time, depending on the amount paid. Super Stickers are similar, but they are animated images that viewers can purchase and send during a live stream to show their support for the creator. Both Super Chat and Super Stickers are available to members of the YouTube Partner Program who have monetization enabled on their channel.
Channel subscriptions
If you're enrolled in the YouTube Partner Program, are over 18 years old, and have more than 30,000 subscribers, you may be eligible to offer a paid subscription to your viewers. A channel subscription provides exclusive member benefits that viewers can access by paying a monthly fee. You can offer multiple levels of membership at different price points.
The benefits of channel membership can include members-only community posts, videos, live streams, and chats. Members will receive personalized badges next to their name in chats, comments, and the Community tab to indicate how long they have been a member of your channel. Additionally, you can set up access for members to one or more exclusive custom emojis that they can use in video comments and live chats. Be sure to clearly state the benefits you offer at each membership level so that subscribers can easily understand the value of becoming a member of your channel
Encourage subscribers to join YouTube Premium
As a YouTube creator, you can earn a portion of the subscription fee from YouTube Premium members who watch your videos. This is known as the YouTube Premium revenue share, which is distributed to creators based on how much watch time their content receives from YouTube Premium members compared to other creators on the platform.
However, it's important to note that this revenue share is not directly related to the number of your channel subscribers who are YouTube Premium members. Instead, it's based on the overall watch time from YouTube Premium members across the platform. So even if you have a small number of YouTube Premium members who watch your content, but they watch a lot of it, you may still earn a significant portion of the YouTube Premium revenue share.
Furthermore, it's important to remember that while YouTube Premium revenue share can be a source of income for creators, it's not the only way to earn money on the platform. Creators can also earn revenue from advertising, channel memberships, merchandise sales, sponsorships, and other sources.
Crowdfunding on another site
Creators can use crowdfunding platforms like Patreon, GoFundMe, or Kickstarter to earn additional income from their fans and supporters. By creating a Patreon page, creators can offer exclusive content and perks to their patrons in exchange for monthly donations. This can provide a stable and reliable source of income for creators, as patrons often pledge a consistent amount each month.
It's important to note that YouTube has specific guidelines and policies around crowdfunding, and creators must follow these guidelines to avoid any violations. For example, creators cannot directly ask viewers for donations or funding in their YouTube videos, as this violates YouTube's advertising policies. However, creators can promote their crowdfunding campaigns or pages in their videos or in the video descriptions.
Additionally, it's important for creators to provide value and exclusive content to their patrons in order to encourage ongoing support. This can include behind-the-scenes footage, early access to videos, exclusive merchandise, and personalized shoutouts. By providing valuable content and perks to their patrons, creators can build a loyal fanbase and earn a sustainable income from their work.
How much do Youtubers earn?
The amount of money that YouTubers can make from their video content depends on various factors, such as the number of views their video receives, the number of ad clicks, the quality of the ads, whether viewers use ad blockers, and the length of time viewers watch their videos. According to YouTube statistics, YouTubers can earn between $0.01 and $0.03 per ad view, which usually translates to around $0.18 per video view. This means that YouTubers could earn around $18 for every 1,000 ad views or around $3 to $5 for every 1,000 video views.
The number of subscribers a YouTuber has on their channel does not directly affect the amount they earn. However, subscribers tend to be more engaged with a YouTuber's content, which means they are more likely to like, comment, and share their videos. This can lead to more views and, ultimately, more revenue. For example, if one of your videos receives a million views, you could earn around $5,000. Some of the top YouTubers make over $20 million a year from YouTube videos alone. It is worth noting, though, that making a significant amount of money from YouTube requires consistent effort, dedication, and creativity, and that not every YouTuber will achieve such success.
Conclusion
YouTube can be a great platform for people who enjoy creating video content and want to earn money from it. However, it's important to remember that building a successful YouTube channel takes time, effort, and dedication. You will need to consistently create high-quality content that appeals to your target audience, optimize your videos for search, and engage with your viewers. You may also need to invest in equipment and software to produce professional-looking videos. If you're willing to put in the work, though, the potential rewards can be significant.