Wallpaper is a great way to personalize your computer and give it a unique look. It's also a great way to show off your personality and style on your PC. Although it may seem like a trivial detail, having a nice desktop background can really brighten up your day and make using your computer that much more enjoyable. Especially since today there are many types of wallpapers. For example, you can put a personal photo, a landscape or your favorite animal. Not original enough for you? In this case, I suggest you go for a beautiful live wallpaper . In this article, we will see togetherhow to put an animated wallpaper on windows 11 . Follow the leader !
Summary
Put an animated wallpaper on your Windows 11 PC
Download free live wallpapers
Put an animated wallpaper on your Windows 11 PC
The latest operating system from Microsoft namely, Windows 11 does not offer any option to put an animated wallpaper. Therefore, you must necessarily go through a third-party application. The best free app to put live wallpaper on Windows 11 is Lively Wallpaper . Thanks to it, you will be able to download magnificent animated wallpapers for free, and even put a YouTube video in the background.
1. Start by downloading the Lively Wallpaper app . Note that the app is available on the Microsoft Store or from the GitHub platform . Both versions are identical, so choose the platform that suits you.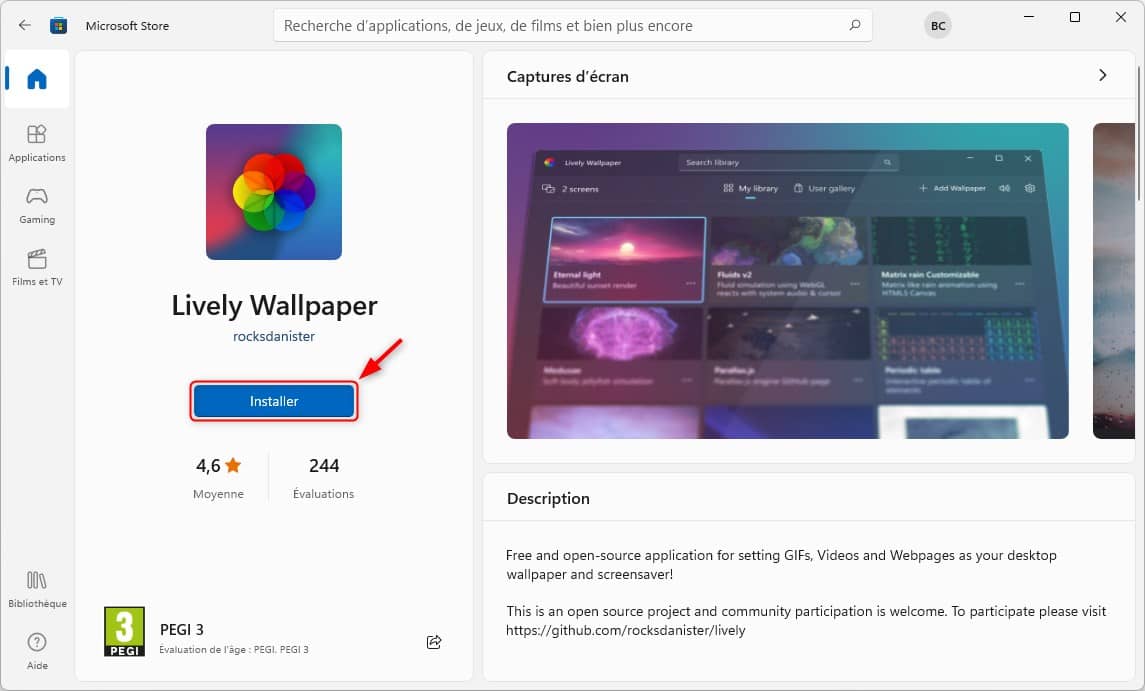 2. Then open the Lively Wallpaper app.
3. From its main interface, you will notice that the app includes several live wallpapers (12 in total). Click on one of them to set it as the desktop background. The change is immediate. Go back to your Desktop to admire the result!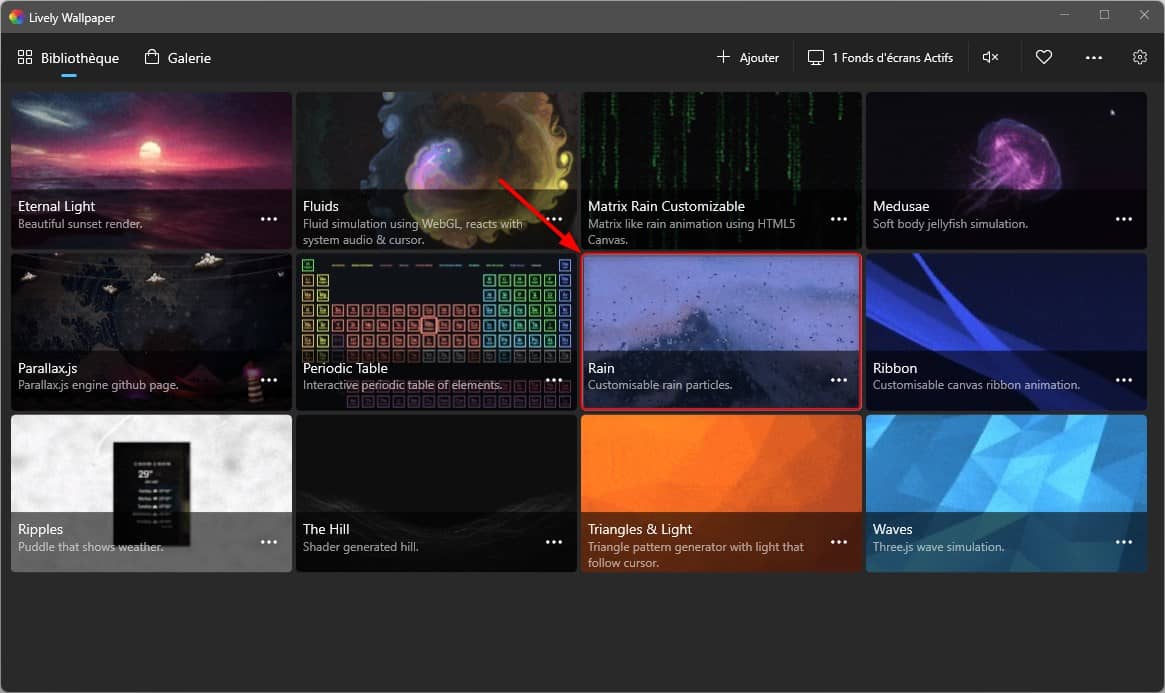 4. Besides, Lively Wallpaper allows you to add live wallpapers. For example, you can download a live wallpaper from a specialized website and then import it into the Lively Wallpaper application. Moreover, you can also put YouTube video as wallpaper on your Windows 11 PC . window.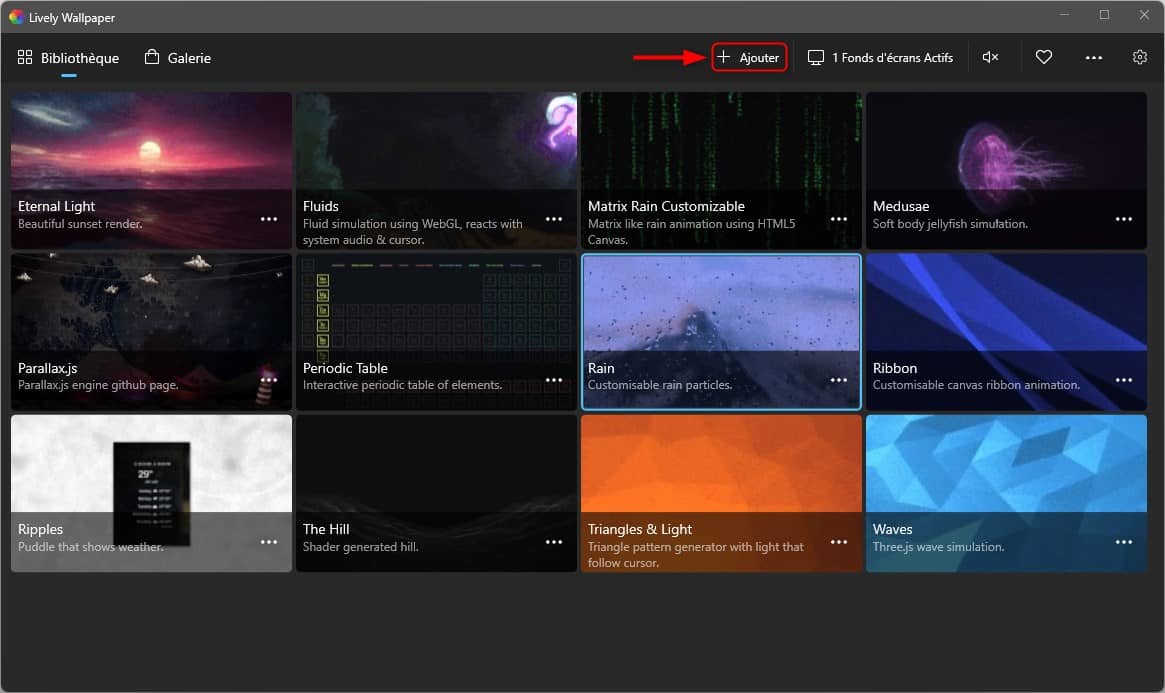 5. A new window will open, click the " Browse " button to select the live wallpaper you want to import. Note that the Lively Wallpaper app also supports drag and drop. Moreover, you can also fill in the URL of the page which contains live wallpaper. It can be a YouTube video or others.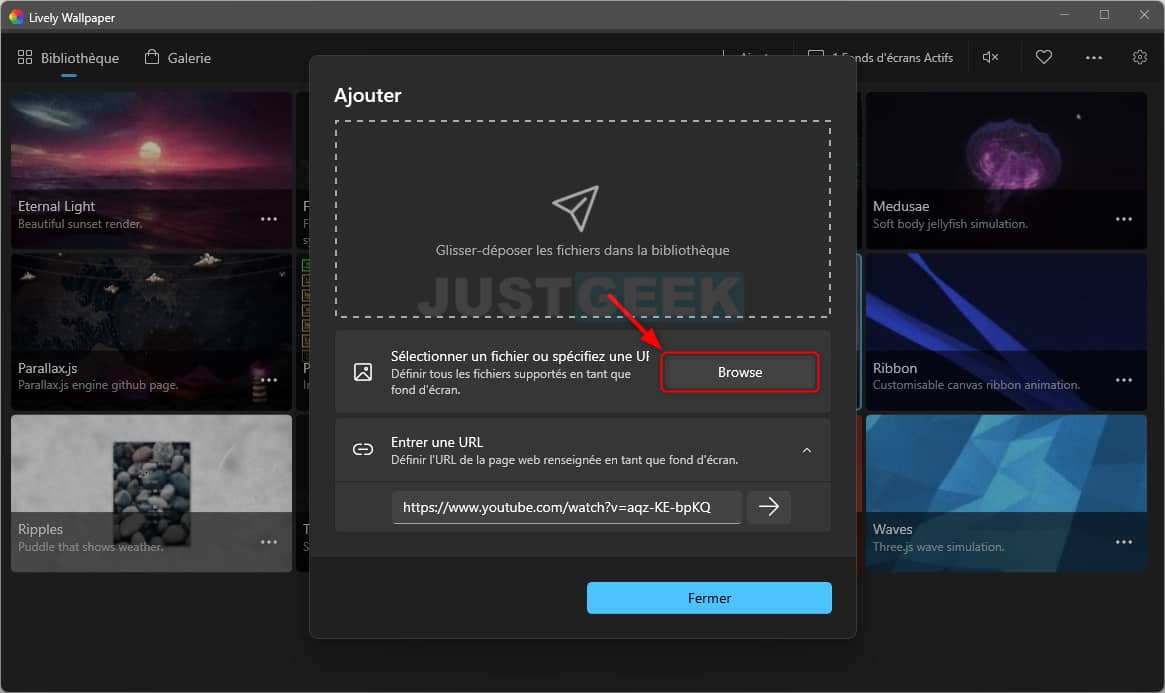 In my example, I'm selecting a video in MP4 format that I downloaded from the web. However, Lively Wallpaper also supports GIF, PNG, JPG, MKV, WEBM, AVI, MOV and many more file formats.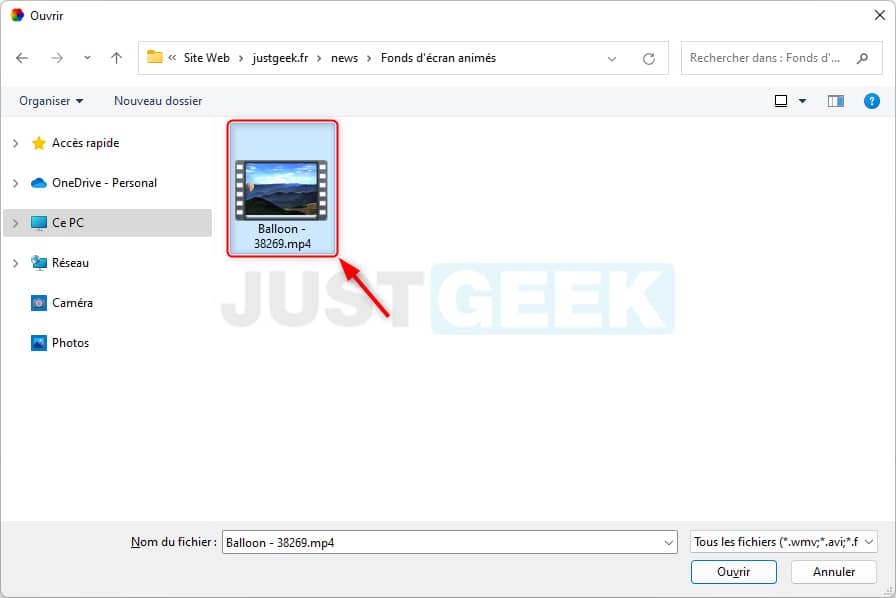 6. Once the live wallpaper has been imported, you can give it a name, description, etc., then click " OK ".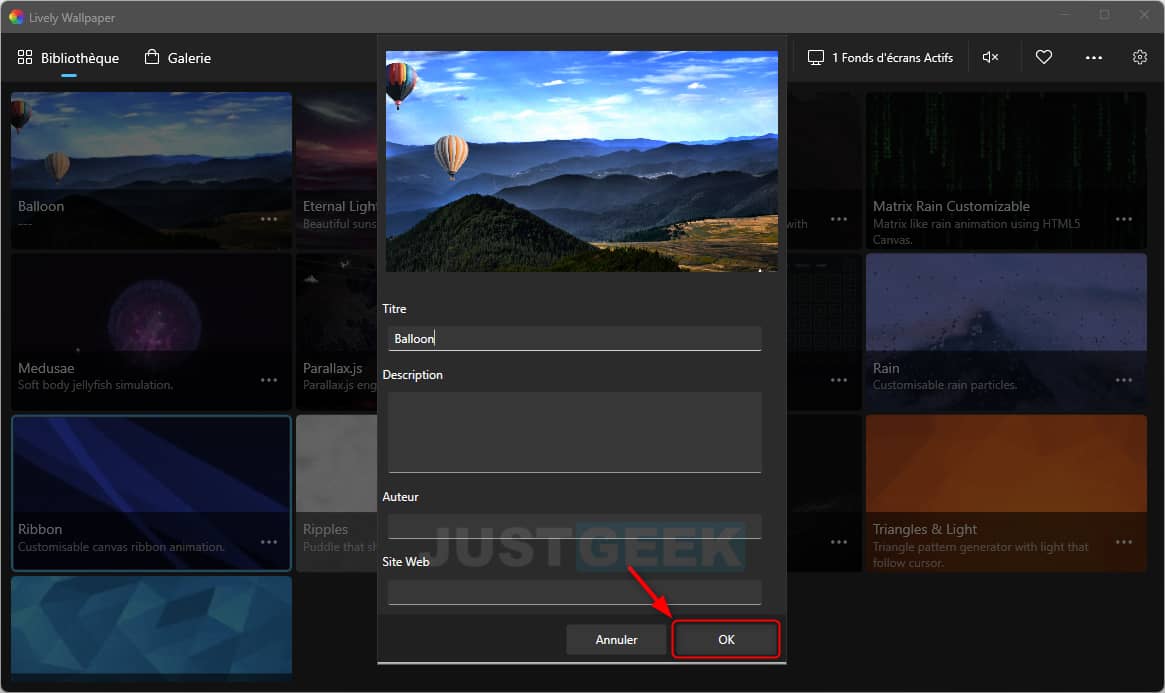 That's it, now you know how to set live wallpaper on Windows 11 using Lively Wallpaper app. Of course, there are other applications of the same kind. For example, I have already introduced you to RainWallpaper or Wallpaper Engine .
Download free live wallpapers
Live wallpapers are a simple and fun way to add personality and life to your computer. They come in all shapes and sizes, from simple drawings that move slowly across the screen to more complex animations with sound effects.
Most live wallpapers are free to download, and there are plenty of websites where you can find them. Here are a few :
Pixabay : is a royalty-free image sharing site that includes thousands of photos, illustrations, vector images, video clips, but also animated wallpapers.
Favoritesxp : is a site specializing in the customization of Windows. You will find great live wallpapers to download for free. And to make it easier for you, animated desktop backgrounds are categorized by theme: cars, video games, space, manga, retrowave, aquarium, gamer, etc.
LiveWallpapers4free : this site brings together the most beautiful live wallpapers in 2K (2560 x 1440 pixels), 4K (3840 x 2160 pixels) and 8K (7680 x 4320 pixels) formats. Animated wallpapers are classified by category: animals, animated, cars, games, holidays, nature, technology, world, etc.
Pexels : this site is a royalty-free image bank that also offers easy and free downloads of animated wallpapers. And there really is something for everyone!
MyLiveWallpapers : another site specializing in live wallpapers. It has a wide selection of live wallpapers for you to choose from, making it easy to find the right one for you.