To send a large PDF file more easily by email or via a file sharing service, it is sometimes necessary to compress it. Compressing a PDF file simply reduces its size. For compress PDF without losing quality, there are online tools or free specialized software. In this article, we will see together how reduce the size of a PDF in two different ways (with and without software). Follow the guide !
How to Reduce PDF Size with PDF Reducer
PDF Reducer is a handy and easy-to-use freeware that will help you compress a PDF file in no time. In addition to being practical, it is also very easy to use. It actually has a intuitive assistant who will guide you through the whole process.
Note that PDF Reducer is a software developed in France by a team based not far from Aix-en-Provence. Thanks to it, you can optimize the size of your PDF files with ease.
But the features of PDF Reducer are not limited only to PDF compression. Indeed, it also offers you a feature that gives you the option to merge PDFs into a single file.
You can also use it to split PDFs and remove pages from a PDF. With this software, you will also have access to features such as page rotation, page reorganization and adding or deleting text on a PDF.
On the other hand, PDF Reducer allows you to add, if you want, a watermark on a PDF. This option can be useful if you want to prevent fraudulent use of your documents. In particular, it will allow you to apply a recipient name.
Finally, PDF Reducer comes with an option that allows you to protect your PDF with a password.
For reduce the size of a PDF with PDF Reducer, it's very simple. Carefully follow the few steps below:
1. Download Reducer PDF App from the developer's official website. To do this, click on the " Download ".
2. Then proceed to install the software.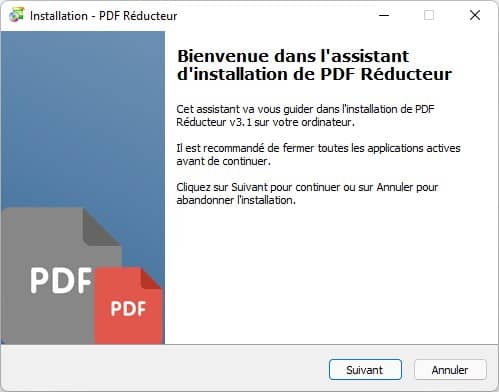 3. Run the software and then select your PDF file that you want to compress. To do this, drag and drop your PDF file into the software interface or click the " Select your PDF files ".
4. Once you have your PDF file to compress, click on " Next ".
5. Now choose the level of compression you want, then click " Next ". PDF Reducer offers 3 types of compression : sufficient size for display (lowest PDF quality), sufficient size for printing (PDF quality of the printer) or customized (between minimum quality and maximum quality).
6. The PDF Reducer software then offers you various modification parameters. If you are not interested, click on " Next ".
7. Now it asks you if you want to protect your PDF file with a password or if you want to digitally sign it. Again, if you're not interested, click " Next ".
8. Wait while the compression process takes place, then click the " Copy to Folder to save your compressed PDF file to your computer. As you can see below, my PDF file was reduced by 29% from 743.58 KB to 245.06 KB.
✅ You will understand, PDF Reducer is THE software you will need if you want compress PDF files easily and quickly.
How to Compress PDF Online with GorillaPDF
For compress pdf free, you can also go through an online tool like GorillaPDF. Completely free, this online tool offers reduce the size of a PDF easily and quickly.
Unlike other similar platforms, GorillaPDF does not require you to no compression limit. You can compress as many PDF files as you want. However, the size of the PDF file should not exceed 50 MB. Again, this limit is much less restrictive than other PDF compression tools.
Finally, note that GorillaPDF offers you to choose from 4 compression types : low compression (high PDF quality), medium compression (standard PDF quality), high compression (printer PDF quality) and very high compression (lowest PDF quality).
That being said, let's see together how to compress a PDF online with GorillaPDF. Follow the guide !
1. Start by going to the website of PDF compressor to know, GorillaPDF.
2. Select your PDF file, then choose the level of compression: low, medium, high or very high.
3. Then click on the button " Compress to start the process of compressing your PDF file.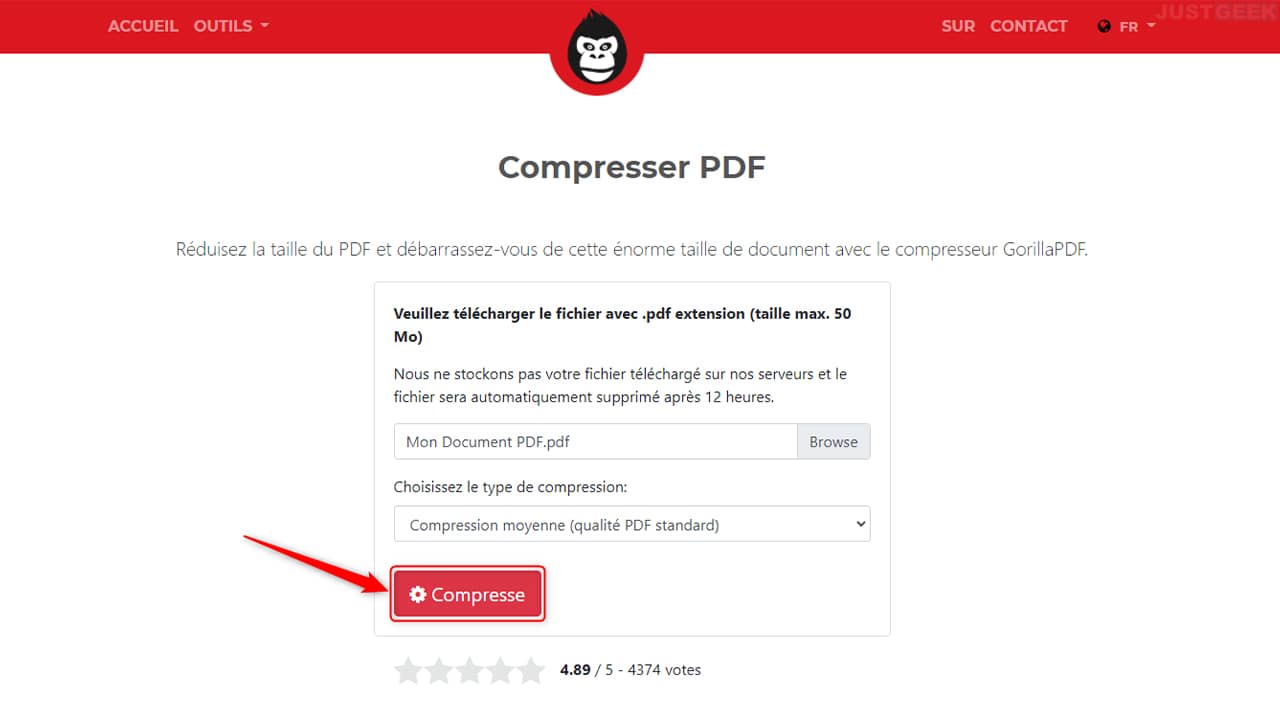 4. Finally, to download your compressed PDF file, click the " Download PDF ". In my example, I uploaded a PDF file with a size of 743.6 KB. And as you can see, my PDF file is now 88.88% smaller with a size of only 82.7 KB.
✅ That's it, you now know how to compress a PDF in order to reduce its size. Whether with the PDF Reducer software or with the GorillaPDF online tool, the result will be the same: your PDF file will weigh less on arrival.
Of course, if you have other similar tools, do not hesitate to share them in the comments.