Websites are often judged on their appearance, and one of the most important aspects of a website's appearance are its images. They can be used to make a website more visually appealing, or to provide additional information. However, large images can also slow down a website and make it slower to load for visitors. One way to solve this problem is to compress and reduce the dimensions of your images. To do this, today I present to you Shrink.media , a free online tool that allows you to reduce the size of your images without compromising their quality . To learn more about this tool and how it works, I invite you to continue reading this article.
Compress your images without losing quality
Shrink.media is a great tool that can help you reduce the size of your images while maintaining their quality. To do so, this tool uses smart compression techniques . Thus, your users will be able to view your images quickly and without delay.
With Shrink.media, you can compress images in JPG, JPEG, PNG, or WebP format, giving you plenty of options depending on the type of image you're working with. And since Shrink is online-based, you don't need to install any software on your computer – all you need is an internet connection, and that's it.
Shrink.media is a great compression tool because it's easy to use and gives good results . All you have to do is upload your image and select the level of compression you want (from low quality to lossless quality).
You can also choose to resize your image based on a percentage that you define yourself. Of course, this is an optional option. You can very well leave the slider at 100% so that your image is not resized.
Once everything is set up, click on the "Compress" button and wait for the tool to do its job! In just a few seconds, you'll have your compressed image that won't slow down your website!
Finally, note that Shrink.media is also available as a mobile app for Android and iOS .
How to reduce the size of your images with Shrink.media?
The operation of Shrink.media is very simple. To reduce the size of an image without losing quality , follow these steps:
1. Start by going to the Shrink.media site .
2. Once on the home page, simply drag and drop your image into the site window. Note that you can also click on the " Upload Image " button.
3. Next, choose the desired compression level using the slider under " Photo Quality ". In addition, the tool also offers you to resize your image using the slider located under " Photo Dimensions ".
4. Finally, you will instantly get a preview of your compressed image along with information about weight and dimensions before and after compression.
5. Once you are satisfied with the result, click on the " Download " button to download your image.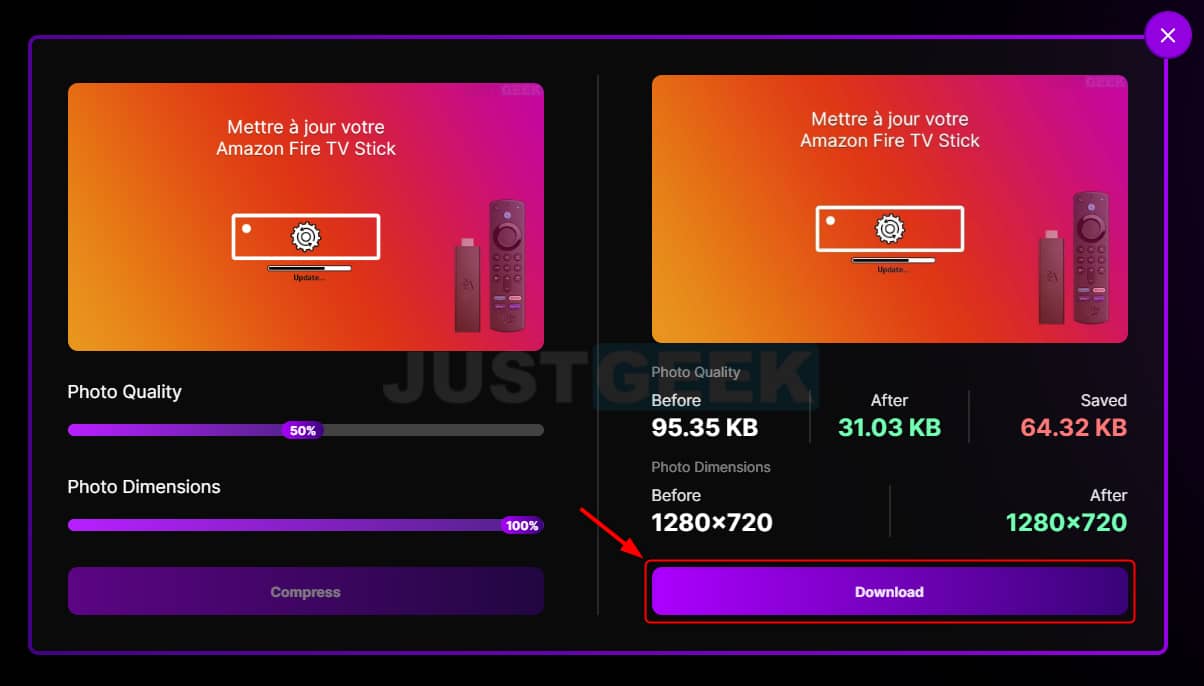 What you must remember
When uploading images to the web, it's important to keep their file size as small as possible. This will ensure fast loading times for your website visitors, no matter what device they are using. To do this, you can use the free online tool Shrink.media. The latter allows you to compress and reduce the dimensions of your images without sacrificing their quality.