Have you found old family photos and would you like to give them a little facelift? Check out PhotoRestoration AI , a completely free online tool that can restore old , time-damaged photos. To learn more about this tool and how it works, we invite you to continue reading this article.
A tool boosted with artificial intelligence
PhotoRestoration AI is an online tool that allows you to repair photos damaged by time in two or three clicks! Scratches, blurred parts, stains or others, PhotoRestoration AI takes care of it for you!
Simple and completely free, this tool does not require any photo editing skills, it takes care of everything thanks to artificial intelligence. Advanced algorithms allow it to quickly detect problems and imperfections on your shots and process them in detail. It usually only takes a few seconds to restore damaged photos to like-new condition!
For example, you can entrust him with old family photos that you found in the bottom of a drawer or in your attic. He will be able to restore them, even if they are wrinkled or show signs of wear.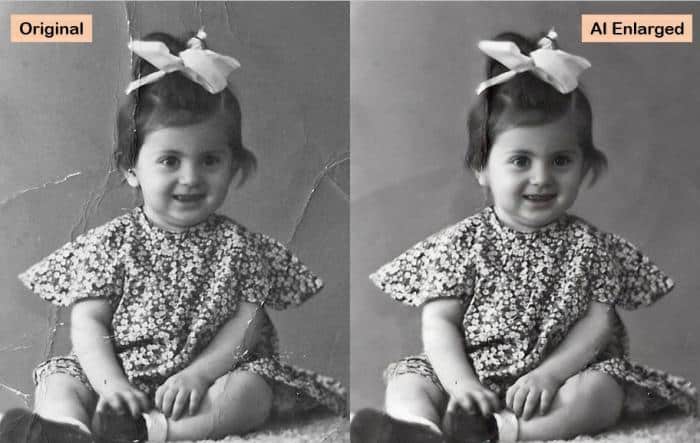 Restore old damaged photos for free
PhotoRestoration AI thus presents itself as a practical, but above all inexpensive solution for restoring your old family photos. You can actually use it for free! No need to pay a subscription or create an account on the site to take advantage of its features. All you have to do is go to the PhotoRestoration AI site where the tool is waiting for you.
How to use PhotoRestoration AI
The operation of PhotoRestoration AI is relatively simple. Restoring an old photo is done in a few clicks. Here's how.
1. Start by scanning your old photos using a printer or scanner .
2. Once done, drag and drop your photos onto PhotoRestoration AI's restore tool. Note that the tool supports JPG, JPEG and PNG formats. In addition, the weight of the photo must also not exceed 5 MB for a maximum size of 2000 x 2000 pixels. If the resolution of your photo is higher, PhotoRestoration AI will reduce it automatically.
3. Then click on " Start to process " to start restoring the snapshots. This may take up to 30 seconds.
4. Finally, click the " Download " button once the photo is repaired!