Whether you are a website developer, webmaster or graphic designer, you certainly play with colors for your projects. To help you with this task, today I present to you Instant Eyedropper . This is a handy piece of software that can identify the color of any pixel on the screen. So you can easily get the color code of any shade you need. To learn more about this software and how it works, I invite you to continue reading this article.
Retrieve the color code of any pixel on your screen
Instant Eyedropper is a free color detection software that can be used to identify the color code of an image, text or website for example. It is the perfect and essential tool for anyone who works with color.
The software is very easy to use and can be installed in just a few seconds. Instant Eyedropper can detect any color on the screen, including text and images. It also has a built-in magnifier for accurate color detection.
Once the application is installed, an icon will be added to the notification area (next to the time). Just click on it to open the color detection tool. Next, place your mouse cursor over the area of ​​the screen that contains the color you want to recover. The hexadecimal color code will instantly appear in a box. Click with the left button of your mouse to copy the color code to the clipboard. All you have to do is paste it into your project.
Instant Eyedropper can retrieve color code in HTML, HEX, Delphi Hex, Visual Basic Hex, RGB, HSV, HSL and Long format. Moreover, the tool has two modes to recover the color code of a text or an image : "Drag mode" or "Click mode".
For the first, you have to hold down the left click on the app icon and then move your mouse cursor to where you want to get the color code. And for the second mode, you need to click the app icon in the notification area once to show the color picker. All you have to do is click where you want to copy the color code.
Finally, from the application options, you have the possibility of launching Instant Eyedropper when Windows starts, but also of activating the dark mode. In addition, you can enlarge or decrease the size of the magnifying glass or configure a keyboard shortcut to open the color picker more quickly.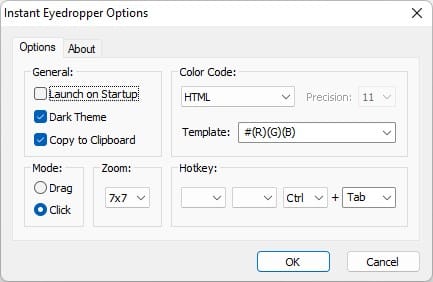 What you must remember
Instant Eyedropper is a great way to get the color of any pixel on your screen . It's easy to use and can be very useful when designing or editing websites, photos, or anything else that requires precise color selection. You can also use it to find the hex codes of the colors you like. 
If you liked this article, please subscribe to our reddit community to discuss it. You can also find us on Twitter and Facebook.