Rather than writing down your passwords on a vulgar piece of paper, why not use a password manager? It is a much more secure solution to keep all your important data. In this sense, today I present to you AuthPass , a free, open source and cross-platform password manager . To learn more about AuthPass and how it works, I invite you to continue reading this article.
Summary
Why use a password manager?
What are the benefits of a password manager?
AuthPass, the simple and free password manager
How to use AuthPass?
What you must remember
Why use a password manager?
A password manager is secure software that allows you to store all of your passwords and other sensitive information in an encrypted digital safe .
By using a password manager, you can create and save unique passwords for each of your online accounts. This helps secure your information and makes it more easily accessible when you need it.
The software remembers all your passwords for you. So you no longer need to remember multiple usernames and passwords. Additionally, most password managers have a pretty handy feature that automatically fills in login fields for you, when needed. In short, you have practically nothing more to do when you need to connect to an online service.
What are the benefits of a password manager?
The benefits of using a password manager are numerous. Here are a few :
You should only remember one password instead of multiple passwords for different accounts/services.
All your passwords are stored in a secure and encrypted digital vault.
A password manager can be used on any device, giving you easy access to your online accounts/services from anywhere.
Allows you to generate strong and unique passwords for each of your accounts and services that you use. This helps protect your accounts from hacking if any of your passwords are compromised.
AuthPass is a free and open source password manager that helps you keep your passwords safe in a secure and encrypted database. The app is available for Windows, macOS, Linux Android and iOS devices.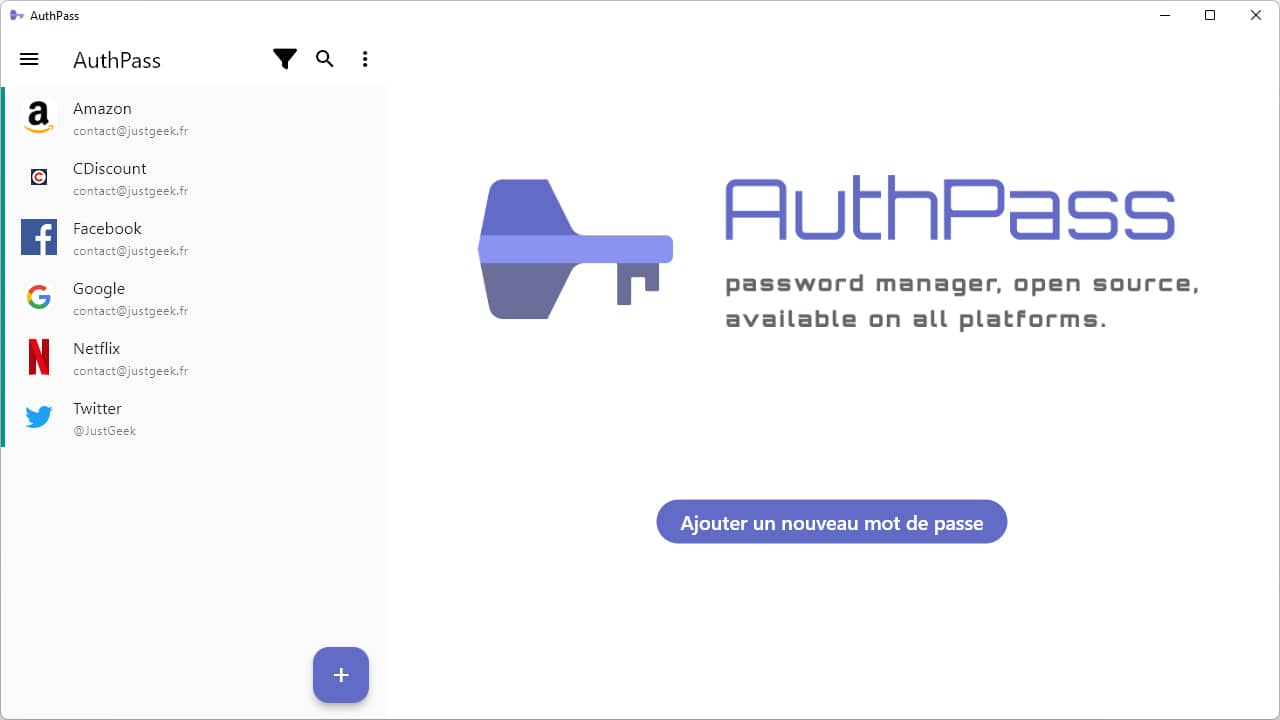 This password manager offers several interesting features. First, note that AuthPass supports the KeePass format (kdbx 3.x and kdbx 4.x). Therefore, if you are currently using KeePass , you will be able to open your password database in AuthPass.
In addition, AuthPass offers the synchronization of your passwords between your different devices : computer, smartphone, tablet, etc. Thus, if you add a password to your database from your computer, for example, it will be automatically added to your other devices. Of course, this feature requires the creation of an AuthPass Cloud account (free).
Besides, AuthPass supports unlocking your password database by fingerprint or facial recognition . What's more, AuthPass includes the auto -fill feature that automatically fills in the login fields for you. However, note that this function is currently only available on Android.
Finally, note that this password manager also offers two-factor authentication which adds an additional layer of security to your account. And on the settings side, you can choose the theme of the application (light or dark), the spacing between the menus or even adjust the size of the text of the interface.
How to use AuthPass?
1. Start by downloading AuthPass from the developer's official website or from the GitHub platform .
2. On first start, AuthPass offers you to import your passwords from an existing database or create a new database. If you don't have a database yet, click on " I'm brand new!" Let's start together ".
3. Choose a name for your new database and a primary password (also called master password). This will allow you to access the database containing all your passwords. Therefore, be sure to choose a unique password that is strong and at the same time easy for you to remember. Once this is done, click on " Create database ".
4. You are now on the AuthPass interface. You can now add a new password.
5. Fill in the different fields offered: title, website, user and password. Note that AuthPass includes a password generator.
6. Once you have filled in all the fields, don't forget to click on " Save " to integrate this new account into your database. Then repeat the same operations to enter your different passwords for your online accounts. And as soon as you're done, you can close the AuthPass window.
7. Whenever you need a password to log into an online account, open AuthPass, then open your database.
8. Then enter the master password of your database to access all passwords.
9. Finally, all you have to do is copy the password of the account that interests you by clicking either on " Protected field. Click to reveal " or " Copy field ".
What you must remember
Overall, AuthPass is an excellent password manager. It is easy to use and offers excellent security features. The only downside is that it doesn't yet support autofill on Windows, Mac, Linux, and iOS, but it will probably come in a future release.