Junk files can take up valuable disk space and slow down your computer. To remove junk files from your PC , today we present to you the freeware CleanSweep . It's a great tool for quickly and easily removing unnecessary files from your PC. It's easy to use and can help you free up storage space on your computer .
CleanSweep, remove junk files from your Windows PC
Junk files are useless files that accumulate on a Windows PC over time. They can take up a lot of space on your hard drive or SSD and slow down the system. Fortunately, there are several ways to clean your PC . One such method is to use the Disk Cleanup tool that comes with Windows. However, some would say that the tool is way too slow to run. For this reason, you can turn to a third-party program like BleachBit or CleanSweep that we present to you in this article.
CleanSweep is an open-source PC cleaning software available for Windows computers . You can download it for free from the GitHub platform. It is a lightweight and easy-to-use application with a user-friendly interface. Once run, the program scans your computer for unnecessary files, and provides you with potentially recoverable disk space before cleaning.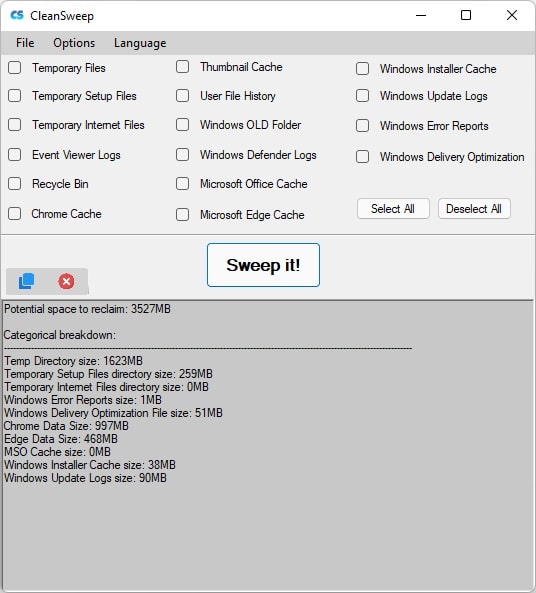 CleanSweep is notably able to delete temporary files, log files, empty the recycle bin or even empty the cache of your web browser . But that's not all ! The software is also capable of removing older versions of Windows especially when you upgrade from Windows 10 to Windows 11 .
Additionally, note that CleanSweep also allows you to customize your cleaning preferences . Thus, you have the possibility to choose the elements to delete and those to keep . And unlike Windows built-in cleaning tool, CleanSweep runs very fast. In fact, its developer calls it " the easiest and fastest Windows junk file remover on the planet ".
All in all, CleanSweep is a great tool for keeping your PC clean and organized by allowing you to easily remove unnecessary files from your computer.
How to use CleanSweep?
The operation of CleanSweep is very simple. To remove unwanted software from your PC, follow these steps:
1. Start by downloading the CleanSweep software from the GitHub platform. To do this, click on the CleanSweep.v2.3.1.rar link.
2. Then decompress the RAR archive using decompression software such as 7-Zip for example.
3. From the CleanSweep2_GUI folder, double-click the CleanSweep2.exe file .
4. You are now on the CleanSweep interface. The software then tells you the potentially recoverable disk space as well as the size occupied by unnecessary files in the different directories. Check the boxes for the various items you want to remove from your computer, then click the " Sweep it! " ".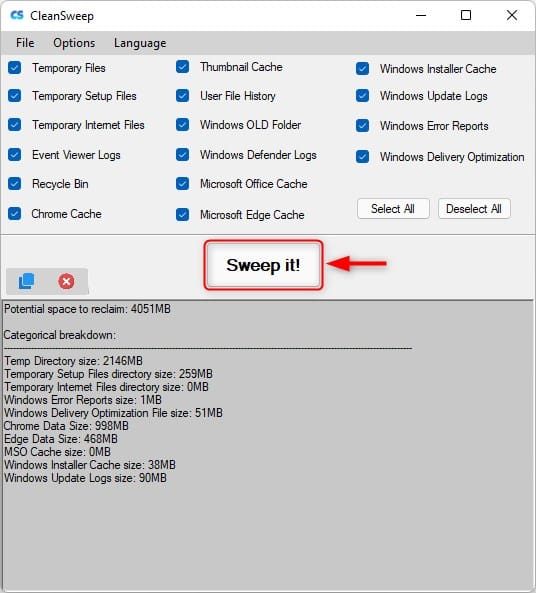 ✅ That's it! Now you know how to remove unnecessary files from your Windows computer.
What you must remember
If you're looking for an easy way to clean up your computer's hard drive/SSD, CleanSweep is the perfect solution. It's simple to use, reliable, and it comes with a variety of features that make it the perfect choice for anyone looking to declutter their Windows PC.
If you liked this article, please subscribe to our reddit community to discuss it. You can also find us on Twitter and Facebook.