Apple likes to keep its apps exclusive to iPhones and iPads to dissuade customers from switching to Android. That's why Apple never ported iMessage to the Google Play Store, for example.
With iOS 15 , Apple is relaxing this policy slightly, so regular FaceTime users can video call and chat with friends or family who own Android smartphones, Windows PCs, or any other device with a working browser.
In addition to end-to-end encryption, the new FaceTime app in iOS 15 supports SharePlay, which means that each participant can share music, videos, links or other media with all other members of the group. call. We don't think Android users will be able to access Apple apps through FaceTime, but third-party apps should, in theory, remain accessible.
If you don't have an iPhone, you can't initiate a FaceTime call. We'll still walk you through how to share a FaceTime link from an iPhone or iPad, just in case you need to walk someone else through the first steps. Next, we'll walk you through how to use that FaceTime link on your Android or Windows device.
Here's how the new FaceTime linking system works once you've downloaded iOS 15.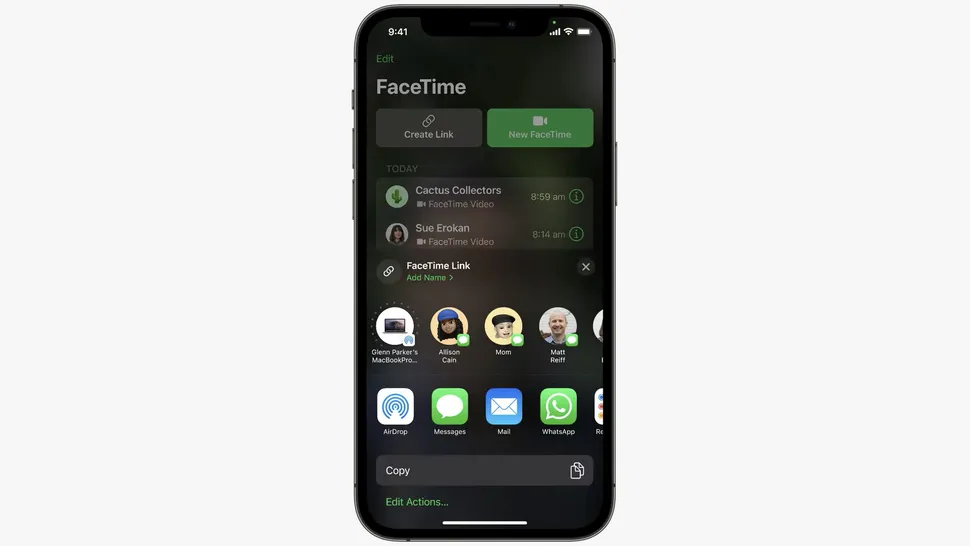 How to share a FaceTime link with Android users?
To share a FaceTime link, you must have iOS 15 or iPadOS 15 installed . If you haven't done so yet, you can check if your iPhone or iPad is compatible with iOS 15.
Once done, open FaceTime . At the top of the app, you should see the Create Link option appear . Press it, and a submenu will appear. It includes the following features:
Add a name : Give the link a recognizable name, like "Chat with mom" or "Meeting at 9 a.m. ," so your recipients can identify it.
Sharing : You'll see suggestions for platforms you can send the link to, including Apple Messages, AirDrop, Mail, or other messaging apps like WhatsApp .
Copy link : If you prefer to share the link manually with multiple people, this option will add the link to your phone's clipboard.
With just a few clicks, you can share the link with anyone you want, through a messaging app for individual chats or email for group chats. It's quite simple! Now let's move on to opening a chat on an Android or Windows device.
How to use FaceTime on Android or Windows?
When your loved one, friend, or coworker who owns an iPhone sends you a FaceTime link, tap the link. You will be taken to your default browser, where you will be asked to enter your name to join the conversation . Identify your name and click Continue .
You then join the FaceTime call! You'll see options to mute the sound, hide the video, switch between the rear camera and the selfie camera, or leave the call . You won't see the same options as the host on their iPhone or iPad, but enough to keep the service running on your end.