Want to remove/delete people or objects from a photo or image? Check out Hama , a great free online tool that can remove unwanted objects from your photos with just a few clicks. With this tool, you won't need any special knowledge, or even install photo editing software on your device. To learn more about Hama.app and how it works, it's in the rest of this article that it happens!
Remove People or Objects from a Photo with Hama
Hama is the ultimate online tool for erasing people or objects from a photo ! Deleting any unwanted element on your photos will only take a few seconds. Whether you need to get rid of a photobombing person or remove an object that's ruining your photo's composition, Hama is here to help!
Hama is an easy-to-use tool that delivers great results. To do this, the tool is based on an open source artificial intelligence dubbed LaMa . Thanks to this AI, Hama is able to completely remove someone or something from a photo.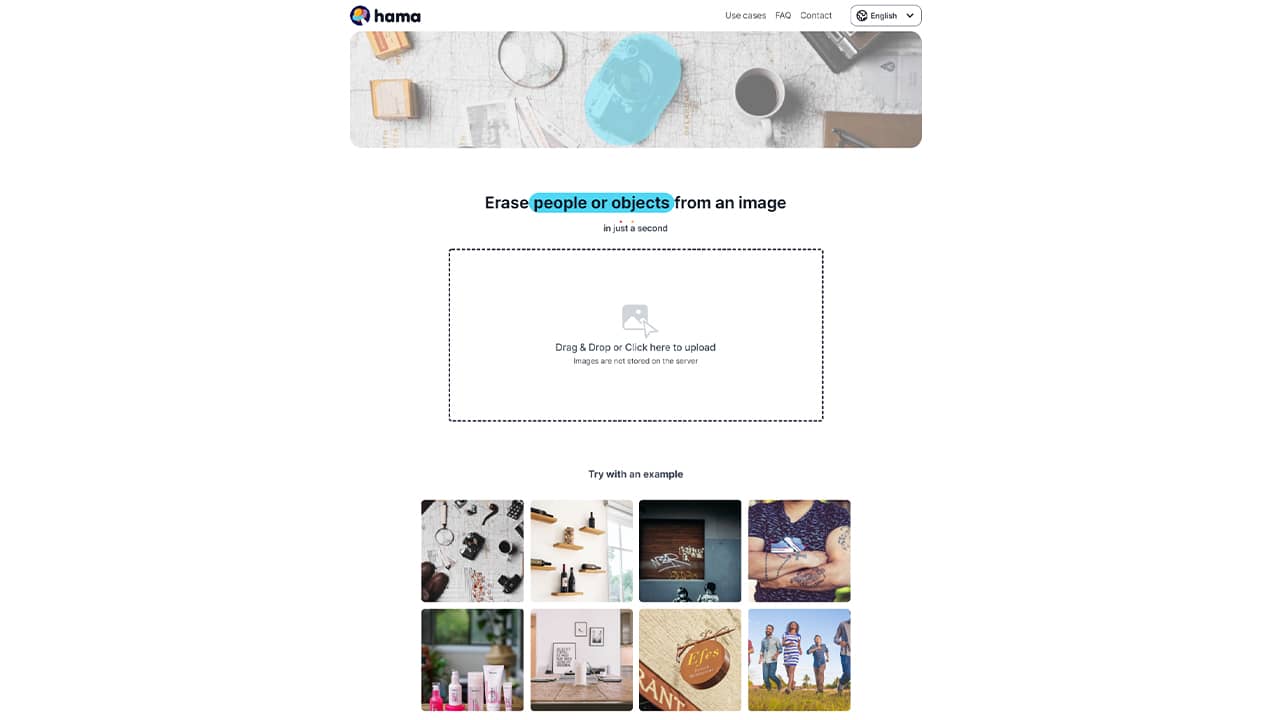 On Hama, you can upload a photo/image of any size. On the other hand, once your photo has been retouched, the tool will offer to download it at 720 pixels maximum. This is the only downside of this web application. Afterwards, nothing prevents you from enlarging the image using a specialized online tool . It's up to you 😉
Furthermore, it will be noted that no restriction on the number of images is imposed. So you can edit as many photos as you want. Furthermore, your images are not stored on Hama's servers. Everything happens in your local web browser. Only images used for sharing are temporarily stored and automatically deleted after a certain period of time.
How it works ?
Using Hama is very simple. To remove people or objects from a photo, follow these steps:
1. Start by going to the Hama site .
2. Then, drag and drop your photo/image into the insert provided for this purpose.
3. Once your photo is loaded, adjust the brush thickness and then select the part of the photo you want to get rid of using your mouse. Note that you can go back at any time by clicking on the left arrow icon.
4. Finally, as soon as you are satisfied with the result, click on the " Download " button to download your photo.
What you must remember
Hama is a great way to erase people or objects from an image. It can be used for fun, practical purposes, or both. For example, if you want to remove a person from a photo before uploading it, this tool can do the job quickly and easily.
Also, if you are working on a project and need to erase something from an image for aesthetic reasons, Hama can help you too. Overall, Hama is a versatile tool that can be used for many purposes.
If you liked this article, please subscribe to our reddit community to discuss it. You can also find us on Twitter and Facebook.