To listen to your favorite music on your Windows computer, there are many solutions. The operating system includes, itself, its own application soberly called Multimedia Player. However, it is far from unanimous among users. Some prefer to turn to other alternatives such as VLC, Winamp or AIMP . In this sense, today I present to you Harmonoid , a modern , free and open source music player .
Harmonoid, an open-source music app
Harmonoid is a free and open source music player available in French on Windows, Linux and Android . Thanks to it, you can of course play all your local audio files, therefore those present on your computer or smartphone, but also listen to music from the YouTube platform.
This free music player offers a modern interface with 5 menus: albums, tracks, artists, playlists and YouTube. Also, you will find a search bar that allows to search for any song available on your device.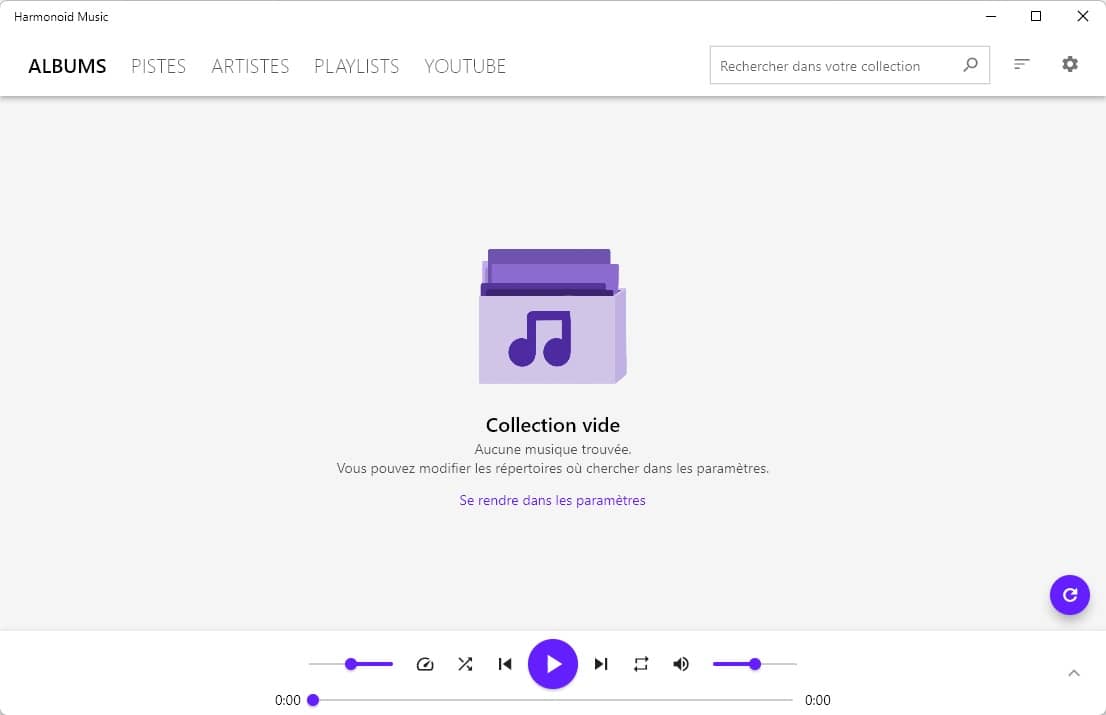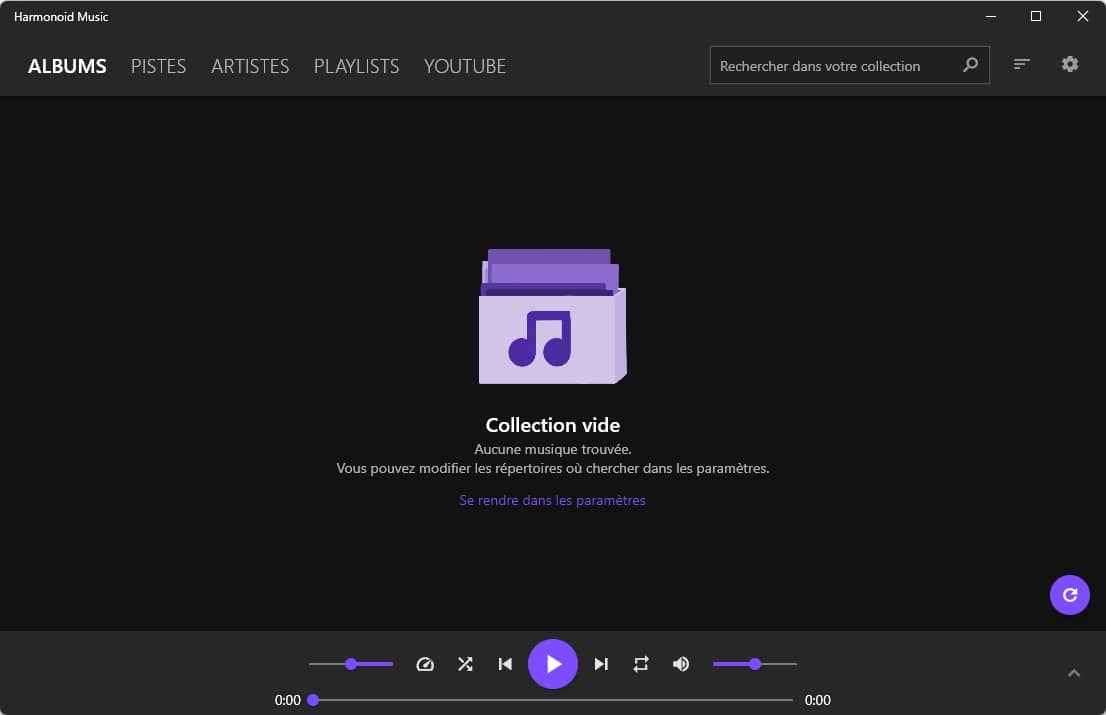 From the "Albums" menu, you will of course find all your albums in the form with their covers for easy identification. The "Tracks" menu allows you to display all your songs in the form of a list with all the necessary details (track, song title, artist, album name and year).
Then you have the "Artists" menu which lists all the artists of the music saved on your computer or smartphone in the form of a thumbnail. We then go to the "Playlists" menu, which, as its name suggests, allows you to create playlists with the music of your choice.
Finally, we end with the "YouTube" menu which allows you to search for any music on the YouTube platform and listen directly to the Harmonoid player. Very handy if you don't have the song available on your device.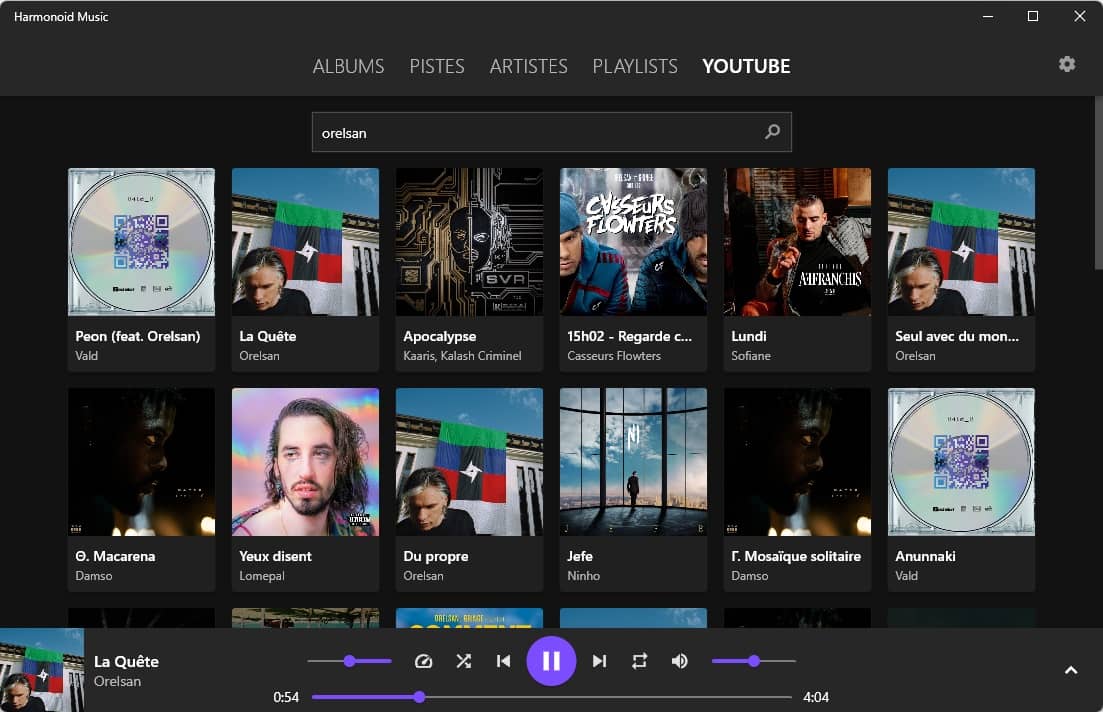 In addition, it should be noted that the application was developed using Dart and is available in an installable or portable version . In addition, the app is ultra light since it weighs only 25 MB and consumes very few system resources (about 120 MB).
Note also that Harmonoid embeds a powerful metadata engine . The latter is able to index all your music in record time (20 audio files/second under Windows). Your entire music library will be sorted and organized automatically by album, artist, etc. In addition, it has a cache system for even faster opening each time you use it.
Many features
The Harmonoid music player has many features that will undoubtedly please all music lovers. First of all, you should know that the application integrates perfectly into the Windows 11 or 10 environment. You will find in particular the famous commands for play, pause, next and previous music in the taskbar as well as in the notification area.
Also, Harmonoid allows you to get the lyrics of any song. A very practical feature for all karaoke lovers. Moreover, you can create your own playlists and share your music with your friends on Discord.
Finally, the music player allows you to listen to YouTube music directly in its interface. To do this, you can either copy the YouTube video link or simply search from within the app.
Current features
Powerful music library management based on metadata tags. Indexes music into group of albums & artists.
Capable of indexing 20 files/second (on Windows) & saves cache for future app start-ups.
Cross-platform (currently aiming Windows, Linux & Android).
mpv based music playback for strong format support (on Linux & Windows) using dart:ffi.
Taskbar & System Media Transport Controls for Windows.
Small installer (< 25 MB) & low RAM usage (< 120 MB) (tested on Windows, still see limitations).
Lyrics for all your music.
Very strictly follows Material Design guidelines for UI & animations.
Ability to create persistent or "Now playing" playlists.
Context menu integrations & file associations (exclusive to setup version).
Discord RPC integration.
Portable (if you wish).
Does not use electron.js.
D-Bus MPRIS controls for Linux.
Gapless playback.
Upcoming features
Mini-window mode.
Minimization to system tray.
Music visualizations.
Tag editor.
Time-synced lyrics.
Importing playlists from YouTube & Spotify using Web API.
Equalizer.
Improvising YouTube support to be close to official web-client.
Last.fm scrobbling.
Plugin API.
Windows 11 IExplorerCommand integration.
Publishing to Microsoft Store & other places.
Support for remaining macOS & iOS platforms.
Guide
1. Keyboard shortcuts
Space: Play or pause.
Alt + N: Next song.
Alt + B: Previous song.
Alt + M: mute or un-mute.
Alt + V: Volume increase.
Alt + C: Volume decrease.
Alt + X: Seek forwards.
Alt + Z: Seek backwards.
2. Indexing your music
To show your local music inside Harmonoid, you can go to the settings & click "ADD NEW FOLDER". This will show a new window, where you can select a folder where all your music is stored. After selecting the folder, your music collection inside the application will start building.
Your music will be categorized into albums, artists etc. & you'll be able to freely browse music album-wise or artist-wise etc. while being able to sort it alphabetically or year-wise etc.
As of now, you can still browse/play your music while it is being indexed.
Next time when you start the app, your music collection will be retrieved from the cache.
To remove a folder from your music collection, just click on "REMOVE" next to the folder you might wanna remove in the settings page.
3. Managing playback queue
By default, the app will attempt to play the song that you click on, while adding songs after it to the queue. To add more songs to the queue, simply right click on the new song & click "Add to now playing".
You can also configure to automatically play other songs from your collection when the queue is finished.
4. Creating a playlist
To create a new playlist, you need to go the the "PLAYLISTS" tab & click "CREATE NEW PLAYLIST". This will ask you a name for your new shiny playlist. After its creation, you can click on your favorite song to add it to the required playlist. This can help you greatly organize your music collection.
You can add both local music & music from YouTube Music to these playlists.
5. Playing songs from YouTube Music
Currently, YouTube Music support is very basic but it works well in terms of performance & timing. Right now, you can:
Play.
Play from URL.
Search.
Get recommendations.
Get suggestions.
Add to playlist.
We intend to improve in future & you can contribute to this. Downloading is never going to be a feature inside the application.
6. Viewing a YouTube Music song on website
If you're playing a song from YouTube Music & want to hear it on website instead, you can simply go to the "Now Playing Screen" by an arrow in the bottom-right corner of the application. Hovering over the album art, you'll see an icon hinting to open the song in your web-browser. Click on it & you're on YouTube Music website.
7. Playing a YouTube URL
Just enter the YouTube or YouTube Music URL in the search field & hit enter. It'll start playing immediately.
8. Playing from File Explorer
You can play music directly from file explorer if you installed Harmonoid using the setup installer or from Microsoft Store.
You can also right click a folder to "Add to Harmonoid's Playlist".
What you must remember
Harmonoid is a free music player with a sleek and modern interface. Thanks to the application, you will not only be able to listen to your favorite songs that are saved on your device, but also those present on the YouTube platform.
If you liked this article, please subscribe to our reddit community to discuss it. You can also find us on Twitter and Facebook.