Do you need to write down your many tasks and thoughts so you don't forget them? Forget the good old paper post-it! Today we present to you Justnote , a simple and free note-taking app focused on your privacy . Thanks to it, you will never lose or forget any important note. To learn more about this application and how it works, we invite you to continue reading this article.
Justnote, a free and secure note-taking application
There are a number of note-taking apps to download for both mobile devices and computers. Some are free, while others have a cost associated with them. Among the most popular applications, we find in particular Evernote, Google Keep or OneNote. However, the problem with these applications is that they all belong to large American groups whose data collection is part of their DNA.
For this reason, we wanted to introduce you to Justnote , a free note-taking app available both as a web version and as an app for Android and iOS. The latter is distinguished by its ease of use and its emphasis on confidentiality and data security. Indeed, unlike competing applications, Justnote is a service that respects the privacy of its users. No personal information or registration is required to use the application. Instead, the app generates a secret key that you use to access your notes on your different devices.
Moreover, Justnote is a completely secure platform . All your notes are saved on a Stacks server and are fully encrypted . You can therefore entrust your greatest secrets to him with complete peace of mind. Only the holder of the secret key can access the notes. Even Justnote is not able to see notes saved by users.
Finally, it should be noted that Justnote is an open source application . You will find its source code available on the GitHub platform .
Interesting features
From the Justnote application, you can take all kinds of notes such as to-do lists, reminders, shopping lists, memos, thoughts, and so on. To do this, the application offers a WYSIWYG rich text editor , offering a multitude of features.
You will find the classic options: bold, italic, underline, strikethrough, font and background color, text size, alignment, bulleted list, etc. You can even insert images into your notes. In short, the app offers everything you need to properly structure your notes.
In addition, from the Justnote settings, you can create categories to classify your notes as you see fit. To do this, just click on the three vertical dots, then go to "Lists". From there, click on "Create new list", then organize your different categories in the order of your choice.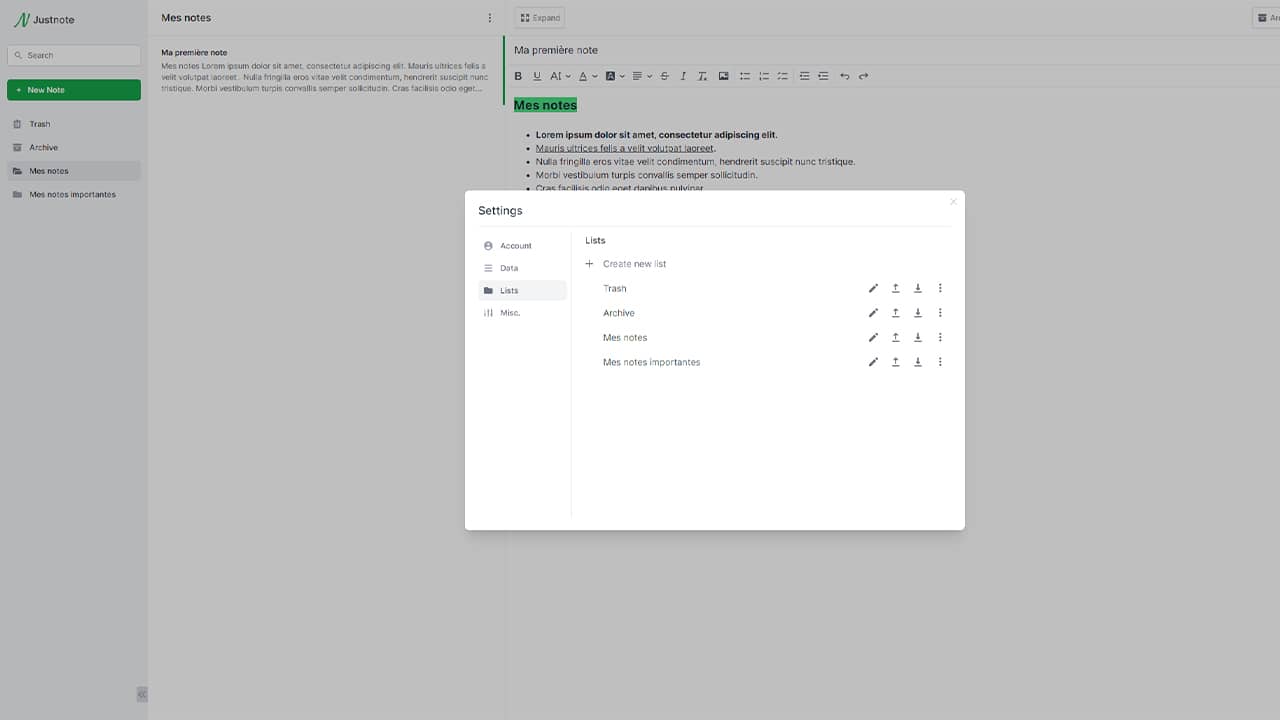 How to use Justnote?
The operation of the note taking application is very simple. To start taking notes, follow these few instructions:
1. Start by going to the Justnote website or downloading the app from the Play Store or App Store .
2. Once on the site or application, click on the " Get started " button.
3. A pop-up window will then open from which you must click on the " Get your Secret Key " button. This will have the effect of generating a secret key that must be kept in your password generator such as Bitwarden or Keepass for example. Note that the secret key is made up of 24 words, and it is thanks to the latter that you will be able to access your private notes on all your devices (computer, smartphone, tablet, etc.).
4. Finally, all you have to do is create your first notes. To do this, click on the " New Note " button.
✅ It's as simple as that 🙂
What you must remember
Justnote is a free note-taking application whose key words are: confidentiality and ease of use. Thanks to this app, you can create notes from anywhere and from any device. All your notes will always be safe from prying eyes. Only the holder of the secret key can access the notes.