Are you tired of having to click the same buttons over and over again? Looking for software to automate this process? If so, then look no further, we've got you covered! Discover OG Auto Clicker , a freeware that automates mouse clicks . You can configure it to click wherever you want on your screen. This is an extremely useful tool for anyone who regularly has to perform repetitive tasks on their computer. To learn more about this software, I invite you to continue reading this article.
OG Auto Clicker, the best auto clicker
OG Auto Clicker is a free software available on Windows that automates mouse clicks . It can be used to automate any sort of repetitive task on your computer. OG Auto Clicker software is easy to use and a great tool for anyone who wants to save time.
OG Auto Clicker can be used for various purposes including gaming, internet browsing and office work. The software is fully customizable; users can set the number of clicks per second, the delay between each click, and more.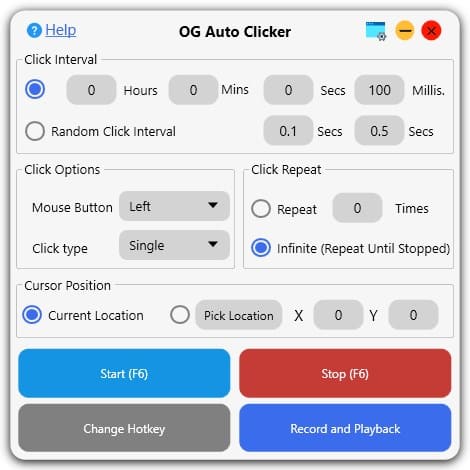 How to use OG Auto Clicker?
Using the OG Auto Clicker software is very simple. All you have to do is configure the 4 options below before hitting the "Start" button.
Click interval
This option will allow you to precisely set the interval between each click. Thus, you have "hours", "minutes", "seconds" and even "milliseconds" boxes. For those who play online, you can check "Random Clic interval". This will randomize the amount of time between clicks and make it a bit harder for game managers to notice that you are using a bot.
Click options
Here you will choose which part of the mouse will be used and how. You can then opt for the right, left or middle click. The second drop-down menu will offer you either a single or double click.
Click repeat
Here you can set the number of clicks to perform. Check "Infinite" to stop the operation.
Cursor Position
This is the option that will help the software know exactly which part of the screen you want to click on. Then choose between the current position (Current location) or another one (Pick location).
Other options
You can click on "Start" to activate the automatic click and on "Stop" to stop it. Also note that you have the option of assigning a key on your keyboard to start and stop the auto-click. To do this, click on the "Change Hotkey" button.
To record a specific set of mouse actions and then repeat them as many times as you want, the "Record and Playback" button is at your disposal.
Finally, by clicking on the blue icon at the top right of the application, you will be able to change the theme (Dark theme or dark mode), and also whether or not to keep the window in the foreground (TopMost).
What you must remember
OG Auto Clicker is a handy tool that can save time and effort when you have to perform repetitive tasks. To do this, the program is able to automate mouse clicks as you see fit. You can use this program in many situations that require repeated clicks.
If you liked this article, please subscribe to our reddit community to discuss it. You can also find us on Twitter and Facebook.