Guest blogging or guest article is one of the methods used to improve the natural referencing of a website on search engines.
It's about writing an article and submitting it to another website's blog.
This technique allows you to take advantage of the audience of the site on which your content is published, but also of the backlinks present on its page, thus increasing the visibility of your site.
We will therefore see where and how to find editors for quality articles.
Summary
What is the point of guest blogging?
1. Find guest posting opportunities
2. Identify the best guest blogging opportunities
3. Brainstorm content ideas
4. Contact bloggers professionally
5. Maximize your chances of being considered
6. Deliver quality content
7. Submit and follow
8. Promote your item
9. Analyze and evaluate the results
Conclusion
What is Guest Blogging? What is the principle of a guest article?
Guest blogging , also called guest article or guest posting, is one of the most used methods to obtain backlinks and therefore improve its natural referencing.
Literally, it means "blogging as a guest". This is an article written by an author but published on a blog or site that does not belong to him.
What is the point of guest blogging?
Guest blogging is a facilitator of content creation and acquisition of backlinks:
Indeed, the brand or the person who receives the article saves time and acquires new content without having to write it. 
The brand that writes the article (the guest author or guest blogger) has a better control of the editorial content and can highlight their project or company and choose the most relevant links.
Step 1. Find guest posting opportunities
Here are the main approaches to finding guest posting opportunities.
Search Google for sites that accept guest posts
Google is a great place to start when looking for relevant guest blogging opportunities.
Do a series of searches with keywords in your industry, pairing them with terms like "write for us".
Concretely, if you are looking for sites that accept guest blogging on "digital marketing" you must search for "digital marketing" + "guest article".
Here are the main phrases you can use on Google to find sites that accept guest posts:
submit a guest post
guest post
guest post by
accept guest posts
posting guidelines
contribute to our article
guest author
submit an article
editorial guidelines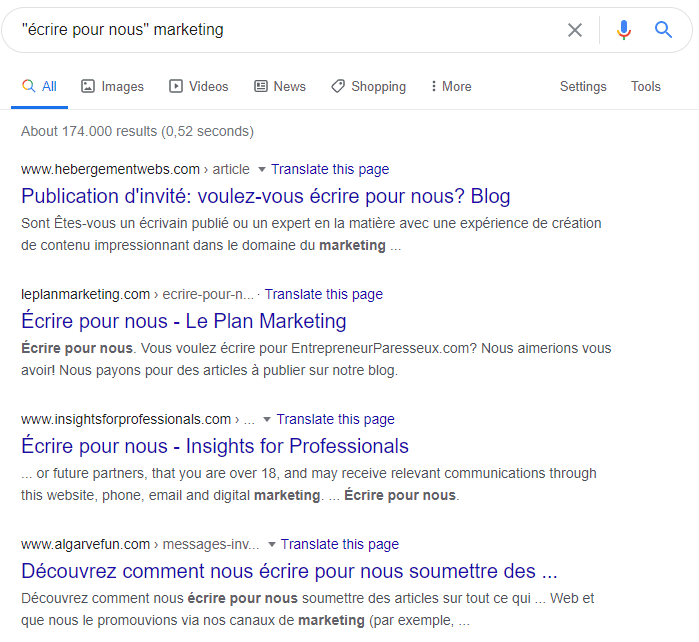 This technique, time-consuming when done manually, becomes much easier with automation tools.
Find websites used by influential bloggers
The internet is full of bloggers and experts for all topics and in all fields.
By taking an authoritative figure in the field of activity you are interested in, you can quickly find blogs and sites that accept guest posts.
To do this, just make a request like "guest post by [person's name]" on Google, and you will receive an endless list of websites that accept articles from bloggers in your industry.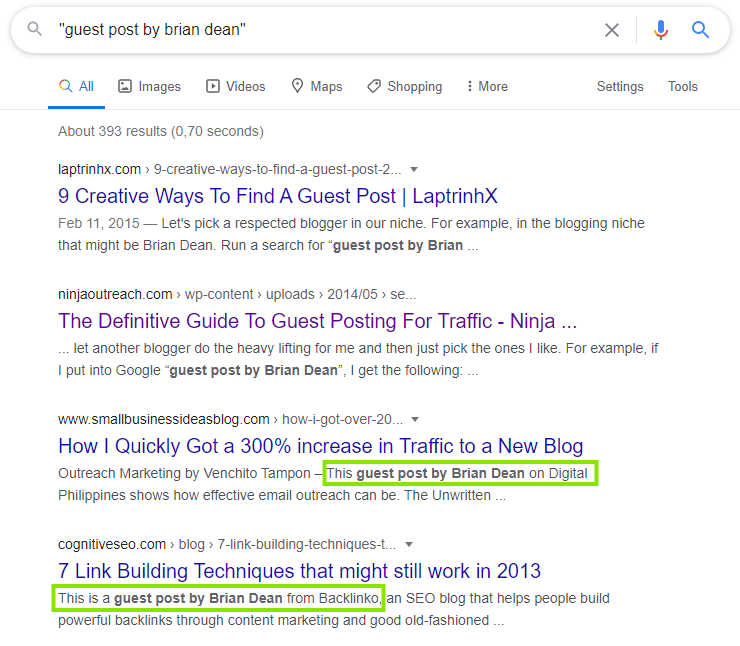 All you have to do is contact these sites to propose a collaboration.
Research the backlinks of your competitors
A more advanced strategy is to research websites that send links to your competitors' sites.
This involves using competitor analysis tools, like Majestic, SemRush or Ahrefs to examine the backlink profile of your competitors and find guest post opportunities.
Step 2. Identify the best guest blogging opportunities
At this stage, your goal is to find the most relevant guest post opportunities for your industry. It's about prioritizing quality over quantity.
Here are some criteria that will help you select quality backlinks :
The content is relevant to your industry.
Readers show engagement through comments and/or shares.
The site attracts traffic and has not been penalized.
The site has a good Domain Authority (DA) score .
Other guest items are of good quality.
The target audience is similar or close to yours.
Step 3. Brainstorm content ideas
Before contacting the selected sites, you should think of "irresistible" content ideas. And by irresistible, we mean content proposals that site editors will easily accept.
With a tool like ahrefs, you can roughly analyze the targeted site for your guest post . The goal is to find the best performing items.
This will allow you to identify and locate the ideas appreciated by the editor of the site. And therefore to maximize the chances of having favorable responses.
Step 4. Contact bloggers professionally
Contacting bloggers and getting their attention is tricky. Many of them are in high demand. You must prepare and structure your request in order to maximize the chances of favorable responses.
Banish generic emails and keep in mind that the important thing at this stage is to build long-term relationships that will allow you to place content and links.
Build relationships with potential publishers
It is important to establish some form of relationship with the editor before making your guest post request.
A good way to go about this is to interact with blogger content: 
Follow him on social media.
Like and share his social media posts/posts.
Comment on his blog posts.
Subscribe to his newsletters
Submit your request for collaboration by e-mail
Once you've bonded with the publisher, it's time to get down to business. 
The goal is to be as authentic as possible and reassure the publisher of your ability to deliver quality content.
You can relaunch it if you don't get an answer within a week
Step 5. Maximize your chances of being considered
Follow the submission guidelines
Bloggers who accept guest posts often have editorial guidelines. Make sure your article complies with these.
Identify the right contact person
Do your best to find the person responsible for the blog and send them an email by addressing them by name.
Go straight to the point
Popular blogs receive dozens of guest blogging submissions every day. Make your request as clear as possible.
Step 6. Deliver quality content
Once your guest post proposal has been accepted, it's time to get down to business, namely producing the content.
Not everyone has Molière's pen, however, some tips are worth considering to improve the quality of your text.
Focus on readability
Rare are the readers who linger over the entirety of an article today. They will mostly scroll through the article to a subtitle they like, read that part and then leave.
Make sure you :
Divide your article with H2, H3, H4 headings.
Use short sentences and paragraphs.
Maintain a consistent format throughout the article.
Use bullet points.
Add high quality images.
Images also improve readability, but can also set you apart from other guest blogging posts.
Add some data
Another rarity in the world of guest blogging is the quality of the articles. 
Most guest bloggers aim to create lots of content with as little effort as possible, which means guest posts rarely provide new or important information.
Differentiate yourself by bringing real added value to readers through your content.
Add backlinks
Remember that the main reason you submit a guest post is to insert some backlinks in order to divert some traffic to your own website. 
Write a great biography
Although publishers may have different policies when it comes to backlinks, the author bio is one of the places where you are guaranteed to be able to place a hyperlink. And when we try to make a concrete and quick biography, we often lack ideas.
Help yourself with these 21 questions (click here) that will allow you to define yourself, define your blog and what it can bring to readers.
Step 7. Submit and Track
If you don't have a pre-established relationship with the editor, it may take some time for your article to be reviewed and published.
Do not despair ! Send a follow-up email while keeping it short and to the point.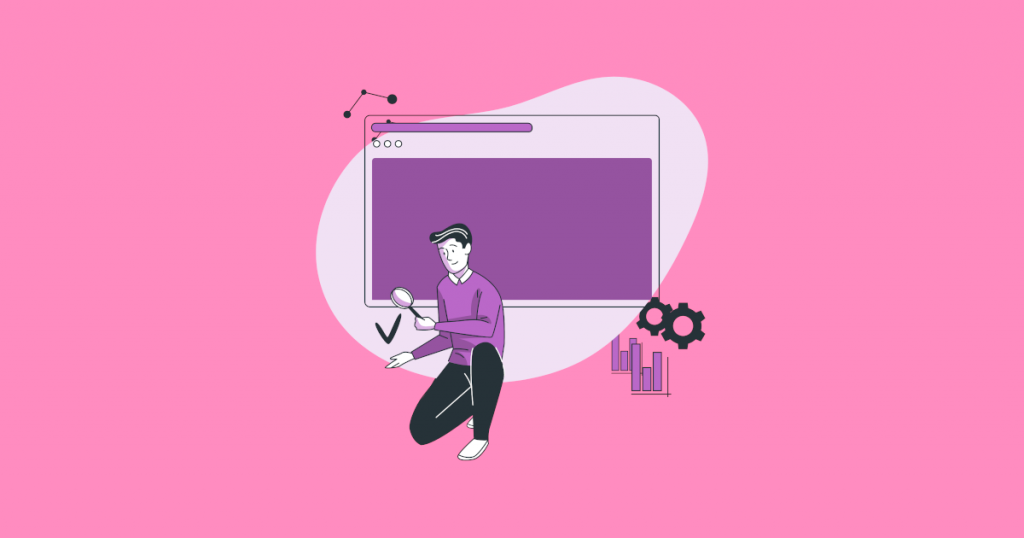 Step 8. Promote Your Item
If your guest post is accepted and published, you'll want to maximize its value by making sure it performs well. A successful article aims to generate traffic and engagement.
So even if the article isn't on your website and isn't aimed at your current audience, it would still be worth promoting it using your own channels.
Share your guest post on social media
Once the article is online, share it on all your social networks: Facebook, Twitter, LinkedIn, Instagram etc.
Ask your friends and colleagues for a helping hand
Tell your friends about your guest post and ask them to share it through their social networks as well.
Keep an eye on the comments section
Make sure to keep readers engaged by responding to all of their comments.
Step 9. Analyze and evaluate the results
No system is perfect. However, to approach perfection you must regularly analyze your actions in order to evaluate their effectiveness and optimize them if necessary.
Conclusion on guest articles
Guest blogging should not be done for the sole purpose of gaining a huge amount of backlinks. Indeed, you must subscribe to a quality netlinking strategy by focusing on the acquisition of quality links and the development of partnerships with other bloggers.
Natural referencing can be an excellent growth lever for your website and your business. And among the SEO actions to put in place is  netlinking at the top of the list .
Should you internalize or  outsource the netlinking  of a website to a specialized agency?
Will the quality of the links be there? 
In most cases, if you don't have a dedicated marketing team, delegating netlinking to experts or a  specialized backlink service  can prove to be more beneficial and profitable than managing them alone.
It is a particularly effective solution for obtaining quality backlinks, improving the visibility of your site and at the same time your profitability.