Want to manage and control Windows 11/10 automatic updates? Today I present to you InControl , a free software that allows you to control all non-security related updates on Windows 11 and Windows 10 . To learn more about how it works, I invite you to read the rest of this article.
InControl, a free tool to manage Windows 11/10 updates
One of the biggest flaws of Windows 11/10 is that there is no option to control OS updates. You can simply pause or resume updates as needed, but that's it.
So of course, I'm not telling you that updating is not recommended, quite the contrary. Security updates are absolutely necessary to correct any vulnerabilities present on your computer. However, sometimes some feature updates come out a little too early and are totally buggy. Thus, they can make your computer totally or partially unusable.
For this reason, many users would like to be able to block or disable Windows 11/10 automatic updates. So that's where InControl comes in, a free tool that lets you easily manage uncontrollable Windows 11 and 10 updates and upgrades.
InControl was developed by Gibson Research (GRC), the original author of Never10 , the infamous app that blocks upgrading to Windows 10 from older versions.
With the InControl tool, you can install only security updates and block all others. In other words, you will be able to keep your version of Windows 11/10 as it is. No more new non-security updates will be installed. Thus, feature updates and new versions of Windows will be paused.

How it works ?
The operation of the InControl tool is very simple. You can control Windows updates with a single button. Therefore, no special knowledge is required. Moreover, it is a portable software, so no installation is required to use it.
To download and use InControl, simply follow these instructions:
1. First, go to the Gibson Research website and download the InControl tool by clicking the " Download now " button.
2. Then run the program by double-clicking the incontrol.exe file .
3.  Once opened, the program will tell you your current version of Windows 11/10 along with a message " OS updates are not under your control on this system!" ". This means that updates and upgrades are automatically downloaded and installed on your computer.
To regain control of Windows 11/10 updates, simply click the " Take Control " button. Thus, new feature updates will no longer be installed on your PC. On the other hand, regular and cumulative updates will always be installed, as they include important security updates for your system.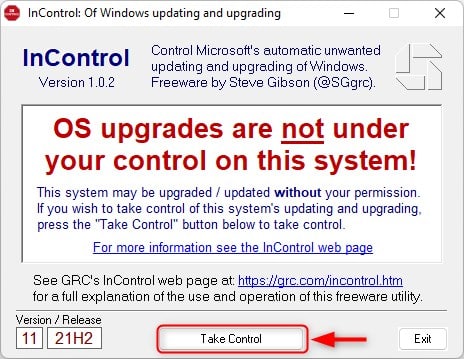 4. Finally, if you decide to allow the installation of new feature updates or upgrades, click on the " Release Control " button.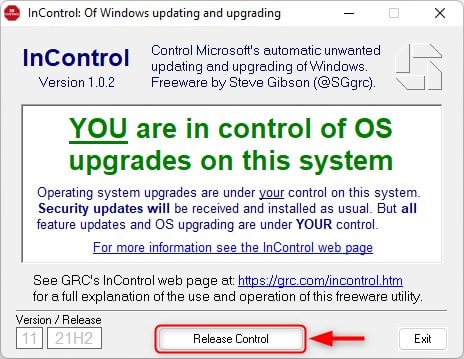 What you must remember
InControl is a great tool to keep the current version of Windows 11/10 installed on your computer. With this program, you can control updates and upgrades as you see fit. Enjoy!
If you liked this article, please subscribe to our reddit community to discuss it. You can also find us on Twitter and Facebook.