Over $15 billion is what brands plan to invest in influencer marketing by 2023.
So if you want to stay ahead of the competition, check out the 9 big trends that will punctuate your influence strategy in 2022!
 
1. TikTok will continue to grow

Popular with Gen Z , TikTok now has more than a billion monthly active users, as well as hitting the 3 billion download mark  in 2021, according to research by sensorTower .
However, influencers are kings on this platform! They offer significant visibility to brands looking for a young and trendy audience. If you want to boost your influencer marketing, TikTok is the social network to include in your strategy.
However, consider that almost half of their users are between 18 and 24 years old and 60% are women.
2. Make way for specialist influencers
Specialty influencers will help you stand out from the competition in 2022. These have typically built a community around a niche interest. Result: their subscribers are more engaged, able to follow their recommendations.
For brands, this means they can invest less money, but get a great return on investment by targeting an ultra-targeted audience. Additionally, niche influencers give your business an expert voice.
To find them , you have to get out of the usual radars and revise certain metrics downwards (in particular the number of subscribers). You will have to look for them on the side of specialized forums, on atypical blogs and via very targeted hashtags on social networks.
Niche influencers are particularly useful for the arts, gastronomy, history or culture sectors in general.
3. Data invites itself into influencer marketing
Gone are the days when brands focused on vanity metrics, such as an influencer's follower count. Now they rely on deeper data to make decisions.
This change will make influencer marketing platforms even more powerful. They will be able to provide brands with information such as:
The demographics of the audience, in order to better understand the profile of their community.
The degree of affinity with the brand.
The past performance of influencers.
4. Twitch s'impose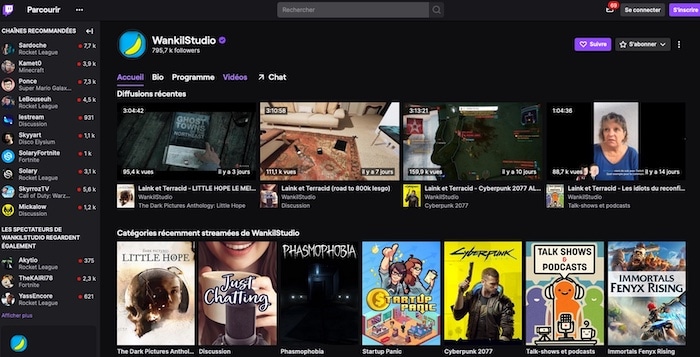 Twitch is a live streaming platform that is gaining popularity through influencer marketing. It currently has 30 million daily visitors. And, contrary to popular belief, it's not just gamers! Twitch users are interested in other themes such as art or cooking.
The main advantage of this platform? The content is not filtered, since it is broadcast live. Twitch offers more authenticity and trustworthiness for brands, especially as followers can respond to you in real time. The public is therefore more engaged with you!
In 2022, why not integrate Twitch influencers into your marketing strategy? You will be able :
Ask the influencer about your brand at the start of their stream.
Send products to be unpacked live.
Provide products to offer to their community.
Offer streamers products from your brand to use during their videos.
5. Instagram remains essential

To date, Instagram is the most lucrative and sought-after social network in influencer marketing. It's simple, the network continues to grow! Widely acclaimed by the youngest, the platform has been able to provide many tools for influencers and offer users a summary of all their important applications ( stories , IGTV, Instagram live), etc.
The IGTV format for long videos offers more possibilities for influencers and brands. Instagram's bet to offer its video platform in vertical format has paid off: the tool is growing at high speed in influencer marketing.
6. Social responsibility at the heart of influence

In 2021, a large number of influencers have made their voices heard on social issues. This has impacted how they work with brands and the content they share.
In 2022, influencers will continue to review the brands they associate with and reject those that don't align with their values. Their top priorities will be brands that share their ethos, support the same social causes, produce socially conscious products and strive for inclusion.
This trend will result in more authentic and socially responsible campaigns. Brands will also take advantage of this unique opportunity to engage with consumers, start meaningful conversations and build trust.
In 2022, select influencers engaged in the same fights as your brand and be transparent when contacting them.
7. A more human embodiment of the brand
In addition to social responsibility, humanization is at the heart of influencer marketing trends in 2022. Influencers will have to help bring brands closer to consumers by helping them identify with your company's values.
This involves the tone and format of the content broadcast. They should be interactive and engage your audience. In addition, it is important that influencers respond to questions and comments on sponsored content. Hence the need to work with trusted influencers, close to their audience.
8. Storytelling to get messages across
Do you like being told stories? Influencers and brands have noticed this since ad campaigns based on storytelling generate more ROI . Establishing a relationship of trust between a brand and an influencer is essential. If the brand tells its story with authenticity, the influencer will be more inspired to talk about it and generate emotions.
A good relationship with influencers in an industry can improve brand awareness and of course increase sales.
Indeed, a sponsored publication with qualitative content and a more human approach will have more impact than a simple product test. The quality of the content becomes essential in 2022.
Thus, a format like the podcast is attracting more and more interest. Even big names in journalism like the New York Times have gotten into this audio format. Individuals are looking for intellectualization, which is why the content shared is intended to be increasingly informative, including on social networks.
9. Sponsorship Transparency
You may have noticed that many influencers display some of their content as sponsored.
Increasingly, the "post-sponsored" label finds its place without affecting either the image of the influencer or the conversion rate. Brands and influencers have understood the importance of being completely honest and honest with their audience, who will thus continue to trust them.
For followers, it does not matter that the content is sponsored if it is qualitative.
In the United States, the mention "post sponsored" is mandatory.
Our tip
You know all about the 2022 influencer marketing trends! Following these best practices will help you stay on top of your strategy next year.