Do you like karaoke nights? In this case, you will love StemRoller ! Otherwise, you could still find a use for this handy tool. This little open source and free program to be installed on your computer (Windows or Mac) will allow you to remove vocal parts of any piece of music to make karaoke or a cappella versions.
Create instrumental or vocal versions of your favorite songs with StemRoller
StemRoller gives you the ability to remove vocals from all music on YouTube with just a few clicks. Just download the tool for free and search your songs by title or artist. This software is available on Mac and PC. Then click on " Split (split) and the software will isolate the audio track of your choice, namely, the vocal or instrumental part of the sound.
Isolate the audio tracks that interest you
StemRoller is not just about removing vocals to render all instrumental music, it is also able to do the opposite. To do this, the tool is based on the powerful AI " Democs developed by Facebook. Thanks to it, StemRoller is able to divide each soundtrack into four parts: vocals, percussion, bass, and the rest, which allows, if you prefer, to keep only one of them.
This is useful if you are a musician and want to practice, retrieve an instrument line to mix it, etc. Video editors can also use the tool to embed the instrumental of certain titles in their montages. Otherwise, you can simply have fun listening to a cappella versions of your favorite songs; no need to install complex audio editing software for this!
To separate vocals and instruments in music with StemRoller, follow these steps:
1. Visit the site StemRoller.
2. Download the program to your Windows or Mac computer.
3. Unzip the ZIP archive wherever you want.
4. Run the StemRoller.exe file to launch the program.
5. Once opened, select your audio file or type the artist name or music title in the search bar.
6. Then wait a few seconds while the process of extracting the vocals and instruments from your music.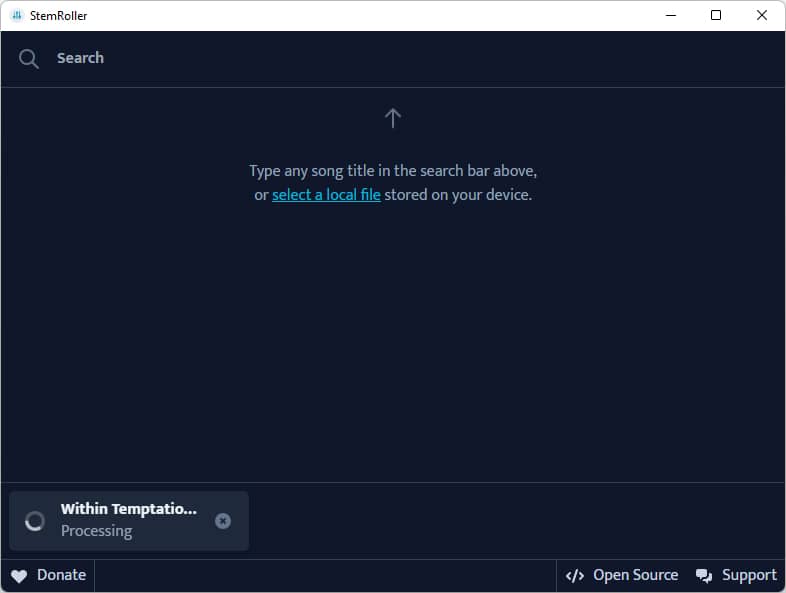 7. Once the process is complete, you will get several files (vocals, instruments, bass, etc.) in .WAV format.
What you must remember
StemRoller is a great software for separate vocals and instruments in a song. Of course, it's not the first program of its kind, far from it, but it's certainly one of the easiest to use, guaranteeing clean and precise audio rendering, while being completely free! However, if you prefer an online solution without installing anything, I invite you to take a look at VocalRemover, SongDonkey or AudioStrip.