Are you ready to improve your English skills in a fun and effective way? If so, allow us to introduce Atomic Learning, an online platform that utilizes artificial intelligence (AI) to assist you in learning English. Whether you are a beginner or advanced learner, this AI provides a unique and personalized learning experience.
Daily learning through AI-generated audio challenges
Atomic Learning offers a unique opportunity to learn English through daily audio challenges generated by artificial intelligence. Each day, you will have access to diverse subjects, varying difficulty levels, and authentic accents. Whether you aim to enhance your oral comprehension, pronunciation, or vocabulary, Atomic Learning is here to assist you.
It is important to note that Atomic Learning caters to both non-English speaking learners and native English speakers. Whether you are a student seeking to improve your English skills or a native speaker desiring to expand your vocabulary, Atomic Learning provides comprehensive resources for your needs.
Just one minute a day to break down language barriers
What makes Atomic Learning unique is its emphasis on simplicity and brevity. All it requires is dedicating just a minute per day to these audio challenges, effectively breaking down language barriers (or nearly so 😊).
The principle is straightforward: attentively listen to the recording and type your written response directly below. Afterward, click the "Submit" button to send your text to the AI.
The platform provides valuable insights into your progress. It displays the number of listenings you completed before successfully completing the challenge, along with a success percentage that allows you to assess the accuracy of your transcription.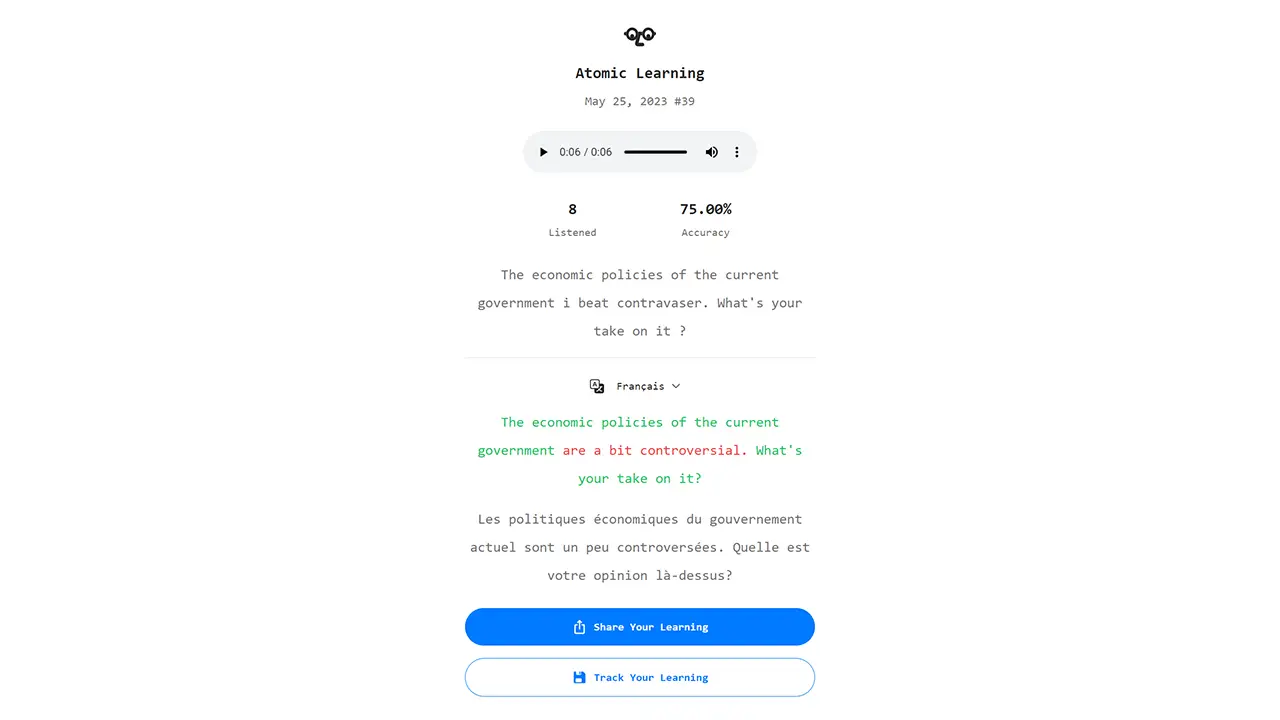 But wait, there's more! Atomic Learning also provides the option to translate the text of the audio challenges into French and other languages. This feature is incredibly useful as it helps you better comprehend the meaning of the audio listening.
Additionally, if you wish to showcase your achievements to your friends or community, Atomic Learning allows you to share them on social networks. You can share your scores, progress, or even snippets of completed audio challenges. It's an excellent way to stay motivated, feel supported, and share your enthusiasm for learning English with others.
Conclusion
In conclusion, Atomic Learning is revolutionizing English learning through the power of artificial intelligence. This innovative online platform presents a distinctive approach by integrating daily audio challenges and instant assessment, all achievable within just one minute a day. So, why wait? Take advantage of this tool today and embark on an exciting language learning journey (or not)!