we know that no one advertising platform is suitable for every website or blog in this world. Adsense can be great, but working with other networks can be a better choice. You just need to know how to choose them based on your niche, geographic area, and other factors.
Although we have looked at several smaller alternatives in the past that serve ads in various ad formats like banners, interstitials, mobile ads, pop-ups, etc. Today we are going to review one of the main competitors in this space – .net Media and Ezoic.
In this article, we will be discussing the best way you can earn money or make more money with your website. We are specifically looking at the Ezoic platform which is the platform I currently use to speed up one of my sites (www.politics-dz.com), optimize it, and also display ads for a monthly income.
Let's move on to the Ezoic review!
Summary:
What is Ezoic?
What do they offer?
Minimum requirements to join
Configuration and integration
Ezoic Levels

Apprenticeship program
Subsidies

Ezoic Income Guarantee
How much does Ezoic pay for 1,000 views?
Ezoic vs Adsense, Mediavine and AdThrive
AdSense integration via mediation
payment methods
Reliability
Affiliate Program
Global review
Ezoic is a platform designed for publishers to get the most out of their website. The platform offers many optimizations, ad networks and technologies related to advertising.
So in reality Ezoic itself is not an ad network but a Google Certified Publishing Partner which means that Google has certified the platform and its use to be useful and trustworthy.
What does Ezoic offer?
The Ezoic platform offers a lot of cool and really cutting edge features that you sure won't want to miss. The platform offers many features including:
1- Monétisation of the website : Includes the use of artificial intelligence to place ads in the best place and in the best size, based on visitor behavior, including depending on their type of device used and the location of visitors with the aim of obtaining end of more revenue per user on your site;

2- SEO improve with Ezoic: Indeed, Ezoic allows you to try different sections and analyze those that work best thanks to their SEO tag tester by comparing the page views, the bounce rate, the clicks and the results of research means, then will choose the best keyword (tags);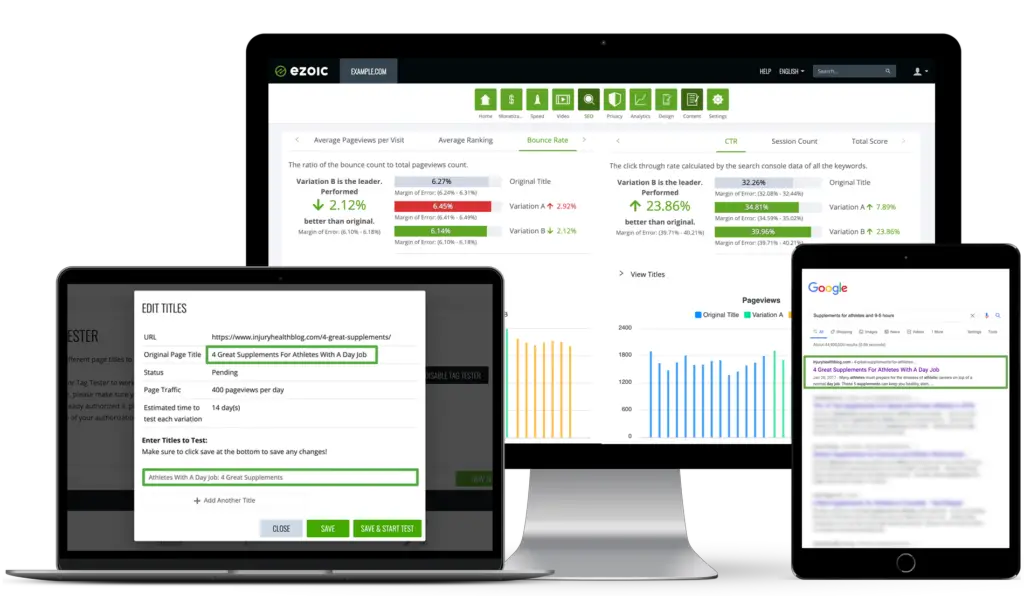 3- Video : The platform provides the Ezoic Video Player tool to download videos, index videos for higher search rankings, and introduce monetization. The platform determines which videos perform best and how the maximum revenue can be achieved.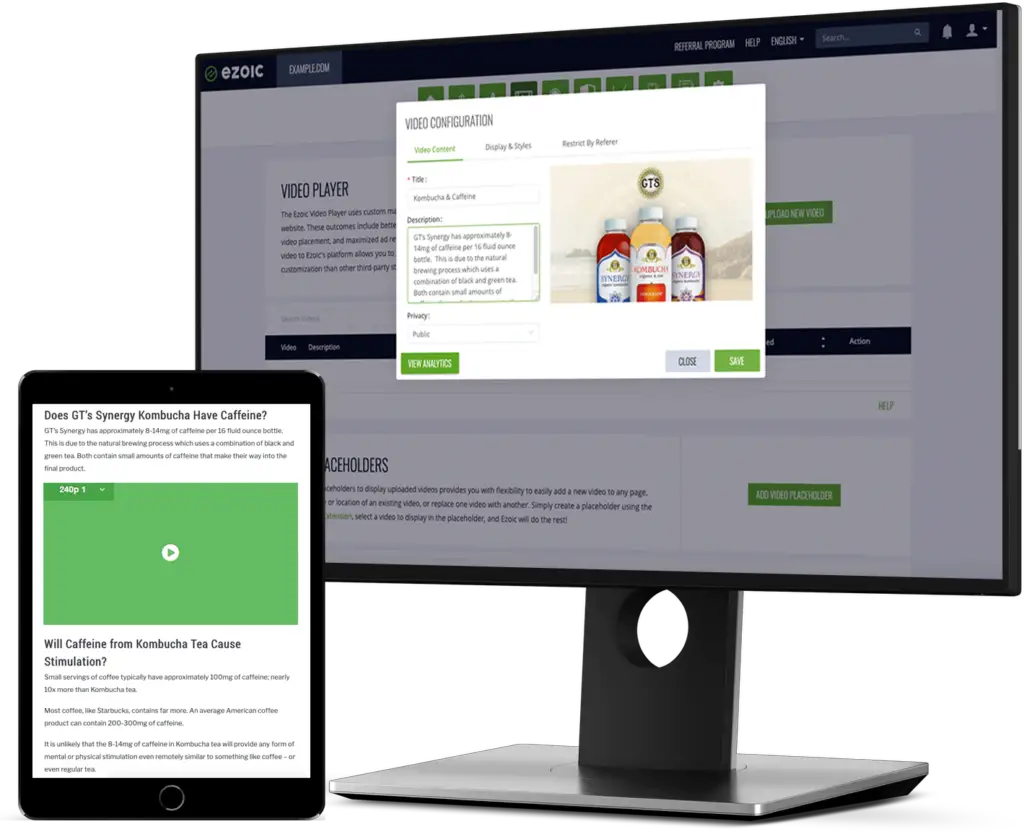 4- Cloud : The sites integrated with Ezoic currently use the cloud infrastructure of the platforms – Ezoic Cloud . The cloud is designed to allow your site to deliver the essentials of the web while serving ads. Among other things, it includes loading ads on the server side.

5- Leap function, alias ( Ezoic Leap ) is the tool set up by Ezoic experts to improve site performance. It is the tool which will guide your site in the passage of the main vital elements of the Web.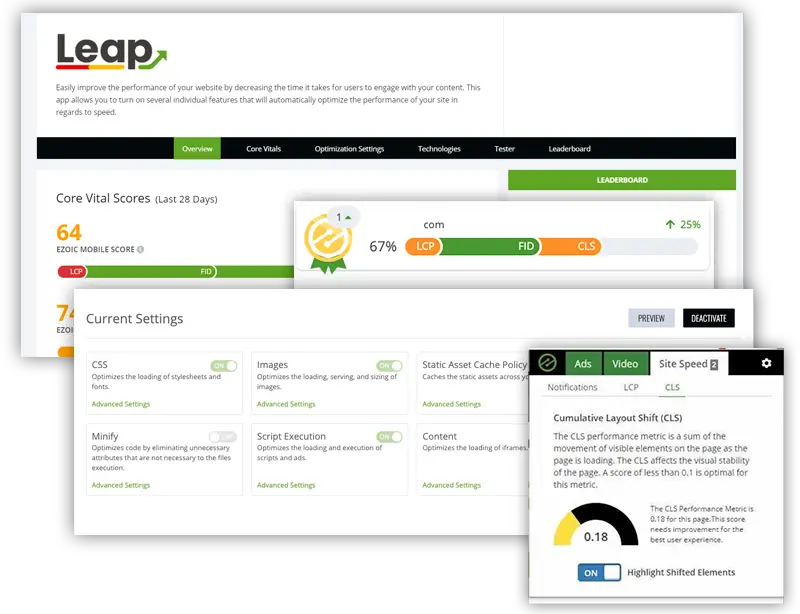 6- Analytics – The platform offers its own analysis tool – Big Data Analytics , which allows you to see how your income evolves over time based on different metrics, including authors, category, region, type of 'device uses, anisai as the word count and bounce rate.
---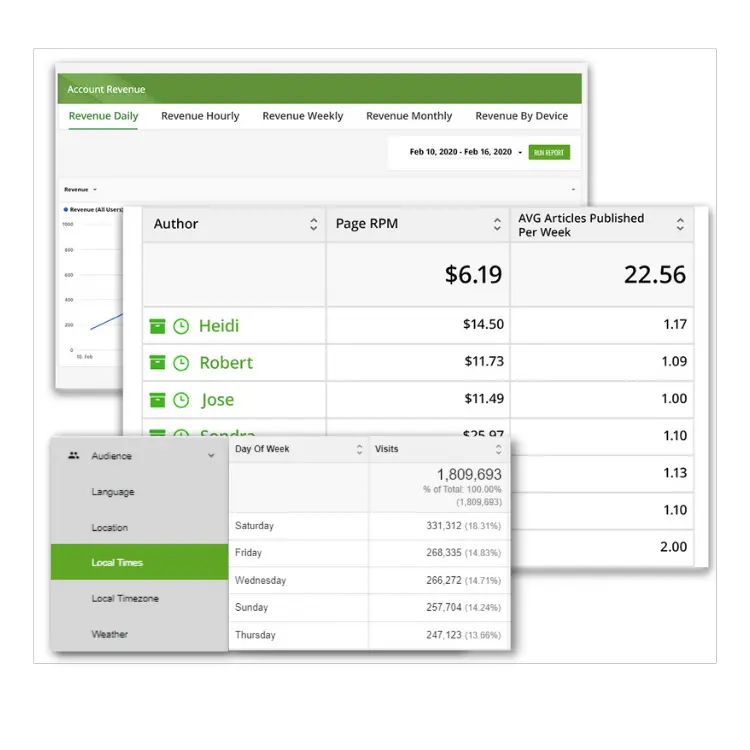 What is (AD TESTER) Ezoic Advertising Tester?
One of the most powerful tools that makes Ezoic really great for me not least because of its ad testing technology. Simply put, "AD Tester" uses multivariate testing to see which ads should be served to which visitors, in order to provide you with the highest income while improving the user experience.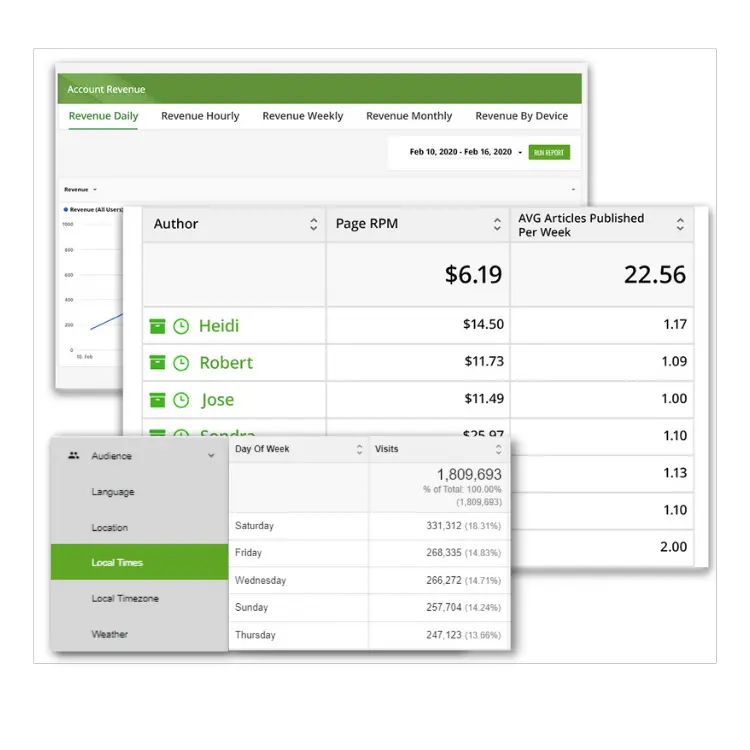 People visiting your site in Sweden may see different sized ads in different positions than people visiting your site from the United States or Algeria.
Another example is if you set up 16 ad placeholders, viewer A might only see 5 ads, while viewer B might see 10.
You tell the platform where you could possibly display ads and what size you prefer to show, then the platform will test millions of combinations to find the best ad placement for you and your visitors.
In the same context and regarding the number of combinations that can be tested, if you had 20 ad spaces reserved on your website and you could only display three (03) possible sizes for each placeholder, the system has close to 5.5 millions of different combinations to try.https://www.youtube.com/embed/JoVN6gUzcok?feature=oembed
SEO tag tester
Are you struggling to find a good title for your most recent blog post? Well with the SEO Tag Tester (aka Title Optimizer Tool) you can create multiple titles and have Ezoic test them to see which one works best!
How it works?
You write keywords for the title of a page on your website.
Ezoic performs tests to determine which titles perform best against things like pageviews rate, bounce rate, clicks, and search results through Google.
Once the test is complete, the platform will display the winning title.
This means that you no longer have to wonder if you should have chosen a different title. How easy!
Examination of the Ezoic jump
Ezoic Leap is a unique toolkit that provides plenty of optimization and diagnostic features to help your site move up to Core Web Vitals .
If you don't know what Core Web Vitals are , this is basically a Google initiative to provide a unified way to measure signals that deliver great user experience. READ Windows 11 sound not working? Here is the solutionSee also Disable the "Show more options" context menu in Windows 11
Signals include loading performance (via LPC- greatest paint content), interactivity (via FID -first entry delay), and visual stability (via CLS-cumulative layout shift).
I won't go into too much detail here as it is outside the scope of this article, but you can find a lot of useful information on how Web Vitals works here .
I am able to hit 75+ for most pages in the mobile version of my site and the desktop version (80+). using the combination of dzsecurity (hosting) Jannah (theme) and Ezoic (Ads, Optimization, Caching)
If you are looking for how to have a fast website while using leap check out this great article on the Ezoic Blog – How I Made a Fast WordPress Site With Ads Using Ezoic Leap
The tool set includes options for:
optimized loading of stylesheets and fonts
optimization of the loading, distribution and size of images
caching of static assets
pre-connection assets
magnification of HTML, CSS and Java
optimization of loading and execution of scripts and advertisements
loading iframes.
Additionally, Ezoic leap provides tools to let you see how your current technologies are affecting your site and how any changes to your technologies or settings would affect your performance.
Another great part of Ezoic Leap is that you can see how other sites are performing, what technologies they are using, and then you can copy their settings. This is very useful if you find another site with a similar theme to yours, well done Ezoic for this feature.
Leap is 100% free and can be used on all accounts that can access monetization features.https://www.youtube.com/embed/CB55iLzQIek?feature=oembed
Big data analysis
Since all of your traffic goes through the Ezoic CDN, the platform is able to provide you with some really interesting data. Even better than the standard data you get from Google Analytics !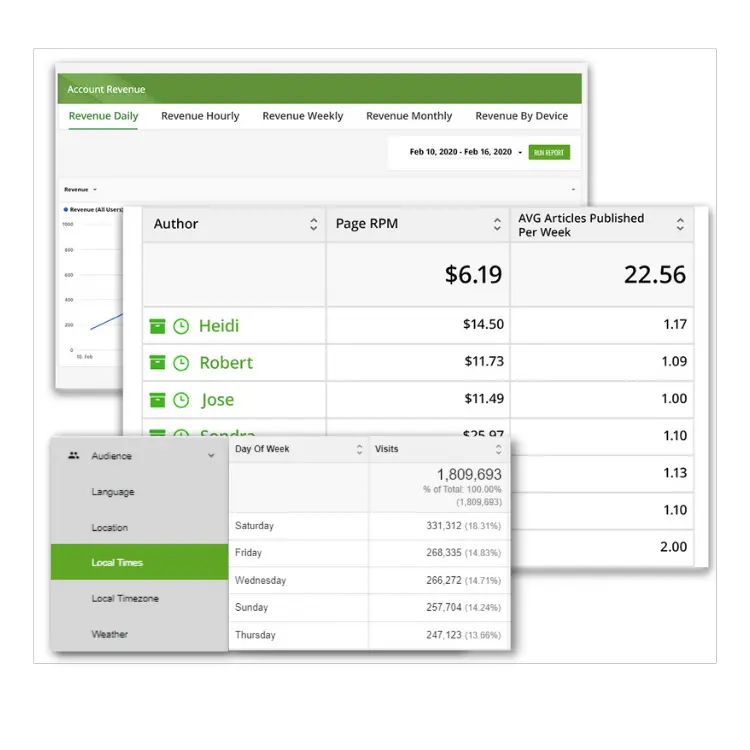 The Big Data Analytics toolset allows you to combine revenue with every website action. For example:
if you have 2 authors for your website, the analytics toolset can tell you the average ad revenue based on each author;
you can see how much money you are making based on the word count of your blog posts;
if you are unable to decide which topic to blog on next, you can see which category is making the most money;
determine which types of visitors are the most engaged and generate the most income.
In addition, the tool is able to determine what your visitors like to see. You may discover interesting questions such as: "At what stage are visitors leaving my page? Or "what parts of my website do my audience prefer?" ".https://www.youtube.com/embed/y1KRGuNPPz8?feature=oembed
All in all, this tool allows you to objectively analyze your results and make informed decisions about what to invest in (that is, advertisements aimed at certain people, a type of article or your best editor).
A quick overview of the Big Data Analytics website visitor analytics toolkit
What are the minimum requirements to be able to join Ezoic?
The conditions for joining the Ezoic network are simple.
Previously, Ezoic refused sites that have less than 10,000 visits per month. However, this has been removed , so today joining Ezoic no longer requires that number of pages and views defined for new registrations .
Instead, if you have less than 10,000 views per month, you'll go through the Ezoic Access Now program , which automates the onboarding process.
Access now (less than 10,000 views / month)
If you have less than 10,000 visits per month, Ezoic offers you the option of joining their network, through the Access Now program .
It's a little different from their main offering, but just in terms of integration and levels (more on levels later)
When you sign up through the Access Now program, you will need to go through a "self-service onboarding" process. This means that you will have to do the integration yourself.
The integration process involves:
take a basic badge preparation course
complete a cloud integration
take additional classes to unlock speed and monetization features
The purpose of the courses is for you to develop an understanding of how ads work and how businesses exploit them, and how you can get the most out of your website.
The passing grade for each course is 75% and you can do it multiple times (but only 1 course every 24 hours).
You will also receive a certificate at the end of each course.
Once the onboarding process is complete, the Ezoic team will review your website to ensure that it meets general ad serving requirements. Basic guidelines include original content, genuine traffic, non-prohibited content, and open and easily accessible content.
After passing the exam, you can access everything the platform has to offer, including tools that only other major networks had access to before!READ Tutorial to Make Your MacBook FasterSee also A comprehensive file on the best ways to make a profit from YouTube
Once you complete all of the courses, you enter a raffle to win a bonus of $ 100. You can also repeat the lessons
Configuration and integration
The recommended integration is therefore to connect via the cloud, either by connecting CloudFlare, or by updating your name servers ( here is an example with Namecheap).
By signing in through these methods, you can access the fast CDN (Content Delivery Network) which creates copies (cache) of your site around the world. This means that when someone from Africa (Algeria or Morocco) comes to your website from a different location than the one viewing your website from America.
Integration is easy. If you are using name servers, you can select "integration" and then "cloud integration". Then, you receive a list of name servers that you can update from your domain provider. There are many videos on how to change nameservers at the most common domain registrars.
If you sign in through CloudFlare, the setup is much easier. Ezoic is a Certified CloudFlare Partner , so you can easily log into Ezoic just by entering your CloudFlare account details. Once you click on Save, your account is integrated!https://www.youtube.com/embed/tXqJlL1QEV8?feature=oembed
Additional integration information
Do not integrate your site through the WordPress plugin . You won't have access to all the great optimization and speed features.
If your site has already been banned from AdSense, it is likely that Ezoic will not be able to monetize your site until the ban is lifted.
Ezoic Levels
The platform recently released levels which is like a blueprint for growing your website. The tiers feature enables personalized products and services to publishers at different stages of their journey.
(unfortunately I still do not have access to the levels because my account is linked to the region of French publishers / North Africa)
There are currently 5 levels ranging from Access now to VIP. Each level has a defined requirement for visits and income, which is depicted in the image below.
Ezoic levels include:
Access Now: <10,000 visits, no income required
Level 1:> 10,000 visits and $ 50 in income per month
Level 2: 30,000 visits and $ 300 in income per month
Level 3: 75,000 visits and $ 750 in income per month
Level 4: 500,000 visits and $ 5,000 in income per month
VIP: This is limited availability and you must earn more than $ 10,000 per month to be eligible.
Apprenticeship program
Once you've reached level 1, you can access the optional learning program, which offers regular classes every month.
Sites can use the program to learn from top performing publishers and other growing experts.
After taking a few courses, you can apply for various cash grants.
Subsidies
Ezoic offers grants to all customers regardless of their level. There are three types of grants:
Spark Grants : Available to all customers, awarded based on their merits and ability to grow using Ezoic.
Growth Grants : Available to Publishers above Level 2. Awarded on the basis of a solid and consistent history of visitor growth
Incubator Grants : Premium members above level 3. Based on more terms and conditions.
Ezoic Income Guarantee
Ezoic is so confident that their offering will beat their competition (i.e. Google Adsense , Mediavine, and AdThrive), that they are willing to pay 25% more of your monthly income if you don't earn more.
Of course, as with everything, there are terms and conditions including that the warranty only applies to sites with over 10,000 visits per month, generating over $ 50 in monthly revenue.
You can find other restrictions and more information about the program here .
How much does Ezoic pay for 1,000 views?
This is the question everyone wants to know, and unfortunately, it is the most difficult question to answer. There are far too many variables to determine how much Ezoic will pay per 1,000 pageviews. It also depends on your level, with the partners listed below:
If we look at my example below, this site is currently generating just over $ 10 per 1,000 pageviews. But that's only on the main monetization, which is the lowest ad partner (depending on my level)
However, as more and more ad combinations are tested and I move up the different levels, I expect it to go up a bit.
How does Ezoic compare to Adsense, Mediavine, and AdThrive?
The story said that a person started to advertise through Google Adsense until they reached 10,000 visitors per month.
Then that person would switch to Ezoic until they hit 50,000 views, then Mediavine up to 100,000, then AdThrive when they saw over 100,000 viewers per month.
However, there are a few main reasons why this no longer makes sense:
Ezoic now has no restrictions on the number of visitors you need. So if you can be approved by Google Adsense, you should also be approved by Ezoic.
There is a 25% income guarantee that Ezoic will perform better than any other platform (such as Adsense, Mediavine, and Adthrive).
See also The art of buying domain names to improve your SEO
READ Tutorial to browse your favorite sites without Internet
So Ezoic is really your one-stop-shop no matter how many website visits you get. The platform far trumps all other ad management platforms. (personal opinion)
What is the benefit of using AdSense alone? You can earn double or triple your income from Ezoic, you can also show fewer ads and you also have a great set of tools to speed up and optimize your website.
But, if you are still not ready to give up your AdSense, I understand. You should not.
As part of the Platform Tools, Ezoic has released the "mediation" app, which allows you to compete with Ezoic against other platforms for a place on your website. These "other programs" include Google AdSense.
AdSense and the mediation app
Mediation app is a super cool feature that allows you to link your existing ad network (i.e.Google AdSense) account with Ezoic ad network.
Ad networks configured through mediation will compete with Ezoic's own advertising partners for your website ad inventory.
Any money earned through mediation is paid through this network application. That is, if Google AdSense outbids Ezoic for an ad on your site, the ad revenue for that particular ad will go to your AdSense account.
Another great advantage of mediation is that there is no revenue sharing. This means that if an AdSense share beats an ad from the Ad Exchange network, Ezoic does not earn any income from it. So basically it doesn't cost you anything to keep your AdSense account and link it to Ezoic!
Once you have configured mediation through the "Adsense Mediation" settings under "Monetization", you will then have your AdSense code linked to the ad combination tests.https://www.youtube.com/embed/UbpYT3YBdQk?feature=oembed
Ezoic payment methods
Just like with other platforms, Ezoic has a payment threshold that must be met before you can withdraw funds. The minimum payout threshold you can set is $ 20.
The platform supports multiple payment methods including Paypal, prepaid card, and international bank transfer. Additional payment methods include check (recommended for US and Canada only) or direct deposit (US only).
Payments sent through Payoneer will receive the currency conversion fees below if configured for automatic transfer:
Canada (CAD) = 0.15%
United Kingdom (GBP) = 0.15%
European Union (EUR) = 0.15%
Pakistan (PKR) = 0.15%
China (CNY) = 0.15%
Then (INR) = 0.50%
All other currencies = 2%
There is an additional charge for receiving funds in USD and PayPal may also add its own currency conversion fee (up to 4%).
personally I use Payoneer and before I used PayPal but with them too much of a problem, and if your preferred currencies are not displayed above, I suggest you integrate with a platform such as Revolut or even paysera for those who do not have a bank account in the United States, United Kingdom or the European Union, making it difficult to accept payments at lower currency conversion fees.
Revolut or payssera provide a European Union (EUR) account which included an IBAN and other necessary bank details.
Is the "Ezoic" platform trustworthy?
The Ezoic platform currently has a rating of 4.0 on Trustpilot (227 reviews), with many excellent reviews.
Other questions
Ezoic has a great FAQ page setup to answer any other questions you might have.
Ezoic Affiliate Program – 3% Lifetime Income
If you like the services offered by Ezoic and want to tell others about it, you can join the Ezoic Affiliate Program .
The program offers 3% of a publisher's total revenue on all traffic sent to the site, for the lifetime they use Ezoic.
All commissions or rewards can be collected monthly, and there is no limit to the number of people you can sign up!
Global review of the Ezoic platform
I was like most people, thinking that I could make some money running ads on a blog. I installed Google Adsense on my site (www.politics-dz.com) then on www.easy-tutorials.com and I had a clear plan on how I was going to progress. I needed 10,000 views first, then I could switch to Ezoic. Then I needed 50,000 views to switch to Mediavine. Then the golden ticket was AdThrive which required 100,000 views.
But I found the experience with Ezoic to be enjoyable and rewarding, I was simply impressed with what the platform has to offer. There are so many tools, videos, training and learning resources that I am really excited about the future of both of my websites. I especially like the amount of information you can find through their Leap tool. It lists a lot of technologies (i.e. plugins) that can lower your Core Website Vitals score.
All in all, I made a lot of changes to my website structure which allowed me to really speed up my site to perform better in the Google search algorithm.
The only thing that might deter you from signing up is that the platform needs you to send traffic through Cloudflare or through nameservers and there is only a chat community that is able to to provide you with assistance. But overall, if you're savvy enough, you should be able to work.
Media.net is one of the best Adsense alternatives
Media.net is a contextual advertising network that powers the Yahoo! Contextual Advertising platform. -Bing and guarantees not only high quality ads, but also high paying ones. It allows publishers to access more than $ 5 billion in advertiser search demand. It is therefore rightly known as one of the best Adsense alternatives.
If you want to use the best networks, you have to work with Google, Facebook, or Bing / Yahoo, and we've been talking a lot about Adsense and part of the Facebook Audience network recently, so it was time to write and show media. net works.
For those who don't know what a contextual advertising platform is, that means the ads are based on the context of the page. This means that if your website content is about yoga, your visitors will see ads related to the yoga industry like yoga pants, yoga mats, online yoga classes, etc. Contextual ads perform better in general compared to other types of ads because when a user goes to a website and sees ads synchronized with the webpage, they are more likely to click on them rather than on something. which is completely random and unrelated.
As a high quality advertising network, Media.net only accepts websites that have premium content, regardless of the scale and size of the blog. The returns publishers can expect with Media.net are as good as with Adsense, in fact sometimes even higher. If you are looking for an alternative to Google Adsense, I would definitely say that Media.net is your answer.
Media.net Review – Publisher Requirements
As mentioned before, Media.net (sign up for a free account here) is a high paying contextual advertising network and one of the best Adsense alternatives. Media.net looks for high quality publishers and only allows websites with premium content. If you are looking to make a quick buck from your shoddy blog, Media.net is not for you.
MediaNet has several guidelines in order to approve publishers to their program, they only allow websites with premium content. If you are looking to make a quick buck from your shoddy blog, Medianet is not for you. As one of the best Adsense alternatives, MediaNet looks for high quality websites, but once approved you will enjoy it.
The following guidelines will help you understand and determine whether or not your website is suitable for Media.net. We've included this information because we always receive specific questions about what a particular ad network allows and what it doesn't.
The Media.net program is currently only open to websites that:
Have content in English
Receive the majority of their traffic from the US, UK or Canada
Mainly contain original content
Have regularly updated content
Does not infringe any intellectual property rights of third parties
Have a reasonable volume of visitors already using the website.
Does not contain excessive advertising
Have a reasonable amount of content
Have a user-friendly website design
You are likely to be rejected by Media.net if your websites contain one or more of the following:
Hacking of software such as warez, torrent, cracking, hacking, phreaking or similar illegal downloads
Free hosted pages
Hidden links and text
Under construction, parked pages or pages without content
Misleading or manipulative content or site building to improve search engine rankings
Sites that redirect traffic to another site than those specifically approved under the program
Promote activities generally understood as misuse of the Internet, such as sending unsolicited e-mail or using spyware
Media.net will not endorse websites that promote, contain or link directly to:
Adult, pornographic or other illegal content.
Tobacco, alcohol, ammunition, dangerous substances, illegal drugs, blood, violence, gambling and racist content.
Pages containing profanity or content that and / or discriminates or is offensive to any section of people.
Hatred, violence, racial intolerance or advocacy against any individual, group or organization.
Sale of counterfeit products, imitations of designer or other products, stolen items or any product that infringes the intellectual property rights of other parties.
Programs that promote invalid click activity by paying users to click ads, browse websites, read emails, etc.
Websites containing forums, discussion boards, chat rooms, or any content area open to public updates without adequate moderation.
Sites whose content has been generated using computer programs and therefore may not be understandable.
Sites with fake news.
Advantages of Media.net
High-performance pop-up ads
Highly profitable native ads
Approval takes 2 working days or even earlier
Dedicated account manager
No specific minimum traffic required
How to register / Registration progress
Applying on Media.net is quick and easy, the approval process can take anywhere from a few hours to a maximum of 2 working days on average.
Go to Media.net (click here to register). You will be asked:
The URL of your site
Email
Full Name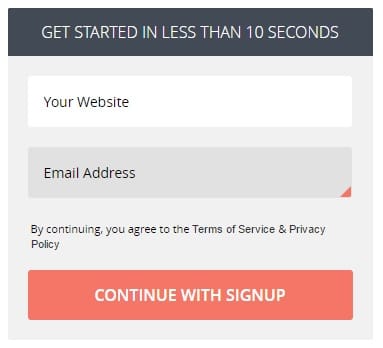 Shortly after registering, you will receive an automated email response informing you that Media.net has received your application.
After that, you just have to wait for your website to be rated. If your website does not meet the program guidelines, you will receive a deny email. We actually submitted an alternative website (not Stream SEO) that we knew most likely would not be accepted to collect more information for this article.
This means that their team personally checks each website manually. This helps them get the best quality of websites and therefore get the best advertisers with high paying CPC / CPMs without putting their reputation at risk.
On the other hand, if your website is suitable for the Media.net Publisher Partner Program, you will receive a welcome email that will contain not only your login credentials but also ad codes to help you get started. start immediately!
In this email you will also receive the codes of the most popular banners to put them immediately on your website.
You will also receive a PERSONAL account manager who will constantly monitor your account and give you the best suggestions to help you get the most out of your blog.
Once you are approved, you can log in and find that the dashboard is very user-friendly and easy to use. But first, you need to add your account details like name, address, phone number, and at the bottom, you need to agree to Media.net's terms and conditions to continue.
The next step is to set up your preferred payment method and you are good to go.
Media.net Revue – PubConsole and reporting dashboard
Media net's dashboard got a complete overhaul in 2019 and you now have access to their brand new PubConsole, where you can check everything around your stats and income.
The general dashboard view gives you a quick overview of your income over 24 hours, but also your weekly and monthly income as well as your overall income for the year.
It will also show you the impression and RPM trends as well as the live impressions detected on your site during the last hour:
By going to the report area, you can see your ad unit revenue and impressions filtered by date.
As you can see if you get high quality traffic from English sites you can get really good RPMs above $ 10.
You can also view the landscape and trends by ad units, sites (if you have more than one) and criteria:
Also, the dashboard allows you to create ad units and add new sites to get approved for Media.net and do their job well.
I'll show you how I implement the ads below, as we are now using a new tool to inject the ads on our sites. But first, let's take a look at the ads on Media.net …
Examples of Media.net ads
As you may have noticed, the format and design of Media.net ads are different and quite unique. Media.net primarily offers contextual advertising, which is specially designed and personalized to provide users with a consistent user experience.
Media.net ads are basically keyword blocks with several well-placed keywords that link to the advertiser's page. Your account manager can select a " skin " or format, customize it, and create an ad unit that integrates seamlessly with your website and gives you the best results.
I even got a few emails from people asking me what type of ads I was using because they looked good and paired well with our new website design!
Here is another example of rotating ads with different styles. I took this screenshot from an ad just below the title of an article:
Media.net scans your website for a few days and decides which keywords should be displayed and accordingly displays the most relevant keywords for your website content. This is precisely why it takes time for ads to optimize for your website.
Over time, Media.net learns which keywords work best for you i.e. which ones get more clicks and generate income for you. Media Net best practices suggest that you should run their ads on your website for at least 15 days in order to give their system time to become familiar with your website so that it can automatically optimize and display advertisements that you want. will help maximize your income. .
Integration of the WordPress Media.net plugin
Considering that WordPress powers nearly 35% of websites around the world, it was only natural for Media.net to create a plugin to help you inject your ad codes in a quick and easy way.
Media.net's WordPress plugin allows you to inject advertisements on your homepage, posts, pages, categories, etc. Each page type can be customized with different recommended ad placements.
Il existe plusieurs raisons pour lesquelles un éditeur ou un blogueur peut rechercher une alternative à Google Adsense.
Par example :
Recherchez un meilleur retour que Adsense.
Profitez de Google Ad Exchange.
Protégez votre compte.
Les 5 meilleures alternatives à Google Adsense en 2022 !
Nous vous invitons à découvrir un à un les meilleurs réseaux ou plateformes qui peuvent vous aider à remplacer Google Adsense pour pouvoir monétiser votre site ou blog avec des publicités.
1. Ézoïque
Ezoic est la meilleure solution pour remplacer Adsense.
La plateforme Ezoic va monétiser votre site avec des publicités de la plateforme professionnelle de Googla Adsense l'AD Exchange.
C'est une plateforme qui vous permet à la fois d'améliorer la rentabilité de votre site ou blog et d'améliorer votre positionnement dans les moteurs de recherche.
Ainsi, en utilisant Ezoic, vous pouvez être sûr que vous n'aurez aucun problème avec Adsense grâce à la technologie qu'utilise Ezoic.
Pour monétiser votre site avec Ezoic, vous n'avez besoin que de trois conditions :
Vous devez avoir un compte Adsense (*)
Votre site ou blog doit être accepté par Adsense (*)
Avoir un site qui génère au moins 250 pages vues par jour, ou plus de 7 500 pages vues par mois
(*) Le compte est uniquement pour que votre site soit accepté par Ezoic.
PLUS D'INFOS, AVANTAGES ET AVIS SUR EZOIC
INSCRIVEZ-VOUS SUR EZOICVoir aussi Comment réduire l'impact de vos sites web sur l'environnement ?
2. Le MoneyTizer
The Moneytizer est une agence de publicité en ligne qui peut remplacer Adsense.
Mais pas seulement !
Il vous permet de monétiser votre site ou blog avec des publicités affichées via plusieurs plateformes en même temps (Adsense, Taboola, DFP…).
Le Moneytizer les met en compétition pour vous aider à gagner plus.
De plus, vous n'avez pas besoin d'avoir un compte Adsense, AdExchange, Taboola ou quoi que ce soit.
Si votre site est accepté, la régie publicitaire Moneytizer utilisera toutes les agences de votre site sans faire de comptes supplémentaires.
PLUS D'INFOS, AVANTAGES ET AVIS SUR LE MONEYTIZER
FAIRE UNE INSCRIPTION SUR LE MONEYTIZER
3. Liens d'information
La plateforme Infolinks est également une autre plateforme de publicité en ligne qui peut remplacer Google Adsense.
Cette plateforme est très similaire à The Moneytizer.
Il vous permet de monétiser votre site Web ou votre blog avec des publicités affichées sur plusieurs plateformes en même temps.
Vous n'êtes pas obligé (comme avec The Moneytizer) de vous inscrire auprès des plateformes partenaires d'Infolinks ou des agences de publicité.
Une fois votre demande d'inscription acceptée, les publicités de tous les partenaires seront affichées.
PLUS D'INFOS, AVANTAGES ET AVIS SUR INFOLINKS
4. AdCash
La plate – forme AdCash est un autre type de plate-forme de monétisation de sites et de blogs très demandée par les éditeurs et les blogueurs.
Premièrement, il s'agit d'une plateforme ou d'une agence publicitaire autonome.
Deuxièmement, il possède son propre réseau d'annonceurs.
De plus, il accepte tous les types de sites Web et de blogs.
AdCash n'a aucune contrainte sur les sujets ou objets des sites.
Tout ce dont vous avez besoin est un bon site pour pouvoir utiliser AdCash.Voir aussi Pourquoi est-ce que j'utilise Ezoic comme partenaire publicitaire ?
PLUS D'INFOS, AVANTAGES ET AVIS SUR ADCASH
5. AdsTerra
La plate – forme Adsterra est un autre type de plate-forme de monétisation de sites et de blogs avec des publicités.
Cela ressemble beaucoup à AdCash.
Premièrement, c'est une plate-forme autonome
Deuxièmement, il accepte tous les types de sites ou de blogs.
Troisièmement, il accepte tout sujet ou sujet des sites ou du blog.
De plus, votre site ou blog est presque automatiquement approuvé par Adsterra.
PLUS D'INFOS, AVANTAGES ET AVIS SUR ADSTERRA